I was at the Ayala Abreeza Mall in Davao last Saturday for the Mizuno Athletes Tour and the Mizuno store's grand opening. As part of our day's activities, Jonah Romero and I walked around Abreeza and handed out balloons to mall-goers.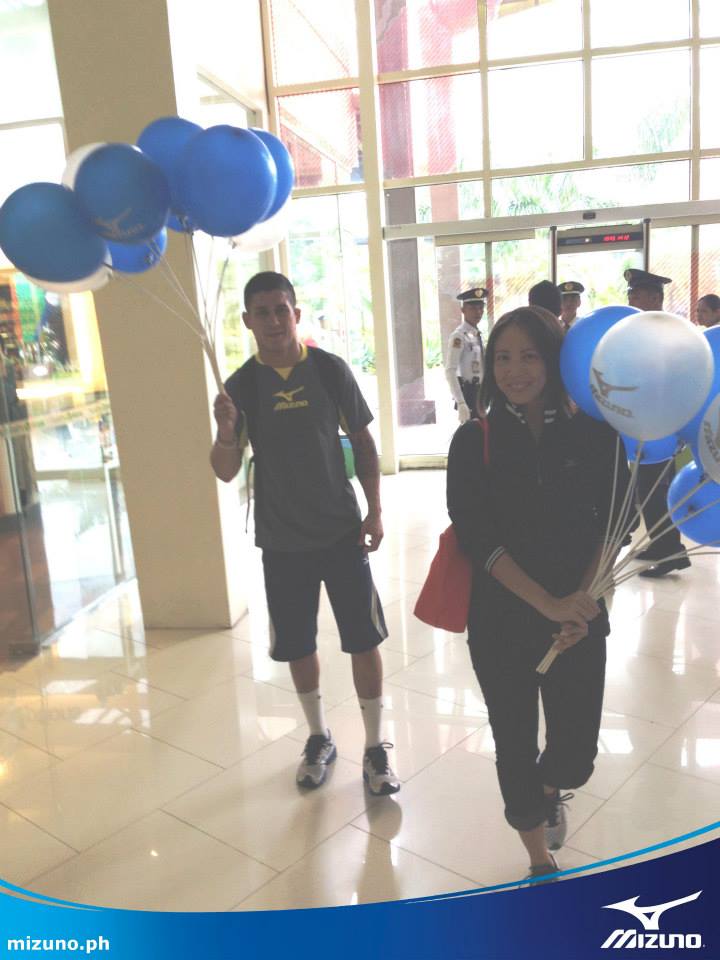 big blue balloons!
at Abreeza Mall's activity center
Sadly the trip was only for the day; I actually spent more time inside the mall than outside in Davao City. (I will be back soon to be a tourist and gorge myself on Davao pomelo and durian. Yum!) While there I watched people going about their business and it just occurred to me how much of our city life we spend at malls and similar commercial developments. I am a mall rat myself especially when I'm trying to fit a lot of errands in between training and work.
I think my favorite place in Metro Manila in the past five years has grown to be that whole strip from Market! Market! through Serendra, Bonifacio High Street, and High Street Central. During the week I do a lot of stuff around that area: run training on those roads, teaching dance class at 360 Fitness Plus, checking out the latest books at Fully Booked, and sipping coffee while blogging at Starbucks. Oh, and stepping back and smelling the flowers.

so pretty
I've been frequenting this area since 2009 and I think it contributed a lot in my early development as a runner, from junk miles with my best girlfriends to aNR sessions with Takbo.ph peeps. That 1.25-kilometer block was great for hamster training and it made for safe running grounds at night. There was even a time cones were put in place to give runners a dedicated lane on the road.
Even as the area has become more built up, Bonifacio High Street is still a running hotspot and it's always nice to bump into athlete friends training or meeting there.
As I grew into a triathlete, I needed to find bike training grounds. BHS used to be one, but its numerous stop signs and growing vehicle traffic drove a lot of us down south, to Nuvali, Laguna. Especially as big triathlon dates approach, the Nuvali roads become packed with people cramming mileage in. What's great about Nuvali is it was developed with runners and cyclists in mind. You'll see "Give Way" signs with runner and cyclist graphics, reminding drivers to share the road.

The road is mine, all mine!
Not a lot of cars pass through Nuvali except for a brief period in the early morning when trucks rumble by on their way to the construction sites, and there are many guard outposts in the area so I know there are watchful eyes. I love the rolling terrain and think riding it so much during my training for Ironman 70.3 Philippines helped build my bike strength so that I could run that sub-2 hour 21K after 90 kilometers of cycling.
My route winds mostly through residential areas, but I start and end my rides at Solenad, which is Nuvali's commercial area. There I grab some quick treats at the 7-Eleven partway through my ride, or afterwards head for breakfast and a coffee.
I think what I like about both these places is how they're conceived not just as retail and commercial establishments, but as locations where an active lifestyle can be practiced and is even encouraged. Both are Ayala Land properties so it's not hard to see why they're built so holistically; in its 25th year, Ayala Land has transformed the way Filipinos live, work, and play across all walks of life — athletes included.
That's my Ayala Land story. What's yours? Share it on 25stories.com.ph for a chance to win a trip to El Nido Resorts!
Liked this post? Share it!