Last Sunday was pretty hectic. After coming back from a day trip to Davao on Saturday for the grand opening of the Mizuno store in Abreeza Mall, I'd stayed up past 12 midnight to watch the swim start of the 2013 Ironman World Championship in Kailua-Kona, Hawaii (the triathlon simply known as "Kona" to diehards). I was only able to bank 3 hours of sleep before heading to Mall of Asia for the Avon Kiss Goodbye to Breast Cancer Run 10K.
The Avon Kiss Goodbye to Breast Cancer Run was my first race since the Ironman 70.3 in Cebu. I was excited to be back on a starting line. Truth be told I was race-weary after that long-distance triathlon, which is why I didn't feel like popping up at any of the races in August and September.
Aside from the 5K and 10K run categories, there was a 3K walk which I think most participants (non-runners) had gravitated to because it would start later in the morning. Whether you walked or ran the race, proceeds would go to the Philippine General Hospital (PGH) Breast Care Center and selected provincial hospitals.
In triathlons I try to keep the energy dialed down before the swim start because for my race strategy, I need to approach the swim very calm and controlled. I'm a different animal at a run gunstart; I feed off the anticipation and excitement from the other runners around me, and start hot off the blocks. At this race, I wanted to do a few things: one, test my run fitness coming back from being sick two weeks ago. Two, if I felt good I would hold a 4:30-4:50min/km pace as long as I could and see if all the strength-endurance work I'd been putting in was working. Three, if those two things came together, I wanted to set a new PR!
As the gun went off, I allowed adrenaline to kick me past the bulk of runners that had sprinted the start. I needed to escape their eventual slowdown, which would drag my pace down as well if I got stuck behind them. I then settled into a nice tempo, not really trying to chase down the race leaders.
There was another race ongoing nearby, at Aseana, so the race route needed to be very compact. As a result, there were six U-turns so you could see who the race leaders were, and how far back you were from them. When I approached the first U-turn, I counted two women ahead of me, the second one a Kenyan. After I made the U-turn, I checked if there were any women close behind me. There were none.
On the flat course, I could feel my legs fatiguing, and effort needed to increase so I could maintain the same pace. It was uncomfortable and my calves were screaming at me, but I wasn't cramping or injured or anything. Cardiovascular-wise, I wasn't breathing too hard and my heart wasn't pounding out of my chest. I slotted in behind two guys at my pace, so I had a bit of a mental break to take stock of the situation.
I was in third place and could have actually backed off my pace and still finished on the podium. But a podium finish wasn't the goal. So even when the guys I had been keeping pace with told me I didn't have any competition and I could "shut it down", I kept pushing.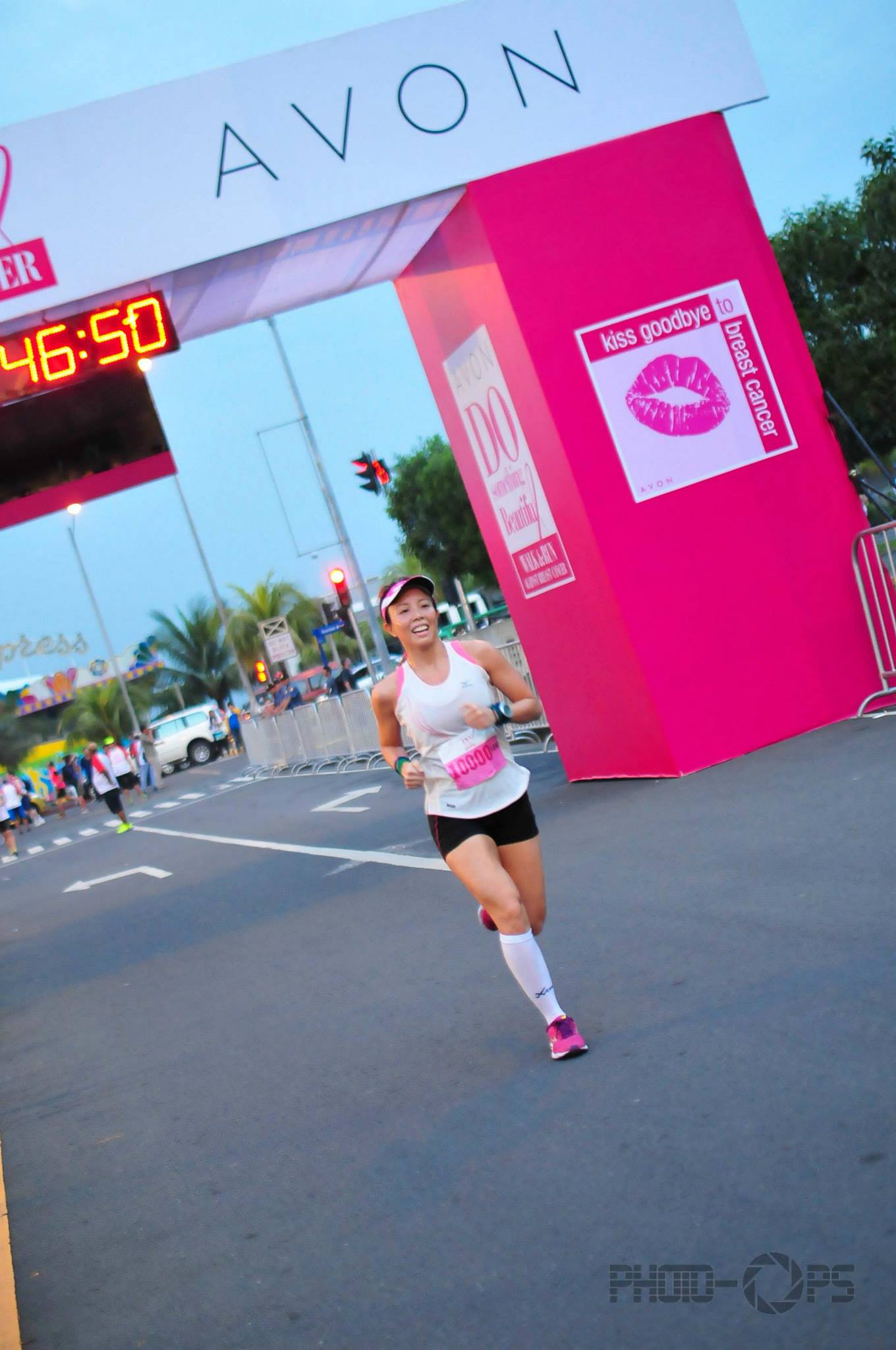 finish time: 46:59
Although my Ambit2 S recorded a distance of 9.8 kilometers, I'd run the tangents between all the corners of the route, which legally shaved off meters and minutes from my race. Also, GPS watch measurements have an acceptable variance of +/- 2 percent over total distance measured; 200 meters is 2 percent of 10 kilometers. So, I'm going to accept this course as accurate and will record this as my new PR!
Once I crossed the finish line, the race officials ushered me to one side to wait for the third place woman to finish. Wait, what? I thought I was in third place! Apparently, the woman who had been in the lead for most of the race had taken shortcuts throughout the route and missed the loop cords at the U-turns. She had been disqualified, bumping the Kenyan and myself up to first and second respectively.
Congratulations go to Avon Fashions muse Solenn Heussaff (sister of triathlete and chef Erwan Heussaff), who ran the 5K at the event and took second place! She was also one of the event hosts and participated in the 3K walk.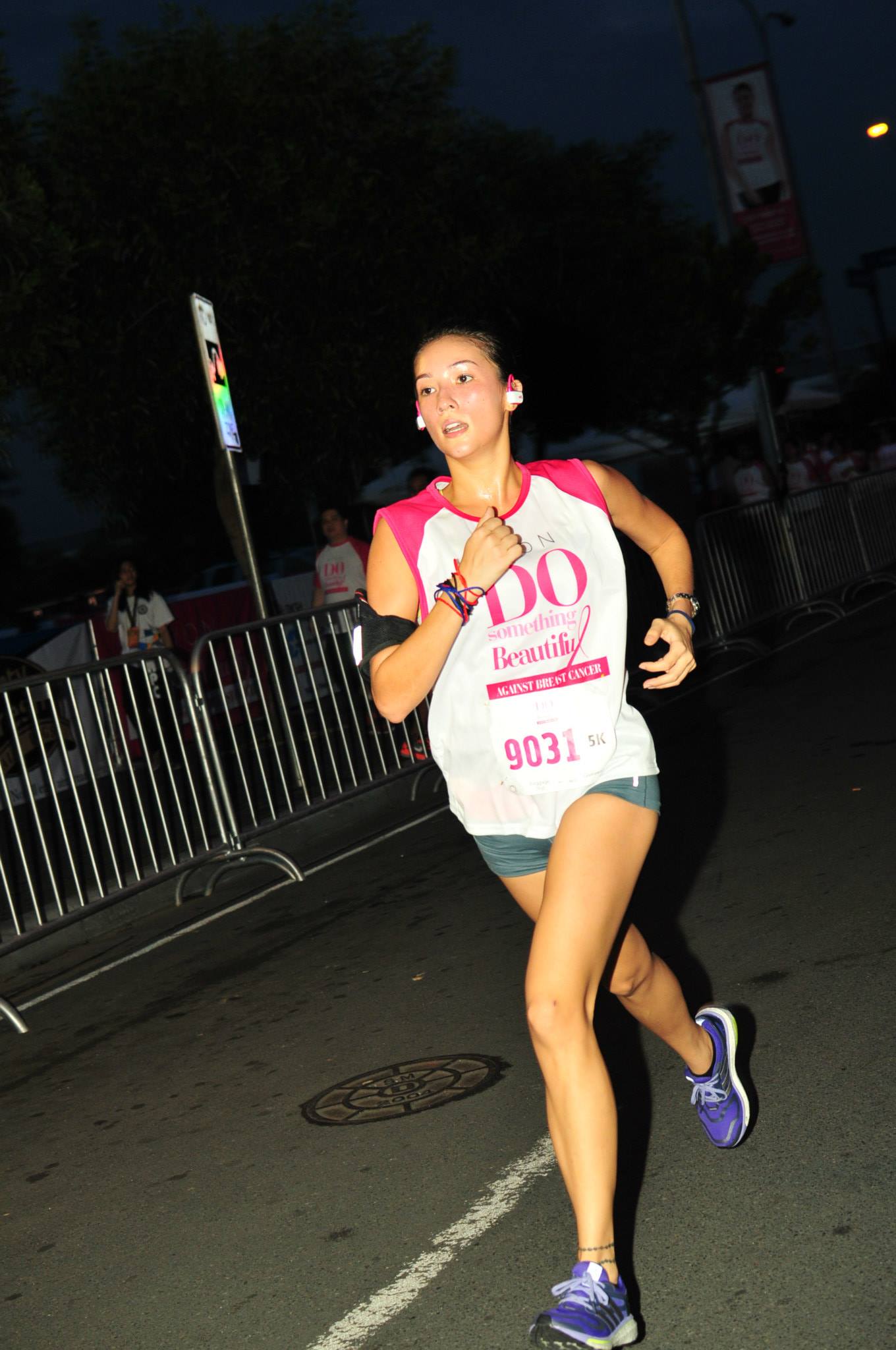 Solenn Heussaff at the Avon Run
I was all done by 7:30am and ready to head home to catch the rest of the Kona coverage, but I caught up with my Takbo.ph running buddies Quennie and Roselle. It was also wonderful seeing RunningShield Pat Concepcion and Titanium Runner pre-race. I love how so many of the people I came to know in my first years of running are still around enjoying this sport and lifestyle.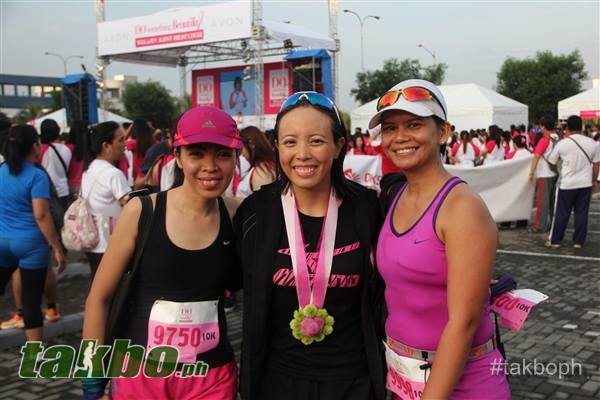 Race in Review
Route: Flat and straight except for corners and U-turns. Great for picking up speed on those straight sections, but I could really feel the fatigue as I kept firing the same muscles and never had a downhill for recovery.
Traffic Management: Because the route was so contained, it was easier for race officials to manage intersections and traffic flow. I never had to slow down or stop once due to an errant vehicle on the course.
Hydration: I loved that there was a water table at the starting line, so participants were well-hydrated before they started the race. The first water station had trash bins in front of the tables, which made it difficult to run through the station. The next station had the trash bins in the proper place (after the tables) so I could finish my drink and chuck my cup right into them. Then there were stations which had the trash bins behind the tables so I couldn't put my used cup in them– why?!?
Package: Still waiting for the official results as it is only just the day after the race. 🙂 The finishers' kit is packed with a lot of Avon goodies, including lip gloss, a pair of fashion earrings, and a bra!
Kudos to Avon and race director Rudy Biscocho for putting on a wonderful little race that raised funds for breast centers in the country. I'll give this a FIVE KIKAY PINKIE FINGERS out of FIVE!
Postscript: Kona
I ended my morning in bed with my laptop tuned in to Kona, watching Frederik van Lierde of Belgium run down Luke MacKenzie and Sebastian Kienle, who had been in the lead pack coming off the bike leg. He wasn't the fastest swimmer, rider, or runner, but he kept himself in contention. A strong run as the leaders faded helped him snag his first Ironman world championship.
In the women's race, Mirinda Carfrae had been eight minutes behind the leader as she got onto the run, but chased down Rachel Joyce and Liz Blatchford and recorded a new women's course record and run record as she won her second world championship.
I just love how everything on the toughest endurance day of the year boiled down to the run.
Everyone trying to predict this race this far out. Let me assure you, this event will look very different 10miles into the run!

— Chris McCormack (@MaccaNow) October 12, 2013
What a surprise, it's all coming down to the run……sounds like Kona!

— Bob Babbitt (@Bob_Babbitt) October 12, 2013
I love running. I really do!
Liked this post? Share it!