As movement restrictions have increasingly lifted, I find myself more on the go and need to bring everything I need for a whole day away from home. I listen to music and answer calls while commuting as well as training, which is why I've been in the market for a good pair of true wireless stereo earphones. That's why the Xiaomi Buds 3 has become a huge part of my active lifestyle.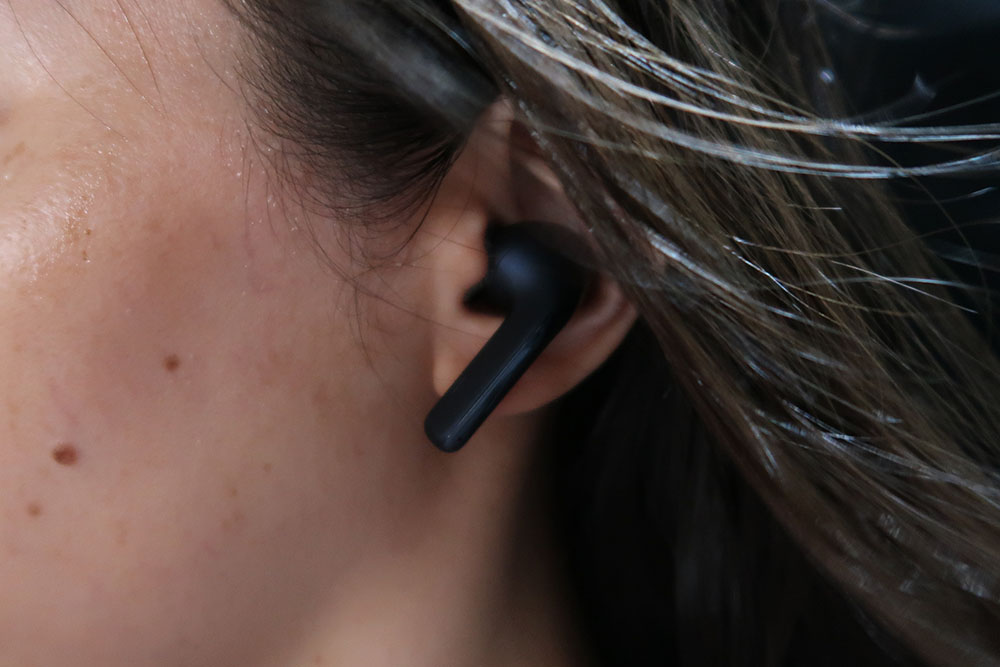 Xiaomi Buds 3 Product Specs
Model no.: M2111E1
Product net weight: 4.6g (earbud) / 52g (total)
Charging port: Type-C
Speaker impedance: 32 Ω
Earbud input parameters: 5V⎓0.08A
Charging case input parameters: 5V⎓0.5A
Charging case output parameters: 5V⎓0.2A
Wireless connection: Bluetooth® 5.2
Bluetooth profiles: Bluetooth® Low Energy/HFP/A2DP/AVRCP
Operating distance: 10 m (open space free of obstacles)
Battery capacity: 38mAh (earbud); 480mAh (charging case)
Earphone battery life: approx. 7 hours (noise cancellation off)
Total battery life: approx. 32 hours (noise cancellation off)
Charging time: approx. 83 minutes (using wired charging)
Package contents:
1 Charging case
2 Earbuds
User manual
Type-C charging cable
2 pairs earbud tips (1 pair pre-installed)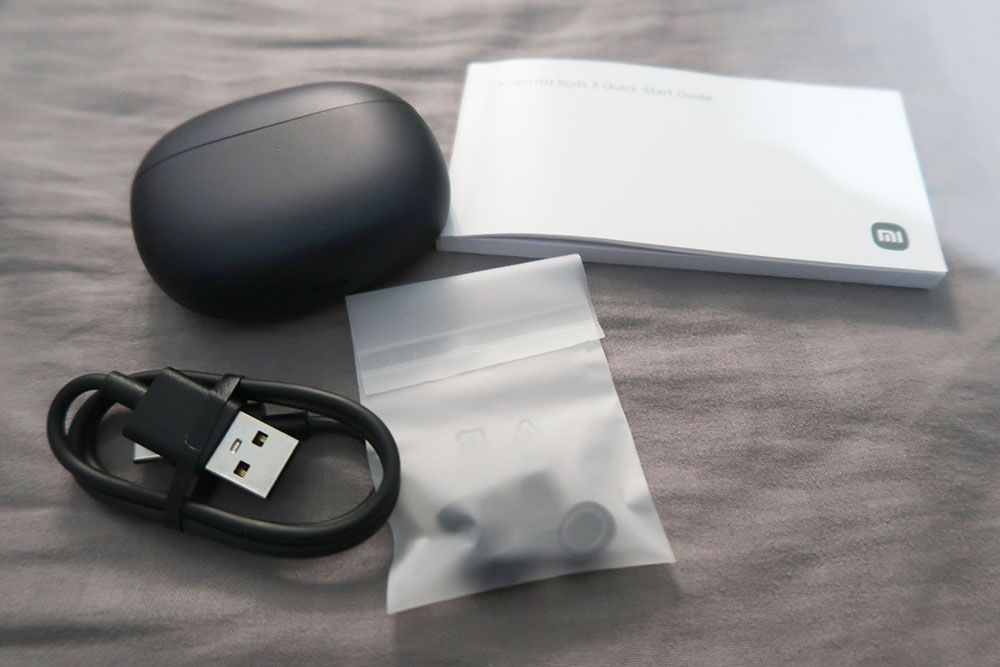 Touch Sensor Controls
I'm one of those people who rarely read manuals, but the Xiaomi Buds 3 are pretty intuitive when it comes to pairing the earphones to a compatible device (I tried it with my Android phone, Macbook laptop, and a non-Xiaomi fitness watch). However, since the earbuds have no physical buttons I knew I needed to read about the Force Sensor Area on the earphone stalk, and what kind of touch gestures triggered certain actions.
Incoming calls:
Pinch the force sensor area on either earphone to answer or end a call.
Double-pinch to decline a call.
Music and voice assistant (while wearing both earphones):
Pinch the force sensor area to play/pause.
Double-pinch to go to next track.
Triple pinch to go to previous track.
Press and hold for two seconds to cycle through enabling/disabling noise cancellation.
Remove either earphone from the ear to pause music; return it to resume playing.
(Wearing only one earphone will only allow you to play/pause music. Noise cancellation mode will be disabled.)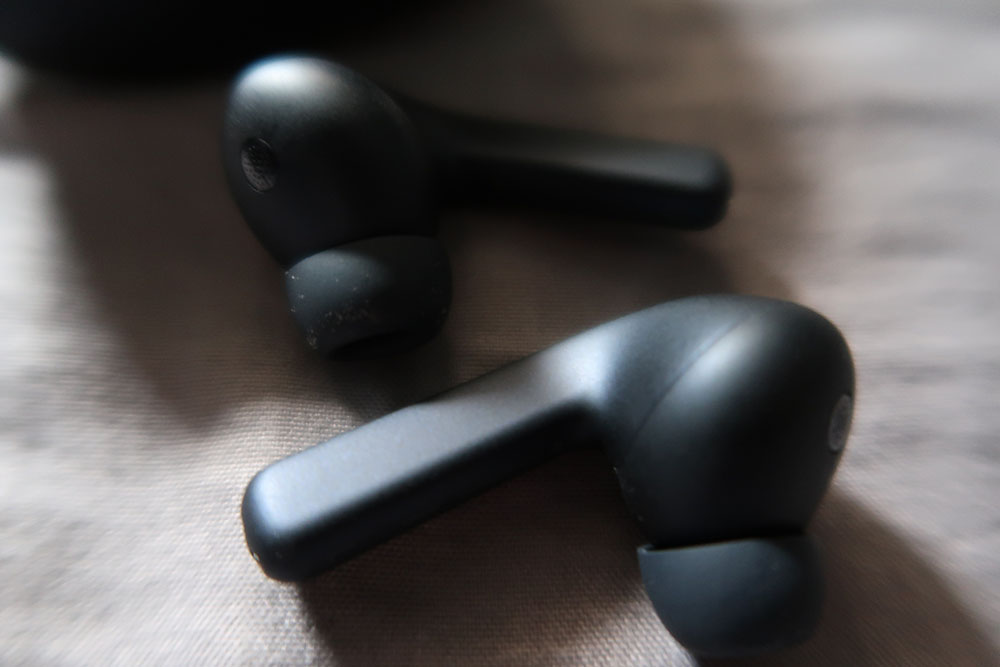 Sound Quality
Noise cancellation is the function I most appreciate from the Xiaomi Buds 3; with a powerful active noise cancellation chip, these earphones  can cut up to 40dB. It has three ANC modes: a Light mode for when sitting in a café, a Balanced mode for outdoors, and Deep mode for noisy commutes (think railway/subway hums).
Activating noise cancellation while sitting in my room cut the humming noise my electric fan makes, and it genuinely felt like I'd put ear plugs in. When noise cancellation is disabled, the Xiaomi Buds 3 goes into Transparency mode which allows sound from your environment to come in, and enhances voices so you can chat with friends in noisy environments.
The sound quality is also quite immersive when playing music or watching movies; the bass is deep and full, but you can still hear vocals and other instrumentation clearly. Each earbud is also quite powerful, and I don't need to boost volume too much.
Connectivity and Durability
The Xiaomi Buds 3 can also be connected to two devices simultaneously, which is something I've never had before. Previously if I were on Zoom on my laptop (I need to use earphones because my speakers are busted) and suddenly my cellphone rings I'd have to pull the earphones out of my ears to answer my phone. With the Xiaomi Buds 3, I can just mute myself on Zoom and pick up the phone call while using the same earphones. (If you're playing media on your laptop, it automatically pauses when your phone rings.)
Aside from using the Xiaomi Buds 3 when I'm seated at my desk or riding a vehicle, I also exercise with them. Due to their IP55-rated dust and water resistance, I'm not afraid these earphones will stop working just because I sweat a lot. And because of the ergonomic design, they also stay comfortably in my ears even when I'm running and moving around.
Each earbud has up to 7 hours of battery life (if you don't use noise cancellation). If you put them back in the charging case after each use, you can go up to 32 hours without charging the case. And when charging, you can choose between the included charging cable, or use a Qi wireless charger.
I'm really happy I've found the true wireless stereo earphones that can keep up with my on-the-go lifestyle.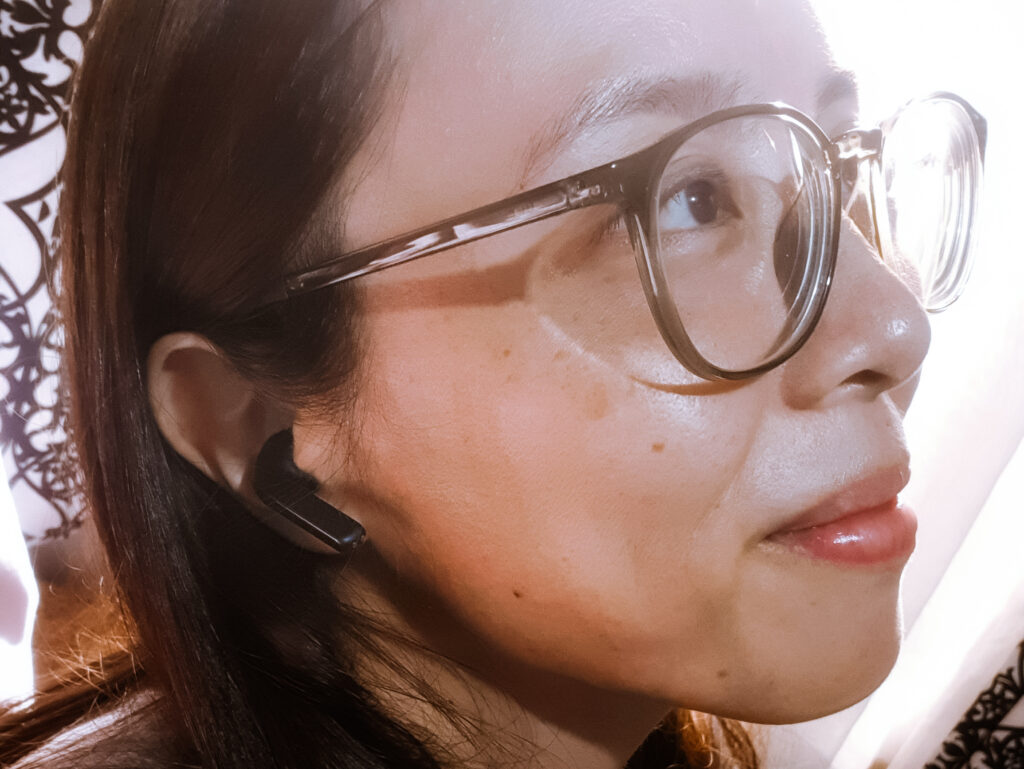 The Xiaomi Buds 3 retails for PhP 4,999, but check it out on the Xiaomi Lazada Flagship Store for the Sulit Sweldo sale happening from April 28 to 30, 2022.