Before I go any further, have you seen the teaser video for Challenge Philippines yet? See why Kuya Kim Atienza, Angelika dela Cruz, Joey Ramirez, Bobby Go, Gilbert Tang, Raymond Magdaluyo and I do triathlon, and why we're taking on the Challenge:

As race day approaches, I'm getting more and more excited about what Challenge Philippines will have to offer. Sign up now at ChallengePhilippines.com.ph. There is a special offer until October 31: sign up as a group of 10 and get an 11th race entry for free! (Or, sign up as a group of 11 and you'll each get a discount on your reg fee.)
Last Thursday I joined a few media people in what I termed a "field trip" to Bataan and Subic for an update on Challenge Philippines.
Field trip today! On a bus with @carlosqdeguzman and @laraparpan 😀

— Noelle De Guzman (@KikayRunner) October 17, 2013
We found out the extent of the province of Bataan's commitment to the Challenge race, and Challenge Philippines' commitment to Bataan. With a 10-year deal in place, sports tourism resulting from Challenge's presence would spotlight the other beautiful places Bataan has to offer. At the same time, the support from Bataan ensures Challenge Philippines' race route will be secure, well-maintained, and festive every year. 😀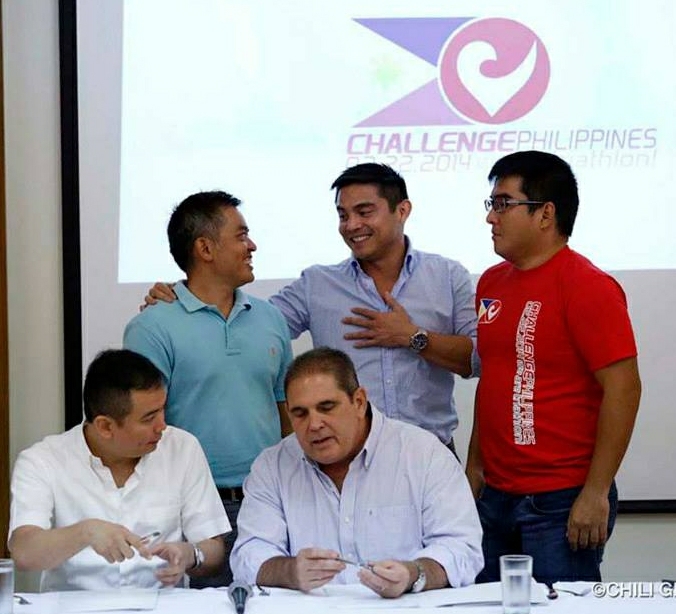 Government of Bataan and Endurance Entertainment Asia (yup that's Marvin Agustin!)
I know some of you have hesitated on signing up for Challenge Philippines because you've heard the bike course is tough. That's why they've been fine-tuning it, not necessarily to eliminate the hills altogether but to make it doable. Once the course is completely finalized, they'll start holding guided tours of the course. Also, the course will be marked way in advance of the February race so that people can train on it.
Markers on the #challengePH bike course will be put up so people can train on the actual course. It's very doable!

— Noelle De Guzman (@KikayRunner) October 17, 2013
The bike course offers spectacular views of Bataan and the West Philippine Sea. It won't be something you can do flying by the seat of your pants, but if you train for it (as all responsible triathletes should), you can achieve it.
We also toured Ocean Adventure, Adventure Beach, and Camayan Beach Resort in Subic. These properties are all adjacent to each other and will be Challenge Philippines race central.

Adventure Beach, the swim exit and finish area for Challenge Philippines
Challenge races pride themselves on being something not only the triathlete but also their family and friends will enjoy. While participants swim, bike, and run, family and friends can spectate freely and partake in other activities. For Challenge Philippines, these activities include watching Ocean Adventure's educational dolphin, sea lion, and jungle shows, viewing the aquariums, touring the dolphin rescue center, going on nature hikes, and swimming with dolphins.
OMG OMG I TOUCHED A DOLPHIN

Kissed by Kai, the 9-year-old 200-pound sea lion. His breath smells like sushi! <3

sharks, sea lions, and dolphins oh my!

mesmerized by the fish in the aquariums
For those concerned about animal welfare, the marine mammals at Ocean Adventure are used to human touch, so it doesn't stress them. Also, dolphin encounters are limited to small groups at a time.
It was nice spending some time with the people who run the park; they're marine research specialists, animal behaviorists, and trainers who are passionate in educating the surrounding communities and the public about conserving and protecting nature. For more information on Ocean Adventure, read their About Us page.
I'm already registered and getting ready to take on the Challenge. 🙂
be part of the Challenge Family!
Liked this post? Share it!