Last week was the first marathon training-specific week I've done, and it involved some great running, mostly indoors! One of the things I missed about being a group exercise instructor for a large fitness chain was the easy access to treadmills, but then again when I was in that line of work I didn't actually use any of the equipment. I've since signed up for much cheaper gym access near my home, but the smaller pocket gym only has two treadmills, two bikes, and two elliptical trainers. Guess what? Only one machine of each kind works. *sad trombone*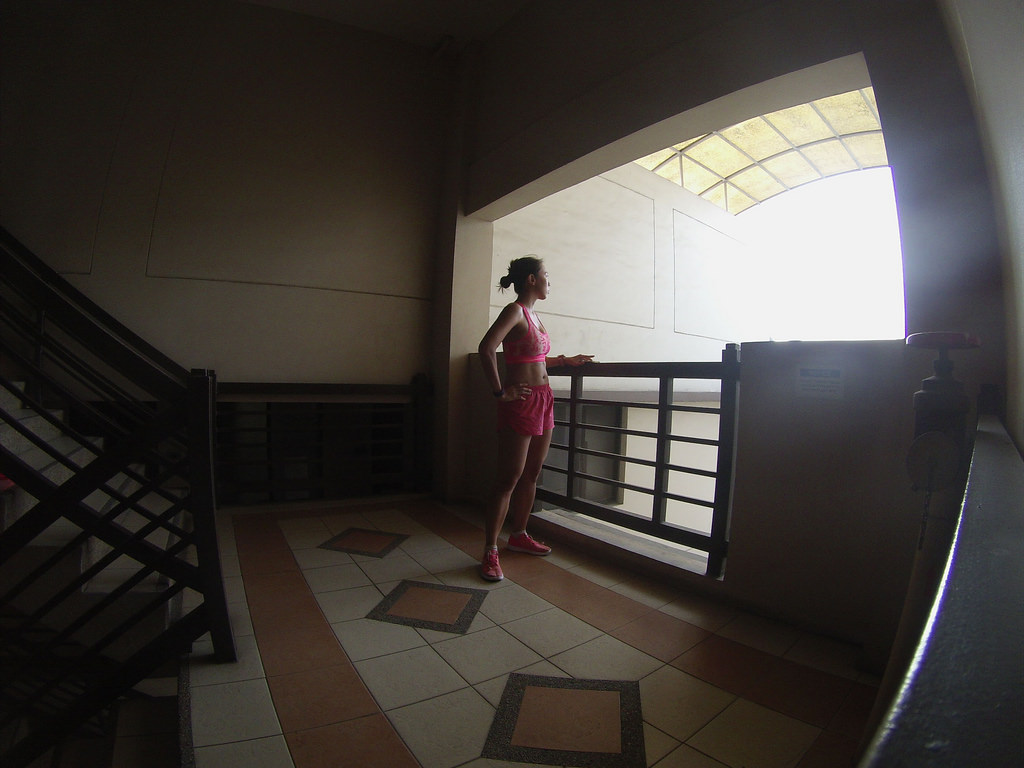 I still get dressed properly for the gym, even if it's close to home.
People have been asking me lately if I'm signed up for any of the three back-to-back-to-back triathlons (NAGT Subic, Tri United 1, Century Tuna Ironman 70.3 Subic Bay).
I admit, browsing through Facebook the past two Sunday mornings after the two earlier races gave me a twinge of envy I hadn't been out there racing. I've also caught myself wondering where I would have placed, had I raced. But it's that FOMO (Fear of Missing Out) that I'm trying to conquer with my choices for this year. The world won't end if I don't race where everyone is. 😉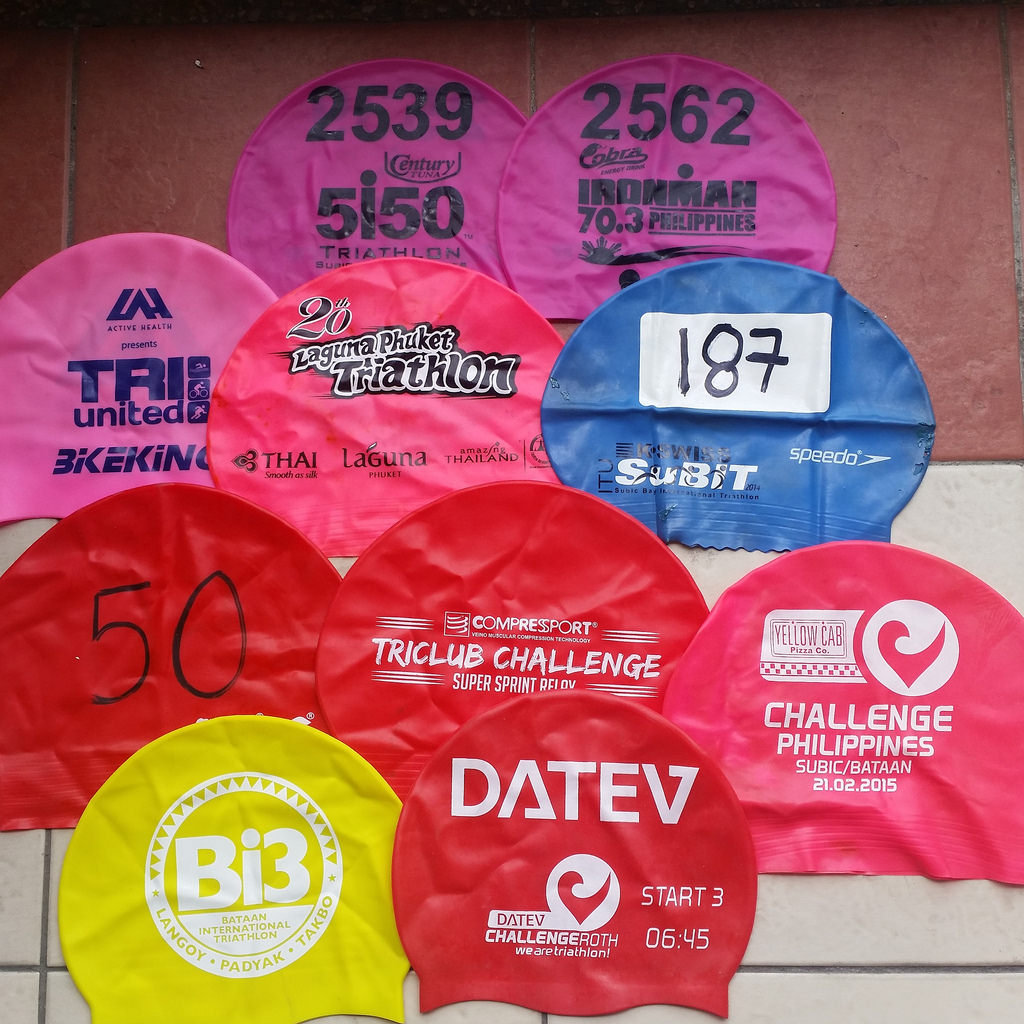 Looking forward to adding Challenge Vietnam's swim cap to my collection
On my long Friday run, I forgot my yurbuds earphones and only realized it just when I was about to start. I started to panic and realized I hadn't run without music in my ears for a very long time. While music makes the running more enjoyable, I won't be plugged in during my marathon; it was as good a time as any to practice.
It was definitely a zen experience hearing the rhythmic sounds of feet striking pavement alongside my inhales and exhales, mixed in with the ambient noise of car engines, people chattering on the sidewalk, construction sirens going off to start the work shift…
I got through those 15 kilometers satisfied by my pacing and only had to stop because I'd run out of water and didn't bring any cash so I could top up my Simple Hydration bottle. That's exactly what I'll be doing next week. 🙂
Personally, I don't know how I managed to rack up 35 kilometers training for my first marathon in 2010 just by running inside BGC. I read back on this blog to that time and realize I wasn't very good at putting that training online — I no longer have copies to my GPS files from 2010!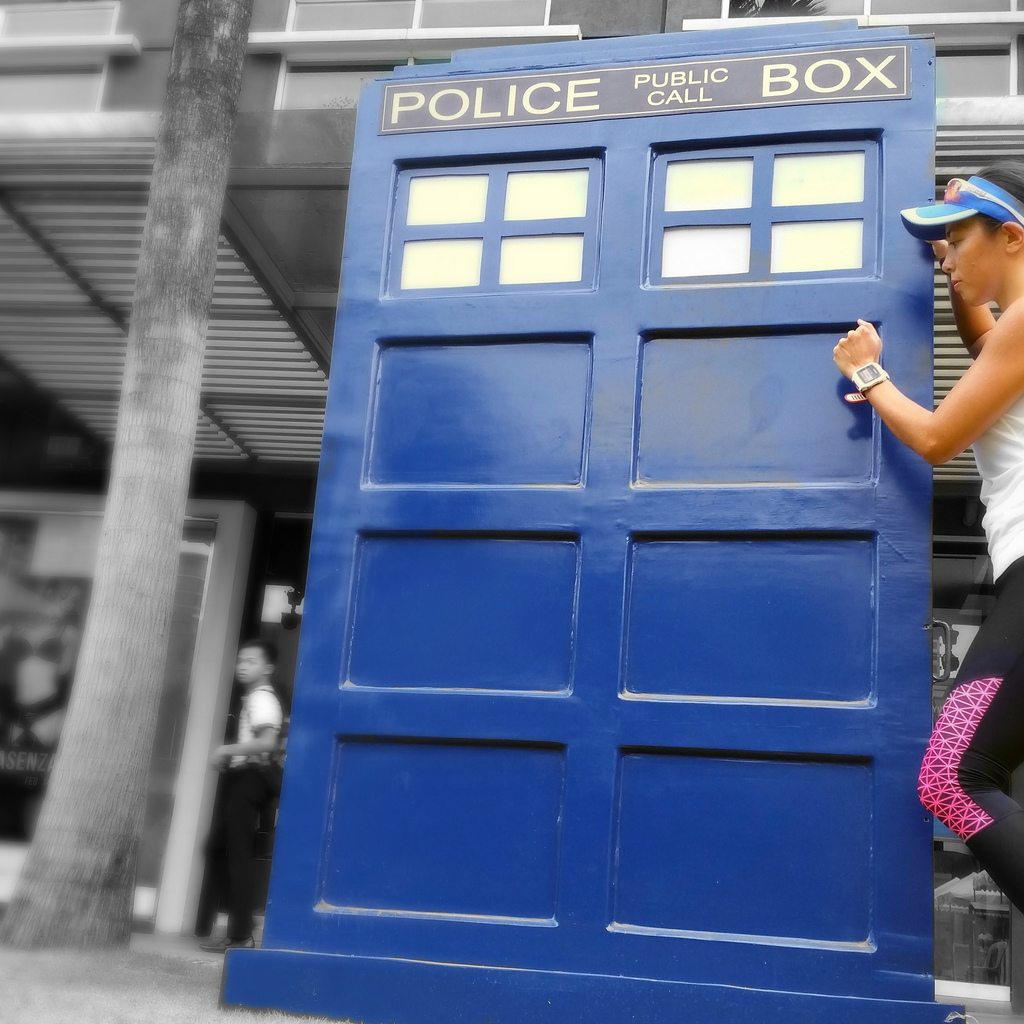 Where's a Tardis when you need it?
To mix my training up and also so that I could attend all the Blogopolis sessions, I opted to do some long indoor riding last Saturday at Saddle Row. The 90-minute session called The Exchange was led by my good friend Mark Hernandez, who expertly pushed and prodded us through the intervals and recovery periods. While I know power numbers are more inaccurate the longer it's been since you've taken them, I used the FTP I got measured for last year at heat acclimation camp as a sort of guideline for the power-based cycling class. Otherwise I would have been trying to top the other people in class with gross power output, kind of defeating the purpose of a "long ride". I should re-test my FTP, especially since I have two more classes on my pass.
Blogopolis is the biggest blog and social media conference in the Philippines and the plenary sessions all tackled how to improve use of blogs and social media. If you are monetizing your blogging and social media use, last Saturday at Green Sun Hotel was definitely the place to be. I was also up for an award at the Nuffnang Awards 2016 to be held that evening in the same venue.
Anyway, I learned a lot throughout the day but was suffering from sitting still for way too long! The Nuffnang Awards night was opened by a fashion show by Aeropostale featuring a few blogger friends who I loudly cheered for and tried to capture on my Snapchat. (By the way, if you have a Snapchat, add me!) And then it was time for the awards…
Thirty percent of the total score would come from the online voting, while seventy percent would come from a panel of judges. Nuffnang generously gave awards not only for each category, but also for the winners of the online voting in each category. That's why I ended up taking home an Online's Choice Award for Best Fitness Blog!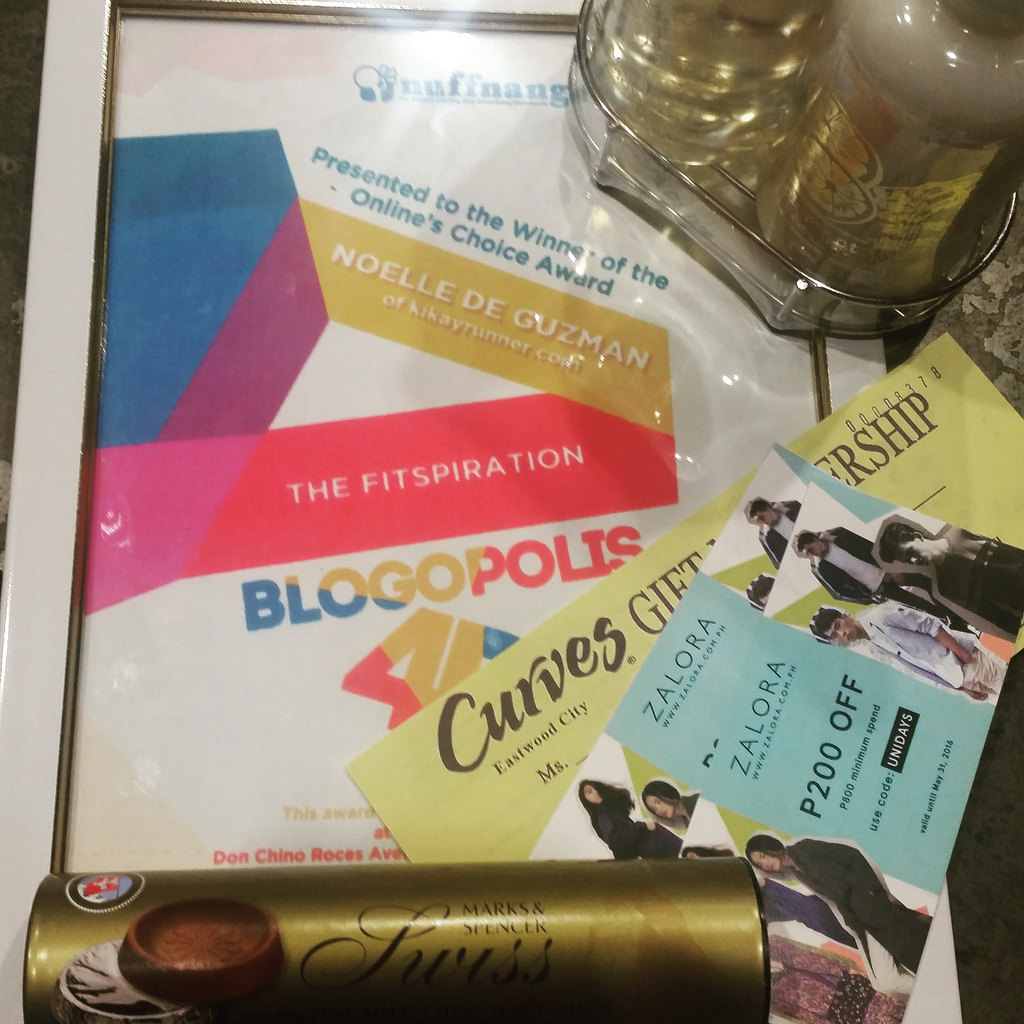 Kikay Runner wins the Online's Choice Award for Best Fitness Blog
The Best Fitness Blog Award went to Nikki Torres of Pretty Darn Fit, and she really embodies what it means to be, well, pretty darn fit! Congratulations to my fellow ambassador and former colleague at 360 Fitness.
Thank you everyone for your votes. I know it took some effort to put your votes online on your social media platforms, so I really appreciate it! Most of the Best Fitness Blog nominees have also been featured on Pinay Nomad's Top 10 Filipino Fitness Bloggers to Follow in 2016, so go see what makes us all stand out. 🙂
Anyway, I'm gonna go beat my legs up again — it's Leap Year Day and Nike Women has got something special cooked up for later in Intramuros. Check the blog later this week for the wrap about that, my Fitbit review, and why after so many years of running outdoors I'm hamstering away on treadmills and tracks again.
Liked this post? Share it!