It's been almost two weeks since I received a Fitbit Charge HR from its Philippine distributor Beyond the Box and Digital Walker. Right now as I sit here typing this I can tell you my heart rate is at 65 beats per minute, I've only taken 170 steps today, burned 719 calories and traveled only 100 meters. (But that's because I've been sitting at my desk finishing some writing work before deadlines. I promise I'm getting on my bike trainer after this!)
Wearable fitness trackers are slowly becoming part of the lifestyle for people who want to become more active and fit by keeping track of how much they actually do during the day. Things like total number of steps taken, calories burned, hours of sleep, and more are quantified and shown to you by connecting the device to a smartphone. Fitbit is one of the most popular brands on the market, with a large community of users.
There are eight different models offered by Fitbit at last count. Digital Walker has brought in the four most popular models: the Fitbit One, the Fitbit Flex, the Fitbit Surge, and the Fitbit Charge HR.
The Fitbit Charge HR is packed with the most features, counting not just steps, distance, floors climbed, calories burned, and number of hours of sleep, but also adding one more very important metric: heart rate. The wristwatch connects to your smartphone wirelessly through Bluetooth to transmit all the data it logs.
The Charge HR has LED lights on its inner side to detect blood volume changes and estimate your heart rate. It's able to track your heart rate throughout the day as long as you're wearing it, and you can also check your heart rate in real time with the wrist display. You can then use its smartphone app or desktop web interface to take a look at your heart rate trends. Having HR there also helps the Fitbit estimate your calorie burn more accurately.


comes with USB charger, Bluetooth dongle, and manual


Size L fits on my small wrist, but only just so.
You can configure your Fitbit Charge HR to display the time of day as you bring it up to a viewing position. Tapping twice on the right side of the watch can pull up time as well as the HR display, steps, distance, calories, or floors. A button on the left side of the watch cycles through all those display modes, but a long press also starts and ends Activity mode if you want to make sure the Fitbit logs a workout. It can also auto-detect a few common workouts, such as walking, running, outoor bike, elliptical, sport, and aerobic workout. When you access the desktop web interface you can set how long you need to do a particular activity before it is automatically logged.

Sleep tracking is also one of the more useful features; you can either use the smartphone app interface to start and end sleep recording, or you can just fall asleep and the Fitbit band will automatically log your sleep time, including the amount of time it took for you to fall asleep and how restful your sleep was (depending on amount of movement recorded).
Aside from these features, the Fitbit through the smartphone app can also help you keep track of how much water you're drinking and how many calories you're consuming. If you input your current weight, a desired weight, and an intensity level, the Fitbit app will create a food plan that will tell you if you're Under Budget, In the Zone, or Over Budget when it comes to calorie intake. (Higher intensity levels mean smaller calorie budgets.)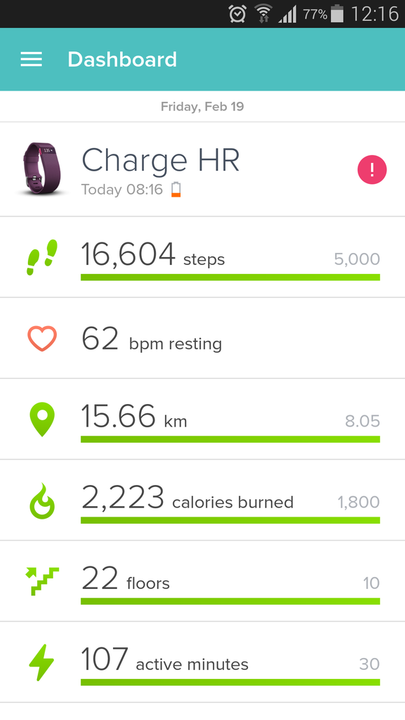 screenshot of the Fitbit smartphone app dashboard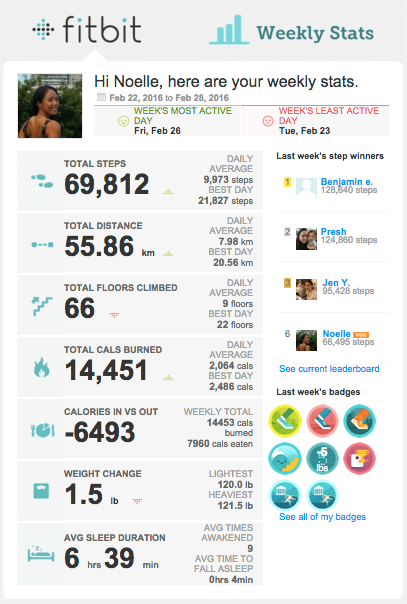 Fitbit sends weekly summary emails
OK, so after two weeks, how did the Fitbit Charge HR help improve my fitness?
When you quantify something, it's easier to see what is good and what needs to improve. After faithfully logging my food and water intake, wearing the Fitbit all day on all my land-based workouts (it's not waterproof so I can't swim or bathe with it), and even sleeping while wearing it, I've changed some things in my lifestyle. I definitely make a better effort at getting to sleep earlier now, which really helps boost recovery and performance. Using this fitness tracker also made me more aware that I need to be more consistently active throughout the day, instead of just relying on my workouts for activity and then sitting on my butt or lying down the rest of the day.
Here's a more detailed breakdown:
Sleep: I naturally wake up after seven hours of sleep when I don't set a morning alarm. I actually feel more sluggish when I hit eight hours of sleep. However, last week I was running on an average of six hours thirty minutes, which means I can probably improve that by getting to bed earlier.
Steps: After I set up my Fitbit account, I synced it to my Facebook account to find friends who were also Fitbit users and connected with them. I was shortly invited to a Challenge called Workweek Hustle. Those participating in the challenge would need to log as many steps as they could from Monday to Friday. I found that while I can get plenty of steps in due to my running workouts, on the days when I was only swimming or cycling I actually made less than 5,000 steps. (That's what happens when you work from your 50-square-meter condo home…)
Calories: The food database the Fitbit app works with isn't as complete as, let's say, MyFitnessPal which has Filipino food staples and popular resto foods in it. Some of my friends connect MyFitnessPal to Fitbit and log their food intake from there. As for my calorie intake vs. burn, my food intake consistently came in under budget (I set my Fitbit with a goal of losing two pounds in two weeks). On my rest days though (like Sundays) my calorie consumption registered on the high side compared with how much exercise I had done that day.
Heart Rate: I used the Charge HR alongside a chest heart rate monitor and on the whole they stayed within two to three beats from each other. There isn't a way to sync my heart rate data from the Charge HR with Garmin data yet, although you can sync Fitbit with Strava, Under Armour Record, and other platforms to log your workouts. I find the real-time heart rate display useful post-workout as it helps me see how fast my heart rate drops back to normal (a good indicator of cardio fitness). If the 24-hour heart rate chart could be zoomed in further on the desktop web interface I would happily be able to geek out about how fast my heart actually responds to workload.
You can actually also map your outdoor workouts in real time by using the smartphone app and GPS, so if you don't have a GPS watch this is the next best thing. And that's where the Fitbit Charge HR shines: if you don't already have something like a Garmin Forerunner watch, this is a cost-effective alternative that will track your running and other activity. The community aspect with the Challenges also helps a lot in motivating you to stay active throughout the day to rack up the steps, floors, and calories burned. The sleep and food and water intake tracking will also help you create and maintain more healthy habits.
In the end, those healthy consistent habits are what keep you fit and active.
The Fitbit Charge HR is available at all Beyond the Box and Digital Walker stores at 0% installment plans for up to 12 months.
https://twitter.com/digitalwalkerPH/status/703067239361220612