This is part of a series of posts about the Triathlon Supercamp. Check out Supercamp Day 1 & 2, Supercamp Day 3 & 4, and the Supercamp podcast with Caroline Steffen and Macca.
You know you're fatigued when memories of workouts start to merge into one another. After a good four days into triathlon training at T***, I started to come apart at the seams, which is why I'm only able to write about those last four days now. My brain basically stopped functioning and I was too sabaw ("soup brain", for my non-Filipino readers) to put anything down into writing.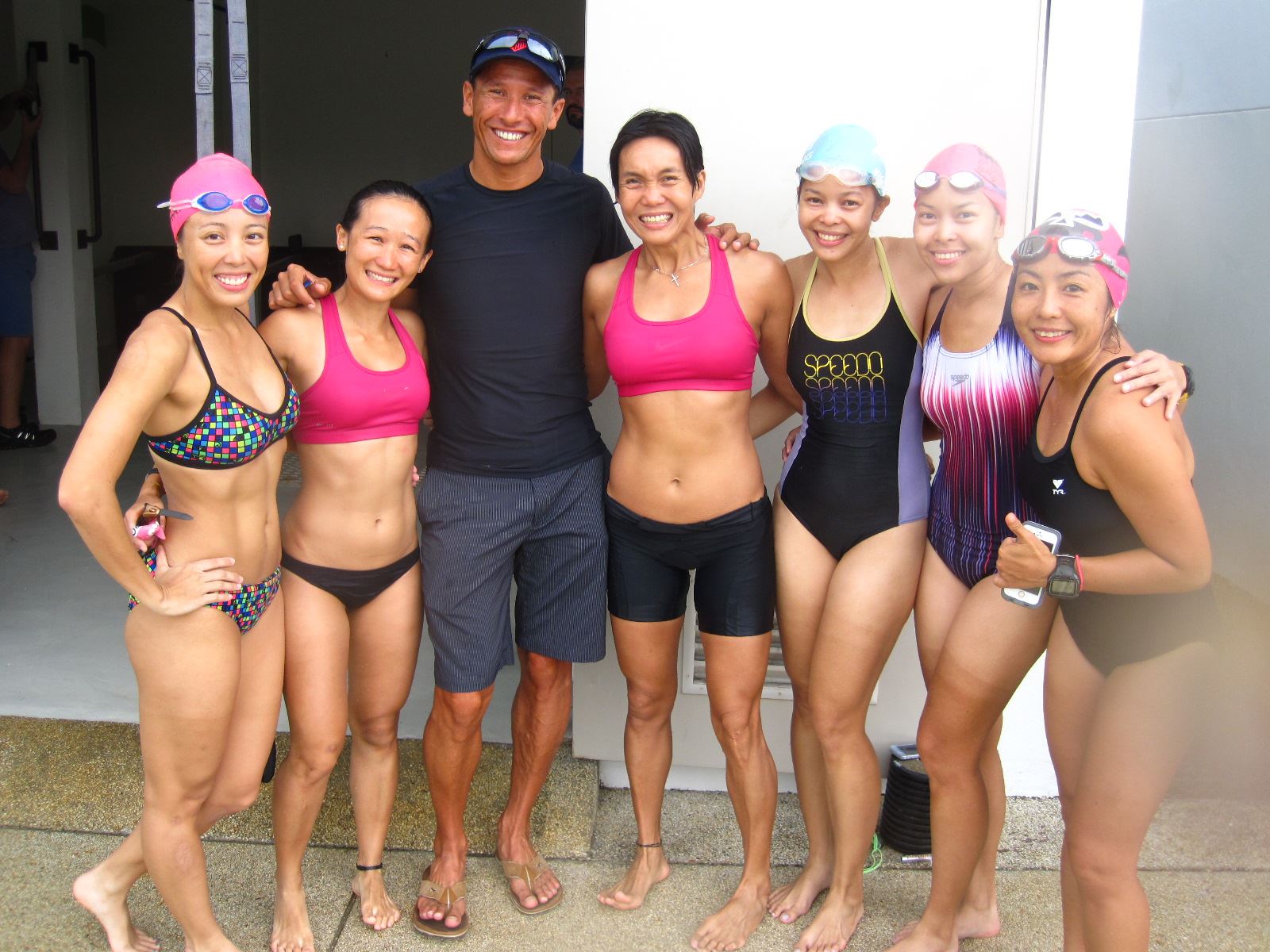 We all looked great, though. Maybe that's why models… never mind.
Day 5
On Wednesday morning I woke up to a swim session designed to mimic an open-water swim. The tides and currents are dangerous around the beaches at this time of year, so we weren't allowed to swim there. Instead, they removed the lane ropes in the 50-meter pool and set up buoys we could swim around.
Macca wasn't in the water with us, but he instructed us about "boardshorting" or drafting at the hip, positioning your body at a floating start, and swimming around buoys. I don't get to practice these skills in a normal swim session, so it was nice to do this in our group, which was a pretty large number of people similar to what you'd be dealing with in a mass start.

As one of the slower swimmers in the group my focus was on not panicking when the faster swimmers overtook me (and try to hang on as long as possible), and not getting bullied in the water. For those who weren't used to the fray of mass start punches and kicks it was a little bit of a rude awakening, especially when at one point Ben Hammond swam over a cluster of swimmers and dunked a few on purpose.
Finally we came to the last part of the session, called the "Eliminator": these were 100-meter swim efforts around the buoys, and the last seven people would be eliminated at each round. I wasn't feeling too well, so I made the best of the first round but was glad when I was eliminated (I don't think I could have swum many more 100's after that).
We the eliminated were happily relegated to cheering squad over the next three rounds. This also meant I could take a few more photos. Even though there was an element of competition in the Eliminator it was nice to see our little group gelling together and supporting each other.
We had a yoga class after the swim, which just felt very therapeutic for me after all the hard work laid down the past days. I realized that leading and doing three yoga fusion classes a week balanced my body out, especially in the months that I'd been training for the full distance. This was my first yoga class in a week, so it was much-needed and welcomed!
This was also the day we would view our swim videos for analysis. Aside from Jurgen and Ben, we also recruited T***'s new head of aquatics, Coach Miguel Lopez Alvarado, to take a peek at a few of the videos. We got some great advice on head and body positioning, rotation, catch, and kick — well, pretty much everything there is to know about putting together a better swim stroke.
Aside from an exaggerated hook in my wrist as I tried to initiate a catch, and an imbalance between my left and right hand at the depth they entered the water, Jurgen and Ben said it was one of the more efficient strokes they'd seen. (Coming from people who do video analysis a few times each week, this was a nice compliment!)
The last session was Track with Zack, which is a set of 800-meter intervals done on the 500-meter track, with a 200-meter float between 800's. We were supposed to accomplish each 800 at as consistent a split as possible. We separated into three groups, with Jurgen leading the 5-minute group, Macca in the 6-minute group, and Ben in the 7-minute group. You could do as little as 6 to as many as 25 800's depending on what you were training for.
I was in the 6-minute group which meant we would start each 800 every 6 minutes. I lent Macca my watch because I thought he would be holding a consistent split. Boy, was I wrong. When the lead group went out fast on the first round, he started challenging them to increase the speed. Since I didn't have a watch, I gauged my pace by counting how many seconds it took me to pass a cone after the lead group had passed it.
After the 5th round, I decided to pick up speed but was chagrined to find they were also going faster. Now I had been doing these intervals at a pretty controlled effort, just under my peak 10-K pace simply because I was being careful; I was still in doubt about my fitness and speed post-Roth. I was also making it a point to do 1000 meters in 5 minutes.
I was annoyed but decided to take it on as a challenge and take out my frustration on the track. On my 10th and last 800, I decided to throw caution to the wind and stayed with the lead group the whole way through. Macca said to me, "Noelle, you sandbagger. You should have been with the lead group from the start!"
I could have, but we still had big-gear efforts on the bike for the next day…
Day 6
After spending the night being wrapped up in compression gear and smelling of muscle spray, I felt fresh enough for another day training. Jurgen would take us on a mileage warm-up, followed by a few minutes on low cadence in the heaviest gear we had, then 30-60 seconds on really light gear with high cadence, then recovery. We would do that about three to four times and this would help our ability to push a bigger gear at a higher cadence.
After that we would have to run off the bike and do at least 4 kilometers. I had gone hard on those big gear efforts, so that run through the rubber plantation felt nice, like a reward — which is how you want to be feeling when you run off the bike at a race, right?
Still, we were all thankful for the ice baths after. Even though it was tough to get in and stay in for 10 minutes, when we got out it felt like all traces of soreness in our muscles had been washed away.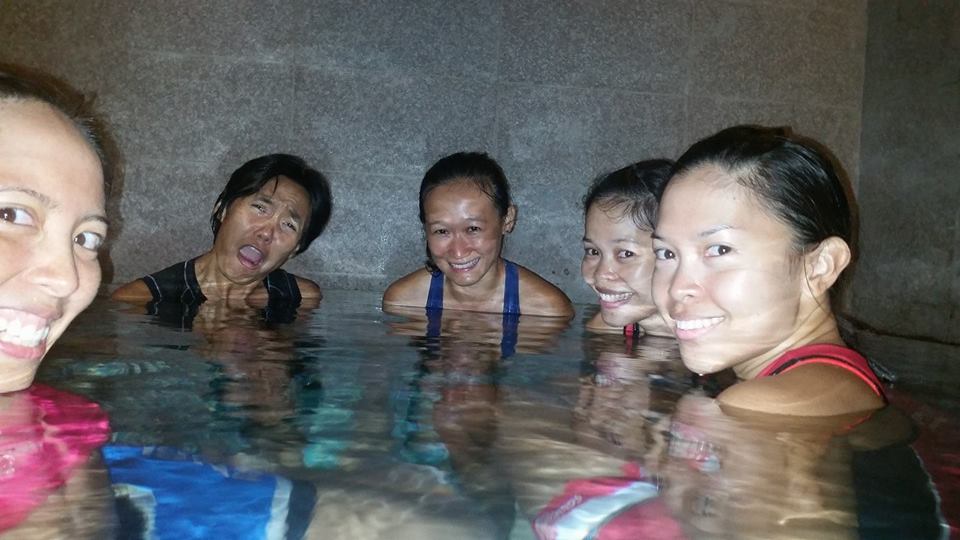 separate locker rooms for the ice baths, so it was a girls' party
We then had a nice "recovery" swim which was more of a drills session so that we could work on those things that had been pointed out to us in the previous day's swim analysis.
Many thanks to my swim coach Nonoy Basa, I was quite familiar with the body position and rotation drills. Also, because these are drills and are not to be done at speed, it was a relaxed atmosphere at the pool.
We ended the session with bands tied around our ankles (bicycle tire inner tubes, repurposed), which would encourage faster arm turnover and use of core strength to lift our legs into the proper position. Ben said the weaker swimmers could swim with the band for half the pool length, then slip one foot out of the band to complete the rest of the swim in freestyle. He also said strong swimmers should keep their feet in the band and swim the whole length with ankles bound. And he said, "Noelle, you're a strong swimmer today." I felt good, actually. It was nice to feel successful at a swim session, for once. 🙂
That afternoon we were supposed to have a Pilates session, but I skipped it because I was feeling a bit worn out. Also, the opportunity to interview Macca for my podcast came up! If you haven't listened to it yet, you can find podcast episode #2 here or on iTunes.
After the interview, Macca invited me to observe the track session he was coaching Caroline through.
I had the opportunity to see them interact as coach and athlete in Roth some weeks ago. I saw how he really took the time to be there when she needed him before and during the race, and then he sat down to do a debrief after her race, and then they had a long serious chat outside at the afterparty while everyone else was dancing and having fun… I definitely think they're a dynamite combination and Macca is exactly what Caroline needs to bolster her head game. She's already such a strong athlete physically; she told me in her interview for my podcast that she doesn't need someone to supervise her, but wants someone to support her.
Check out this video of the track session. She is soooo fast. She was killing herself out there with each interval (which is the point, yes?), but damn!

That night we had a Q&A with Macca and Jurgen and we got some great war stories out of them. They are both such incredible athletes in their own right — genetically gifted I believe, as all world-class athletes are — but what struck me the most about how they started in triathlon is how they were engaged in physical activity even as young kids. It wasn't formal training up until Macca joined the school's cross-country team or Jurgen joined the track team, but they had already been swimming, biking, and running as play.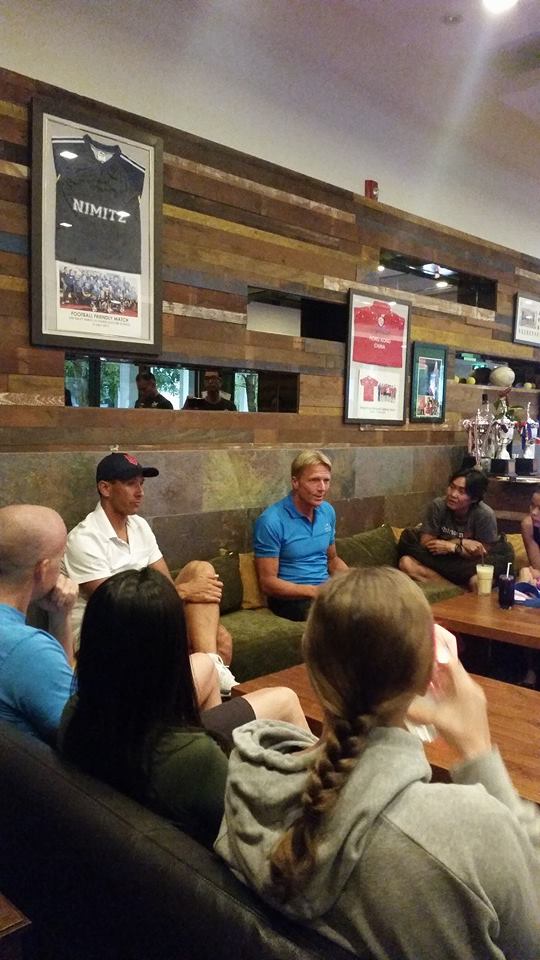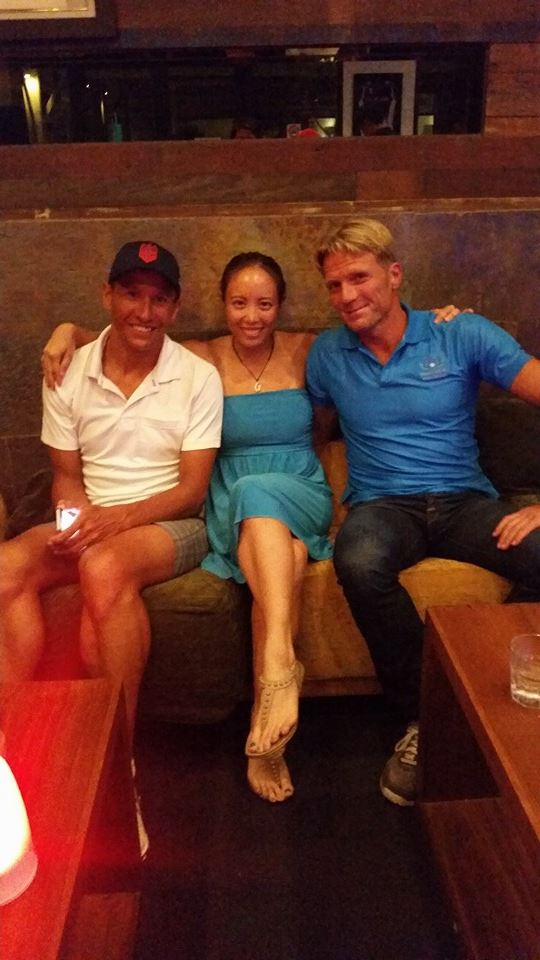 Both these guys are unbelievably down-to-earth and approachable.
Day 6 (wait, it's Day 7)
We had a late start for Friday morning but I had just buried myself the previous week. We were supposed to do the "Hour of Power" swim, but after the warm-up I just didn't have anything in me. I hopped out of the pool and pulled the media card, spending the rest of the session taking pics of everyone swimming 50 meters, jumping out, and jumping back in and swimming back.


Lung-bursting, arms-falling-off stuff
We had quite a bit of time before the long run in the afternoon, so Tim Ford, one of my best buddies from MaccaX (we'd met at Phuket camp last year), arranged to help out our fellow camp participant Sher Li learn to use bike shoes and cleats. She had done all the bike sessions so far in running shoes — yes, even the 110-kilometer long ride! She considers herself a bit of a Muppet, but we rallied around her and by the end of our little session on the track she was clipping in and out quite well.


Tim Ford, the most influential man in triathlon. (inside joke)
Jurgen's instruction for the long run was that it should be a softer session with a focus on mileage. We had done a lot of the running at hard or moderate pace, but this one would be easy. It was something I really enjoyed, and I got into a good rhythm early on.
The only thing that really made my heart rate spike was getting chased by a dog. We were using a pre-measured run loop and I was supposed to run it 3 times to get my target mileage of 12 kilometers.
As I passed through that section with that dog the first time, I saw the runner ahead of me playing with the dog. I ran past and the dog looked at me with more than a passing interest. The second time I ran through, the dog was waiting for me and ran directly towards me. He jumped up on my thigh, and I had to shake him off. As I ran away, he started running behind me. In my panic, I suddenly remembered that spraying dogs with water would drive them off. I had my Simple Hydration bottle tucked into the back of my bra, so I quickly pulled it out and squirted him. That sent the dog away, but after I rounded the bend and escaped him I had to stop and catch my breath and slow my racing heart. Yikes!
And yes I had to run one more loop. The third time through, I squirted the dog as he started to approach me, and was able to run by unmolested. I don't think the dog meant aggression (I think he enjoys running with people, since this is an often-used route in T*** training), but always it's better to be safe than sorry.
Day 8
When the last morning of Supercamp dawned, I actually felt quite sad and sentimental that it was all about to end. We had a bike ride with time trial efforts, and then a swim in the afternoon. And then a farewell dinner. Huhuhu!
I almost gave up on that bike ride because as we rode out, I noticed it was much harder to maintain speed. I thought I was fatigued. Then I thought it was my brakes rubbing the rim. But as we went on a practice ride through the 5-kilometer loop we would be riding during the TT effort, I finally realized my rear tire was flat. I then spent the next quarter of an hour attempting to change the inner tube, using a CO2 canister, and exploding the new tube — twice. (Many thanks to Brooke, Ben's girlfriend and also another coach at T***, for staying with me.) So I'd gone through all my spares and through Jurgen's and Brooke's CO2 canisters. One of the riders who trains regularly with the T*** squad stopped and changed the inner tube for me and filled it expertly with his own CO2. I thought I would just ride home, but since it was a contained course I decided I would go for the TT efforts. If I flatted out again at least people would be passing by me regularly. And so I finished the session!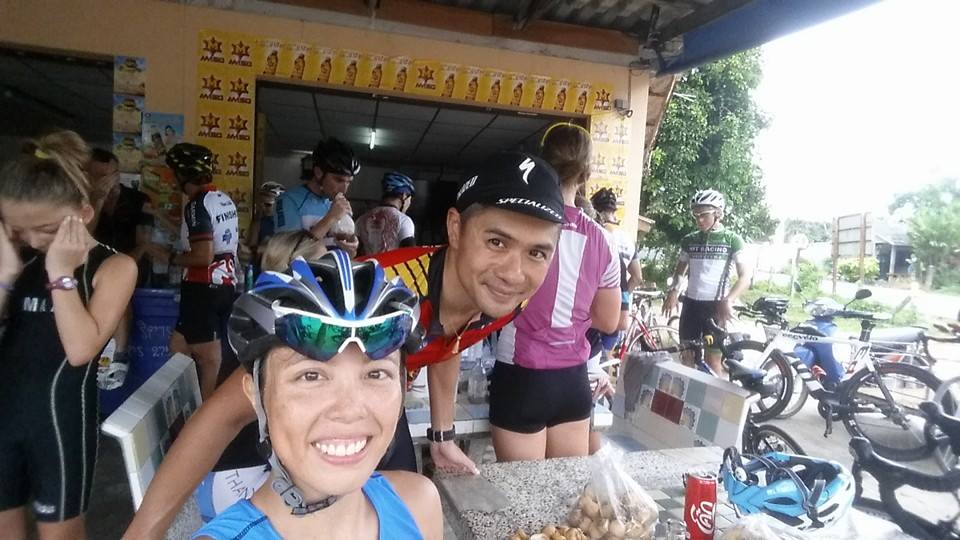 with Samnom from Switzerland via Singapore
We got back to T*** and I hosed off my bike to clean off the grit before I packed it up into its box. That was the one time I was able to snoop around Ben's office (also duplicates as the bike mechanic shop):



Ben also does bike fitting using the Retul system
We finally all picked up our T*** tri kits (which are part of the Supercamp package) and used them in the swim session. It was a nice floaty set with lots of recovery, but ended with a 350-meter race. Those of us in the slow lane got a 50-meter headstart. I don't really want to tell you what place I ended up in at that "race" but let's just say I wasn't nearly as aggressive as I could have been, but definitely felt stronger in the water than I had the Saturday before.
Macca had been out entertaining his buddy Nick with a long 140-kilometer ride with Caroline, but he showed up for some drinks before the farewell dinner. As you can tell, we were pretty much all ears when he was around.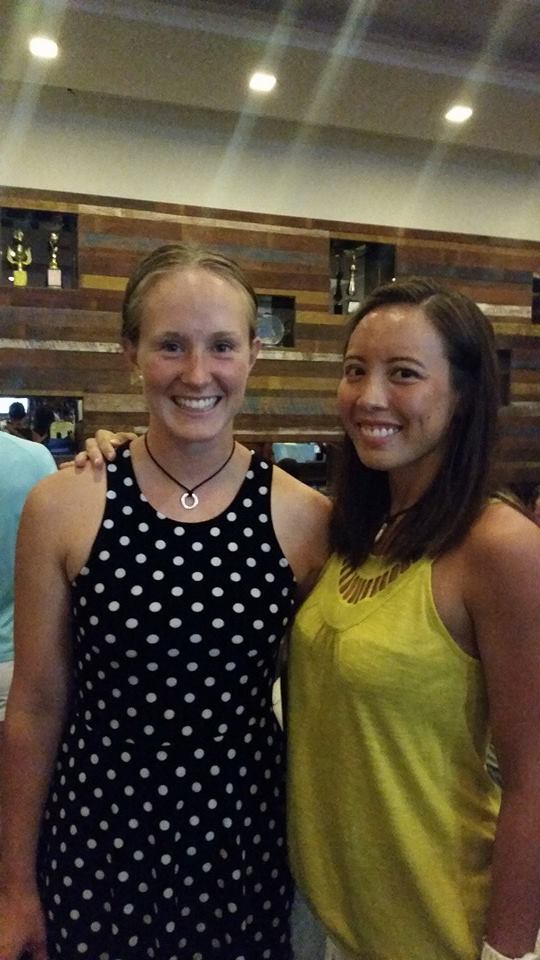 With Brooke and Ben (can I have a few inches of height please?)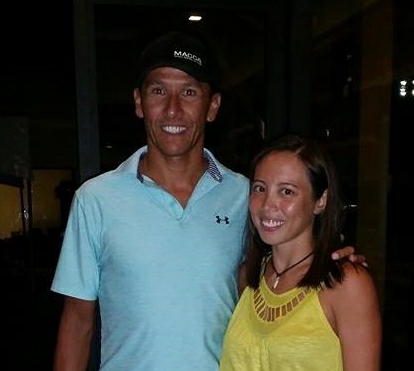 "Don't we have a sh*tload of these photos?" he said. Um, no. This is only our fourth photo together.
I came to Supercamp to learn how to train and how hard to train. I came away with so much more: a renewed awareness of why I do triathlon (it's a lifestyle that promotes healthy choices), why I love triathlon (because I enjoy being around people who are passionate and alive), and why the pros are pros (because they are truly gifted not just with speed and endurance, but also with a mindset that thrives on the insanity of training). This is an amazing sport that draws together so many different people and I think that's just what fascinates me about it and why I won't get bored with it for many years to come.
It takes being slightly crazy to do triathlon…

Shot and edited with my Globe Samsung Galaxy S5. Thanks to Globe for great data roaming service while I was in Thailand!
Also, T*** is Asia's best-kept secret training grounds — and it shouldn't be secret! More people should come and see what it's all about. You don't need to wait for a "Supercamp" to come here. They hold triathlon training sessions 7 days a week, 365 days a year. Even just a week of focused training here, probably in your peak training week before tapering for a race, could make a big difference in performance.


Seriously, I got my butt kicked at Supercamp. And loved it.
Now it's time to enjoy a bit of offseason so I can come back into training fresh and raring to go. These legs are a bit travel-weary at the moment!