Endurance training is cyclical: you peak at your major event, then have to scale down training to recover both physically and mentally. And then you begin your build again for the next peak. My first major race next year will be Challenge Philippines in February, but my build for it will start with the Bataan International Triathlon on November 29 to 30, 2014.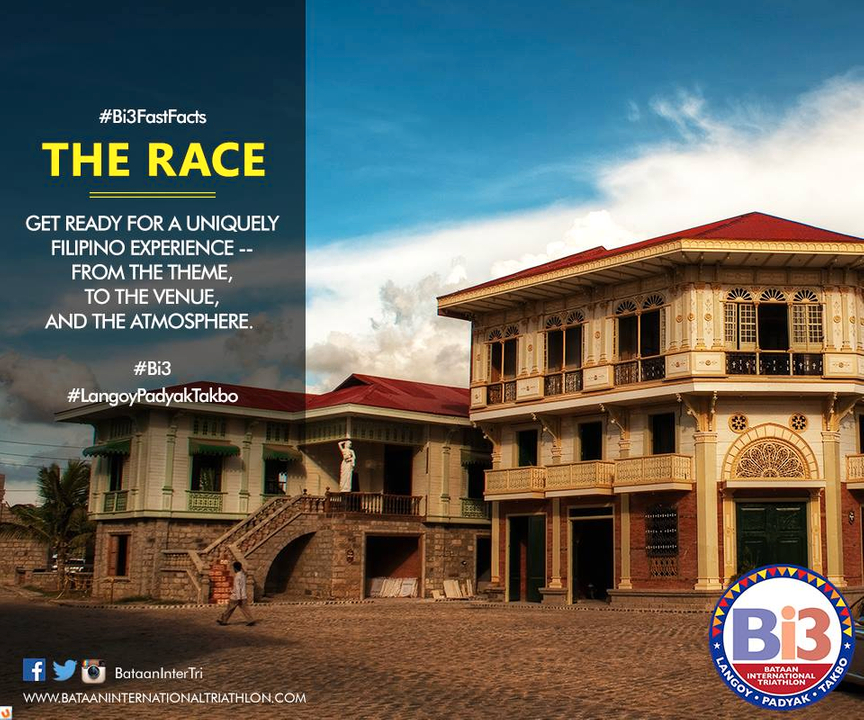 Bataan International Triathlon on November 29 to 30
The brain behind this is my good friend Raymund Magdaluyo, who is an adik triathlete and passionate about elevating the level of local triathlon. He has been to so many destination triathlons around Southeast Asia: Laguna Phuket Triathlon in Thailand, Laguna Lang Co Triathlon in Vietnam, Bintan Triathlon and Metaman in Indonesia… He dreams of creating a destination triathlon experience in the Philippines that not only Filipinos but also international athletes will want to keep coming back for.
The Bataan International Triathlon, or Bi3, will be based out of Las Casas Filipinas de Acuzar, a resort in Bataan which gathered together and reconstructed old Filipino architecture that would otherwise have been demolished. I'd been there many years before, when it hadn't been opened to the public yet, and it was a beautiful place. Imagine running a triathlon through Calle Crisologo in Vigan, or through Intramuros in Manila? With the success of the Mt. Mayon Triathlon last month where athletes swam, biked, and ran against the backdrop of the magnificient Mayon Volcano, a picturesque and unique triathlon experience in a uniquely Filipino locale ranks high on my to-do list.
The race offers a pristine swim off the grey sand beach, a challenging bike course through Bataan's hills, and a run that leads back onto the cobblestone streets of Las Casas.
The race weekend is designed for athletes of all levels. More experienced athletes can choose from the long-distance Largo, which takes them through the full distance of the course: 1.5km swim | 55km bike | 11km run. They can participate in the solo category or they can team up with a family member or a friend and participate in the amigo or buddy category, where both participants have to start and finish at the same time. There is also a relay category.
Less experienced athletes looking at doing a challenging sprint triathlon can participate in the Rapido category, which also has the solo and amigo categories. The Rapido consists of a 750m swim, 30km bike and 5.5km run.
Younger members of the family can participate in the following age-specific Junior Aquathlon events:
6 to 8 years old : 100m swim | 1km run
9 to 12 years old : 200m swim | 1.5 km run
13 to 16 years old : 300m swim | 2km run
Junior Aquathlon participants can choose to participate as solo athletes or as part of a Parent-Child tandem, wherein the parents will swim and run along with their children from start to finish. The parent-child category is open to the 6 to 8 and 9 to 12 age groups only.
You know what's very important though? FOOD! As a reward for a hard day of racing, Bi3 participants will be welcomed to a post-race fiesta, where a variety of Filipino dishes will be served, including a wide selection of Filipino street food. ("Dirty" ice cream, please!) Overall category winners and the top age-group winners will be awarded at the post-race party along with the special awards for best in costume.
Two international athletes have already signed on for Bi3. Do the names Ben Allen and Jacqui Slack ring a bell?
This power couple rule the XTERRA offroad triathlon circuit and have also raced in the Philippines in the past. They are thrilled to be coming for Bi3 and say, "We have experienced first hand the amazing atmosphere, friendly people and beautiful places that the Philippines offers. So with that said we look forward to being involved with everything that's on offer to provide us with the ultimate triathlon experience."
Registration is open until November 15, 2014.
Largo:
SOLO Php 3,300 (Early Bird Php 3,000)
AMIGO 'Buddy' Php 6,000 (Early Bird Php 5,700)
RELAY Php 7,800
Rapido Sprint:
SOLO Php 3,000 (Early bird Php 2,800)
AMIGO 'Buddy' Php 5,500 (Early bird Php 5,100)
Junior Aquathlon – 6-8 years old
SOLO Php 2,000 (Early bird Php 1,800)
Parent & Child Buddy Php 3,700 (Early bird Php 3,400)
Junior Aquathlon – 9-12 years old
SOLO Php 2,200 (Early bird Php 2,000)
Parent & Child Buddy Php 4,400 (Early bird Php 4,100)
Junior Aquathlon – 13-16 years old
SOLO Php 2,500 (Early bird Php 2,300)
Participants may register online through www.bataaninternationaltriathlon.com or through partner registration sites: Blackbeard's Seafood Island (Luzon Branches), Bert Lozada Swim School (Ace Water Spa Pioneer and Q.C.), Bike King (Bonifacio High Street), Cycling Zone (Alabang), The Brick Multisport Store (McKinley Hill), Unison Bikes (D. Tuazon, Q.C.) and AQUATX (Glorietta 3).
You can also follow the Bi3 Facebook, Instagram @BataanInterTri, and Twitter @BataanInterTri for updates and details.