This is part of a series of posts about the Triathlon Supercamp. Check out Supercamp Day 3 & 4, Supercamp Day 5 to 8, and the Supercamp podcast with Caroline Steffen and Macca.
This blog entry is coming to you from Thailand! I am in Phuket participating in the first-ever Supercamp. It's eight days of intensive triathlon training meant to make us stronger, faster triathletes. Most of the people at this camp are here preparing for big races, but I'm here to learn what it is to train hard so that when I start building for my next race, I know how to go about it. Where else should I go, but to the experts and professionals?


note: that's not me getting a helping hand from Macca. I wish it were!
I've decided to blog about the training camp as it happens, in part so I won't forget what I'm learning and also because I want to take you readers with me on this amazing (so far) experience.
So here goes…
Day 1
After a very late arrival on the red-eye Cebu Pacific direct flight to Phuket, I slept in and just roamed around before our first camp session, a swim at 4pm. I bumped into three other Filipinos — TJ, Kats, and Yna from PLDT-Bike King — who are also here for Supercamp. Love it!
I'd been here for a day as part of the MaccaX Phuket camp last year (check out my blog entry about triathlon training at T***).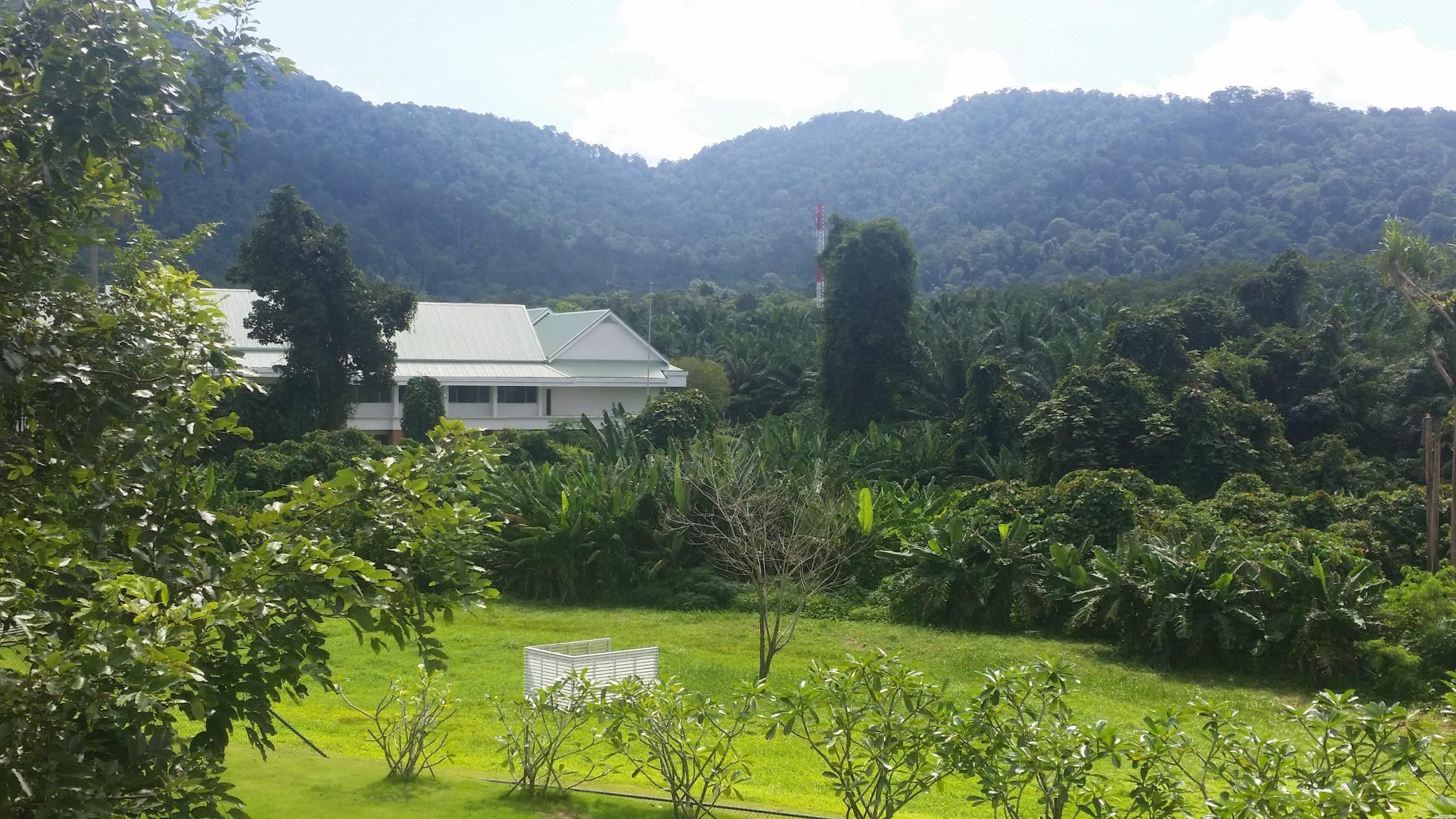 Sports Hotel nestled in nature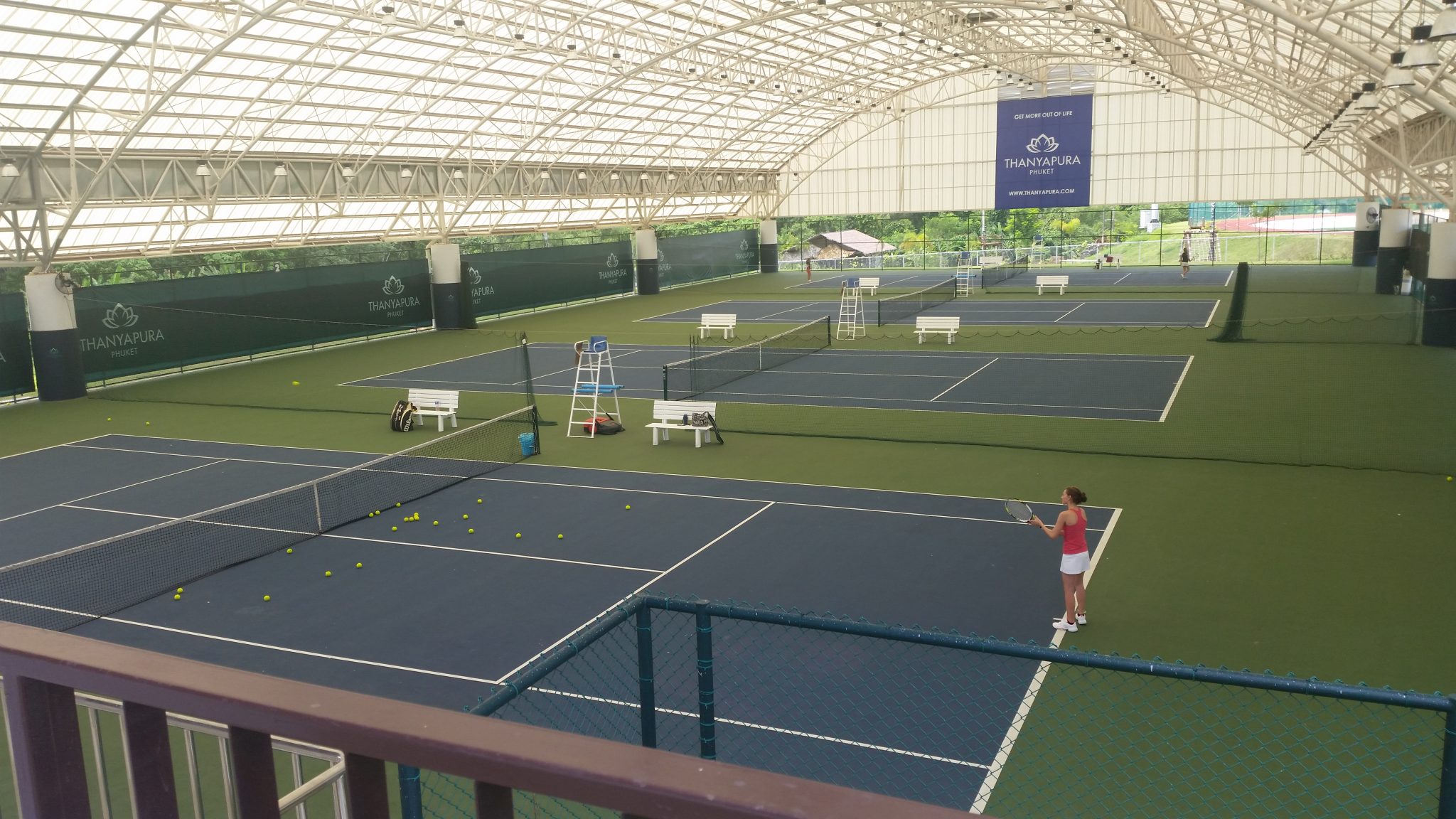 Ahhh, tennis, one of my old sport loves
With Chris "Macca" McCormack as executive chairman there have been some changes to the place. For one thing, it's a lot busier than before; aside from Supercamp, there was also a group of ladies from China here on a beauty and wellness retreat. There is also a general air of dynamism and action around the place that wasn't there before (back then, it just felt like a sleepy hotel with some great facilities). Things are getting done here and I think that's the effect of having a good leader and role model.
I got to sit in on Macca recording the latest edition of his MaccaX Uncensored podcast with his new co-host, Jurgen Zack (also the head coach of the triathlon academy). I can't wait for it to come out because they discuss a lot of things happening right now in the triathlon industry and you can get a glimpse of where this sport is going and how it could develop. I also asked a question there about Macca's career and future race plans that a lot of people would be interested in hearing about.


Macca and Jurgen doing their podcast
After that I had to get changed into my swim things and get into my favorite pool in the world. T***'s 50-meter pool is 3 meters deep, has 8 lanes, is temperature-controlled, and is ozone-filtered (no chlorine!). I really enjoy swimming in that pool, and yesterday's session was the usual Saturday swim they hold. I stuck myself in the slowest lane simply because I know I'm not the best swimmer. I ended up leading the intervals, and it just turns out that my usual slow, moderate, and fast paces are spot-on for that lane. Heh 🙂
The last part of the swim was a mass start, and the fast swimmers from the other lanes all dispersed across the pool. Caroline Steffen is here training, and she and Macca were in our lane. We slower swimmers practiced a floating start, while Macca and Caroline started from the wall. As I sprinted forward, I saw Macca swimming deep underwater, then flipping over to look up at where he was going to surface. He came up right underneath me and everything he taught us at MaccaX camp came flooding back. I drafted by his hip for a bit, then slid back towards his feet, then rode his wake when he finally outpaced me. It was a real rush but I managed to stay calm and focused in that "washing machine".
We also had our official Supercamp welcome dinner that night, and it's a sizeable group of 23 people from everywhere in the world. Aside from us Filipinos, there were Australians, people from the United Kingdom, Americans, and a Swiss. Fun bunch of people all passionate about this sport, and that's something I feed off. 🙂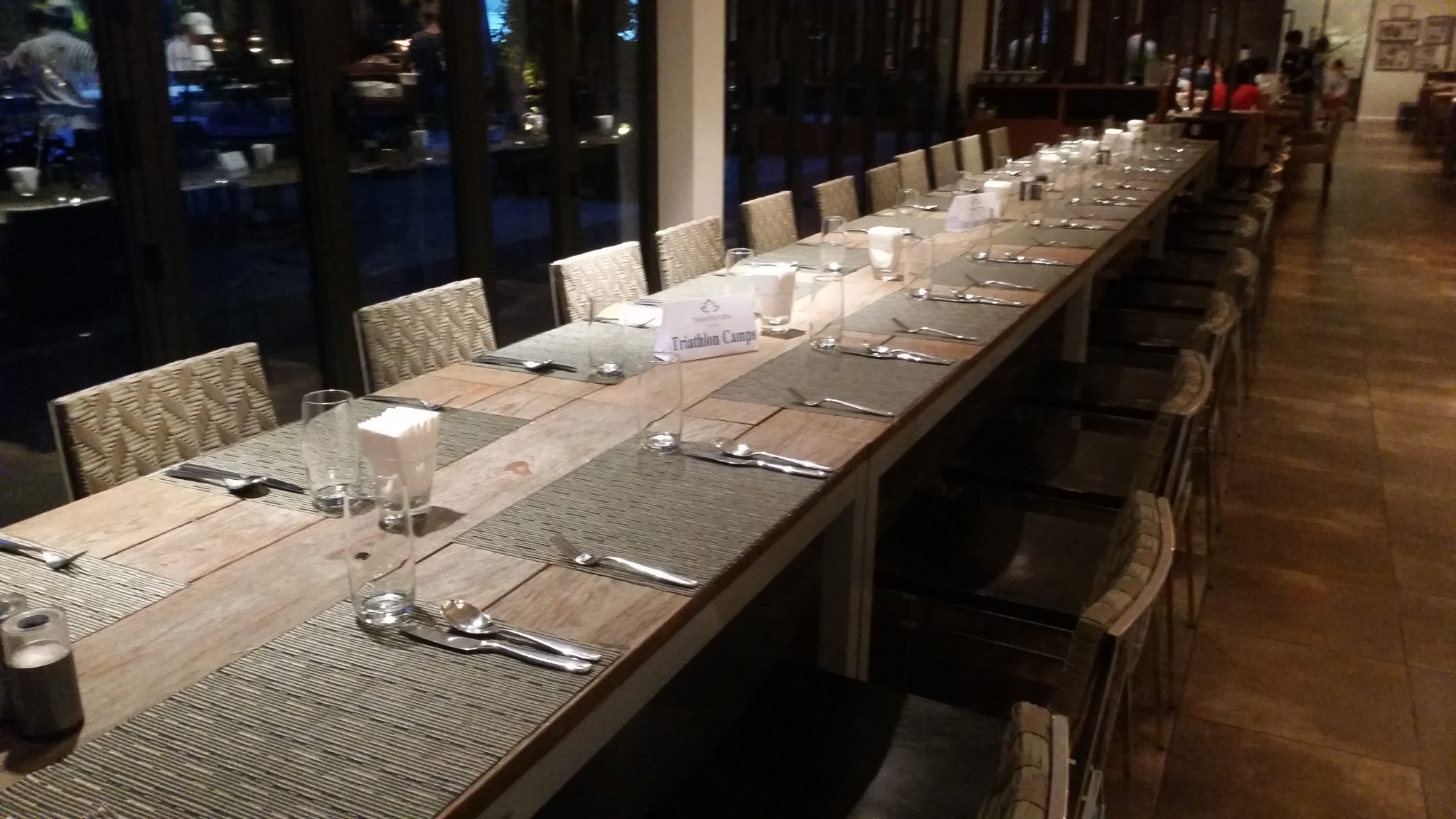 as you can tell, I was there a bit too early. 😛
Day 2
The only planned workout for Sunday was a long bike ride: 110km, or 155km, with an easy run after. The Sunday rides are open to all, so it was a huge bunch of about 80 people heading from Phuket across the Sarasin Bridge to Phang Nga on the mainland of Thailand. It was initially broken up into two groups: one that would leave at 7am and ride at an average pace of 27 to 28kph (with an option to do only 70km). The second group would leave a little bit later and would ride at a faster clip, then stop at the Home & Life Bakery in Phang Nga. (This bakery's proceeds benefit a nearby orphanage, so it was nice to have a pitstop for a cause.) After that, the stronger riders would head onto a 45-kilometer loop and come back to rack up 155km, while those who were only targeting 110km would head straight back to Phuket.
I left with the second group, hiding inside the front bunch for full drafting effect so I could take things a bit easier. As it turned out, as soon as we caught up to the 7am group, they latched onto us creating this long train of riders! So nobody turned around to do only 70km (mwahaha). But this also meant that some riders faltered. Among them was Kats, who was dropped. Guess who went back for her? Macca! He gave her a push so she could rest her legs for a bit and catch up to the bunch.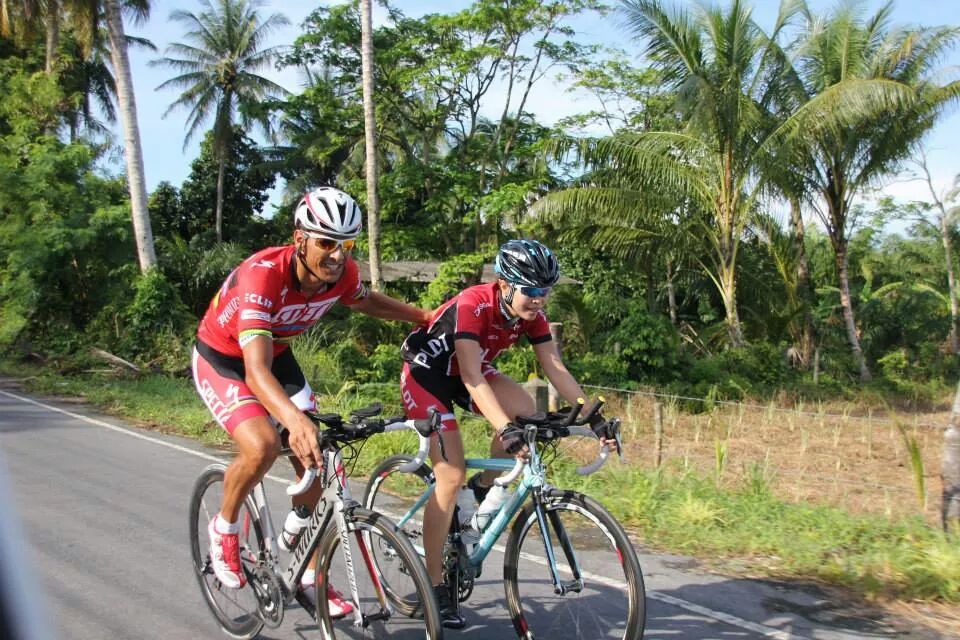 Kats, the envy of the other campers 😉
We had a nice bit of rest at Home & Life, then it was back to base. That return ride was an adventure in itself. I started out again in the front bunch, but then the kids from the Elite Junior Sports Academy kept pushing the pace harder and harder (I heard from TJ that they were averaging 45kph on some sections).
I dropped back into a cluster of three other riders, including Yna. We worked together to shield each other from the coastal headwind, and it's much safer riding in a group because you're more visible to vehicles. It was much harder work, though, and I started to feel twinges of cramping in my quads and hamstrings (definitely not a good thing if you still have to run off the bike).
We managed to catch up with the rest of the group, which had stopped at a 7-Eleven for a drink break, and we all rode the last five kilometers together. Great ride!

I got off the bike and put on my running shoes. While the others from the group headed out onto a 4-kilometer running loop, I decided it would be wisest to do my brick run at the 500-meter track oval. Sure enough, by the first kilometer my right quad and hamstring were locked up in cramps. It eased off a little bit, so I did another kilometer. Then both legs locked up, so I ended my session there. (Ouch.)
I spent the rest of the day hanging out by the pool trying to even out my tan lines and resting.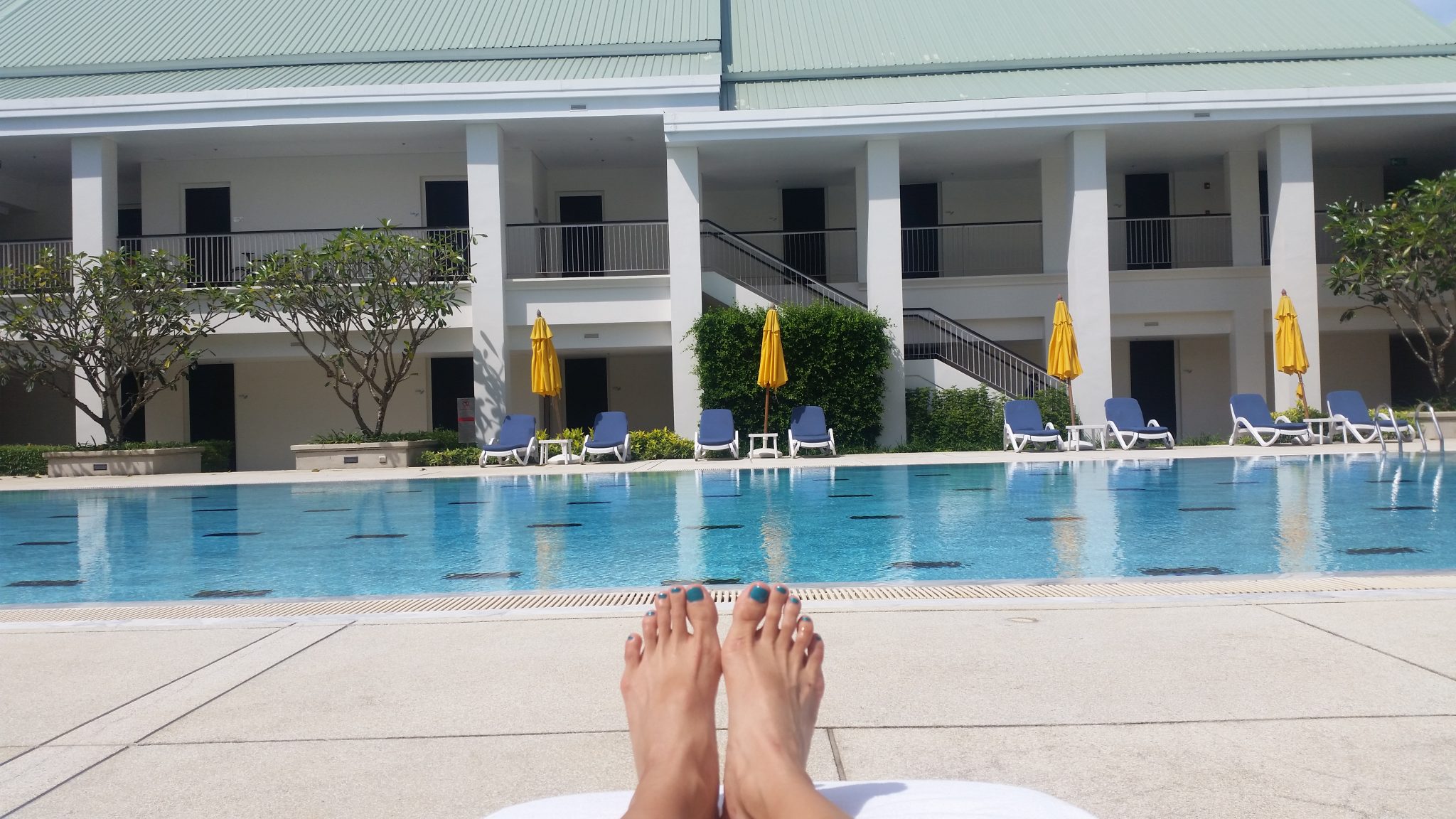 Thanks for the hard work, feet!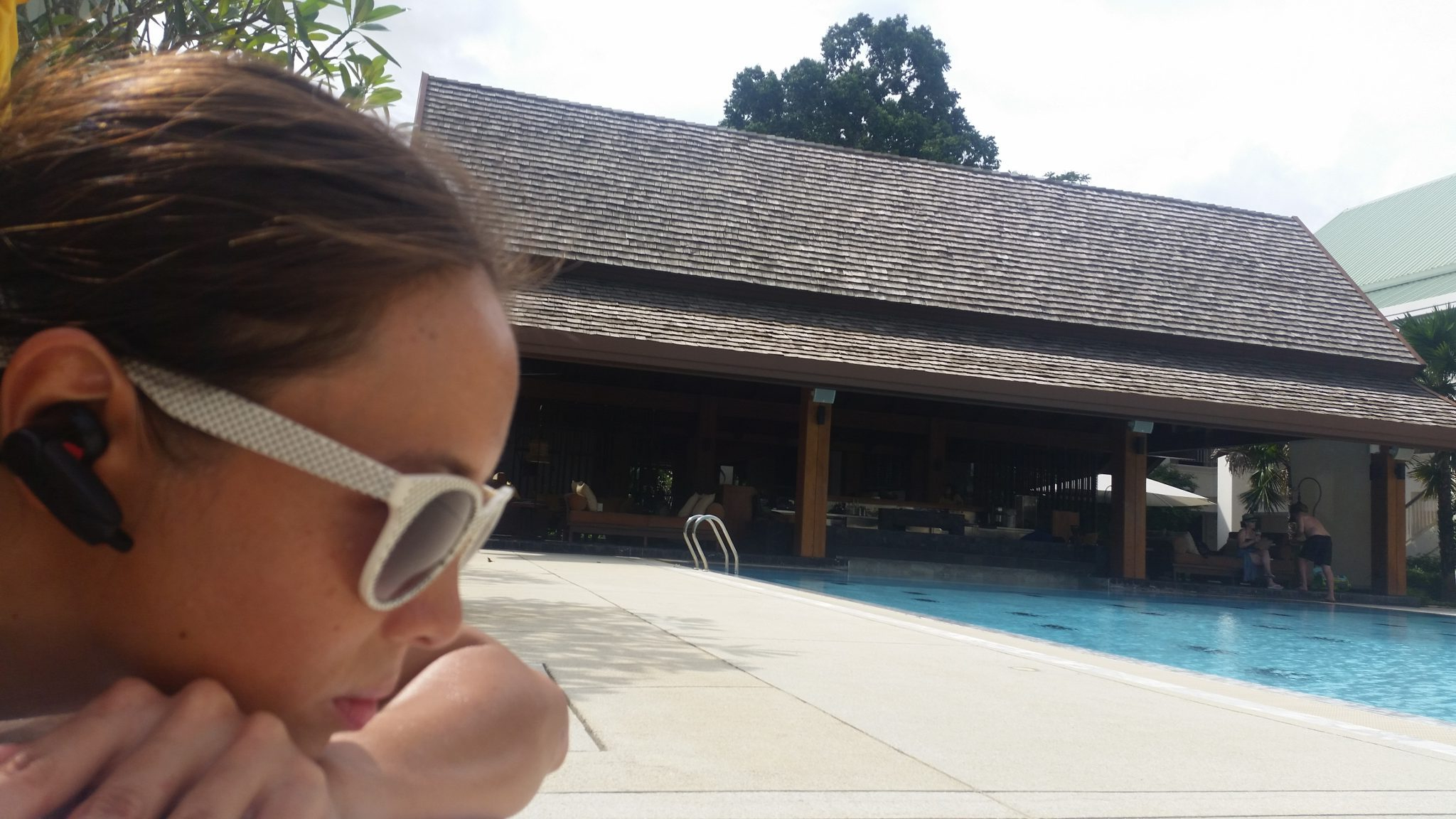 listening to some tunes with my yurbuds Wireless earphones
I'm looking at the stats from that ride. Drafting is really effective in maintaining speed with a lower level of exertion. At the same time, I rode harder than I would normally on a long ride (which explains the cramping).
But doing the full distance at Challenge Roth has fundamentally changed my way of thinking about distances. 110 kilometers isn't "too long" for me anymore, and I know that if I had been dropped I could complete that distance by myself. It's really strange, but even as I kept asking more from my body, it gave more as well instead of giving up.
It's going to be really interesting what I can get my body to do in the next few days here at Supercamp!
Liked this post? Share it!