I've always supported Color Manila events because they capture people who wouldn't normally find themselves on the starting line of a run. As the runners I know have matured into hardcore marathoners, ultrarunners, and triathletes, it's important to remember the simple magic of running when we were newbies: arriving with friends, snapping photos while running at the so-called "picture pace", with nobody constantly asking how fast you went or if you won, just that you were out there doing something healthy for yourself for a change.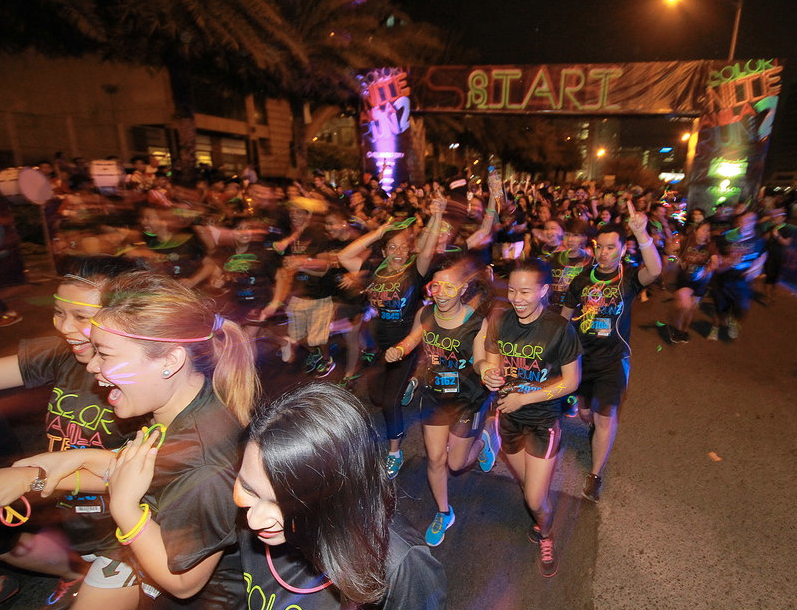 With the success of Color Manila Run and Color Manila Nite Run in Manila and provincial legs, of course the organizers Proactive wanted to take it up a notch. The Color Manila Nite Run on August 30 at Filinvest City, Alabang will feature glow paint and black light on the course, which will add a new dimension to the experience.
Check out some video from the first Color Manila Nite Run last year:

Even during the first Color Manila Nite Run, people were already looking for glow paint, but the organizers were hesitant due to safety concerns. Would it be OK to put on skin or splashed into people's eyes or mouths? Proactive has partnered with Raveolution, which imports the glow paint from the UK and has already used the product in a major dance party with much success. Raveolution will also provide the post-race music and entertainment, so it's going to be a night to remember and enjoy with your friends.
Registration is ongoing at www.colormanilanite.com. For a flate rate of P850, run 3K, 5K, or 10K and receive a Color Manila Nite Run Glow Paint Edition singlet, glow sticks and glow glasses, race bib, and guaranteed finisher's medal. (This is a non-timed event, so take your time on the course and really party!) Race kit claiming and expo is on August 28, 29, and 30 at the Filinvest Tent in Alabang.
Who wants to win entry to Color Manila Nite Run Glow Paint Edition? I have one prepaid card you can use to pay for your race entry. How do you get it? Here are the mechanics:
Color Manila Nite Run Glow Paint Edition Contest Mechanics
Comment below to answer the question: What is the most fun experience you've had with your friends?
One entry per person.
The most entertaining entry wins the prepaid card!
Contest starts today, August 20, until August 24. The winner will be announced over Facebook, Twitter, and notified through email.