Even though I've been doing triathlons since 2010 and placing in my age group, apparently one isn't a serious triathlete until one attempts a long-distance triathlon. This year, then, marks my entry into serious triathlon. *game face on* 😛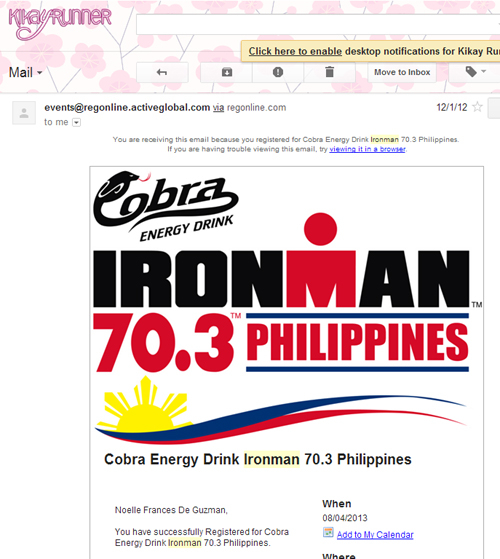 officially registered for Ironman 70.3 Philippines
Tongue-in-cheek aside, there are people who don't consider your efforts serious until you attempt a full Ironman — 4-kilometer swim, 180-kilometer bike, 42-kilometer run. Personally I think one is a serious athlete (whether single-sport or multisport) if one trains deliberately for their sport, whatever the distance, whatever the finish time.
This is the 5th year of Ironman 70.3 Philippines, and its second year in Cebu. I've been hanging around the scene long enough to have participated in the last two years as part of a relay.
After our doing our relay bike leg at 2012 Ironman 70.3 Philippines, Tina Zamora of Team Norman and I got to chatting while trying to get out of the transition area. We both agreed that we'd attempt the whole thing solo the next year. So, on the very first day of registration last December, we signed up.THE Tessa Valdes is also returning to the individual category after having done relay last year. (She's already done a solo 70.3, where she placed third in her age group!)
relay participants in 2012, solo participants in 2013!
Triathlon has been getting a lot of press lately, especially with celebrity triathletes like Kuya Kim Atienza and Mateo Guidicelli in the limelight. They certainly have great training resources at their disposal: top coaches, high-end bikes, time (except when they're taping).
Then of course you have the age-group triathletes like myself. We're self-coached (this is where having a training group or team comes in handy, like me and Team Endure), we upgrade our bikes incrementally, and we hold down day jobs. I'm glad that my job as a group fitness instructor allows me more control over my time, but it also is quite draining physically and takes away from the energy I could spend training. I'm also thankful for the support I get from Mizuno and Lightwater: I don't need to worry about running equipment and hydration.
I think that whatever resources are at hand, it's commitment that is crucial. Whether you put the work in or not determines whether or not you finish happy and well, and that's what I want. (I do have a time goal, but I'll talk about that in a future post.)
I originally started this blog so I could keep myself honest about my first marathon preparations. So, I'll do the same as I prepare for my first Ironman 70.3 triathlon. I hope you'll join me as I write about running, biking, and swimming my way to what will be my longest race so far.

Ironman 70.3 Philippines, here I come!
Join Kikay Runner on her athletic adventures! Follow on Twitter, Like on Facebook, download the Kikay Runner App for iOS, or use NuffnangX for iOS and Android to follow Kikay Runner.