I got back in the pool again this week after two months of the sniffles (among other excuses I used to stay out of the water). Swimming has always been my least favorite of the three triathlon disciplines. Don't get me wrong: I love being in and around water. It's just that I don't swim as proficiently as I can bike and run.
Well, I went into the water determined to find something to love about the swim. To do that, I needed to eliminate the things I hated about the swim.
NOT a duck in water.
NOTE: If you're planning to swim as part of triathlon, or even as good crosstraining for running, don't forget to apply sunscreen. I use a one-touch brand so I don't need to wait for my skin to absorb the product.
If you still feel burnt after the swim, put on some after-sun gel (Celeteque has a good one) to minimize the inflammation and discomfort.
Leaky and foggy goggles. I haven't had much success with goggles I've used thus far. One pair was fine until their white rubber discolored into yellow and the lenses' anti-fog treatment melted off, leaving me to spit constantly into the lenses every 200 meters just so I could see clearly. Another pair, however tightly I adjusted them, would leak water every time I turned to breathe and would come off with a strong kick from any swimmer in front of me.
I get panicky when any of these situations happen during the swim leg of a tri. At the TRIpalooza a few months ago, I found a pair of Aquasphere K180 goggles (women-specific) on sale. I'd heard rave reviews about Aquasphere goggles already, so thinking I had nothing to lose by trying a new pair of goggles, I snapped them up.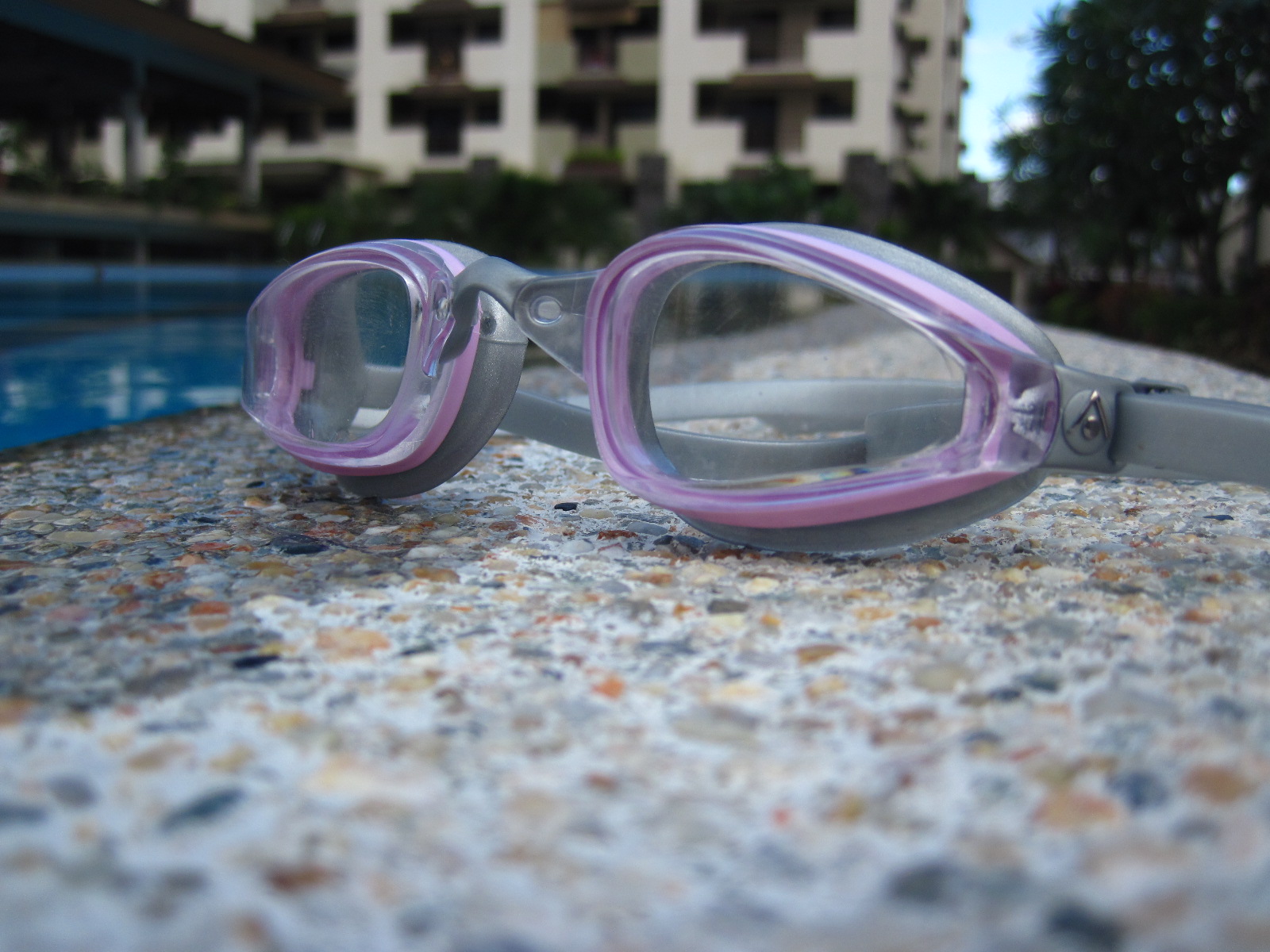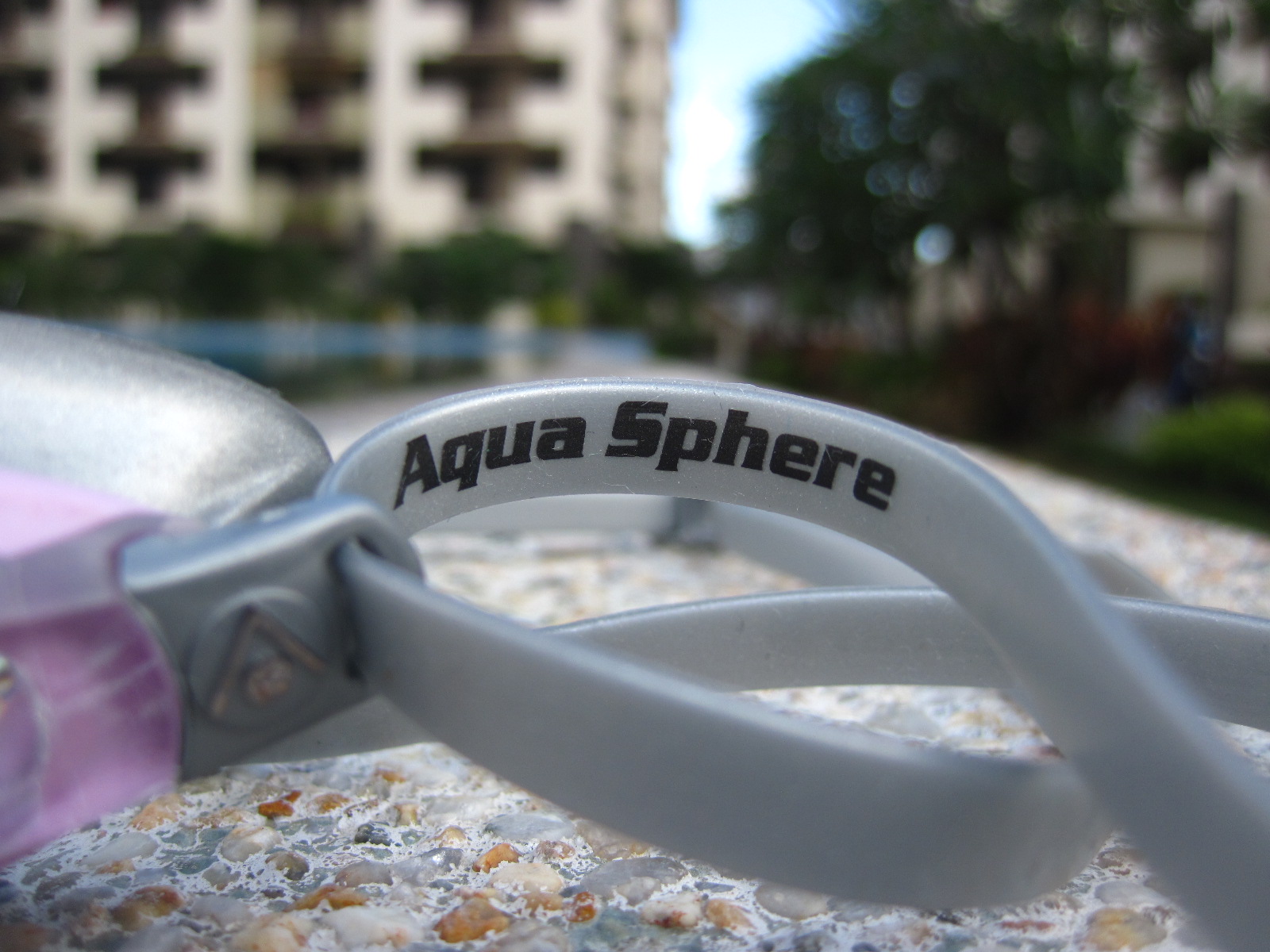 Aquasphere K180 (Ladies) goggles
According to this review, the K180 is a cross between pool-specific and open-water goggle designs. Pool goggles have a smaller profile, meant for hydrodynamic efficiency (less drag). Open-water goggles have larger lenses (the better to sight with) and are designed to stay on better even in the fray of a mass start.
I tried the K180's a few times last year, but not very intensively. Now that I'm in serious swim mode, I know they hold up to scrutiny. No leaking, comfortable seal around the eyes, and great visibility.
As for fogging, they're still quite new. All goggles fog up eventually when their anti-fog treatment rinses or gets wiped off. But for that, I've got Foggle, an anti-fog wipe I also got at TRIpalooza thanks to my friend Hazel from Sports Asia. One wipe-down lasts a whole swim session, and each wipe is semi-reusable.
Chlorine. Pools in Manila are hard to find because building and maintaining them is not very profitable. Usually you find them as part of an academic sports complex, military or government-funded wellness center, or in exclusive country clubs or condos. They get cleaned once a week and water changed less frequently than that, so to keep pools sanitary lots of chlorine is added. That wreaks havoc, drying out skin and making hair crispy. And the smell of chlorine sticks around even after a vigorous shower. Yech.
Hazel gave me a set of TriSwim shampoo, conditioner, body wash, and lotion samples to try, and they are wonderful at neutralizing chlorine and refreshing my hair and skin after long sessions in the pool. They smell great too — not a trace of the chlorine stench!
Sports Asia product samples: TriSwim, Ultima, and Foggle
TriSwim products are also great after saltwater swims, which are de rigeur in this sport. I think when I'm out of samples (which is very soon) I'll buy the full sizes!
The unknown. I do an okay freestyle when triathlons hold their swim leg in a pool. But take me to open water and I will usually flip onto my back after a few meters. Thoughts of jellyfish, or getting kicked in the face, or the sensation of claustrophobia turn me into a basket case. But it all stems from not having enough confidence in my stroke — not being able to breathe properly, or to have the endurance to swim non-stop.
How do I solve this? Simple: I need to swim more. I think now I'll be able to (or have less excuses not to) because I don't have the equipment hurdles I mentioned above.
I may not end up loving swimming as much as the Swim Junkie does, but at least I don't have to hate it.
Maybe there's hope for me yet.
Liked this post? Share it!