The first race I ever joined was Globe Run for Home last July. I've been addicted to running ever since.
This year, Run for Home happens earlier on the race calendar, and at a different location. On March 21, the streets surrounding Ayala Triangle will be thronged by runners of different ages and abilities. I will be running my second 21K, pacing Rico for a 2-hour 20-minute finish.
The Perks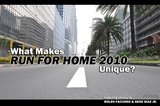 Run for Home 2010 is upping the ante when it comes to local road races. If last year's edition was the first to use disposable timing chips and Runpix analysis, this year they've added more functionality to the chip.
I've added the Globe-Ayala Land Run for Home Championchip Update application to my Facebook account. Because I used the same email address on the registration form as the one linked to my Facebook account, every time I pass a waypoint mat, I'll get an update sent to my Facebook wall in real time.
I can also tell my family and friends to check out the live feed of the finish line via Flippish.com so they can see me cross it. When I get there, I'm gonna find the Flippish camera and give it the biggest, cheesiest grin ever!
The 21K route will take us through the Makati Central Business District (most notably Ayala Center), cross over EDSA to the Fort to run around some Ayala Land properties before heading back to Ayala Triangle. (I like to call it an adik route. Hehe.) All the race routes are new ones, or new spins on old ones, which are a welcome respite from all the Fort-based races I've been attending. You can only run Lawton so many times before boredom sets in…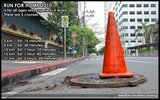 For my friends who aren't prepared to run 21K, Run for Home also offers four other race distances: 3K, 5K, 10K, and 15K. If they register alone, they'll have to pay P500 for either 3K or 5K, or P700 for the 10K, 15K, and 21K distances. But like last year, there are discounts on the registration fee; the most notable one is the discount offered on group registration, which can reduce per-person fees by P200 pesos. It seems to be an effective selling strategy: we're more than two weeks away from race day, but kits are already running out.
The Advocacies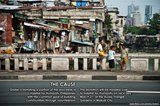 The primary beneficiary of Run for Home is Habitat For Humanity. I once went with a church group to a Habitat For Humanity construction site. It was a joy to help carry pails of water and cement mix, to help plaster walls and dig trenches, knowing that these homes were being built for people who really needed them. That's why I support this race: because it raises awareness for this cause.
The donation from Run for Home will fund construction in Bayanijuan sa Calauan, a 100-hectare resettlement community in Barangay Dayap, Calauan, Laguna.
Since Globe is an Ayala company and one of their major advocacies is the environment, each race kit will include a singlet made from recycled PET bottles. It takes less (non-renewable) fuel, ergo less pollution, to produce garments from recycled sources rather than from new ones. It lowers the amount of waste disposed as well, which means a happier, greener Earth. *wink*
It's the first time a singlet of this kind will be used in a race. I took mine out for a run last Friday. The fabric was soft and didn't cut into my skin, and it really wicked sweat away to its outer layer. However, it did take a while to dry out, but its performance is similar to one of my Nike tops.
My Running Buddies
I will be running with plenty of my friends from Takbo.ph. I've already mentioned I'm pacing with Rico since I'm just trying to get mileage on my legs and am not aiming for a PR. Timmy is running 21K as well.
My girls Jenny and Bianca are signing up today for what will be their second 5K run — I didn't even prompt them to do so! Many of the Samahan ng mga Adik sa Running (SAR) will also be there. And Mr. F will finally attempt his first 21K, hooray!
So, what about you? Are you Running for Home?
Liked this post? Share it!