Coming off our Century Superbods Run, Joel and I were both dissatisfied we weren't able to beat 50 minutes running a 10K. So, at yesterday's Unilab Run United for Wellness, we decided to eliminate the major factor that had slowed us down. To avoid having to overtake too many slow runners, we picked out spots at the front of the starting line.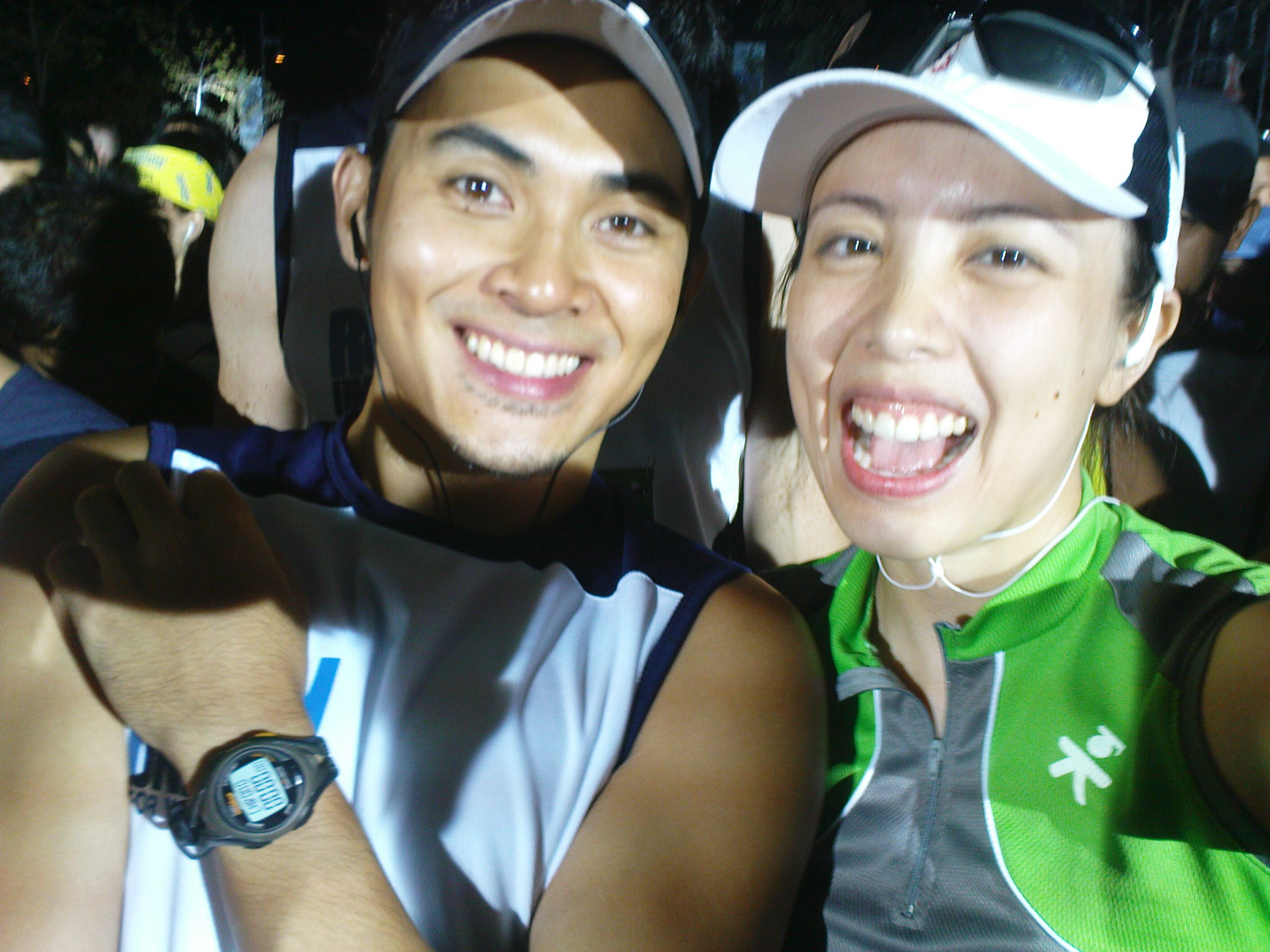 excited and nervous with 3 minutes to gunstart
Coach Rio, the race director for this event, was pacing behind the line of marshals. When he looked over to us, Joel waved at him while I thumped my hand on my chest to indicate how fast my heart was beating. I think he was nervous like us, too.
KIKO-ing Up the Pace
And then we were off. I told Joel to carry out his own strategy to get his PR, so after the first kilometer, he sped off ahead of me. I found myself running beside two men who seemed like veteran old-school runners. One of them said to me, "Pang-apat kang babae. Kung dikitan mo lang yung babaeng naka-blue, mauunahan mo yan." (You're in women's fourth place. If you stay close to the woman in blue, you'll be able to overtake her.) I told them my only plan was to get a sub-50.
Ms. Blue turned out to be a fearsome competitor, with a male pacer-slash-coach who had two water bottles to keep her hydrated, created an efficient path through crowds for her, and would pick up the pace whenever he noticed I was closing in.
That's where my Garmin came in handy. I'd set Kiko to alert me whenever I was running faster than 4:40min/km or slower than 5:30min/km. I figured if I could stay within this range, I could last long enough to make a big push to the finish line in under 50 minutes instead of burning out. So I held myself back for the first few kilometers instead of bursting ahead and trying to stay in 3rd place, like Ms. Blue had done. By the time we were at MC Home Depot (kilometer 8), she was fading despite her coach's best efforts. My goal was just to beat her step by step, ooh baby, gonna get to you girl… (Sorry, New Kids on the Block on the brain.)
Our 10K traffic converged with the 5K runners, so I made a final dash for it. I arrived at the finish line in 48 minutes 40 seconds, panting and breatless. It wasn't a sub-Piolo, but it was sub-50, and I had beaten Ms. Blue by 30 seconds. I was happy with that already.
O. M. G.
Then a race official hung a tag around my neck and took my name and time. I suddenly realized what was happening, and started screaming like a little girl who'd just seen John Lloyd Cruz up close.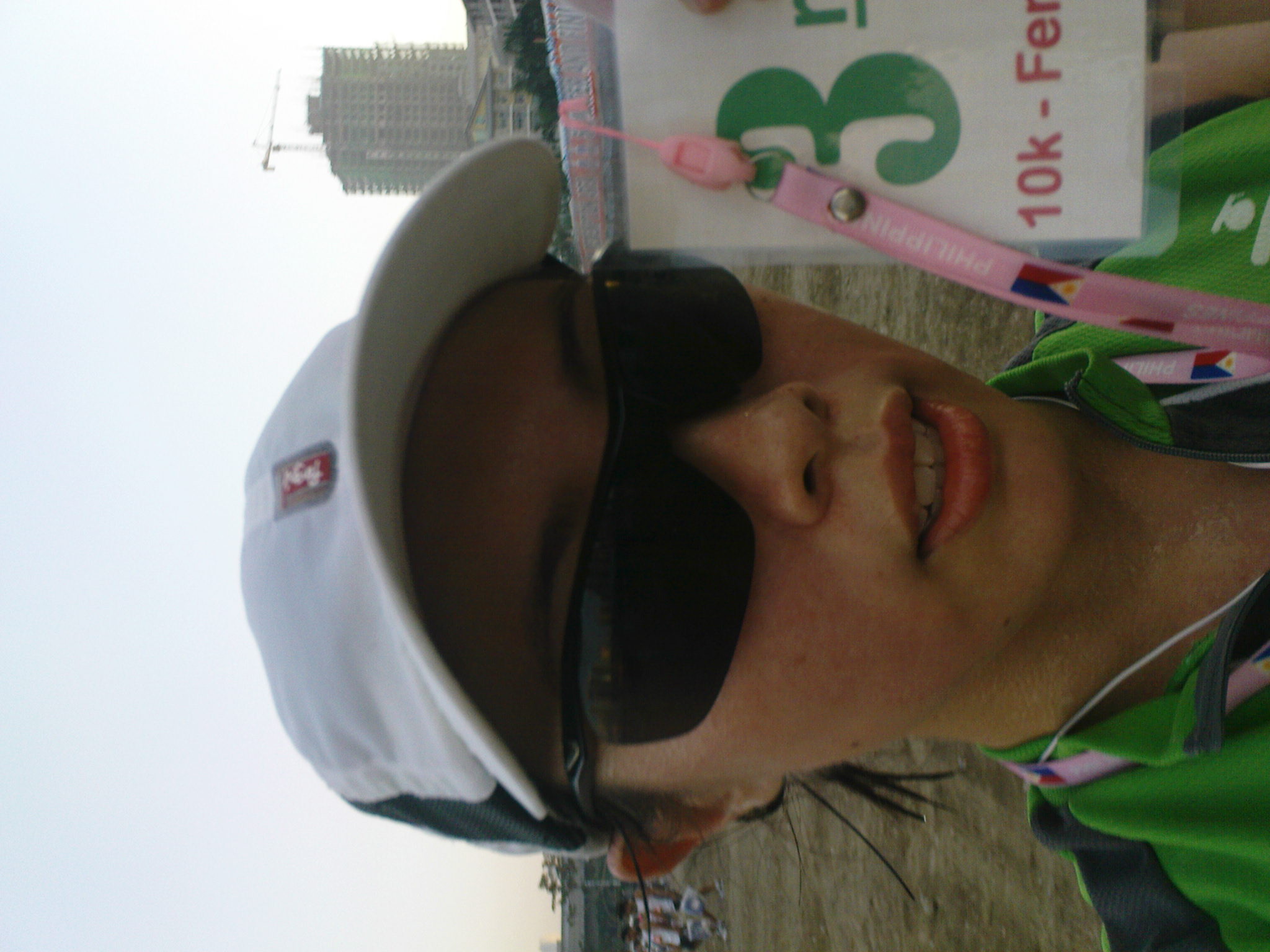 I finished in 3rd place!
After I collected my loot bag (I love the backpack shoe bag!), Joel and I saw each other and he gave me the good news that he'd run a 47:04 10K. So, he got the sub-Piolo. Congratulations, Joel!
We walked around the grounds of the Unilab Wellness Village marveling at how organized the whole event was. Not only was the finish line free of traffic jams, but there also were no queues at the redemption tables. The Wellness Village had several different areas with their own stages and rackets, themed by the kinds of markets catered to by Unilab companies: Children, Adults, Men, Women, Seniors.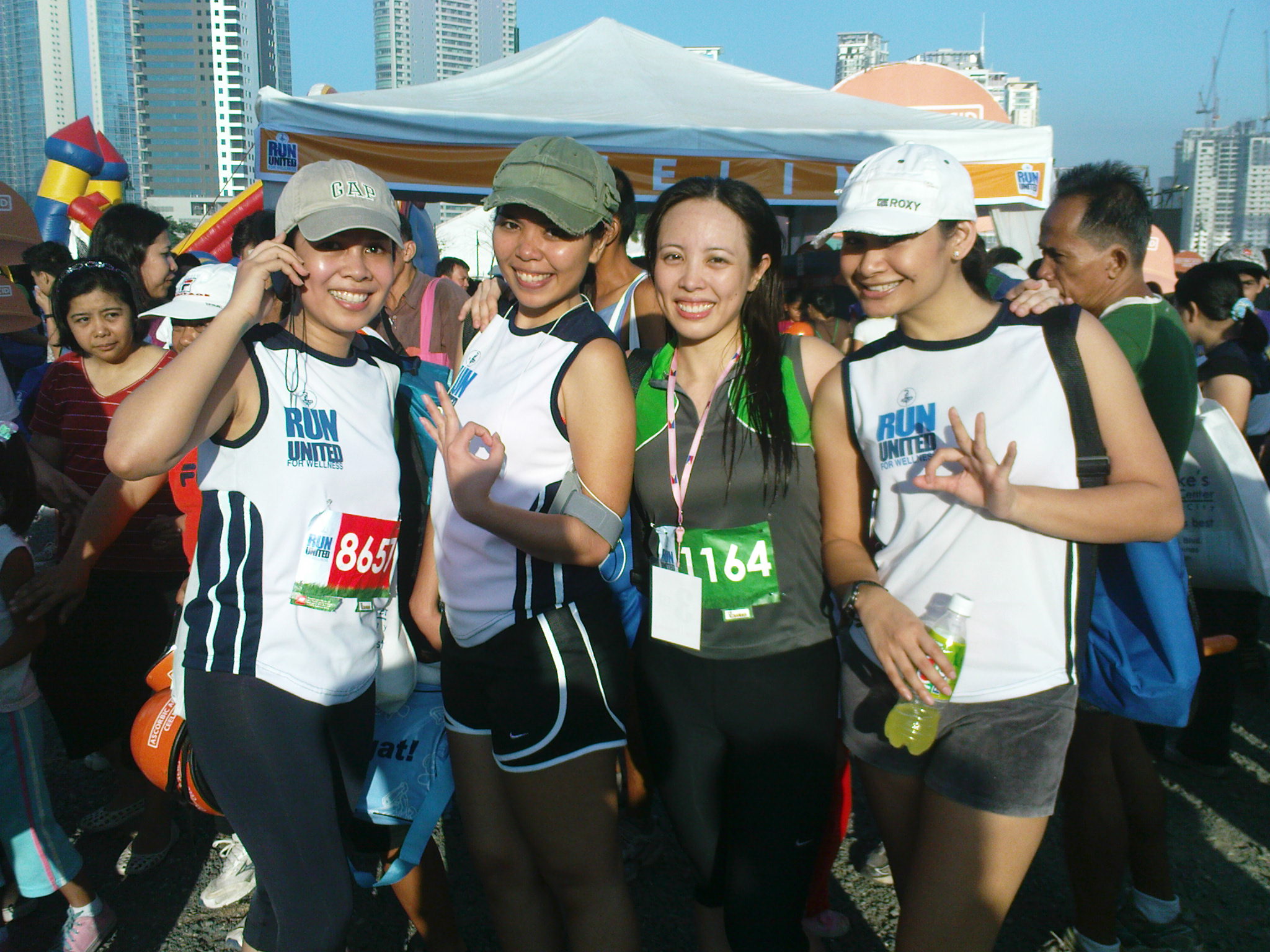 We are the finishers, my friend, and we'll keep on fighting 'til the end!
We ran across Bianca and Jenny, who had run their first 5K, and also met up with Lalah who seemed as if she had thoroughly enjoyed her run. My sister, her fiance, and my parents were on their way to the parking area after running 5K as well.
Bianca was wearing a custom bib on her back, courtesy of photobongbong. I'd also sported one through most of the race, with my blog URL written on it. I tore it off with 700 meters to go.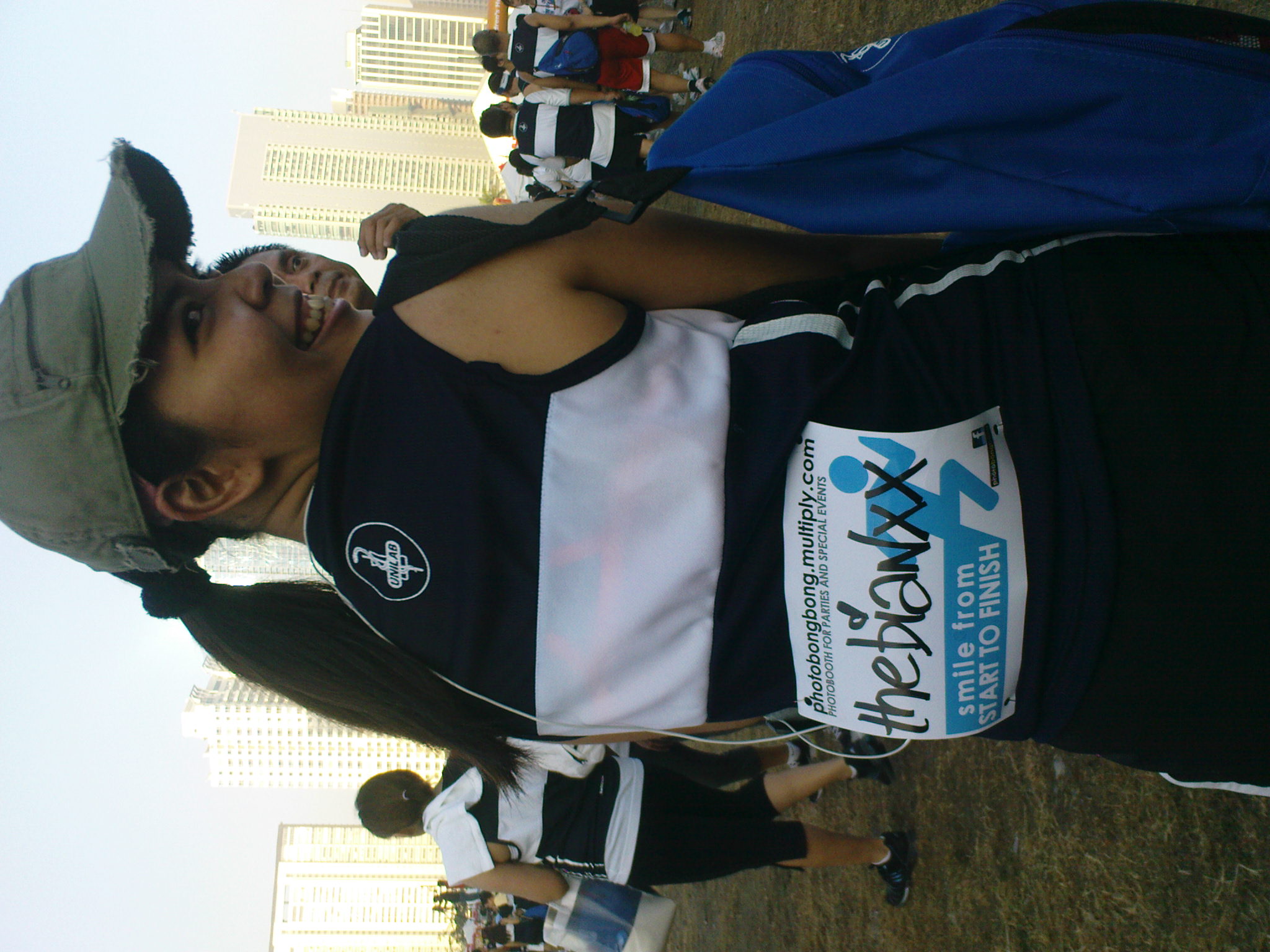 Bianca is thebianxx
The Suspense Killed Me
I still had to wait to see if my 3rd place finish was valid. There was a stipulation in the fine print of this race that Unilab employees and their family up to second degree of consanguinity or affinity were disqualified from winning prizes. (My sister and mother work for Unilab.) Instead, Unilab would hold its own awards for people like us. However, I hoped that even if they didn't give me the prize money, I would still be able to claim my medal and place. But God gave me the grace to say to the organizers, "I will go with whatever you decide." Even if that meant not getting the medal either. I was already happy with Coach Rio telling me, "Sa akin, third place ka pa rin." (In my opinion, you got third place.)
It was also my first day hosting for RunnerSpeak, the TV show, so I needed to begin interviewing people with my co-host, Tony Toni. I was in the middle of interviewing Alvin Patrimonio when my name was called on stage, to my complete surprise. Ryan Agoncillo, who was hosting the awards ceremony, reacted to my flabbergasted expression by saying, "Parang namasyal ka lang tapos naisipan mo mag-10K." (It's like you were just out for a stroll and decided to run 10K.)
The two women in first and second place looked like professional runners with their lean physiques and tanned skin. I felt like an anomaly, but 1st placer Luisa Raterta graciously smiled at me and said, "Tanggapin mo na!" (Accept it!) Later, Jack Orendain of Unilab Employee Relations explained to me they'd realized the rule that would have disqualified me was an unfair one as far as races go, and they'd done away with it. They could have very well just not given a 3rd place award, so for this I want to say, "God is awesome!"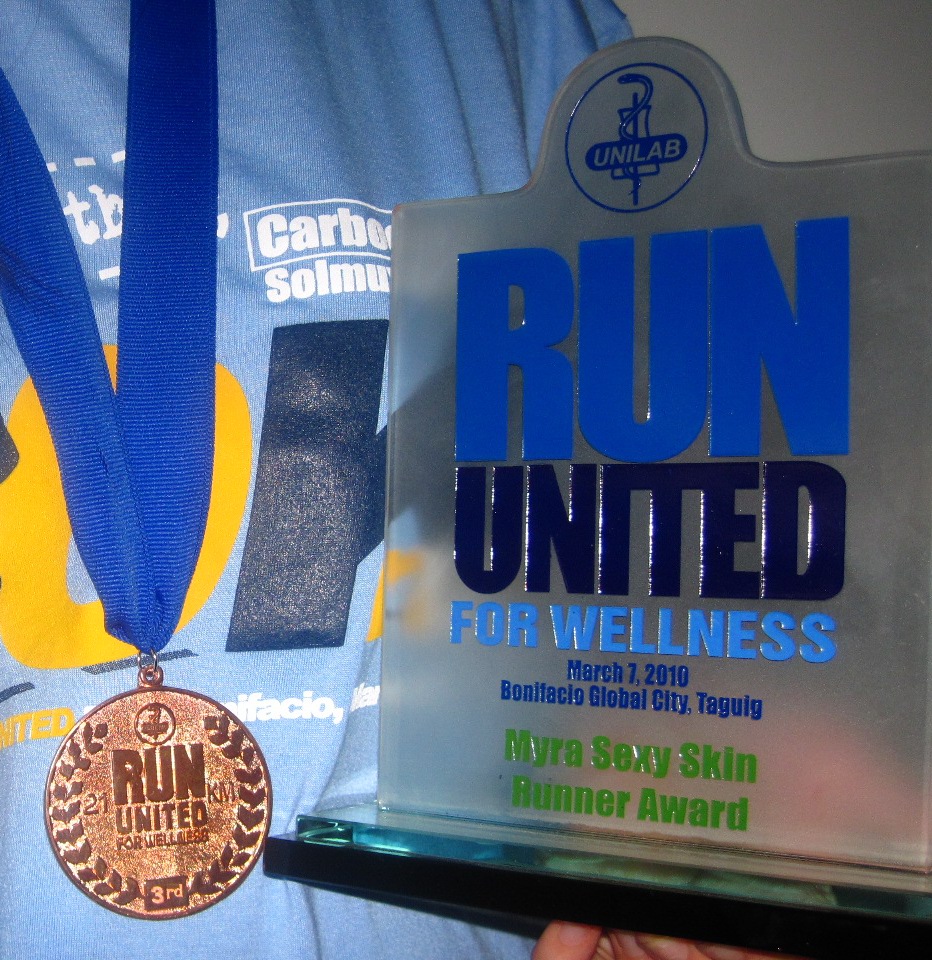 3rd Place, Women's 10K; Myra Sexy Skin Runner Award
Aside from the 3rd place medal, I was also awarded the Myra Sexy Skin Runner Award (which was open to all female participants). I ended up having to lug around a bag full of Myra products while we shot our intro and extro for the episode.
Race in Review
Route: The routes were the same from Century, but the marshalling was better for Unilab. The route markers were more frequent, taller so you could see them above the heads of other runners, and there were marshalls with loudspeakers telling you which way to turn.
Hydration: Long tables stocked with rows upon rows of water and 100 Plus. My problem ended up being my concern about getting overhydrated, so I skipped the last water station on my 10K route.
Package & Freebies: I approve of the loot bag — backpack-type shoe bag (with zipper instead of the usual drawstring), a bottle of Summit mineral water and 100 Plus, a Nature Valley granola bar, a Bull Runner magazine, and a finisher shirt. The Wellness Village was a wonderful bonus as well, so people stayed around for a while even after they'd finished running. Provisional race results were also released today on the Finishline website.
Overall I believe this race is the best I've attended yet. I give this FIVE KIKAY PINKIE FINGERS out of FIVE. Ü
Congratulations to Unilab and Finishline for working hand-in-hand to ensure the best possible race experience for the runners.