I figure I should tell you more about the people I run with, since they will probably figure heavily in my posts. I've also gotten tired of referring to them in general terms — "my friend/s" grates after a while.
Joel, Lalah, and the SAR (Samahan ng mga Adik sa Running)
These are my friends from church who love signing up for races, which is great since I almost always have people to eat breakfast with afterwards.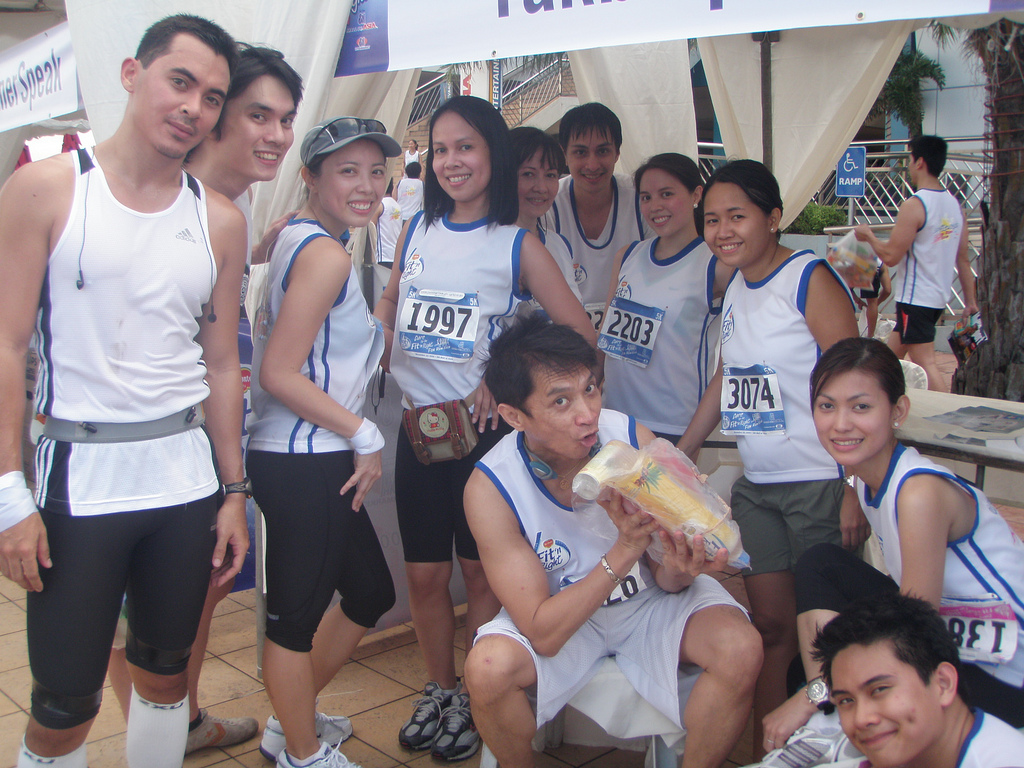 I remember how Joel started out; he started training for triathlons and began running regularly six months before I did. At Globe Run for Home, he did the 15K and when he found out I'd done the 10K, he began including me when planning to run races. And now, we're supposedly both in training to complete a marathon by this year's end.
Lalah became instrumental in some of the last races I joined last year (in fact I wrote about how she managed to convince me to join PIM 10K). I love her for her enthusiasm and how she sees running not as a competition, but as a group activity for all to enjoy. I lent her my Globe singlet when she ran Race for Life 2009, and just recently she helped me buy a pair of Speedo Multisport demi tights when she saw they were on sale. (Review to follow, promise!)
Takbo.ph members
I've been a forum member on Takbo.ph since the Globe run, but the first time I laid eyes on anyone from the forums was during the GMA7 run. I came across them taking the customary "class picture" at the finish line. Actually, it was Doc Marvin who came up to me and introduced himself ("nuttybunny" from the forum, he said), and I was quickly folded into the group photo.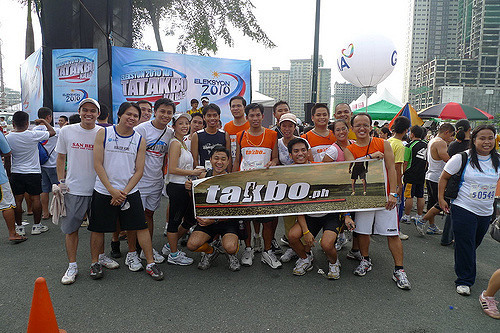 Since then I've been in a few class pictures, but I always left too early to meet other Takbo.ph members. That's a shame, because there's so much to learn from these seasoned and veteran runners. I plan to rectify that this year.
Mr. F
He used to bandit at the races, but ever since he started running with me he's had to clean up his act. *wink* Haha. The Kikay Runner loves being legit, and will never bandit.
After he witnessed me as damsel-in-distress at the Ateneo Run, I'm surprised we're running several Sundays in a row beginning this week. He sets a pretty mean pace and I think by just trying to keep up with him at the Celebrity Run I was able to run a sub-50 minute 10K.
These are the people who've been with me so far. Who have you met that's made a difference in your running journey?
Liked this post? Share it!