Are you in the best shape you can be for your upcoming triathlons? I love attending camps — the social aspect of training alongside fellow athletes and friends, the competitive aspect of pushing each other further and faster, and the athletic benefit of knowing where you are in terms of fitness and readiness.
The Next Step Triathlon Series Pinnacle Camp is on June 7-8.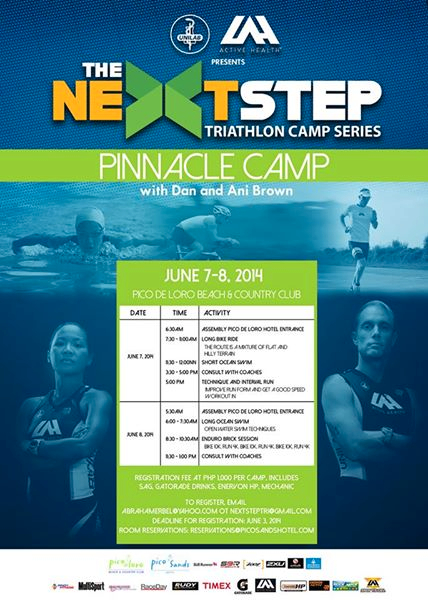 The Next Step Triathlon Pinnacle Camp on June 7-8
The Pinnacle Camp is perfect prep work for those racing in a few months' time at Tri United 2 and Cobra Ironman 70.3. Led by coaches Dan and Ani Brown, lay down some quality mileage, consult with experts, and experience some bonding with your fellow participants in Pico de Loro Cove, Hamilo Coast.
For me, I'll take any help I can get in my build-up to Challenge Roth. Coach Ani is also doing that race so it would be nice to pick her brains about nutrition, further training, and race-day strategy.
Camp registration fee is P1,000, which includes the support vehicle, Gatorade and Enervon HP drinks, and a bike mechanic. This is exclusive of accommodations, but you can easily book at the Pico Sands Hotel. To register, please email abrahamerbel@yahoo.com or nextsteptri@gmail.com.
For more information about all the Next Step Triathlon camps, please visit The Next Step Triathlon Facebook page.