Eight years ago around this time of year, I did my first triathlon. It was a pool-based minisprint where the main reason I took the overall win was because the lead female took the wrong turn. That race and the high from crossing the finish line was what made me fall in love with this sport, and it was what I built on in the ensuing years.
Life has a way of being poetic and coming full circle for me, because I found myself making my comeback to triathlon at yet another pool-based race with a similar short distance. The UPLB Trantados Costume/Fun Triathlon has been a stalwart on the local calendar for years, so it's quite shameful that this was the first time I was racing it. Based on last weekend's experience, it won't be the last time. 🙂


thankfully I can still fit into my tri suit
(The night before, I had my usual pre-race nightmare. That always means I'll have a great race.)
The early afternoon start meant that the trip from Metro Manila would be an easy drive. At least I got enough sleep and was feeling really energetic when I arrived at Baker Hall, the venue inside UP Los Banos. The sun was shining brightly as I racked my bike. With two hours between transition closing and my gun start, I was concerned the water in my bottle would be piping hot by the time I started my race.
Then, it started to rain — hard! The streets ran inches deep with flood water, transition was soaked, and it didn't look like it would let up any time soon. From what I could pick up by eavesdropping, the race would either be cancelled, or turned into an aquathlon. To be honest I felt more relieved than disappointed because at least I could get more training in before trying to tri again.
Of course at that point the rain let up, the flooding drained, and a full race was given the all-clear. Haha! I'd have to put my game face on after all.
After coming out of the 400-meter swim in second or third among females aged 18-34, I took off on my bike through the flat race course. I took the lead within the first three kilometers and just kept pushing to stretch the distance between me and the rest of the field further. It was the first time I'd ever had a motorcycle escort on the bike, which was an interesting experience. (FYI the motorcycle stayed behind me most of the time and would only move up to the front to stop and secure an intersection. No drafting here!)
Due to the slick road conditions I didn't have much opportunity to get down in the aero position, but still managed to go an average of 25 kph over 18 kilometers. It was nice to feel that speed on the road, especially since I've only been riding indoors the past year.
Of course, the first few hundred meters of the run felt like crap like they always do, so I focused on finding the rhythm in my legs and making the most of my lead. I expected to fade in the final kilometer of the three-kilometer run, but I wanted any speedy chasers to run out of road before I crossed the finish line and that's exactly what happened.
Everything went according to plan, and those kinds of perfect races make you hungry for more. You never forget the finish line feeling — but you do forget how painful it was to get there. That's probably why we keep signing up for races.
After eating the post-race meal of adobo and rice (yum!), I stuck around to watch the hijinks from the UPLB Trantados and to cheer my Endure teammate Darwin across the finish line. The Trantados really brought out the big costume guns and I got a huge kick out of seeing them parade these throughout the race.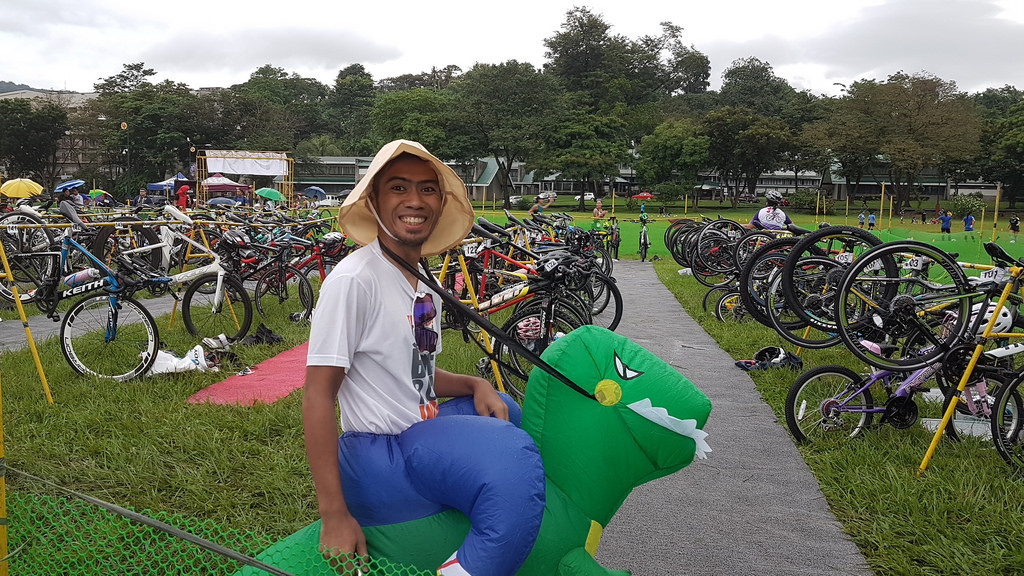 It's not every day you get a guy on a dinosaur guarding transition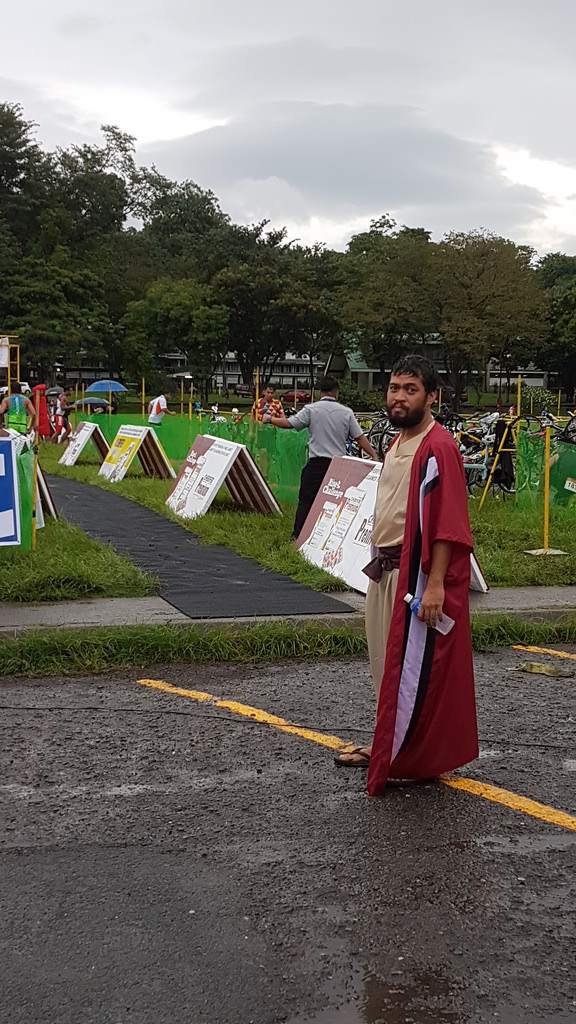 Moses carried a tablet around that said "SND NDS" (Blasphemy! LOL)


some of the athletes raced in costume


Val Caro is well-known for racing runs and tris in costume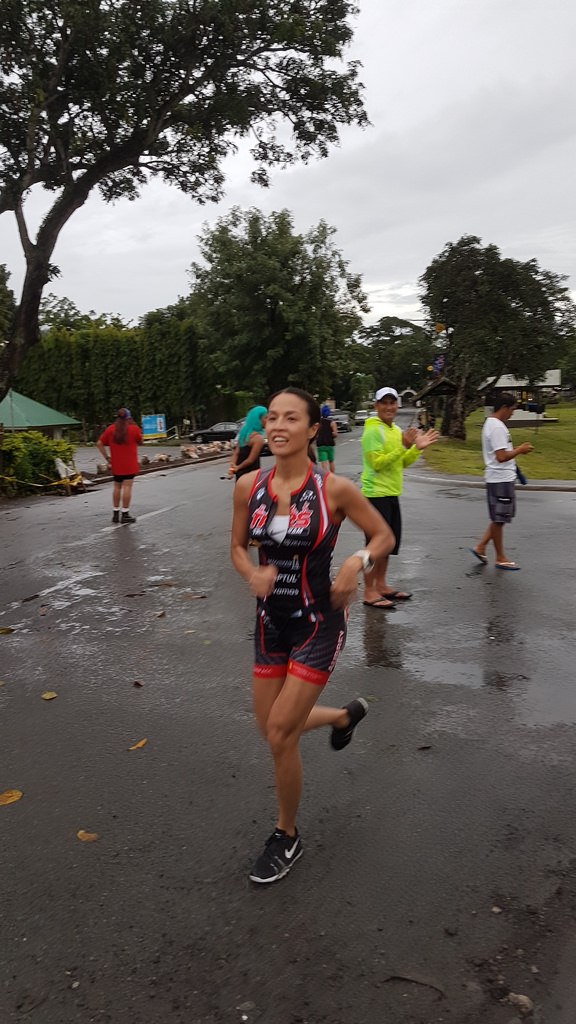 Celebrity couple Aubrey Miles and Troy Montero raced their first triathlon and won their age groups!


My teammate Darwin crossing the finish line


good to see old tri friends as well
I have to say a special thanks to Coach Omar Paredes who held my slippers, cellphone, and car keys while I raced. I told him afterwards that I went faster because I didn't want to inconvenience him with my stuff for too long!
I had to leave for Manila after the race, well-aware I was going to miss one of the big annual highlights of the Trantados event: its awards night and afterparty at IC's! Some people messaged me that evening to let me know I'd won overall female, so I arrived home tired but extremely happy with myself and my performance.
It is such a great feeling to test one's fitness and passing with flying colors. The results validate what I've done in the past year to rebuild my body and immune system. I hope to keep building on this foundation as I turn my attention to getting ready for the Angkor Wat Half-Marathon in December.