I'm getting back to proper training this week (finally!) after being unwell. While it's probably too late to be fit for the Asian Triathlon Cup which is in two weeks, it's the perfect time to start an eight-week training plan for Challenge Camsur.
I got my training plan for only $39 from MaccaX. Unlike most training plans which are generic unless you get a coach to customize them, the eight-week MaccaX Challenge Camsur plan is custom-designed for the specific challenges of the Camsur course — it's hot, flat, and fast!
I'll let Macca explain further in this video he posted two weeks ago:

The plan was designed by Justin Granger, Belinda Granger's husband and coach, with input from Belinda and Macca. It assumes you have some level of fitness, but the sessions are simple and doable.
What I like about this is I don't even have to think about what I need to do. I just look at my plan (which is exportable to Training Peaks), do the session, and check it off my daily to-do list. And I know if I do these sessions I can be fit enough to race my fastest half in eight weeks!
This is what you get when you sign up: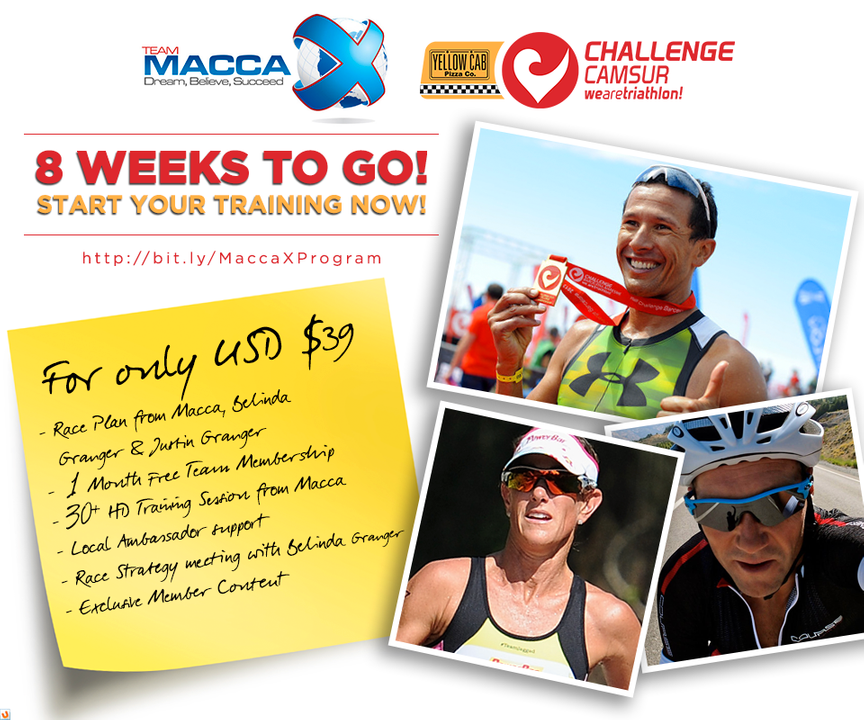 race-specific training plan written by Justin Granger with input from Belinda Granger and Macca
1 month free membership on MaccaX (with access to Macca and his team of experts and coaches)
exclusive member content
30+ of Macca's favorite training sessions in HD video
local ambassador support (that's me!)
race strategy meeting with Belinda Granger
If you're racing Challenge Camsur, this plan is a must-have! Sign up here.
By the way, if you sign up for this training plan and still haven't signed up for the race, you will also get a nice discount on the race entry fee. Just let me know if you've bought the race plan so I can give you the discount code.
See you on the starting line!
Liked this post? Share it!