Interested in trying new workouts to get in the fittest shape you can be this summer? Last year's Women's Health Are You Game? event was so successful that they've brought it back bigger and better this year!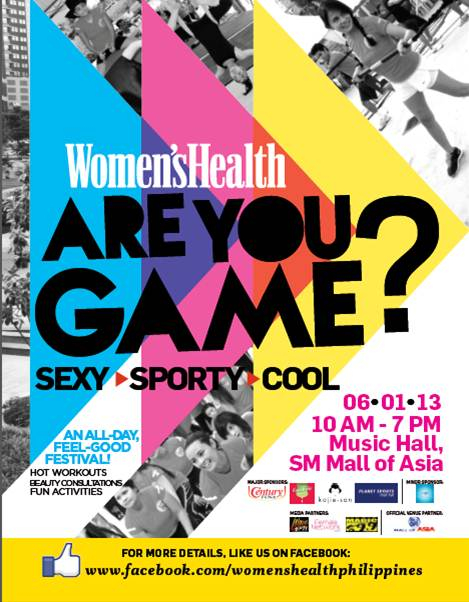 Women's Health Are You Game?
I really enjoyed myself at last year's edition where I experienced TRX suspension training and kettlebell. This year, we've got six different workouts in store:
SMRT-Core Circuit: a class using the SMRT-Core Grid to lengthen muscles, strengthen myofascial lines and slings, and integrate your whole body for a complete workout in just 30 minutes.
Les Mills BODYJAM: an addictive fusion of the latest dance styles and hottest new sounds puts emphasis on having fun as well as breaking a sweat. Funky instructors teach you to move with attitude in this 55-minute class. (I taught part of this as the warm-up at Color Manila Nite Run.)
Beyond Sculpt: this fitness-based approach to yoga strengthens the body as well as the mind with the use of weights in your yoga practice.
Zumba Toning: a combination of targeted body-sculpting exercises and high-energy cardio work with Latin-infused Zumba moves with Toning Sticks or 2-pound dumbbells creates a calorie-torching, strength-training dance fitness party.
Fit Into Your Jeans Workout: This 20- to 30-minute circuit sculpts sexy thighs and legs and a tight butt while working the upper body isometrically and strengthening the core.
FNR (Flexibility Not Required): get into yoga without worrying about not being flexible or strong enough. Emphasis on proper alignment and generous use of props to manage specific issues help you lay the foundation for a safe and lifelong yoga practice.
Aside from the workouts, you'll also have access to the Women's Health editors at their booth for "chika time" where you can pick their brains. Other activities include archery, wall-climbing, and Kinect-Just Dance (video game workout).
It's going to be a fun, fitness-filled day on June 1 at the Music Hall in SM Mall of Asia. To make sure you have a slot, you can pre-register at femalenetwork.com/WHAreYouGame and get to bring a friend in for free.
If you're game, I'll see you there!
Liked this post? Share it!