Hey runners! I just wanted to give you a heads up on a running clinic happening this weekend. Multisport Magazine is holding its Multisport 101 Camp series, and Leg 1 is focused on running!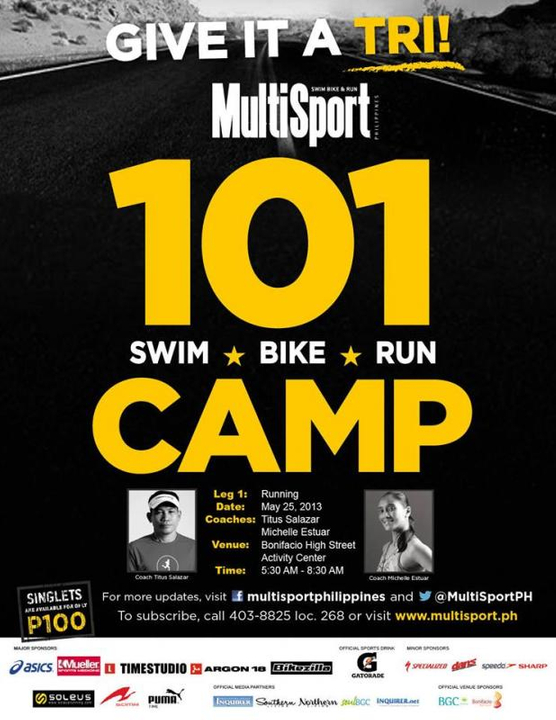 Multisport 101 Camp (Running)
Don't miss out because Coach Titus Salazar and Michelle Estuar will facilitate. Most people know Michelle Estuar from her ultramarathon exploits as well as her foray into triathlon. She's now a running ambassador with Skechers Philippines, holding clinics in the metro and the provinces.
Coach Titus is a certified IAAF level 4 coach (one of only two Filipinos to hold this distinction!); he's also coached many friends of mine who swear by his methods — Titanium Runner, the Running Pastor Ferdie Cabiling, and most recently double amputee Raissa Laurel-Subijano.
http://instagr.am/p/YZ_L27ndtX/
Raissa's run session with Coach Titus
The Multisport 101 Camp (Running) happens on Saturday, May 25 from 5:30-8:30am at Bonifacio High Street Activity Center. Online registration is ongoing until Friday 5:30pm. Just email your name, address, contact details, and preferred distance (3K or 5K) to ms101camp2013@gmail.com. Within 24 hours, you will receive a confirmation email about your registration.
For more information, visit the Multisport Philippines Facebook page or follow @MultiSportPH on Twitter.
Liked this post? Share it!