Most runners, when making the transition into multisport, go either into aquathlons (swim-run) or duathlons (bike-run) first. If you're a land creature daunted by swimming, adding cycling into your repertoire of activities might seem the easier way in. After all, cycling uses leg muscles just like running, right?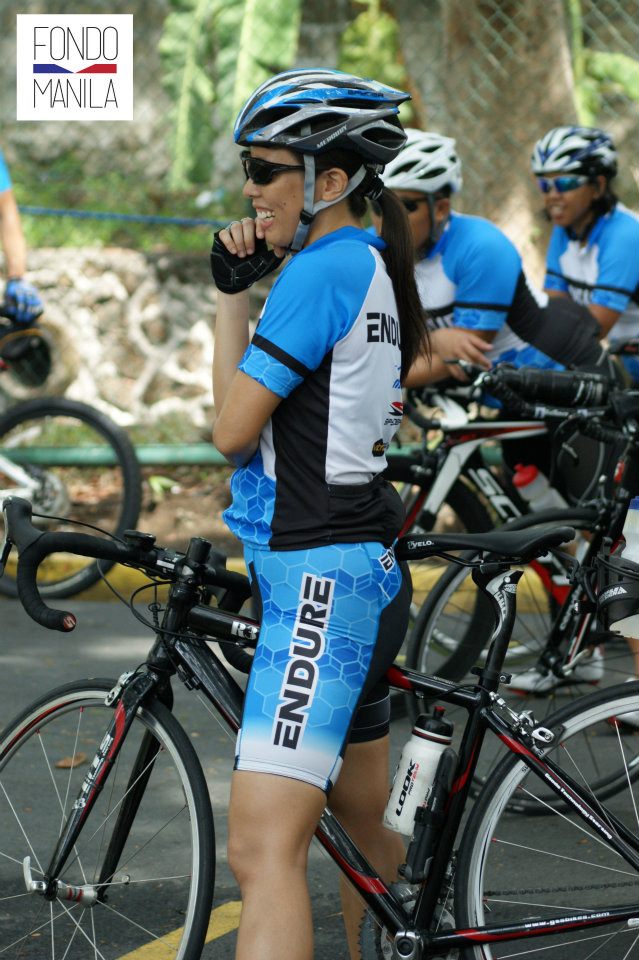 hmmm?
Not exactly. While running and cycling are both leg-intensive sports, they don't use the muscles in quite the same way. This is why an excellent cyclist without any run training will still experience discomfort when running for the first time, and why a fast runner may not immediately be a fast cyclist.
I've been doing a lot of cycling the past few months because it's great cross-training for running, is an integral part of triathlon, and because I'm the cyclist in our team's relay for Cebu Ironman 70.3. They say knowledge is power. Well, in an athlete's world, knowledge plus training equals power. Check out the following events I participated in the past month: the RUNNR-Newton Discover Duathlon Clinic, the 7-Eleven Tour 700, and Fondo Manila's Pose Cycling Clinic.
RUNNR-Newton Discover Duathlon Clinic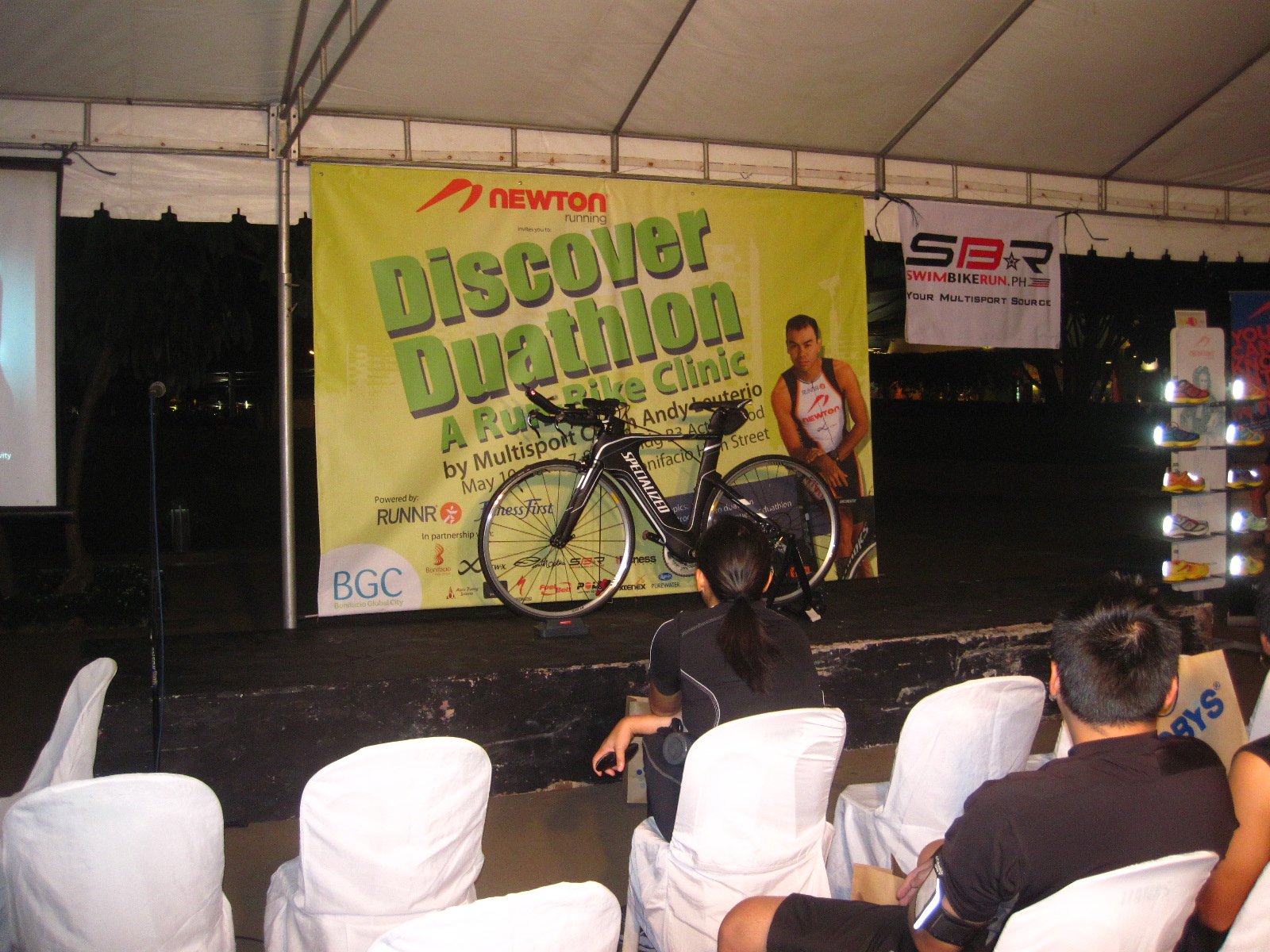 This duathlon clinic occurred on May 10 at Bonifacio High Street, about four days after I did SuBIT. I still hadn't shaken off the delayed-onset muscle soreness from the race, and I felt very low-energy that week. So I contented myself with taking photos of the event and listening to the lectures by tri coach Andy Leuterio, bike shop owner and avid triathlete Joey Ramirez, and Edmund Mangaser of All Terra Cyclery. Andy talked about the kind of training necessary for duathlon, Joey talked about equipment needed, and Edmund talked about bike fit (incidentally, he took my first bike fit a few years ago).
The highlight of the evening for clinic participants was the stationary brick: riding the stationary bike, then periodically hopping off to run around the BHS perimeter. It's called a brick because your legs feel as heavy as bricks. Ouch!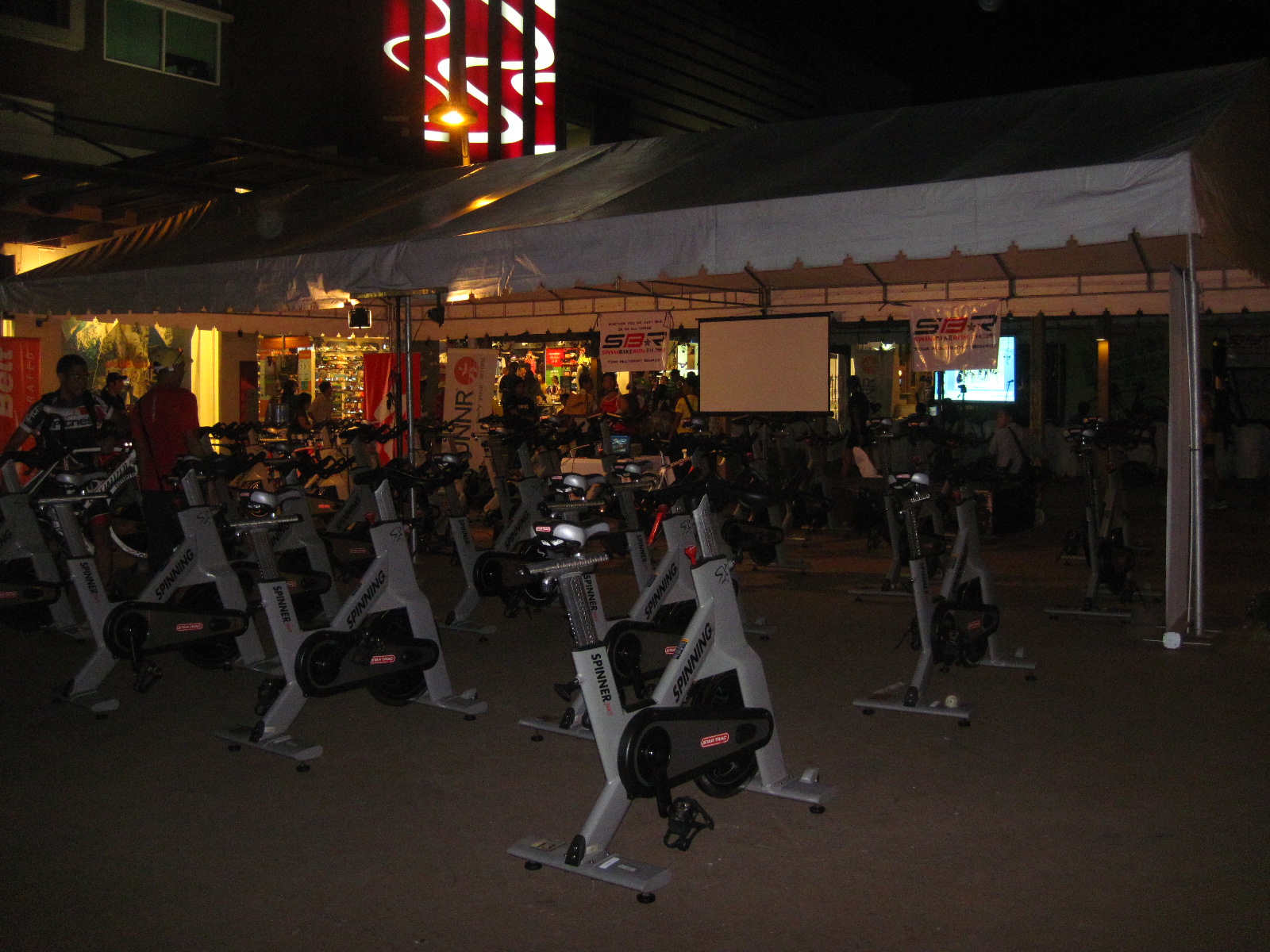 stationary bikes from Fitness First
Since the clinic was limited to 30 participants, members of the media like myself didn't get a chance to ride the stationary bikes. But if I had known, I'd have brought my bike and indoor bike trainer so I could join the brick program presented by Andy.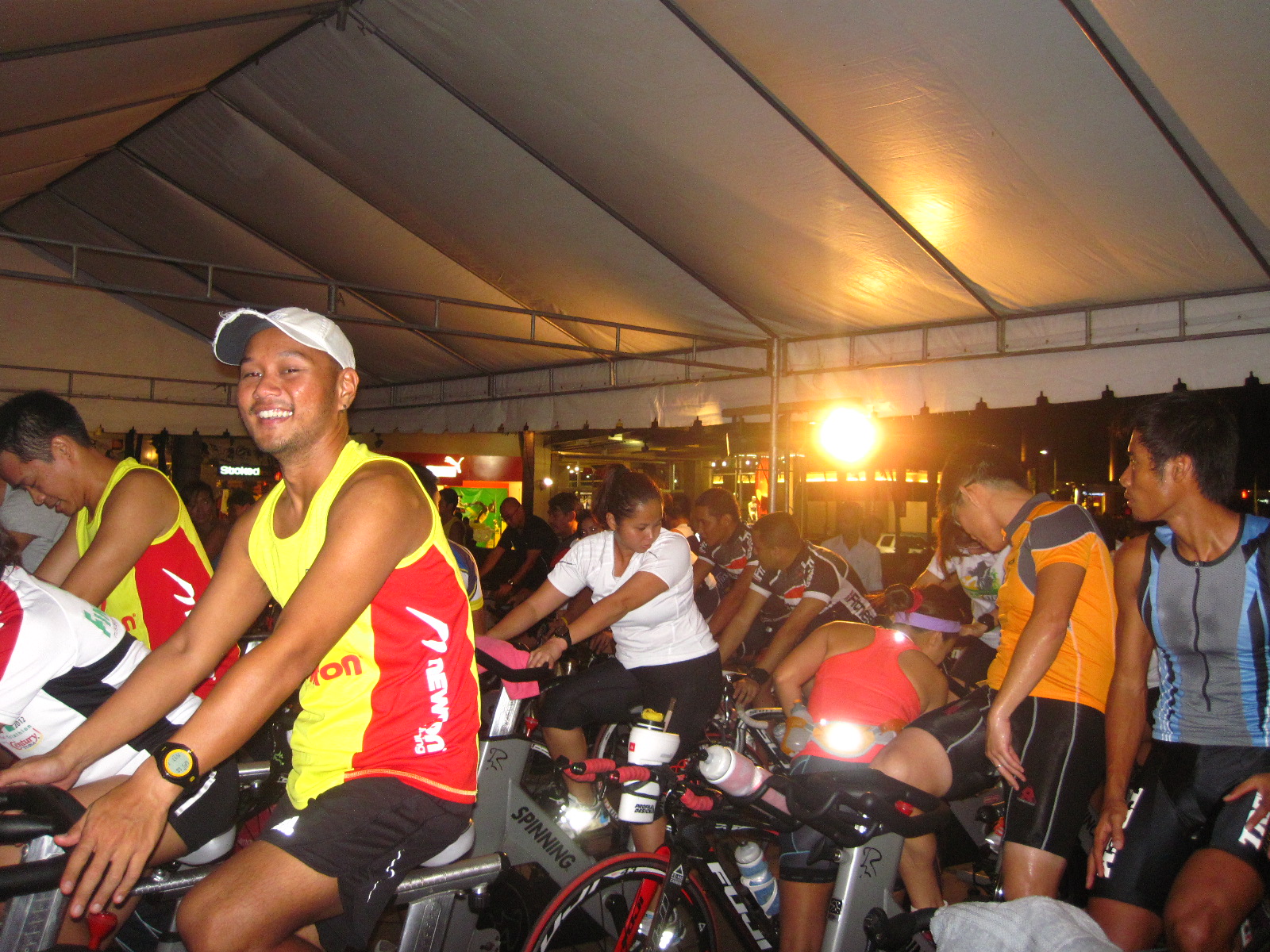 Discover Duathlon participants sweating it out
Cycling is more equipment-intensive than running. First of all, you need a bike. Then you need a helmet to be safe while riding. Then when you get to be more skilled in handling the bike, you acquire bike shoes and cleats. Then you upgrade the bike. Etcetera, etcetera… However, you can have the world's most expensive bike, but if you don't have a good bike fit and a good training program, you'll never reach your full potential.
Doing duathlon successfully means training properly for biking and running, and finding the balance in pacing and pushing that works best for you.
7-Eleven Tour 700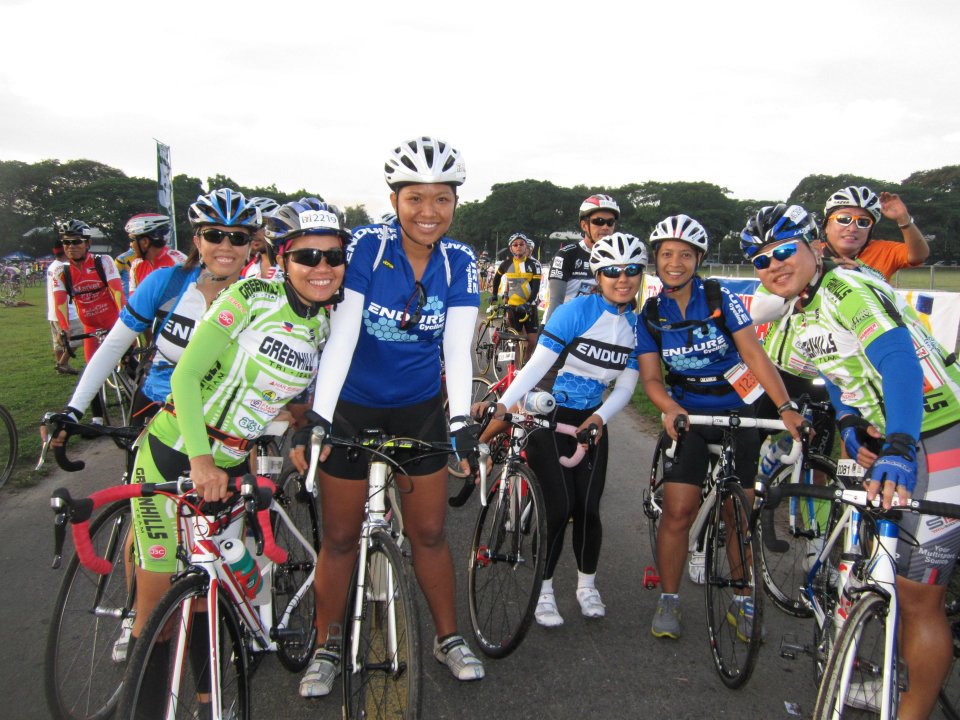 My bike leg for Cebu Ironman 70.3 is 90 kilometers long, which means I'll have to accomplish that distance or even more in training. The perfect event for my first century ride was the 7-Eleven Tour 700 in Clark on May 13.
Aside from getting the mileage in on a safe, closed-to-vehicles course, I could also rehearse my nutrition and hydration strategy. The only thing I couldn't practice during this ride was using my aerobars. The Tour 700 is a cycling road race, which meant aerobars were prohibited. I had to have my clip-on aerobars temporarily removed.
I still had a great time and the 100 kilometers passed by rather quickly. Now here's to hoping I can increase race pace up from 26kph come August.
Fondo Manila's Pose Cycling Clinic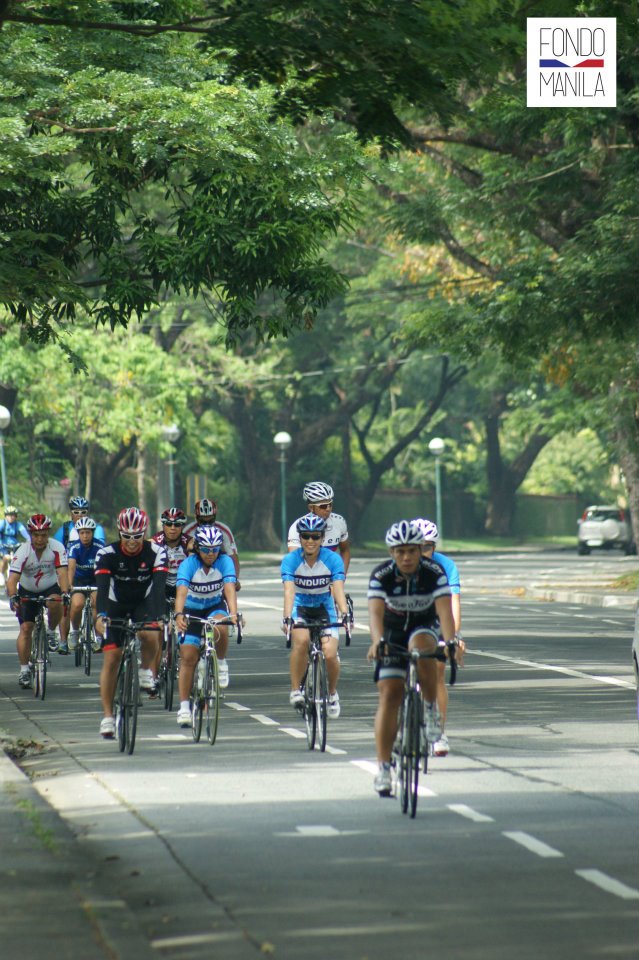 For most of us who learned how to ride bikes in childhood, we only know to push down on our pedals by straightening our legs with muscle power. Did you know this wastes a lot of energy?
At Fondo Manila's cycling clinic last May 20 in Ayala Alabang, I learned the basic principles of Pose cycling from Coach Patrick Joson. It wasn't just about what to do, but the theory behind it. Pose cycling integrates the laws of physics, the structure of the wheel, and the biomechanics of the human body to teach the most efficient way to bike.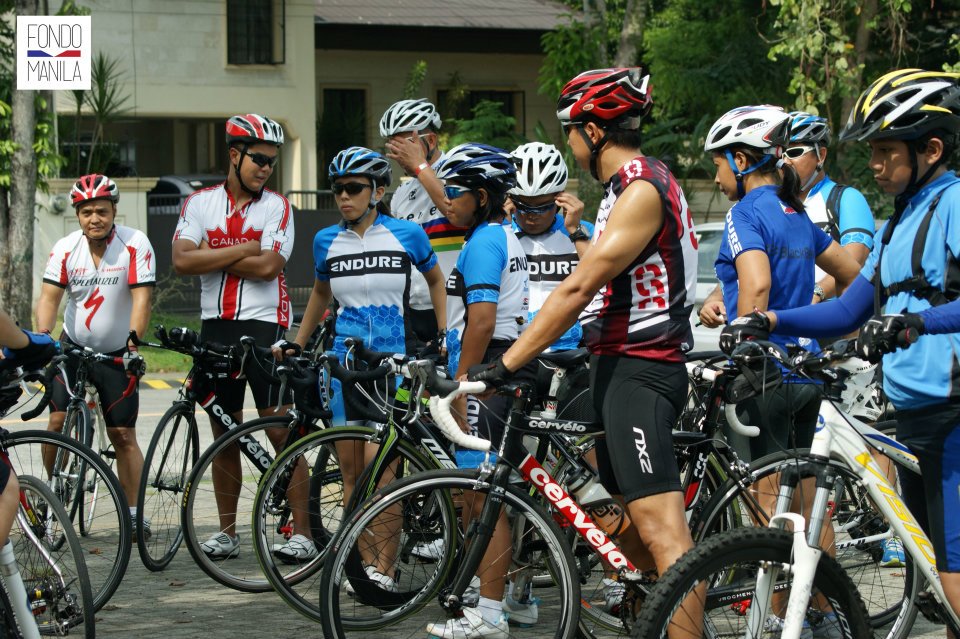 lecture + application = retention
Using the Pose cycling techniques I learned there and from research, I can now ride faster than I used to even without greater effort. Coach has a few issues with my bike fit but I can get that fixed.
Cycling is a great way stay aerobically fit while avoiding too much pounding on the knees from daily running. See you on the road!
P.S. New Equipment from Spyder
A few weeks ago, Team Endure agreed on a partnership with Spyder, which manufactures eyewear and helmets. I'm very happy now to have a helmet that fits properly (did you see my helmet in SuBIT? it was askew most of the way), and sunglasses that don't slide down my nose. Thanks, Spyder!
Liked this post? Share it!