For me, wellness is a combination of feeling good on the inside and looking good on the outside. While I achieve that for the most part by my active lifestyle and trying to eat healthier, there are instances I admit I need some help.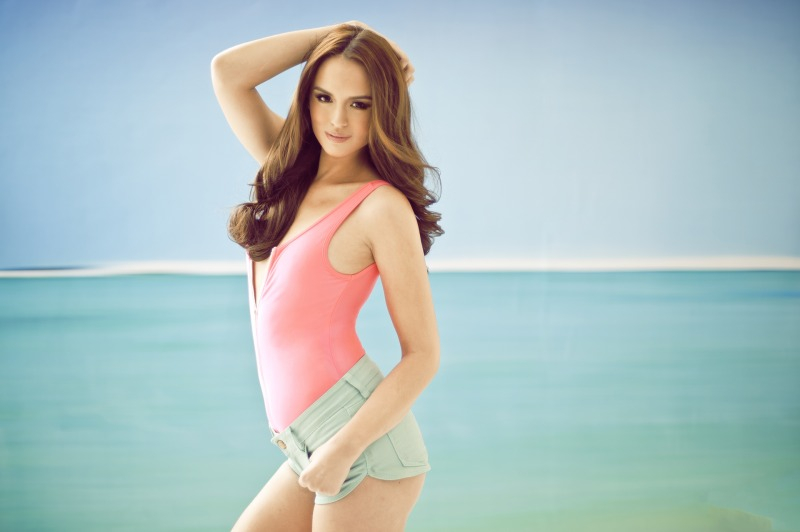 For one thing, I can't get my waistline to budge below 27. Hers is 25!
Last week I spent what I called a "kikay afternoon" at Il Terrazzo in Tomas Morato, Quezon City hearing about and experiencing the latest from Sexy Solutions, Beyond Yoga, and Kryolan. Thanks to Nuffnang for the invitation!
Sexy Solutions: Non-Surgical Body Contouring
When we hear "Belo" we immediately think about their famous clientele who have undergone plastic surgery, particularly liposuction. That's why Cristalle Belo Henares (daughter of Vicki Belo) established Sexy Solutions as a holistic fat reduction clinic to help clients lose those last few stubborn inches without resorting to surgery. Among the noted success stories are Georgina Wilson in the picture above.

Cristalle Belo Henares presenting Sexy Solutions therapies
Most of the fat reduction is done with machines using heat, sound waves, electrical impulses, and mechanical pressure. Through spot tests on my arms, I experienced how the different procedures feel. There's no pain, although the skin sensations are a little strange at first. The therapists who administered the treatments are trained to adjust them to your comfort level, though, and they were very communicative about what to expect. Check out the Sexy Solutions website for more information on the procedures.
It isn't enough just to get these procedures done, though. Sexy Solutions' holistic approach includes diet and exercise to help the fat loss process along and to maintain the results.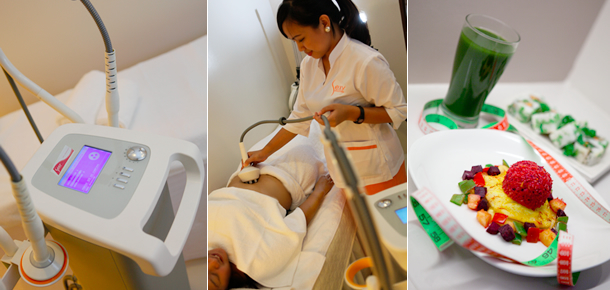 Machine + Treatment + Diet and Exercise
On the diet side of things, they've retained Nadine Tengco, a U.S.-certified nutritionist and weight loss specialist who was featured in the Biggest Loser Philippines reality TV program. She created proprietary diet plans and drinks (including a "Fat Buster" drink) that complement and enhance the effect of the treatments by reducing swelling, promoting proper circulation, and jumpstarting fat burning. That afternoon, Nadine spoke about some diet myths and showed us how eating rice in moderation can help our bodies burn fat better.
For fitness plans, Sexy Solutions called upon Edward Mendez, a sports science and nutrition expert and author of a book called Your Dream Body Come True. He can create special diet plans and exercises to help achieve a lean and toned physique. During my kikay afternoon Edward dispelled workout myths such as "more is better" and "women shouldn't lift weights". He emphasized quality workouts that burned calories and built fat-burning muscle.
After sampling some hors d'oeuvres provided by The Sexy Chef, we moved next door to Beyond Yoga.
Beyond Yoga: Not Your Ordinary Workouts
I saw a little bit of AntiGravity Yoga performed at the Women's Health Are You Game event, so when I recalled that Beyond Yoga is the only studio to offer this class, I really wanted to try it out.
One of the charms of Antigravity Yoga is the ability to do inversions without requiring the arm and core strength needed to do regular yoga inversions. I was able to do the pose above and a few others with just a little instruction. It demanded concentration and body awareness, but was a lot of fun, too.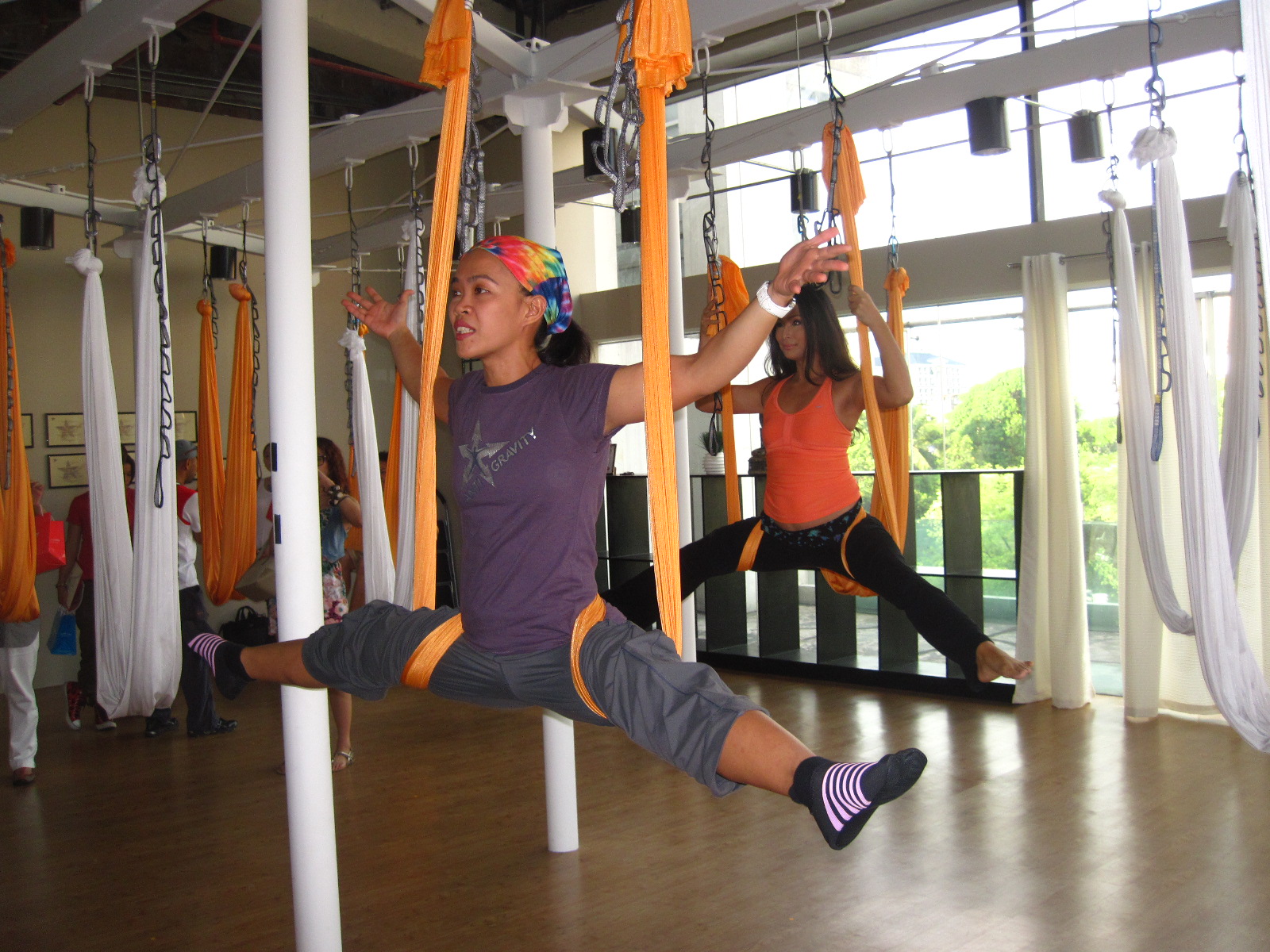 This one is a bit more advanced.
Beyond Yoga also offers other yoga classes such as ashtanga, hot yoga, jivamukti, kids yoga, mysore, power yoga, vinyasa flow, yin yoga, and yoga basics. They have dance classes, too — belly dance, belly pop, contemporary, jazz, hip-hop, and Zumba. I've got some complimentary class passes, so I'll definitely be back. 🙂
Since we did all that for our bodies, why not something for our faces, too? We headed to Kryolan (also located beside Sexy Solutions) for a makeup demonstration.
Kryolan: Makeup to Make You Glow
While I do my own makeup during tapings for my show Alagang Kapatid, I respect the artistry and craftsmanship of makeup professionals who make doing makeup seem effortless. Kryolan Professional Makeup specializes in theater, television, and film makeup. They provide makeup for the yearly Miss Universe pageants and Blue Man Group, among others. Kryolan products are known to be extremely long-wearing with great coverage, but kind to facial skin.
Kryolan Philippines is now reaching out to the everyday woman, showing how their products can be used to achieve not just the dramatic stage looks they're known for, but also simple day looks that rarely need touch-ups — great for women on the go.
There are many different ways to look and feel great and my kikay afternoon was a great way to explore all those options.
Liked this post? Share it!