Last Valentine's Day, I was supposed to run the Thrill of the Trail run in Nuvali, part of the TNF100 trail running series The North Face has mapped out for this year. Unfortunately my partner had to back out due to a foot injury, and I was still also recovering from my first 21K at Condura.
Nuvali was just a taster for the major trail event, The North Face 100 happening on April 24-25 in Baguio City. If Nuvali only had two distance categories (11K and 22K), TNF100 also has 50K and 100K categories. Just so you know, any distance above 42K qualifies as an ultramarathon (OMG!).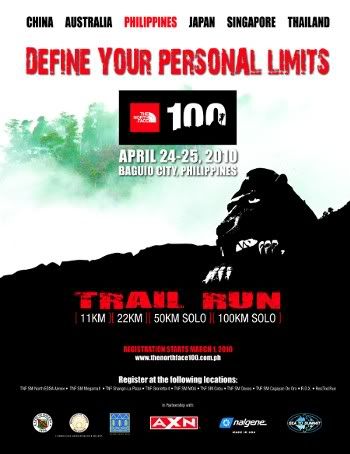 Trail running requires agility and presence of mind as well as endurance. The route will take participants through Camp John Hay, the PMA grounds, Mt. Sto. Tomas and Mt. Tuba before finishing inside Burnham Park. The mountainous terrain promises to be quite tough on the legs and lungs, since the highest elevation is at 2,062 meters above sea level.
Yesterday I registered for Earth Run at Res Toe Run. When I saw the poster for TNF100, I was struck by pangs of envy and regret. I would have wanted to be at TNF100 as well (but only for 11K) if I had not already booked and paid for a vacation in Boracay with Jenny and Bianca from April 23 to 26. :(
If you don't have anything planned for the weekend of April 24-25, you might want to give TNF100 a shot. Define your personal limits 6,000++ ft above sea level! Join The North Face 100 in Baguio-Benguet. Visit: www.thenorthface100.ph for more details, or check out The North Face 100 Facebook fan page.
Did you like this post? Share it on your social networks!