The day before Globe Run For Home, I found myself at Bonifacio High Street running on a treadmill atop a platform in front of bystanders and onlookers. No, this was not performance art.
photos by Mark Cerbo and Que Sullano-Gavan
Members of the media (television, print, and online) had been invited to the launch of the adidas miCoach system, and we were given a chance to win one of these things at the treadmill challenge. This treadmill challenge had us running 10 minutes each at a speed we select ourselves. The person who runs the farthest distance in those 10 minutes wins a miCoach Pacer. Now since a huge chunk of the bloggers present were runners (and members of Takbo.ph), we had a grand time cheering each other on.
The launch program proper was hosted by my friend Rico Robles, who isn't a runner except when he's running away from angry boyfriends. Haha. *wink*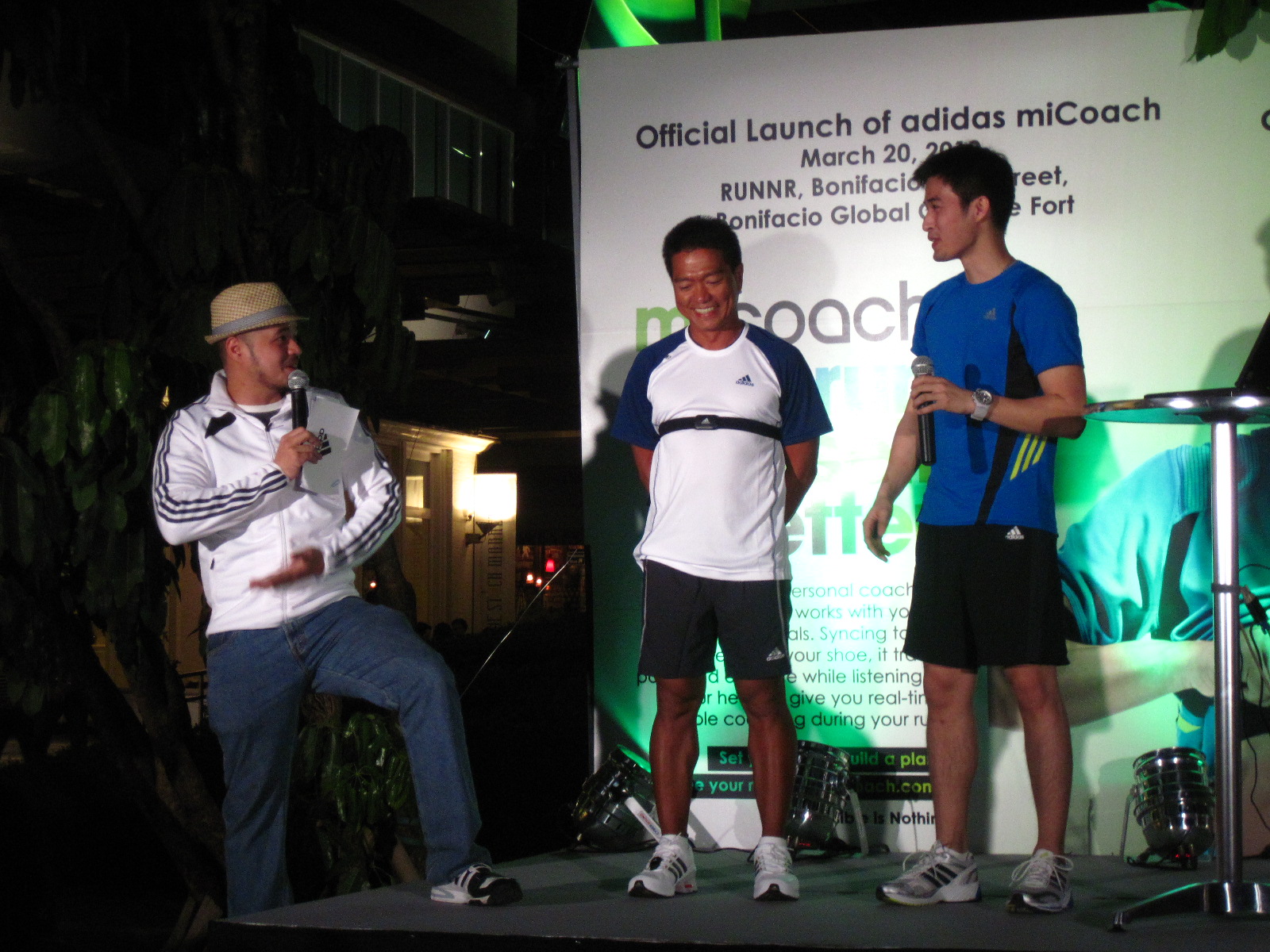 the non-runner, the triathlete, and the brand manager
miCoach stands for "my individual Coach". The miCoach Pacer is a heart rate monitor, stride sensor, and training partner that you can link up to your music player so you can get personal coaching right in your ear as you run. With several different training programs to choose from, whether you want to get fit or run faster, the Pacer helps you run yourself better. I hate making comparisons between brands here, but the miCoach is adidas' take on the Nike + system — except the miCoach can be used on all shoe brands and all mp3 player types. At P6,995 for the Pacer, it's a good deal if want a training tool to measure how far and how fast you're running, but aren't willing to shell out for a Garmin just yet.
As it turned out, I was outrun by the boys. (Argh!) Sam and Rodel also did their best. Though my feet were flying and it was the fastest 2.4 kilometers I'd ever ran, we were no match for Natz's 2.7, Mike Mamaril's 2.71, and Wilnar Iglesia's 2.89. Wilnar apparently couldn't get enough of running that night and ran around BHS after he completed the challenge. Then the next day at Globe, he ran a sub-2 hour half-marathon! Adik!
[youtube=http://www.youtube.com/watch?v=PbExTg8Rzxg&w=480&h=385]
Whatever happened to "tapering"?
I am extremely happy with Kiko, but I'm glad adidas has come out with the miCoach. I'm pretty sure running enthusiasts will be quite willing to add the miCoach to their arsenal of training tools.
Liked this post? Share it!