The New Clark City Triathlon is my final multisport race of the year, and boy, did I go out with a bang!
Check out my race vlog below, then keep reading for a deeper look at what went down at the first-ever triathlon held at New Clark City leading into the SEA Games.
I traveled from Manila with Roselle (Running Diva). This was meant to be her celebration race after finishing Ironman Gurye, but when that was cancelled this became her sole triathlon of the year. I planned to get to New Clark City nice and early so we could check-in and get our race kits, then go for a test swim at the Aquatic Center's competition and practice pools.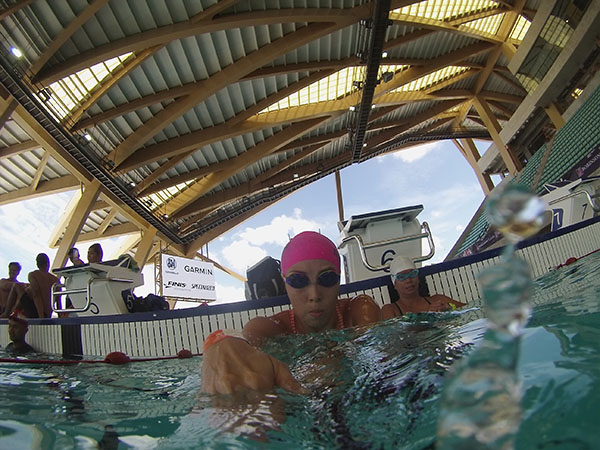 My decision to go to New Clark City in Capas, Tarlac first before we went to Clark Global City in Mabalacat, Pampanga where most participants had booked hotels was also a strategic decision. It was the first day the new exit going towards New Clark City from the Subic-Clark-Tarlac Expressway (SCTEX) would be open, so I wanted to familiarize myself with the way so that I wouldn't get lost in the wee hours of the morning going there on race day. Also, because the bike course would use the connector road, I could get a good idea of the elevation profile, since we wouldn't be allowed to recon it on our bikes prior to the race.
(I can't imagine driving from Manila going to New Clark City on race morning! The timeline would have been too tight for me.)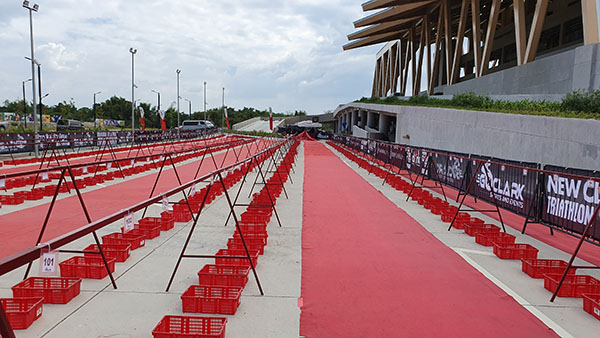 With 800 participants combined for the Sprint (450m swim-20km bike-4km run) and Full (900m swim-40km bike-8km run) categories, the entire parking area in front of the Aquatic Center was converted into a massive transition area. This meant participants and spectators would have to park at the Main Parking lot just outside of the complex and either walk or take shuttle buses to go inside. (Yes, we could take our bicycles into the buses!) Thankfully, the buses were spacious, air-conditioned, and ran quite frequently so we never had to hoof it.
On race morning, we left our hotel at 4:20am, drove for about 10 minutes on the SCTEX, and then exited towards New Clark City. Because the connector road was so new, street lights were yet to be installed so I drove quite gingerly on the winding road. This meant it took us another 10 minutes to negotiate that 10-kilometer stretch. Once we arrived at the Main Parking, we inflated our tires (again, in the dark) and then waited for a bus to bring us to the transition area.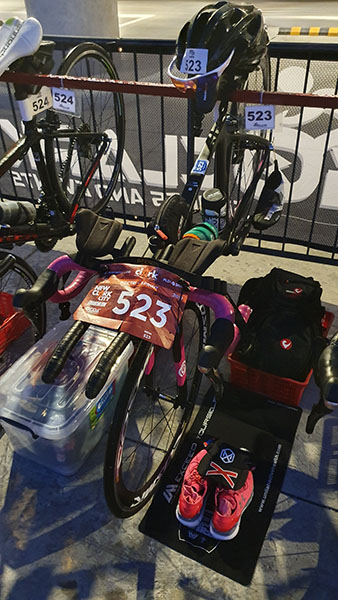 The Sprint distance transition was in a separate area from the Full distance transition, so as a Sprint participant I assumed that I would be pointed in the right direction once I had finished the swim. (You know what they say about assumptions…)
We watched the Elite athletes get sent off first, then waited for the Full participants to complete the 500-meter segment of their swim in the competition pool and move to the practice pool before we were allowed to start. This meant starting the race at around 7:25am and an expected finish time around 9:00am. I assumed we would just miss the start of when the sun starts beating down in earnest. (Again, with the assumptions!)
With the female Sprint being let off first, I decided to self-seed quite early so I could push my swim without worrying about getting stuck and trying to swim around people. Only four people would push off every 20 seconds, so this meant clear water and a chance to enjoy the Aquatic Center pool one last time… Happy to say I overtook some people who started ahead of me. But I also got overtaken in my final 150 meters by Nylah Bautista, an absolute motor (luckily she wasn't in my age group hahaha!). Behind me though there were some fast movers who just started later.
I got out of the pool quite quickly and made my way out of the Aquatic Center, where the marshal pointed me in the direction of the Full transition area. What? With my head in a blur I followed unquestioningly before I realized that there was no way to get from the Full area to the Sprint area. (Ultimately, it was my responsibility to know the course and the route, so I'll take the lumps from this.)
I wasted more than a minute running around before I finally entered the proper transition area. Out of the corner of my eye, I saw Bubbles Paraiso exit transition. Vanessa Agdon had already left a few seconds prior. If I wanted to be in contention for my age group podium, I needed to get out of there fast and ride my pants off!
Thankfully I had an uneventful flying mount and quite quickly my feet found the inside of my shoes. The first challenge on the bike leg would be a short but sharp incline to get onto the connector road, so I had left my front gear in the small ring on purpose. I was able to roll over that bump without losing much momentum, and thereafter shifted into the big ring knowing I could handle the rest of the rollers on the course with minimal shifting.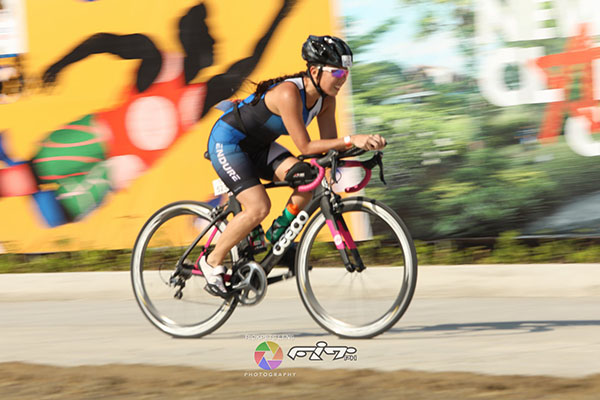 Friends, I recorded my fastest average speed on that ride, going 30kph when previously I'd only gone as fast as 28kph. I also rode it on my own because whenever I came upon anyone I could potentially draft behind (it was draft-legal), they were going slower than I wanted. I had a shadow on the inbound section of that out-and-back course, but I pulled most of the way.
Flying dismount was also successful, but then I ended up regretting leaving my shoes on the bike when I had to walk through a mud patch as I pushed my bike into transition. (Yuck!) I overtook Vanessa into transition, and she told me to chase Bubbles down. I didn't know how big a gap I needed to bridge because we had all started at different times, so I decided to just keep pushing on the run.
I clocked a super-fast first kilometer, but started dry-heaving as the course passed through the outdoor practice track. Because New Clark City is a new development, there weren't any trees around for shade. Even at 8:30am the sun felt like it was shining at high noon.
I had to manage my effort and also cool my core temperature if I wanted to finish. So at every aid station, I asked for ice and shoved it down my suit. There was some respite as the course wound through the river park where old trees had been left to grow, but that relief ended as we turned once again towards the stadium facilities. I spotted Bubbles exiting the practice track just as I turned to enter it. By then she only had 500 meters to the finish line, so I had run out of road.
With Vanessa just behind me, I had to keep going. Even if I finished ahead of her, our overall times might differ in mere seconds. I didn't want to regret not pushing and then find out I could have made a difference if I had.
Out of our age group I had the fastest run split, and overall it was second fastest. I know left it all out there on the swim-bike-run.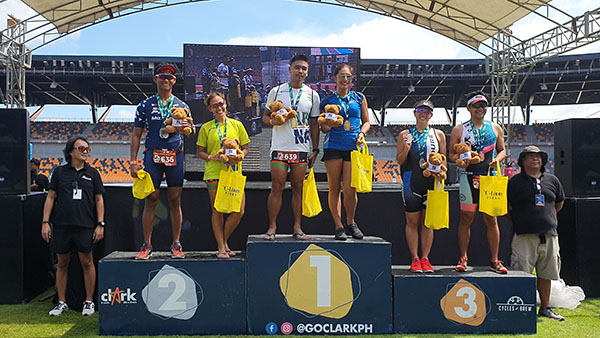 Still, it wasn't enough to overcome Bubbles and Vanessa, who were just too good. But to be competitive like this in only my first year back after two years off from overtraining? I can be happy with this performance, and at the same time know where I need to improve.
To give you some idea of how competitive my age group turned out to be, out of the top four fastest overall times among women in the Sprint category, three of those came from us. (The fastest overall time, fastest swim, and fastest run came from the girl who topped the F15-19 age group, and she probably should be recruited for the national team. Paging TRAP…)
Yes, it seemed as though a large chunk of the local triathlon community came to compete in a pool-based triathlon. But who could resist a chance to use facilities that will be for the near future exclusively used by Philippine national athletes? Who would want to miss experiencing something world-class in our own back yard?
I absolutely loved seeing so many friendly faces crossing the finish line. Shout-out to my Endure Multisport teammates: I'm super happy that we had a 100% finish rate.
Kudos to GoClark and the BCDA Group for pulling off a successful inaugural triathlon. I hope it comes back next year! And congratulations to all participants and finishers of the New Clark City Triathlon.
Liked this post? Share it!