After all the serious long-distance triathlons of the year have come and gone, it's time for some fun! The UPLB Trantados Triathlon Club are holding the 15th edition of their Beginners' Costume Fun Triathlon on September 28, 2019 at the UP Los Baños Baker Hall grounds.
The only costumed triathlon in Asia features a mini-sprint distance race as well as a shortened course for kids and a team relay. With this race, the Trantados aim to promote triathlon and to give spectators a fun time. Over the years, this race has attracted a number of celebrity participants. The year I raced it, Aubrey Miles and Troy Montero made it their first ever triathlon.
The swim is at the UPLB Baker Hall pool, followed by a fast and flat bike ride through the UPLB grounds, then a lung-busting run around Baker Field. This fun tri is great whatever fitness level you're at, whether you're just starting to do triathlon or ending a long season of racing. Costumes aren't mandatory, but they do add to the challenge and fun factor.
Los Banos is a bit of a drive coming from Metro Manila, but the good thing is the race is on a Saturday afternoon so you can drive down leisurely. But make plans to stay over, because even more fun awaits you at the post-race awards party at IC's. The UPLB Trantados aren't "50% triathlete, 50% alcohol" for nothing. 😉
This is one of the more budget-friendly races on the Philippine triathlon calendar, and you can save even more if you register now!
Early bird rates are in effect from August 12 to 31.
Kids/Mini-sprint Individual: P1,500
Kids/Mini-sprint Relay: P3,500
Regular rates (if you register between September 1-21):
Kids/Mini-sprint Individual: P2,000
Kids/Mini-sprint Relay: P5,000
For more information, follow the UPLB Trantados Tri Club Facebook page.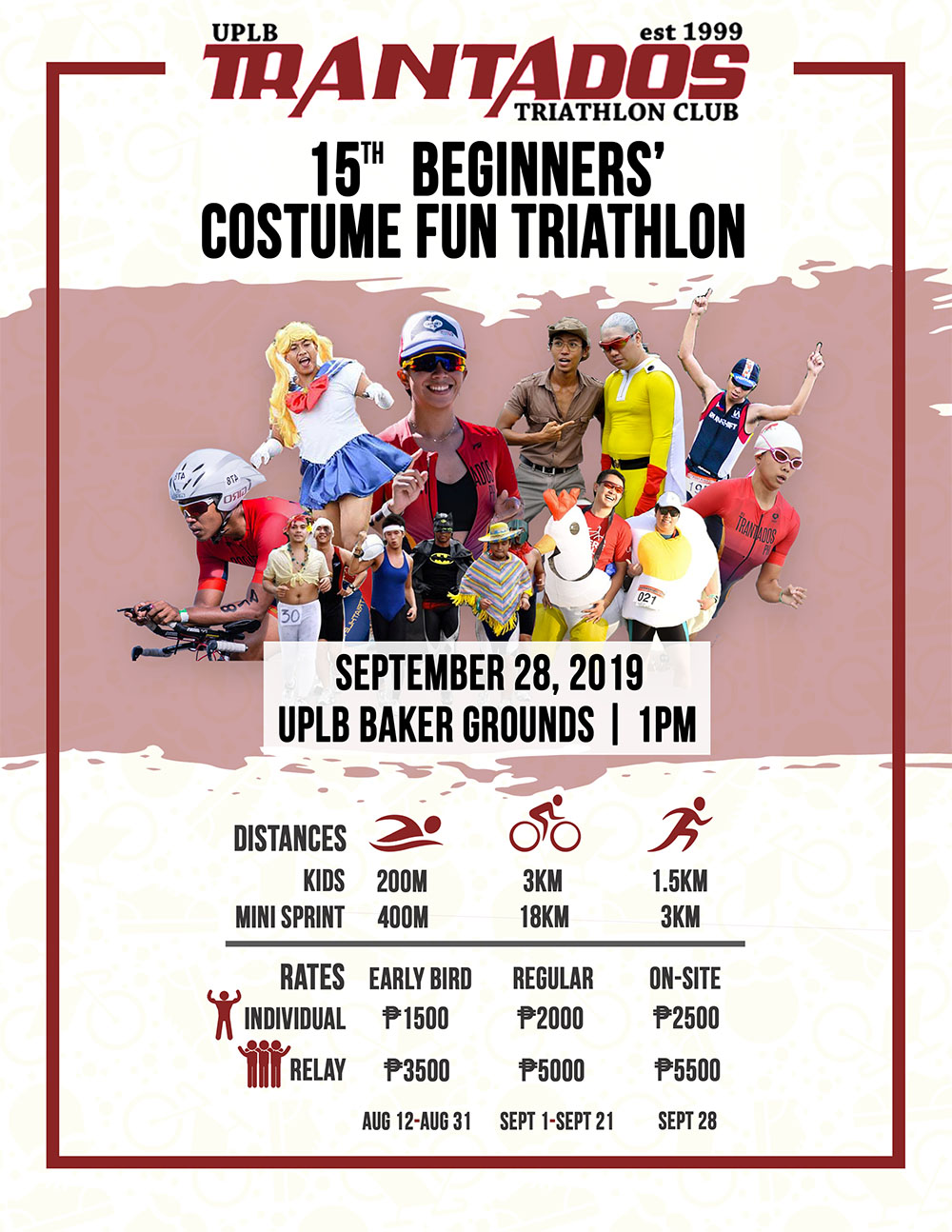 Liked this post? Share it!