I'm writing this now with an aching body and a massive sense of accomplishment from yesterday's racing at the Fasttwitch Enduro Triathlon organized by GoClark.
A lot of people think long distances make for more epic racing, but having raced all across the distance spectrum I can tell you that long or short it's the effort you put into it that makes it hurt. 😀 Having raced the Enduro format before (swim-bike-run-swim-bike-run) at Super League Bali, I already had an idea what I would be in for with all the transitions needed switching between disciplines. But the GoClark guys threw in a twist for their Enduro by adding a run at the beginning so that people wouldn't be entering the pool swim en masse. I thought it would be fun to stretch and challenge myself, so I signed up. It would be a run, then swim-bike-run twice before crossing the finish line. The distances were 300-meter swim, 10-kilometer bike, and 2-kilometer run adding up to almost sprint distance.
(There was also a longer format called Super Enduro: after the starting run the participants would do swim-bike-run three times. I didn't do that one because I didn't want to die 😛 But honestly, after my first experience at the Super League Bali Enduro I knew my fitness and patience could only handle swim-bike-run twice and no more.)
Clark is an easy two-hour drive from Manila, so I opted to drive there early on race morning instead of staying the night. Unfortunately this disrupted my normal race packing routine, so I forgot my race belt and needed to jury-rig an old-school belt made of string I found in my car. Everything else was uneventful though, and soon the race was underway with a mass start in the opening run. (The Super Enduro participants had started 15 minutes prior.)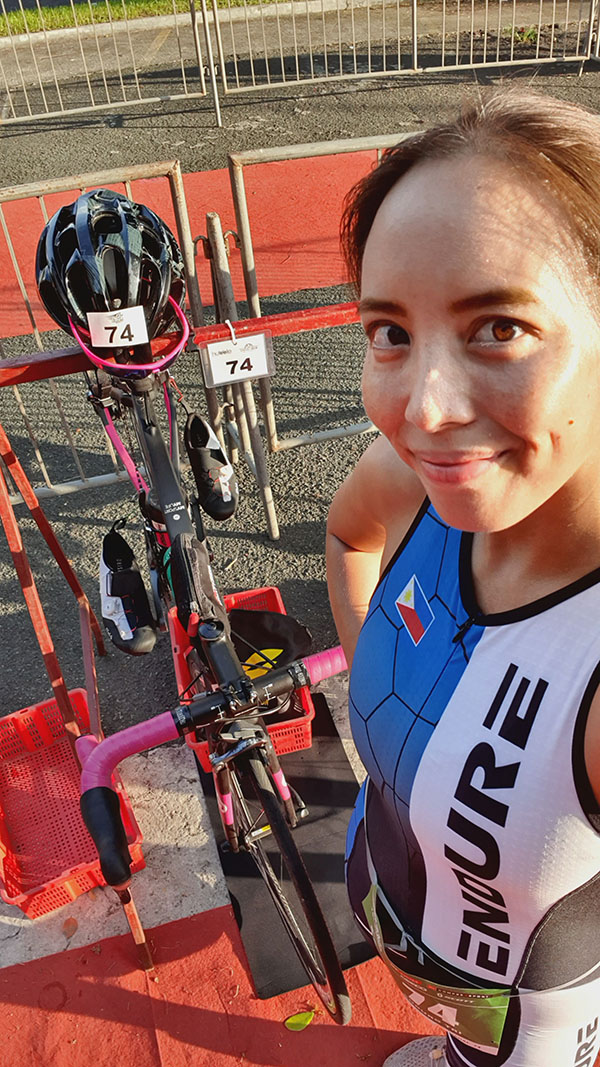 Two kilometers went by way too quickly and it was soon time to get in the water for the first of two swims. I already had my cap and goggles in my back pocket so I put them on in the last 100 meters running, then just kicked my shoes off in transition before heading down to the 50-meter lap pool.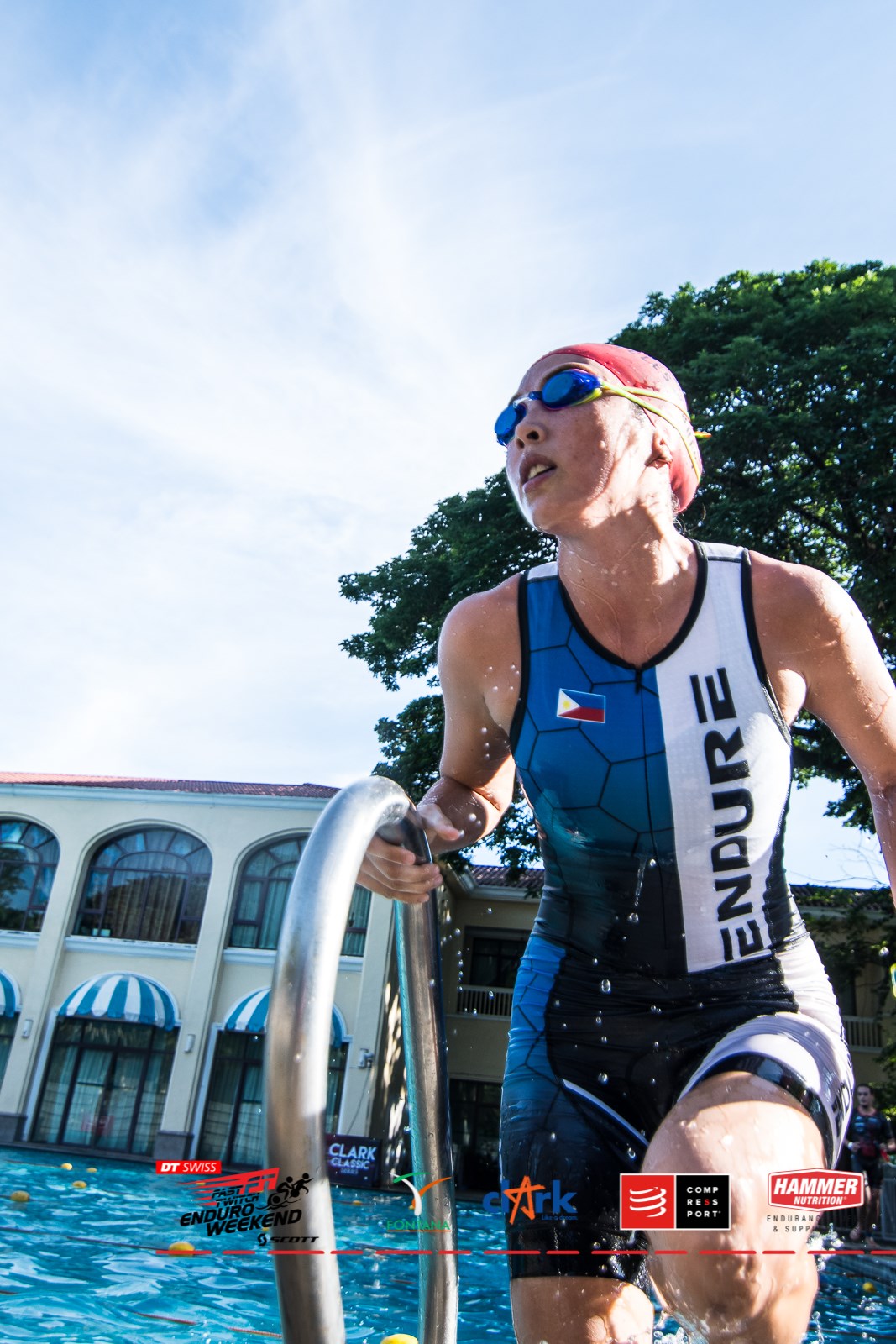 We don't normally do run-swim bricks because we don't encounter these in traditional triathlon formats, so it's a very alien sensation to streamline from the pool wall after being upright on the run. It's an additional challenge to calm your breathing down if you went too hard in the preceding run. Thankfully I found my rhythm in the water early and after six laps was out to get on the bike.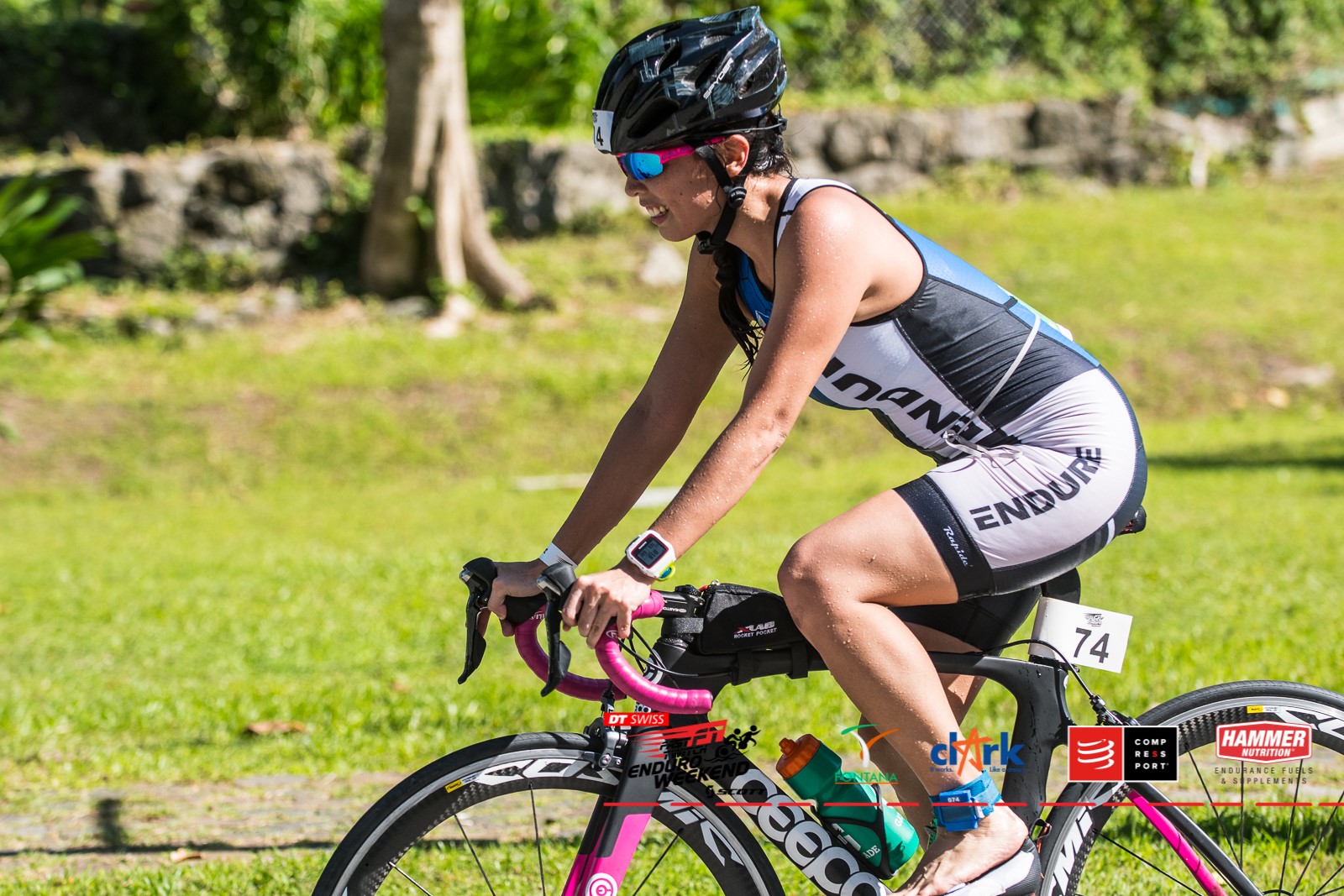 That bike lap through the Clark freeport zone was a good course with a nice downhill in the opening five kilometers followed by a mild false flat in the last five kilometers. I made sure to keep my effort consistent and below red-line because I knew I still needed to run, then do the whole thing again one more time.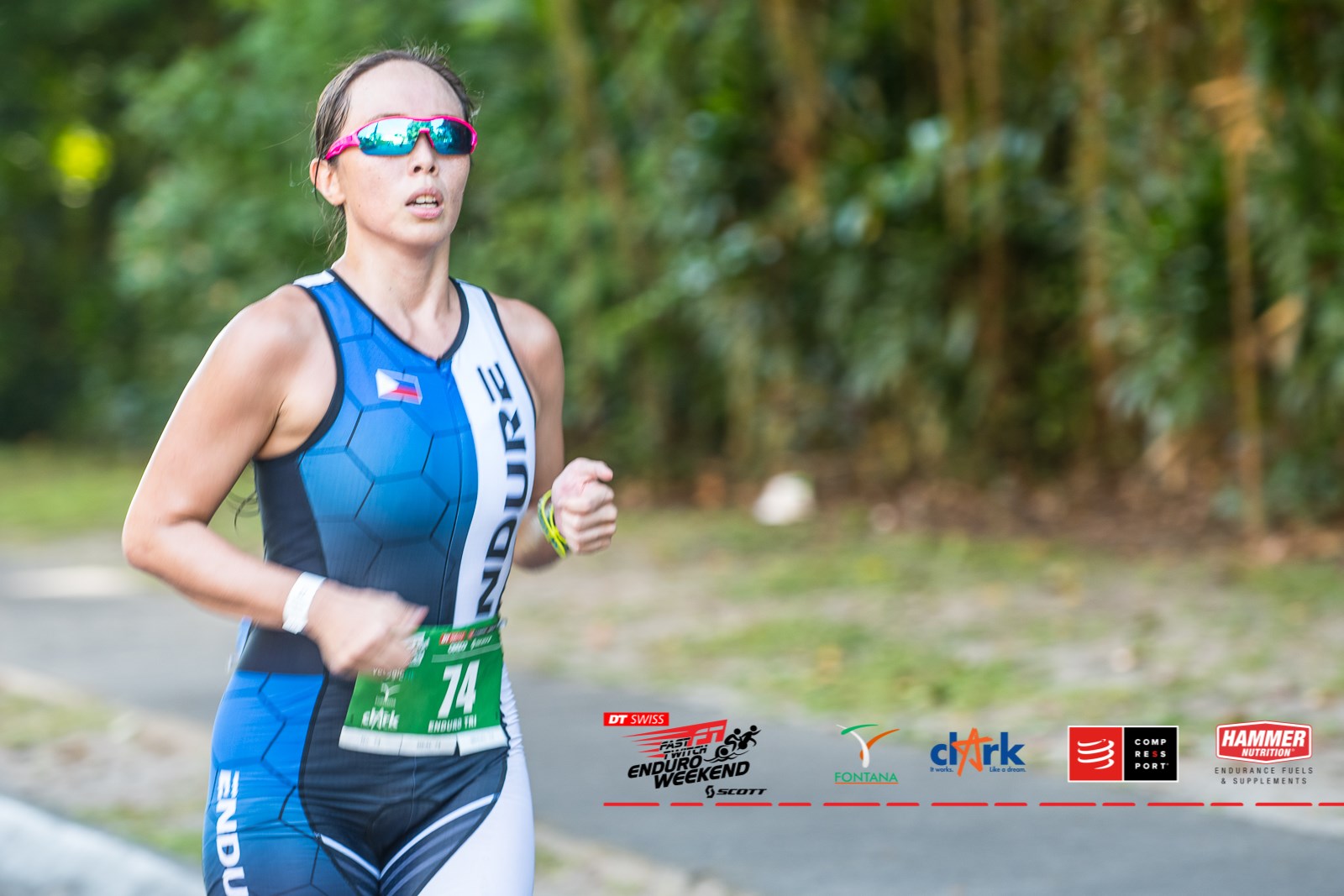 By the second swim-bike-run I was feeling heavier in the legs and the breath. The temperature was also starting to turn up despite the blessing of cloud cover. I used a different pair of shoes in the last run because the pair I'd used in the first two runs was soaked from pouring cold water all over myself. I just told myself to treat it like a regular triathlon because I didn't have to conserve any more energy, so by the time I crossed the finish line I was completely spent!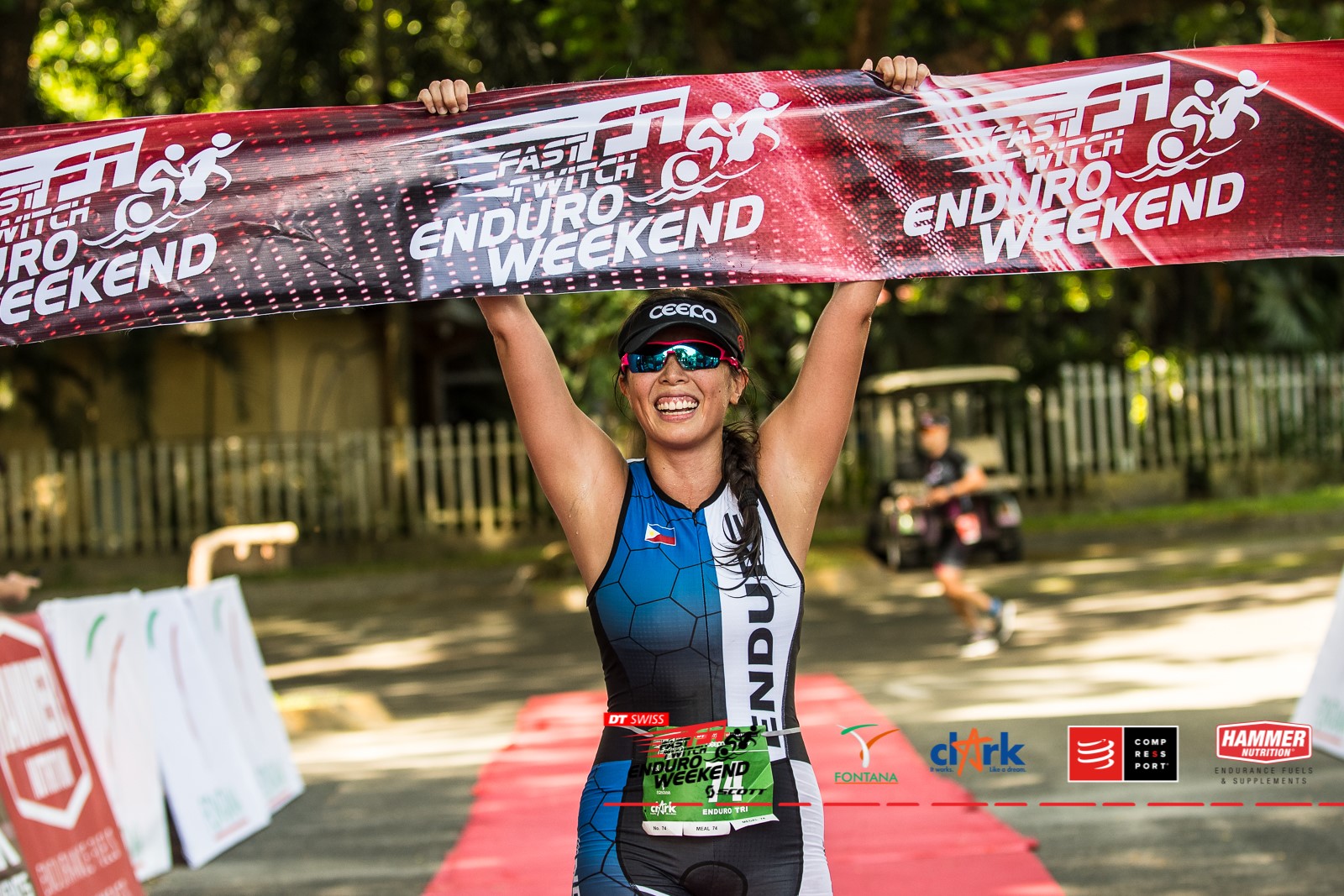 It felt good pushing myself all throughout as well as having the presence of mind to know exactly how I wanted to go through the transitions. I think it was about as perfect a race as I've ever done. Then they told me I was first female overall in the Enduro, and sixth overall finisher, which made me pretty happy. (I also beat the first Super Enduro finisher across the line, which felt good LOL)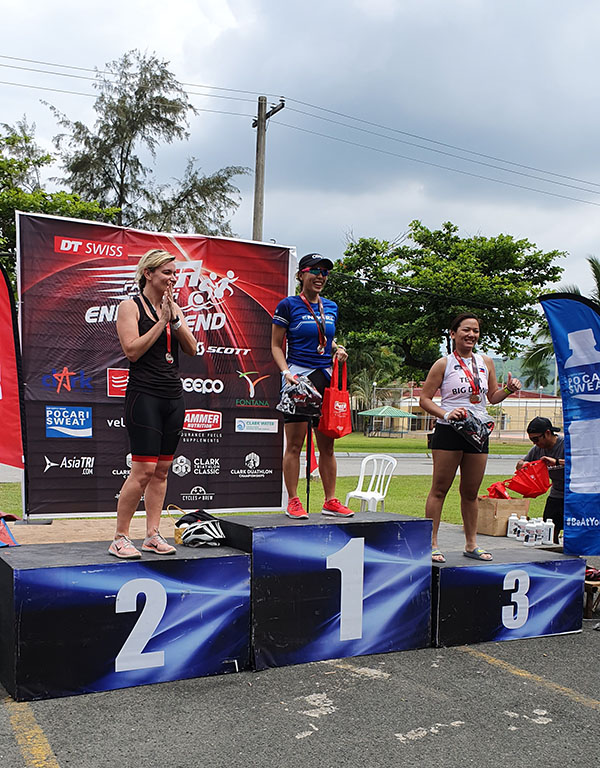 We get into sport in order to challenge ourselves and grow and become better athletes. You can find challenge not just in going longer, but also going harder or doing different formats. I love that our multisport community has so many homegrown events that provide us opportunity to race and finish, whatever our fitness is and what our goals are.
Check out the rest of GoClark's 2019 race calendar here. I think I'll do the Clark Triathlon Classic in September. 🙂