What goes up must come down… but not always at the same rate. This is what I found out last Saturday during a hike up and down Mt. Maculot in Cuenca, Batangas.
Dirt is my Kryptonite during races. However, I have always been curious about climbing mountains properly after casually hiking Pinagbanderahan in Converse sneakers while taping a travel show nine years ago. The opportunity finally came when my long-time friend Julia (of Blessmybag) said they were short a few people for a privately-guided tour up Maculot.
After a low-pressure area postponed our trip to the following weekend, we finally were on our way. I was better prepared and no longer wearing a cotton tank, denim pants, and Converse shoes. I'd gone to Decathlon and picked up a pair of 700-peso hiking shoes, 900-peso hiking tights, arm sleeves, and a cute shirt. Turns out, they were really good purchases (except for the shirt, which turned out to be made of too much cotton to dry fast) and helped me get through a challenging adventure.
Our little group had turned into an all-women affair: save for Raffy our guide from Jeron Travel and Tours, it was Julia, Czarra, Kay, Diane, and myself. Raffy dubbed us "Raffy's Angels" but I jokingly christened us "Girls Gone Wild".
Hiking up Maculot is a well-organized affair, with the local government requiring all groups to take a local guide with them. This also means everyone who goes up the mountain is tracked to come down the mountain. Maculot hikes are pretty popular: we arrived by 5:30am but there were already 100 people ahead of us on the trail!
We all had snacks, water, and pocket change for pitstops at the little stores that sprout throughout the trail on weekends, so we were as prepared as we could have been. What we didn't count on was the daily rainfall and cloud cover that had turned packed dirt into mushy mud. The positive: we were pretty cool and comfortable heading up to the camp grounds and what they call "7-Eleven", a main pitstop on the jump-off heading to the Rockies and the summit.


mountain refreshment: bananas, boiled eggs, and coconut juice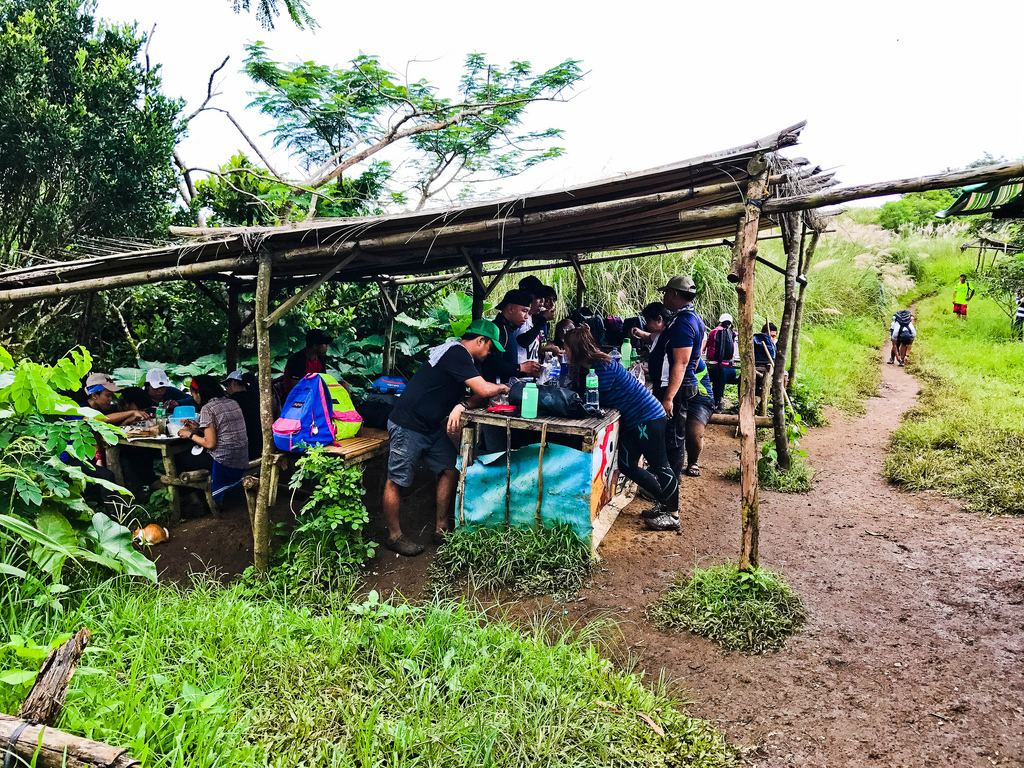 a crowd of hikers already at the camp site
We made good time getting to the camp grounds, but our main problem was the cloud cover which was spoiling the views we had come up the mountain to see in the first place. After a bit of a wait, the mist started clearing, so we headed towards the Rockies.
The Rockies are 706 meters above sea level and promise stunning views of Taal Lake. The usual view of Taal Lake and volcano comes from the Tagaytay side; the Rockies look out onto Taal from the opposite side. As we went on, the sun rose higher in the sky and the cloud cover started to break until we were greeted with this view:
Not going to lie, we had to wait around for breaks in the clouds to get our photo opportunities. But wow, we were so thankful we had arrived when we did, and not earlier or later. Chalk it up to God's perfect timing.
We soaked it all in, this wild splendor before us that would exist even without humans to appreciate it.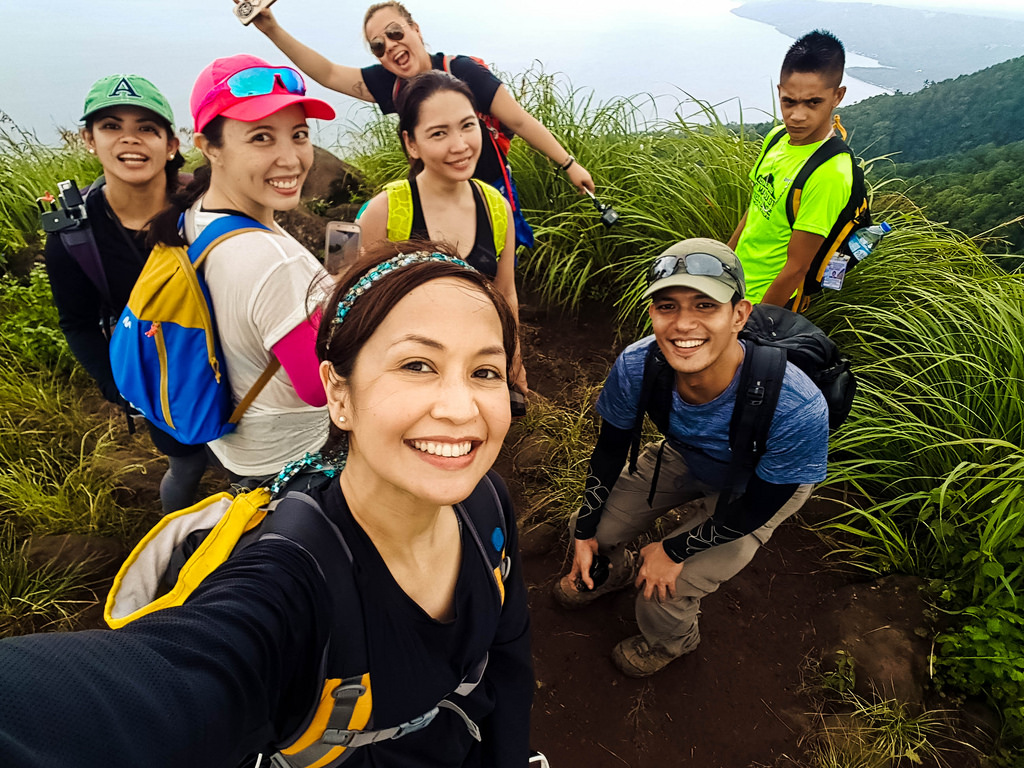 groufie with our local guide Jorven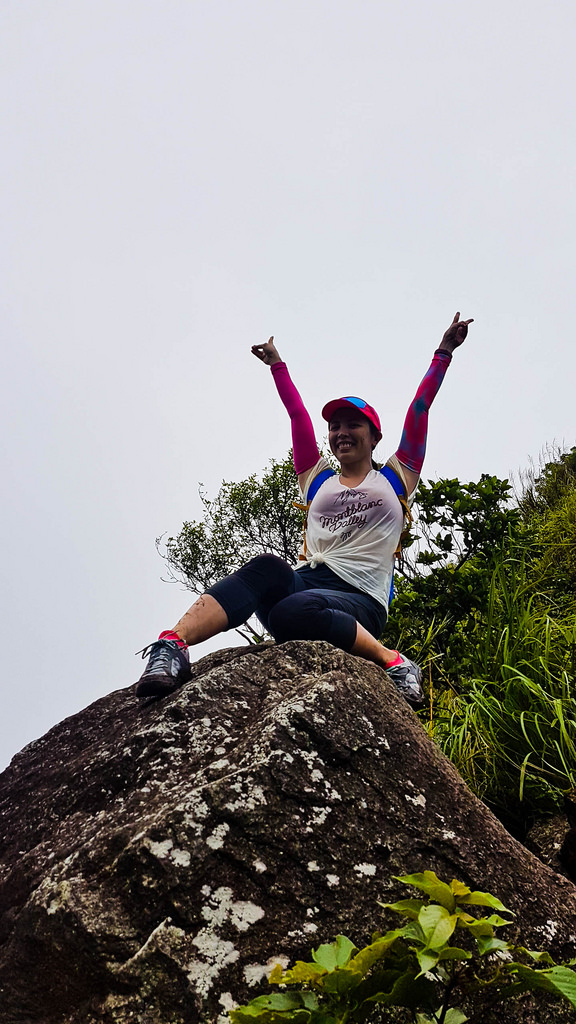 one of our first photo stops at the Rockies
Most hikers end their Maculot excursion after the Rockies, choosing to head down the mountain the same way they came. We had different plans, though; since we were already there, why not make an assault on the Summit, which is 930 meters above sea level? Apparently only 5% of hikers do this, and we were about to find out why…
I packed away my sopping-wet cotton shirt before we started heading for the Summit, opting to cover up my midsection with a black Salomon buff pulled over my sports bra. This turned out to be a good thing as well; it was a warmer, much sweatier climb at greater effort to slog through mud, muddy rocks, muddy branches, and muddy ropes.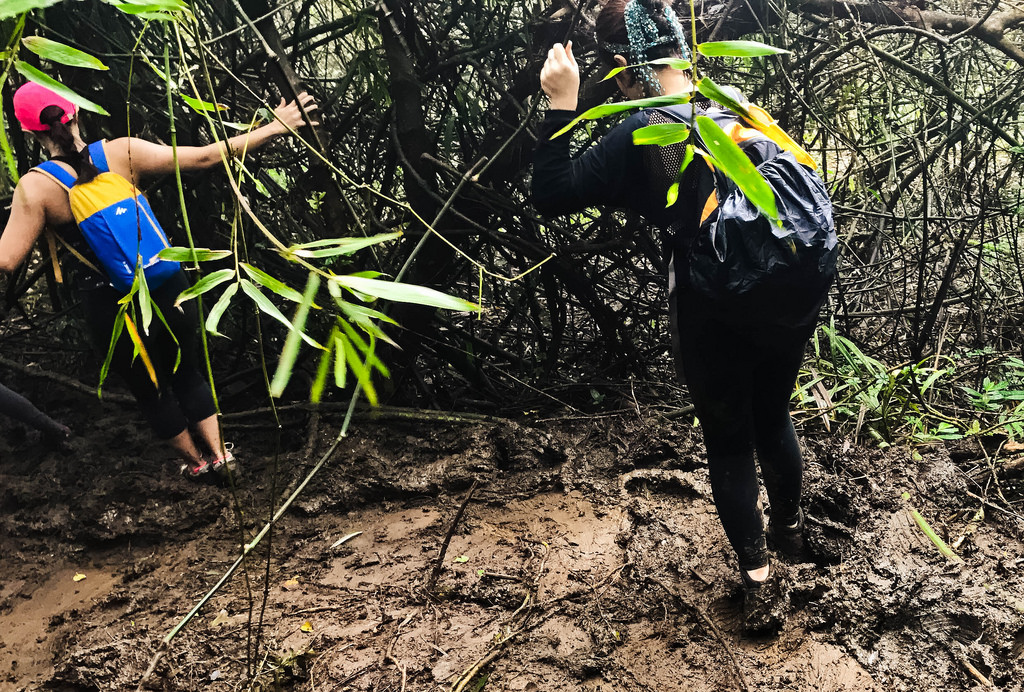 Julia and I squishing by on the muddy path
We started falling behind schedule as the mud made it hard to find traction; we went pretty slowly even though we were taking fewer rest breaks. There weren't many places to stop, either.
But finally, we reached the Summit.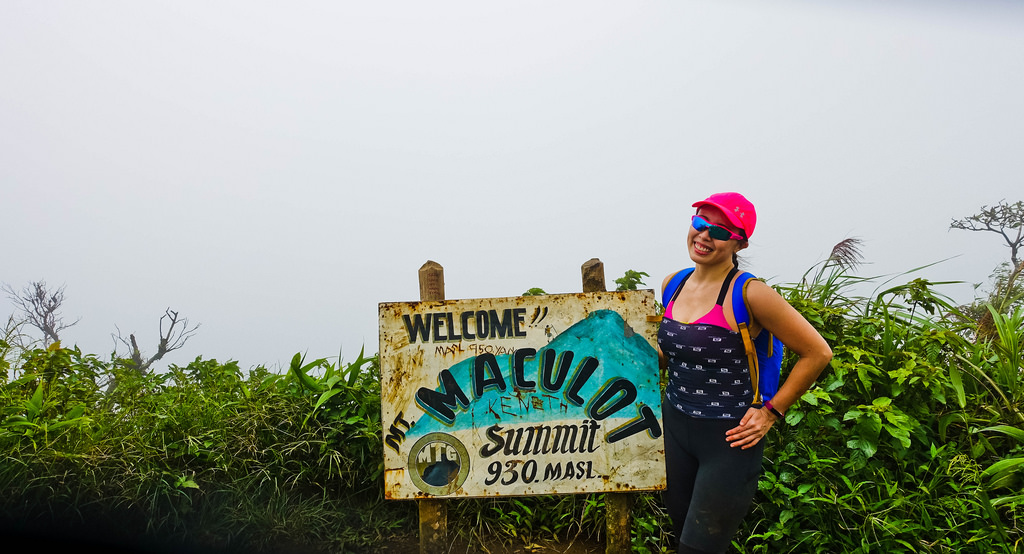 one question: who the hell is "Keneth" and why did he vandalize this sign?!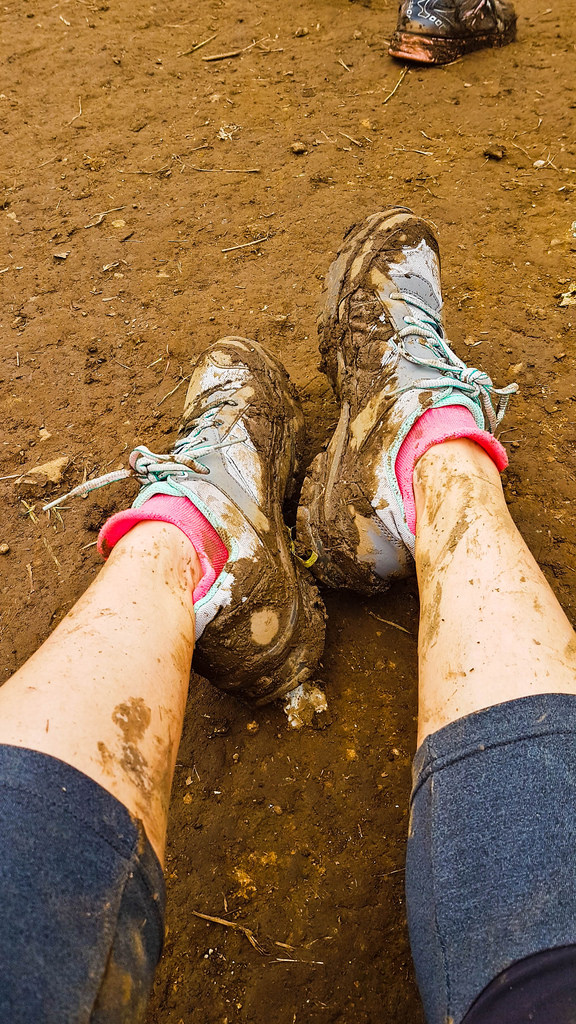 Am I glad I only spent 700 pesos on these shoes — but they served me well!
It was cloudy at the summit, but we didn't care about the view; all we cared about was that we got there! We took a well-deserved break, picnicking on Czarra's baked goods and sandwiches and passing around Raffy's trail mix.
The mud would make it particularly treacherous to head down the way we came, so we opted to do the traverse which is to head down the mountain another way, towards the Grotto. Well, we assumed it would be easier. But I guess that's how it is with me doing something for the first time — I always go from frying pan into the fire!
The muddy paths were softer and those who had gone before us had "skateboarded" on them, turning the whole thing into a slippery mess. We kept our balance by holding onto tree trunks, rocks, and hanging vines. None of us had our phones or cameras out during this point because by then our hands were too grimy and we didn't want to drop any of these gadgets where we couldn't go after them.
It was here I was most thankful for my cardio endurance base so I could keep moving forward at low intensity, and for the upper-body strength I'd built that allowed me to keep myself upright in many a hairy spot where I couldn't trust my feet. Due to this, I was advancing quite quickly. However, since I didn't know the way I made it a point to wait for everyone else in the party to catch up.
We were by then more than a few hours delayed, but it was more important to get down Maculot safely than quickly. The heights didn't bother me at all; my sole fear was that I might fall and break something and it would be difficult to get me off the mountain. The uncertainty of not knowing the way forward also weighed on me, and by the time we were at the rest stop before heading to the Grotto I told Raffy that this was one of the hardest things I've ever done mentally.
But hey, we all got through it safe and unscathed! We just got very dirty, haha.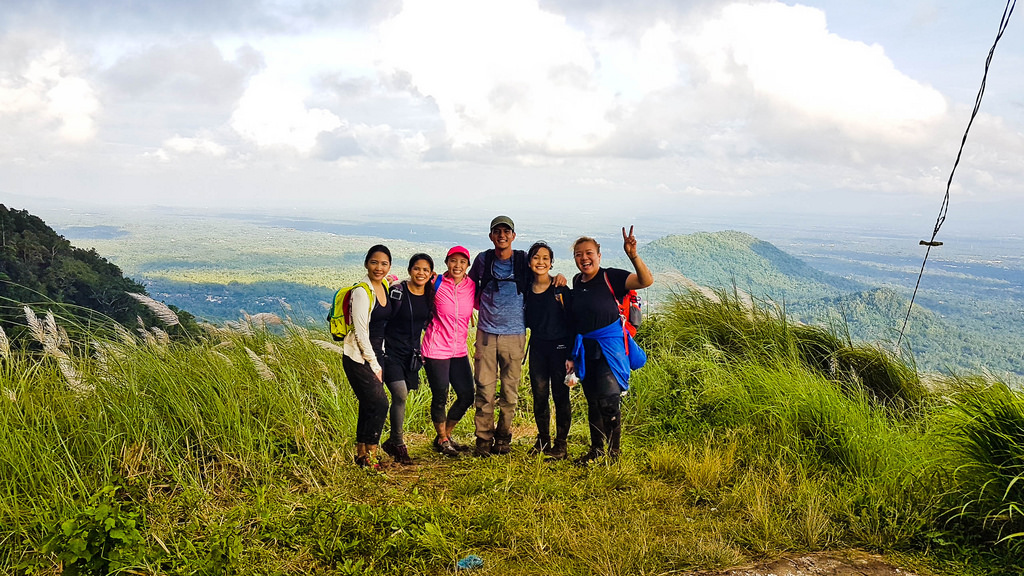 one last photo from atop a peak
The Grotto is on the other side of Maculot and is still partway up the mountain. However, there are concrete stairs leading down from it for the most part, taking you past Stations of the Cross. At the foot awaited tricycles that took us back to Cuenca, where we had left our van. After a shower and a feed (partaking of the lomi that's a specialty), we finally struck back for Manila at around 6:30pm.
If things always went according to plan then I wouldn't have much to tell stories about, right? But what I found that was so important to the success of our hike was the positive mindset and attitude of everyone in the crew. While some of us were faster or slower than the others, we all supported each other and got through it together.
There is so much to do and see in this world. Don't get stuck doing the same old things; break out of your comfort zone. That's where the best adventures are.