I thought training for a half-ironman was tough… But going for the full iron distance takes it to a different level altogether. Considering I confirmed my slot at Challenge Roth quite late, I've been playing catch-up scrambling for all the extra mileage I can.
A full ironman is a 3.8-kilometer swim followed by a 180-kilometer bike ride and ends with a marathon. I've done a marathon, so I know what one feels like physically and mentally — but to do one after a long, long day swimming and biking is something else! The other distances are foreign to me as well, so during Holy Week I set out to increase my swim and bike mileage just to see what it feels like.
On Wednesday I didn't quite hit 3.8 kilometers, but 3.2 kilometers was plenty especially in a 25-meter pool! (That's 128 lengths. I was an aquatic hamster!)
On Maundy Thursday I hit Nuvali for a planned 100 kilometers, but cut out after 80 because I wasn't feeling it. No, this would not do at all. After consulting with Joel on what he did to prepare for his planned ironman at Bohol 226 last year, I made a decision: Saturday would be the day I would complete 180 kilometers on the bike. I didn't care how long it would take me, but I would finish it.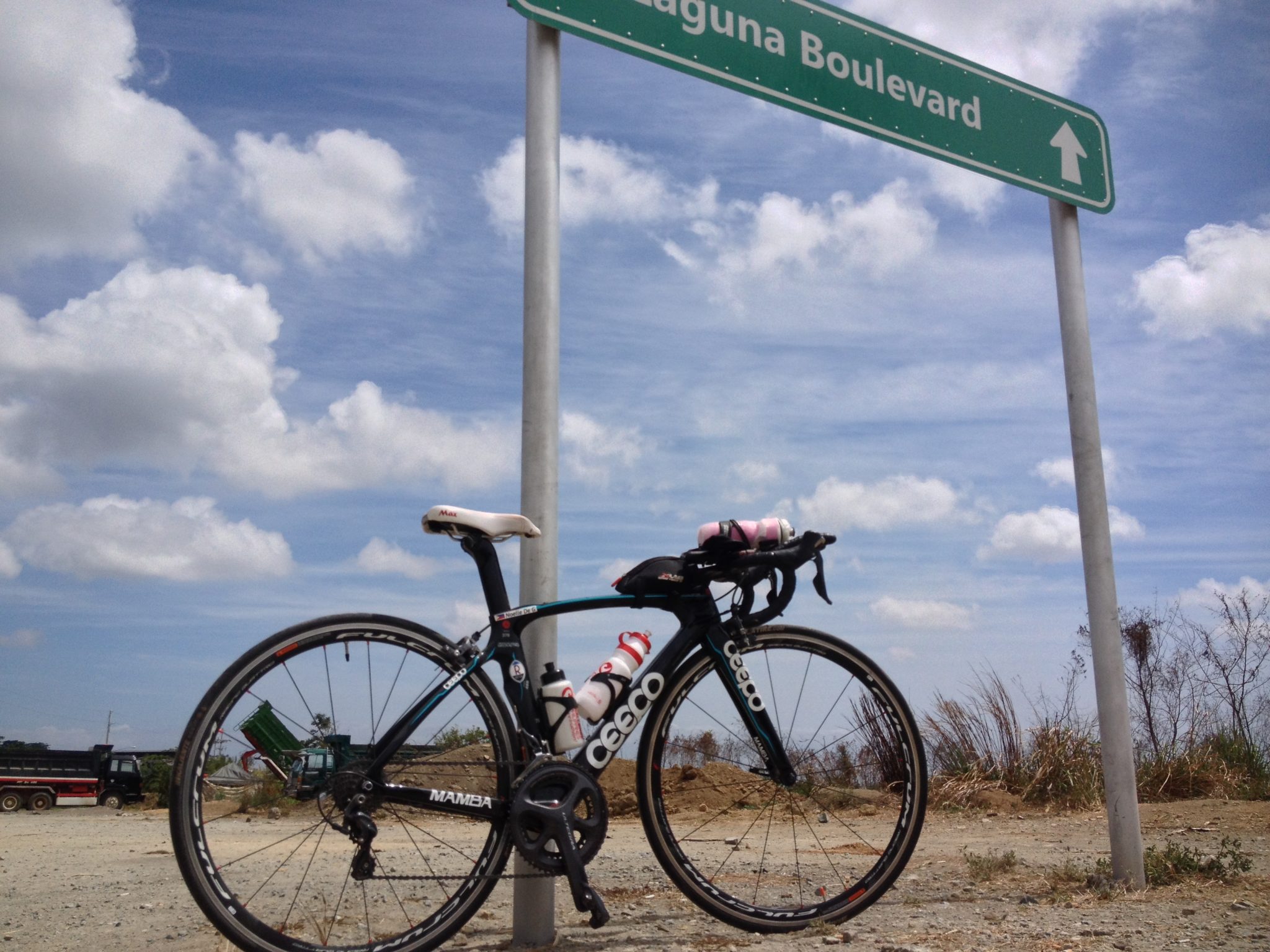 my Mako, trusty companion on my long solo rides
I've already been doing weekly century rides (100 kilometers) testing nutrition strategies and seeing how well my legs and cardio fitness would hold up. The Nuvali course isn't flat, but car traffic is very light. It only goes up to 56 to 58 kilometers in length so I would have to do several loops, but I was less concerned about the views and more concerned about getting the big miles in without having to worry too much about my safety. Other, longer routes are risky with reckless drivers, market intersections, and highwaymen. Yikes.
I did this ride solo because, like I've put it once before on Twitter, I'm in a sort of no-man's land when it comes to cycling. I'm too slow to keep up with the boys, and there aren't any women I can ride with either. I would be glad of any company if I encountered some of my friends and familiar triathletes on the route, but I was also wary of being pulled into "racing" against them.
first loop
second loop
The first two loops were quite pleasant. Aside from this being a distance I'd already covered many times before, the weather was cool (for summer) and the cloudy skies shielded me and the other cyclists and runners present from the harsh sun. I rode part of my second loop with Gail Consolacion, who was on the tail end of her 80-kilometer ride. I gladly used that time to ride easy and chatted with her about her recent experience at the inaugural Dagupan Triathlon. I knew that once we parted ways, I would be crossing into unknown territory in the distance I would cover, and I would be doing that alone.
The sun was high above at that point, and all cloud cover had seemingly vanished. I still had a little less than 80 kilometers to do! I dutifully headed back onto the course… And then my GPS watch died.
I'd been using the watch to track both distance and effort through heart rate. With that gone, I could only track distance through my bike computer, and for effort I would have to feel my way through the next 80 kilometers. I was concerned… I was concerned I wouldn't be able to upload the succeeding data on Strava. (Hahaha!) For a minute I considered bailing on the ride again, but I was already there and had already done about 4 hours of riding, counting rest stops. It was only a few hours more.
During that time I found a strange rhythm. Legs spinning, mind focused on the moment, eat, drink… and the next 40 kilometers passed by very fast. It was kind of like driving on a long stretch of highway and suddenly realizing you're very close to your destination.
And then I felt that my effort was rising, but I was slowing down. Was I bonking? Mentally I was still fresh, and feeling very positive. Was it a mechanical issue? I pulled off to one side, stopped, and pinched my rear tire. Flat!


fixed a flat on the road for the first time!
Last week, my front tire had flatted, but I was riding with Mark Salvador, who jumped in and fixed it for me. This time, it was just me, my tools, and my hands.
I had no problem taking off the rear wheel, loosening the tire with my levers, and replacing the inner tube. But then I had to re-inflate with a CO2 canister, and I found out my new inner tube's valve was too short for my rim. After wasting a canister attempting to inflate anyway, I examined my old tube and found no visible holes (it was probably a slow leak). I decided it would hold long enough to get me back to where I'd parked the car, so I put the old tube back on the wheel, used my last canister, and rode away.


hands dirty from the dust on my tire, not from grease
Well, I got up to 160 kilometers as I neared my car. So close! Was I going to stop now? I checked my tire again and it was still good. I decided to keep going. This was it, less than an hour to go…
I was glad to get off my bike just because it had been 7 hours of active riding. I didn't feel fatigued and my legs felt really good, though. I felt like I could have run a bit off the bike, but I'd forgotten my running shoes.
manually entered on Strava, hahaha!
I packed it up and left to get some real food into me. I'd arrived in Nuvali with no one around, but by the time I'd left, all the restaurants were full of people on holiday having late lunches. Yes, that's how long I was out on the road, and I've got the sunburn to show for it!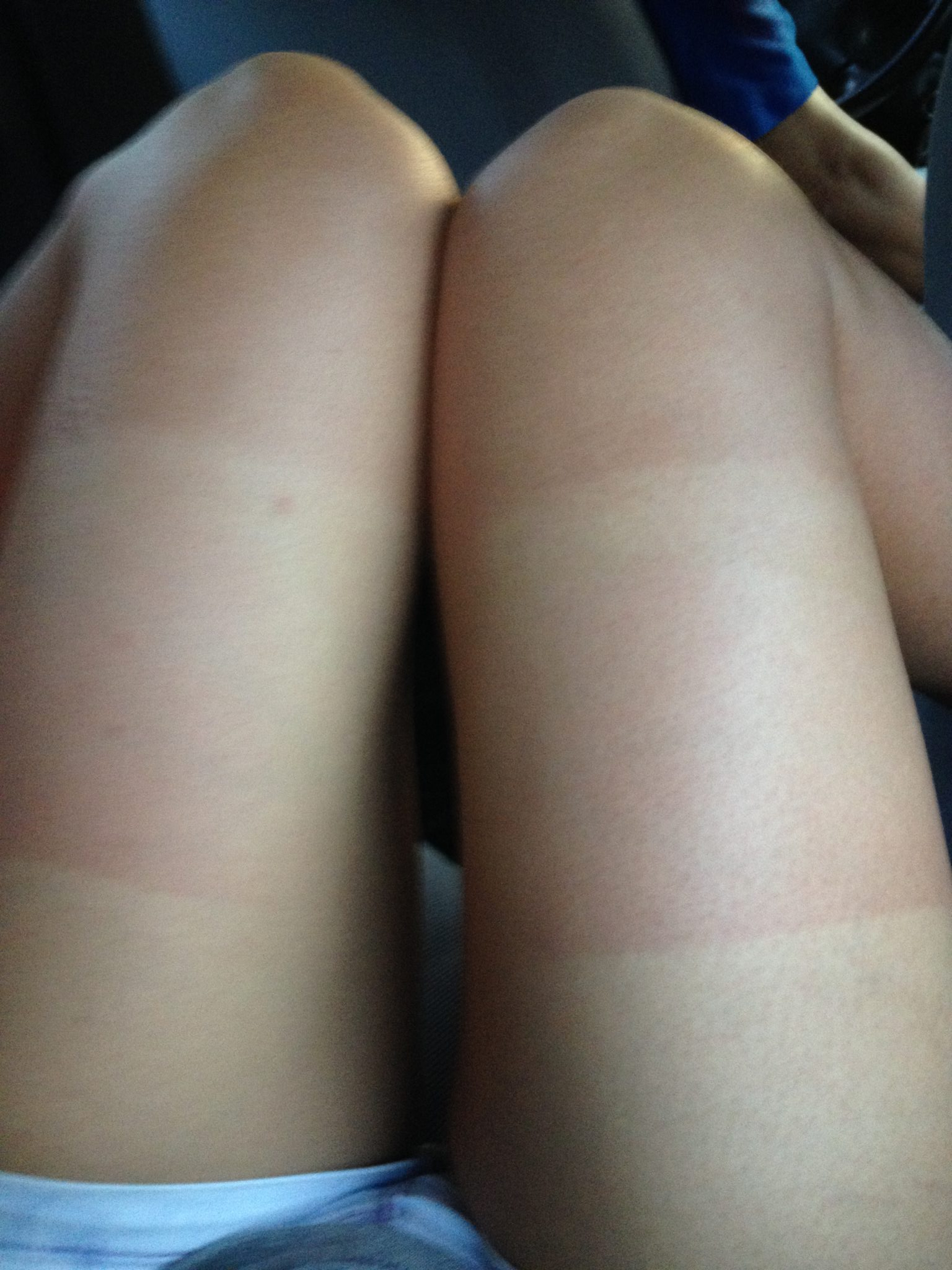 the mark of a triathlete: different tan lines


sunburnt hands from not wearing gloves
It wasn't a race, and the time I completed those 180 kilometers is by no means impressive. But at least now mentally I know I can do it. Now to fine-tune all the little things that happen during that 180 kilometers in an ironman: nutrition, nutrition, nutrition! Right now, it's still giving me the shits. Literally. 😉
One of my favorite athletes Chrissie Wellington quoted her coach Brett Sutton in her autobiography: "Some sessions are stars and some sessions are stones, but in the end they are all rocks and we build upon them." Some sessions are glamorous, like that gloriously fast 5K I ran the other week. Some sessions, like this long ride, are dull and monotonous and ridiculously long. (I told myself never to question the sanity of what I was doing. Well, I was already talking to myself by then…) But both kinds of training sessions are important in different ways. I'm just glad to have got through them.
I'm one step closer on the #roadtoRoth.