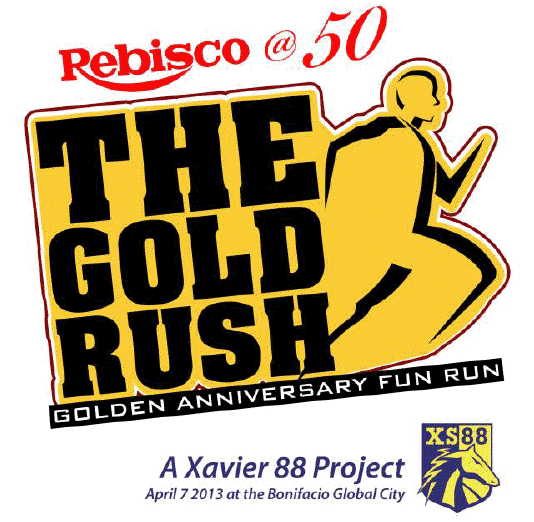 Rebisco @ 50: The Gold Rush
I ran the Rebisco @ 50 The Gold Rush yesterday because I needed to run a 10K. Although I have some races in the future, I find it difficult to stay on track with my training unless I have shorter-term goals that break down what I need to do for the bigger race. Since I'm doing SuBIT (1.5K swim-40K bike-10K run) in a few weeks' time, I'm making sure I have the pieces of that puzzle all worked out.
For a run in April, the 10K gunstart felt late at 5:45am, but I guess nobody counted on how early the sun comes up these days and how hot this summer would become. After a hiphop warm-up (which I didn't participate in because my running shorts are totally inappropriate to dance in), we set off.
I know most of you, my dear readers, are running for fitness and beating your own PR. Still, there are situations in which it's important to unleash your inner competitor versus other runners. The Rebisco Run would be awarding the top 50 finishers per category with a medal, so if you wanted a medal you'd need to A) stay near the lead pack with a maximum of 49 people ahead of you, or B) overtake others to make sure there are only a maximum of 49 people ahead of you.
Plan A was a little hard to achieve because people got way too excited at the gunstart and sped off at a pace of about 3 min/km. (Ouch! My lungs!) So it was straight to Plan B. I would bide my time until most of the "rabbits" had slowed down, then pick them off one by one and work my way into the top 50.
When you've been running for a while, you can tell from the way a person runs if they're "malakas" (strong). It's not just the pace they're running at; their posture and the sound of their footstrikes and breathing will tell you if they'll be able to keep it up. So as people started to slow down around the second kilometer, I began to see who among the women were going to be a threat.
Just eyeballing the field in front of me, I realized I was among the top five women and could very well nab another podium finish, if my pace held up. Now here was Plan C forming right on the race course: be the top female finisher! So I picked up my pace and started overtaking people, moving up the field.
Then there was only one woman left in front of me. She looked quite strong; her form looked effortless and her chin was parallel to the ground so she wasn't throwing her head back and gasping for breath. I overtook her gradually, but as the kilometers ticked down to the halfway mark, I knew she was still quite close behind me. The marshals (many of them Takbo.ph members) would greet me as "Kikay" and then greet her behind me as "Ma'am".
Fearing getting outsprinted at the finish, I took a gamble and picked up my pace significantly. It could pay off in two ways. We were matched in pace before I surged forward; if she didn't match my blistering pace and I returned to that pace after putting distance between us, I would be still in the lead all the way to the finish. Also, don't underestimate how getting outrun can play mind games on the competition. Two-time Ironman world champion Chris "Macca" McCormack writes in his book I'm Here to Win:
I can't count how many times I've been running side by side with a guy and I'm in agony. I feel like I'm about to quit on him when — surprise! He's gone […] Everyone has a reason to back down. Eventually, the athlete can deliver his own knockout punch… and he never finds out that I was as close to breaking as he was!
My gamble was risky because if she were a stronger runner than I, she could match my pace or even outrun me. Banatan na. Also, expending that much energy in the first half of a 10K has significant physical penalties in the second half; if she stayed close enough, she could take advantage of that and beat me to the finish line.
On that day, it paid off.
Rebisco Run 10K top finishers
I have to say, that is one tough course designed by race logistics organizer Leadpack. The rolling terrain and winding roads of BGC already take most of the pep out of my legs, but that flyover from BGC leading onto C-5 killed my glutes and hamstrings. I had to power-walk!
I was happy about my race result, yes; another thing that made me really happy was the number of newbie runners I saw doing this race. It's always a good thing to have new blood infused into your favorite sport, as it keeps it alive and evolving instead of going stale and dying. The Rebisco Run was sold out! This is also good news for the beneficiaries of the race, the Xavier Educational Trust which funds scholarships to Xavier School.
Race in Review
Route: BGC-to-C-5 flyover = dead Kikay Runner legs. But this was fun and kept the route fresh!
Traffic Management: I was accompanied by a marshal on a motorcycle when I assumed the lead, so the marshal did a good job stopping traffic at intersections (except for that one time a driver disregarded him and almost ran me over. Bastos!). The road marshals also did their jobs giving directions and pointing the way, which is what I would expect from Takbo.ph runners-turned-marshals. The signs were tall and legible.
Hydration: Cold water helped hydrate me and cool me off in the rising heat of the day. A carbonated isotonic sports drink was also available at most stations for those looking for a different taste in their mouths. They would have benefited from placing more trash bins after the station; I ended up tossing most of my used cups to the side of the road.
Package: I still haven't claimed my X-Sport band! Oops. The singlet was pretty comfortable and most runners wore it on race day. Electronic timing was provided by Runningmate.ph, which allowed for posting of results within the day. However, there are still a few glitches in the system and my time was not recorded accurately. Good thing there was a manual record for the top 3.
Freebies: A guaranteed Rebisco loot bag was full of snack goodies for me to enjoy (Hansel Premium!!!). Aside from that, I also received a medal and two pairs of bike socks for finishing within the Top 50 (they ran out of adidas Body Care goodies, which would also have been part of the special Top 50 prizes).
All things considered, it was a good run. I'll give this race FOUR PINKIE FINGERS out of FIVE.
with Jasmine Curtis-Smith and Xavier Batch 88's Ariel Arriola
photos from Takbo.ph