Do you want to be a zombie? BUT WHYYYYYY *shudders*
Ten lucky individuals will be picked to join the zombie horde this coming Outbreak BGC 2 by joining my contest! Here are the mechanics: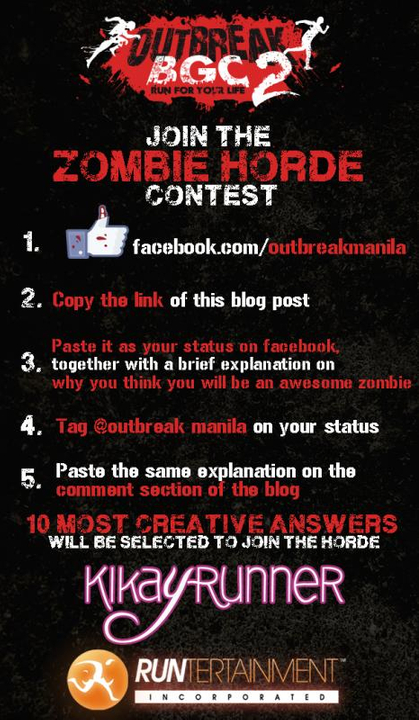 Like the Outbreak Manila Facebook page.
Copy the link of this blog post (http://kikayrunner.com/2013/04/join-the-zombie-horde-at-outbreak-bgc-2).
Paste it as your status on Facebook with a brief explanation of why you think you will be an awesome zombie.
Tag the Outbreak Manila Facebook page in your status (@outbreak manila).
Paste your explanation in the comments section below.
The 10 most creative answers will be selected to join the horde!
It's your time to shine– er, I mean, moan, groan, and stumble after your hapless victims. Ready? Go!
UPDATE 04/10/2013: contest period is over! Please stand by as the organizers email the contest winners.