Last Sunday at the Aquaman Aquathlon was the first time I got back in the UP Diliman swimming pool since my swimming classes in my sophomore year. (That was in 1999.) It was a great homecoming to my alma mater and former running grounds.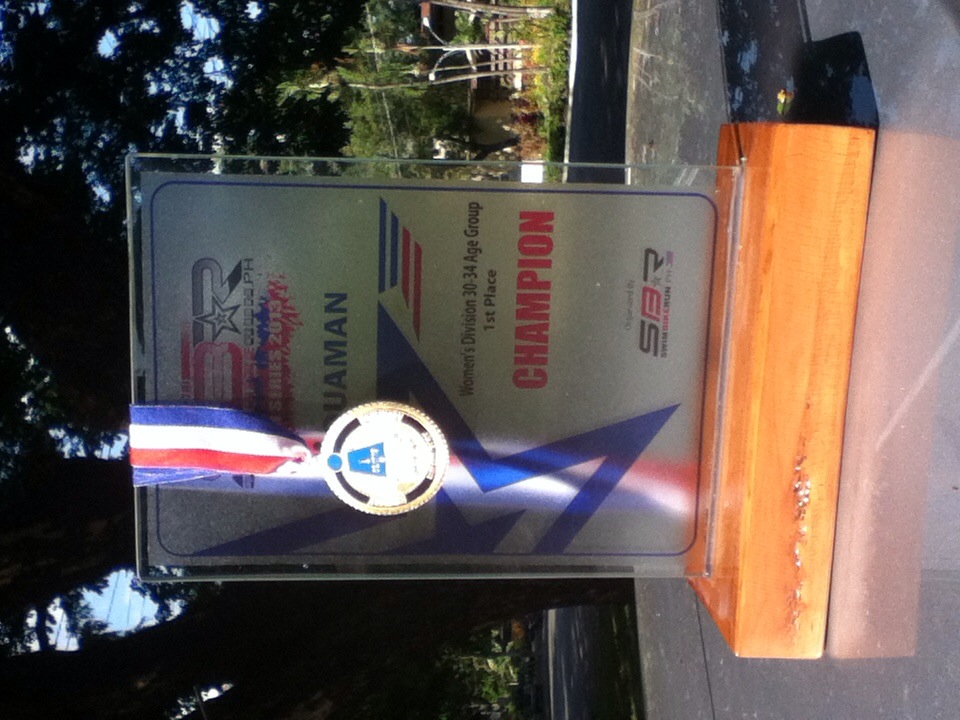 It feels good to come home.
Anyway, let's backtrack to the morning of race day. I was up at 4am to prepare for the beginners' running clinic I was invited to hold at Barangay White Plains. It started at around 7am and ended at 8:30am, after which I went directly towards UP campus. I figured kit claiming would start at 10:30am so I had enough time put my feet up a bit and have a good breakfast and coffee.
Good thing I fueled up, because after everyone got settled and checked in, the gun for our wave (boys 16-19 and all women) went off at 1:30pm.
There were plenty of new faces (according to SBR.ph the mix of participants was 80% newbies and 20% tri regulars), but I was happy to see a lot of friends from various tri clubs and running groups. My own ENDURE teammate Hanna Sanchez was also in attendance.
Coach Rick Reyes, a staple in multisport events, was there as co-host alongside SBR.ph's head honcho Carlos de Guzman (no relation to me :D). I somehow managed to be the butt of his (good-natured) jokes, but I guess it just means I've been to enough of these things (kilala nya ako).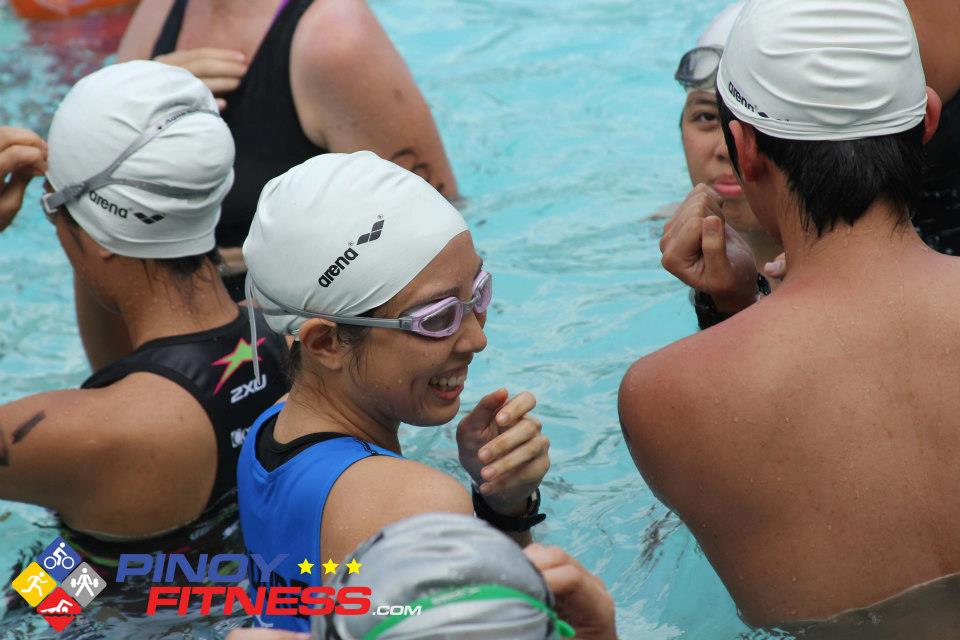 No tension, just giggles while waiting.
I didn't have a lot of swim mileage in me so to survive I adopted a two-beat kick and drafted as best as I could through our four loops in the pool. I crept ahead of the two people I was drafting off on the second loop, but quickly realized I was expending way too much energy. So I waited for them to come back up in front of me and stuck by their hips all the way through the third and fourth loops. (Check out SwimJunkie's post on drafting techniques for the swim.)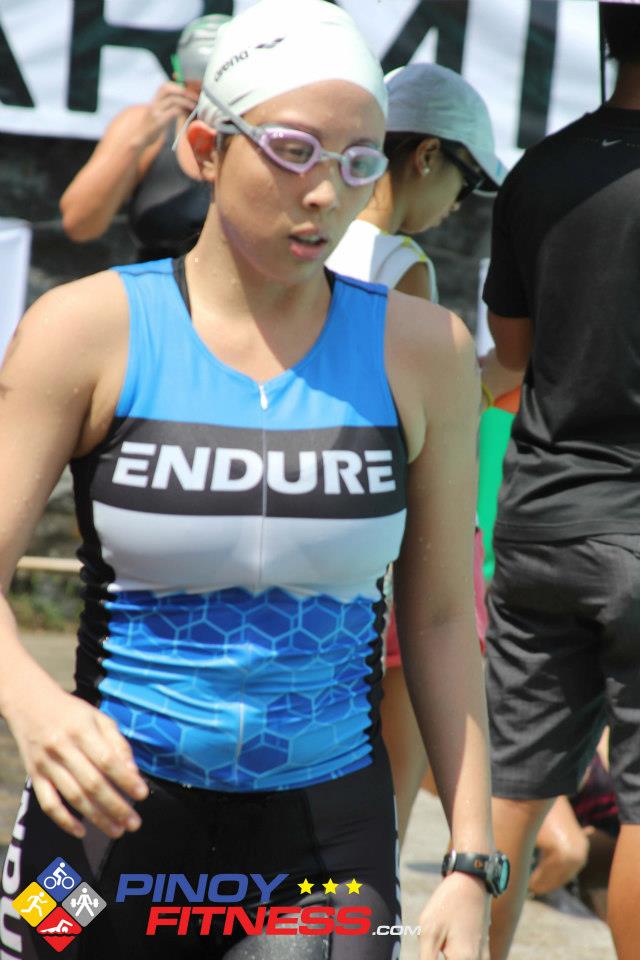 slow and easy swim
Because of this strategy (and with belated apologies to the two swimmers), I came out of the pool with legs fresh. I snuck a quick peek back at the pool as I ran to transition and noted with satisfaction that at least I wasn't last.
Off came the swim cap and goggles and on went my Mizuno Wave Elixir 7 shoes, which I had prepped with bungee laces the previous night. They felt light on my feet, which was perfect as I picked up my Lighwater bottle and sped off to the Academic Oval to do the two laps on the run leg.
yay I love running!
I tried to keep pace with #12, a woman who had exited the pool around the same time as me, and together we outpaced other runners. It was all I could do to stay on her tail though; try as I did, I couldn't overtake her. (I found out later on her name was Jonnalene "Matet" Dorin and she was the woman champion and course record holder of this year's BDM 102. Whoa! No wonder.)
I came through the finish line happy with how I felt and the kind of effort I put into the race, given my lack of specific training. After a quick shower and some food from Ineng's (free for all race participants), I started wondering exactly how well I did.
Hanna was called to the podium for her third-place finish in her age group; since this came as a surprise for her, she hadn't retrieved her team shirt so I handed her mine to display. (I was standing around in my sports bra top for about five minutes, tops.)
Then when Coach Rick and Carlos started announcing the awards for my age group, I told Hanna and our other companions that we should have "realistic expectations" (my exact words). I knew I was in a new age group this year due to my impending 30th birthday, and this age group was known to be quite competitive.
And then we heard Coach Rick say, "For first place — oh you know her, I hope she's put her shirt on… Noelle De Guzman!"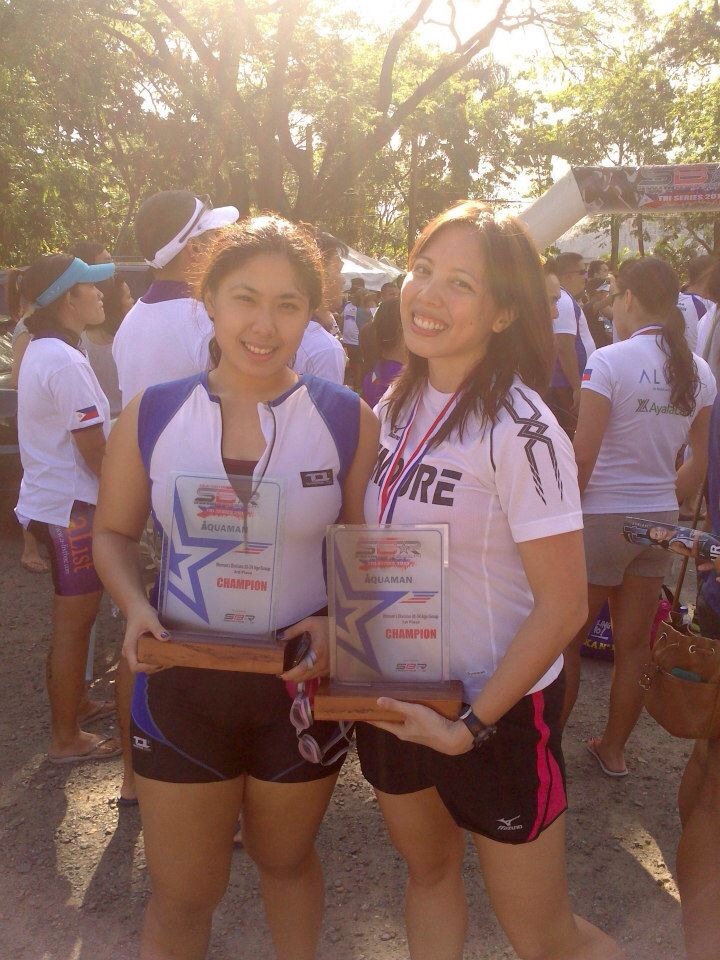 with teammate Hanna Sanchez
I totally wasn't expecting a podium finish, much less an age group win. Thank you Lord for the boost; I guess turning 30 isn't so bad.
Congratulations to all winners and finishers (hooray, no one DNF'ed!) of the Aquaman Aquathlon. Though there were some hiccups like a later gunstart than expected and just a sports drink available at the hydration stations, they're nothing that can't be ironed out by next time.
I find myself looking forward to next month's Duaman Duathlon, registration for which will close a week earlier than expected because so many are signing up for it!
Check out SWIMBIKERUN.ph for race results and more reviews of the Aquaman Aquathlon.
Yes, you WILL be called an Aquaman https://t.co/qzDHZQJlkY

— SWIMBIKERUN.ph (@SWIMBIKERUNph) March 15, 2013

https://twitter.com/SWIMBIKERUNph/status/312532959150346240