I recently received a new FuelBelt hydration belt from the kind folks at Quorum Group, just in time for this summer when you need to keep yourself hydrated more consciously.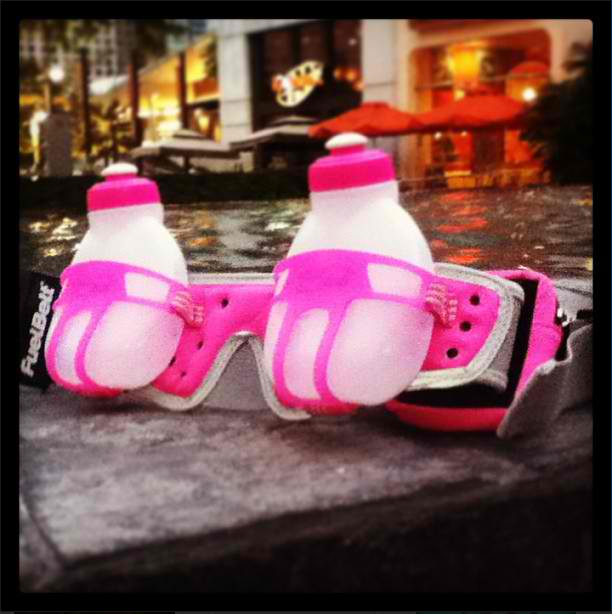 FuelBelt hydration belt R20 design. Isn't she lovely?
One of the more significant purchases I made when I first started training for a marathon was a hydration belt. It was a FuelBelt, black with red details, and I fell in love with it the first time I laid eyes on it at RUNNR. That FuelBelt was my constant companion.
We were joined at the hip quite literally (hehehe) the whole four months I trained for my birthday Milo Marathon in 2010.
restocking on Gu and refilling my FuelBelt
Last month I blessed my cousin JJ by giving him that FuelBelt. He'd been running in BGC regularly for some time now. I told him, "It's going to help you run longer distances because you don't need to keep returning to your car for a drink."
I planned to buy a new FuelBelt anyway, so I welcomed this review unit with open arms. The FuelBelt's undergone a redesign in the years since I bought my first one. So, how did the new FuelBelt R20 perform when I took it for a spin last Thursday night?
A notable difference is the molded plastic holster design. My old FuelBelt had garter holsters which made the belt very easy to stash into an overfull sports bag because it didn't take up much space. However, the garter also made it difficult to return bottles to the holster; I needed to hold the holster open with one hand while I slid the bottle in with the other. Now I can remove and return bottles with just one hand. (And the holsters can work with both old and new FuelBelt bottles.)
There's also a removable storage pouch for keeping car keys and pocket money. This was a feature in previous designs, usually the four-bottle ones. My old FuelBelt had a larger rear pocket where I could stash extra gels or a small cellphone. I missed the larger pouch, but I think you can buy a larger storage pouch separately.
Another key difference is the FuelBelt R20 is now one size fits all; an adjustable waistband and velcro closure are supposed to help make a snug fit. This is where I had a bit of trouble; I like wearing my hydration belt low-slung on the hips because my big hipbones help keep it in place. If I fasten it around my waist, it tends to ride higher and higher as I run until it ends up spinning around under my ribcage.
With the old sizing (I think I was a Small?), the FuelBelts had belt straps of determined length that attached to each other with a wide and long velcro area. They were made of a different material that had a bit of "give" for comfort, but basically kept their size. The wide strap on the old design molded around my hips, so once I found the sweet spot, the belt didn't move.
The new design's adjustable straps weren't wide enough to lock onto my hipbones, which meant the belt slid upward off my hips periodically during my run, usually when I increased my speed. I think I'll readjust those straps to find where this belt sits most naturally.
Personally I think two-bottle hydration belts are all you need when training for longer distances because they give you ease of access to water (or your preferred drink) but aren't too heavy or cumbersome. With a little bit of work, I can make my new FuelBelt work for me just like my old beloved one did. I mean, if Ironman athletes like Chris "Macca" McCormack, Craig Alexander, and Chrissie Wellington can use these Fuelbelts successfully during their sub-3 hour marathon run legs, why can't I?
The FuelBelt R20 retails for P1,695 at all RUNNR branches, selected Toby's branches (Shangri-La Mall, SM The Block, SM Megamall, SM Mall of Asia, Glorietta, SM Baliwag, SM Iloilo, SM Davao, Abreeza Mall Davao, Limketkai CDO), and Brooks Concept Stores. It comes in Hibiscus Pink (the color I got!), Royal Blue, White Panda, and Black.
Liked this post? Share it!