Dear Piolo (or should I call you PJ?),
When I started joining races in July 2009 and ran a 51-minute 10K my first time out, I felt quite satisfied with my finish. Little did I know that three months later you would run your maiden 10K in 47 minutes and 54 seconds, creating the "sub-Piolo" target that runners including myself would try to beat, because 10K in 50 minutes just wasn't good enough anymore.
I never followed your showbiz career, but your athletic exploits became benchmarks I would try to beat.I finally got my sub-Piolo a year after yours; by then you'd gone into multisport through a Powerade Duathlon and running the relay at the 2010 Ironman 70.3 Philippines. When I did the relay at last year's IM70.3, my goal was to beat your record; I guess the weather and conditions were in my favor, because I did. However, the first time you and I ever raced head-to-head was last year.
Knowing you were right at my heels, I ran hard and got a 3rd place finish for my efforts. I'm sorry I wasn't at the awarding ceremony; I didn't even know until hours later that I'd won. But thank you for sending a signed note of appreciation along with my prizes.
Last year ended on a high because I'd trumped your best times. Don't take it the wrong way; being my benchmark means you did good and your records are targets to reach.
But this year, you've blown by me at all events. At Timex Run 2012, you set a new PR while I arrived late and barely accomplished a sub-1 hour in the 10K. In Cebu at Ironman 70.3, you and I were both relay cyclists; I had gotten on the course earlier than you, but somewhere on the first loop on the coastal road, you overtook me and did a sub-3 hour 90K. I got back to transition more than 30 minutes later!
Last Saturday at our 12K race, I toed the line alongside you. You were surrounded by a coterie of fast runners pacing you, while I went the distance mostly by myself. I zipped ahead of you in the first 100 meters and kept you behind me for ten kilometers. Too bad the race was twelve kilometers long.
The hills and the afternoon heat beat me down. Knowing I had already locked down 3rd place on the podium, I decided to drop back and stay with your pace group.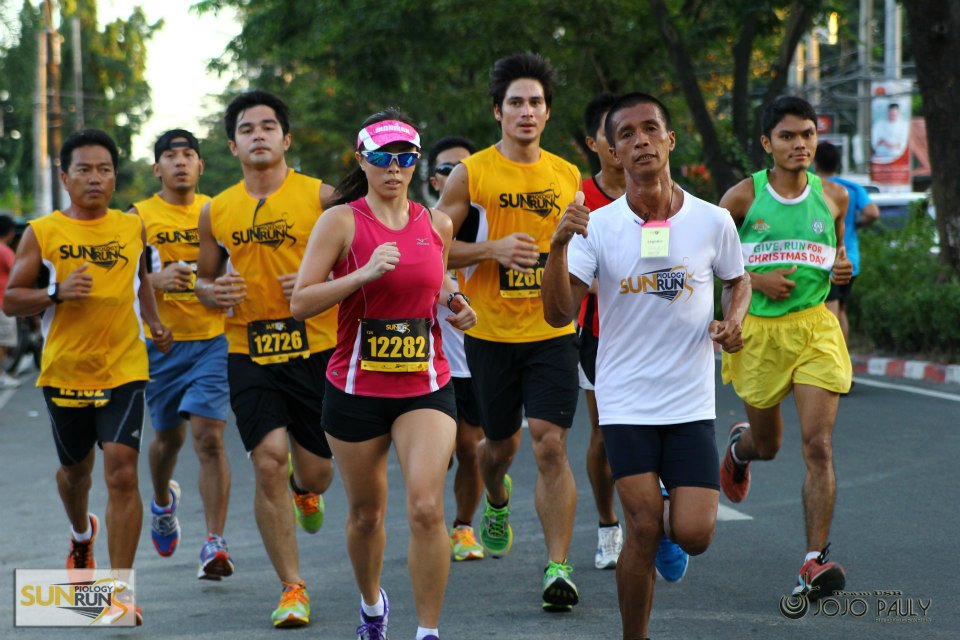 That would have taken me to the finish line with ego unbruised. I was even chatting with you and your coach Jojo Macalintal; he told you there was a hill up ahead (this was on Bayani Road heading back to Lawton), I agreed with him and you said, "Sige, mauna na kayo!" We all had a laugh at that.
But I needed a drink of water and as luck would have it, the station was bustling with runners. By the time I'd gotten away from the fuss, you were already a good 200 meters ahead and I just couldn't catch up. I trotted to the finish in 1 hour and 1 minute, about 4 to 5 minutes behind you. JoMac told me later on that you'd put on a burst of speed right when I stopped to drink.
So, you beat me. You beat me, you beat me, you beat me! But even though my body and my ego have taken their lumps, I can't take anything against you. You were just doing your best. You may not have set out to earn my respect, but you have it, Mister.
Until we face off again, sincerely,
Noelle