Before I reveal the two winners who each get a QCIM 2012 race kit, let me give you the correct answers to my trivia quiz. You'd be surprised how many people stumbled over my trick question!
Who was the mayor of Quezon City when the first QCIM was held? Feliciano "Sonny" Belmonte, Jr. was the incumbent mayor in 2009. He was succeeded by Herbert "Bistek" Bautista the succeeding year.
What is the full name of the organization behind the QCIM? Many people gave the name of the current race organizer/director Without Limits/Proactive as the answer. However, The Executive Runners Club Philippines, Inc. is the organization that masterminds the QCIM through all the years it has been held. I asked for the full name, by the way.
Through what roads will the marathon route pass? I gave three options with street names and actual routes of marathons, but none of them are the marathon route for the QCIM 2012. The correct answer is none of the above. The closest answer "North Ave., Epifanio de los Santos Ave., Commonwealth Ave., University Ave." was the route for the inaugural QCIM, but the current route no longer passes North Avenue and EDSA.
What is the QCIM's major sponsor? I think it's a triumph for SMDC that their brand has become so closely identified with the QCIM that all participants were able to answer this question correctly.

Out of 124 entries, only 6 were completely correct! Yes, I was surprised too. Let's input it into Randomizer.org: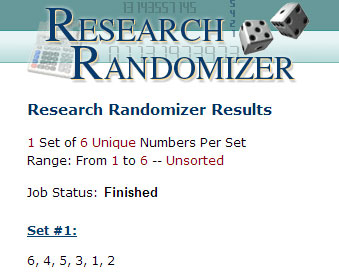 Congratulations to Anthony E. Servinio and Marquiz Albert Minlay for winning a QCIM race kit each! I will contact you through email for further instructions on how to claim your kits.
Thank you all for participating in my little race kit contest. If you didn't win a race kit, don't worry: registration is still open! 🙂
Liked this post? Share it!