After a year's absence, I once again popped up at the Men's Health Urbanathlon to mix up my running experience. When the Summit Media people had asked me about a month ago if I were interested in joining this year's edition of this first-of-its-kind race, I had just injured my ankle and didn't know if I would be in tiptop shape for a long race plus obstacles. So, despite Urbanathlon 2012 holding a 21K with obstacles, I stuck to the shortest: 5K with obstacles.
I got to the Mall of Asia grounds with two-and-a-half hours until my 6am gunstart, which was plenty of time to start getting antsy about the seven obstacles.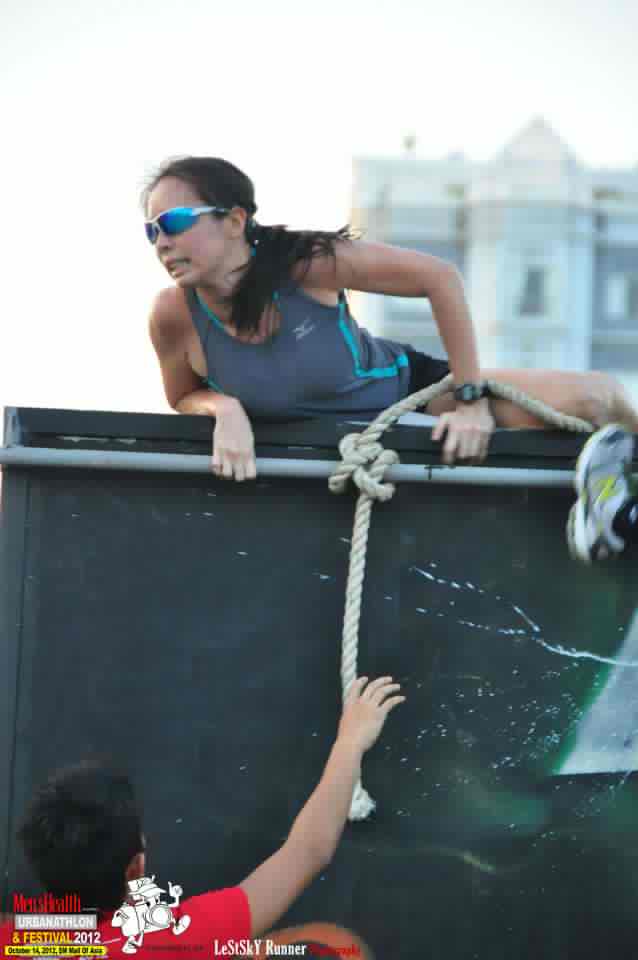 Help! (photo by LestSky)
The first one was the Vertical Climb, which were the long almost-nonstop outdoor stairs at the One Ecom building. The second was the Container Van, which looked like a set of freight containers stacked atop each other. The third were the Parallel and Monkey Bars, in which upper-body strength would be put to the test. The Steeplechase needed track-and-field-type skills. The Quantum Leap was a new obstacle: consecutive chest-high bars you'd have to haul yourself over. The Scaffolding Maze would make you weave yourself through metal scaffolding. And finally, the Wall Climb was not just one wall, but two that you'd have to scale. Gulp.
I could have made it easy on myself and just skipped the obstacles I didn't like, which is what I planned to do for the Wall Climb. (The 2010 Urbanathlon had a 10-foot wall I almost fell off of.) But that would have incurred a 10-minute time penalty per obstacle. Since I hadn't seen the obstacles anyway, I decided to take them one at a time.
I put myself in the front pack, which would help me get a fast start. This also had the dual purpose of putting me in front of any eventual line that would form at the obstacles (Urbanathlons are notorious for this). I soon found a comfortable pace that didn't strain my ankle, and also a pace partner, Mr. Reynaldo Lumauag, brother of frequent podium finisher Reggie Lumauag. Despite obviously being faster than myself, Mr. Reynaldo ran alongside me and coached me through the obstacles. I had also explained that I was attempting not to re-aggravate my ankle injury, but he continued to encourage me. Thank you, Sir! I don't think I'd have attempted them all if not for your urging. Also, nahiya rin ako sa inyo kaya hindi ako nakapagbagal. Hehehe.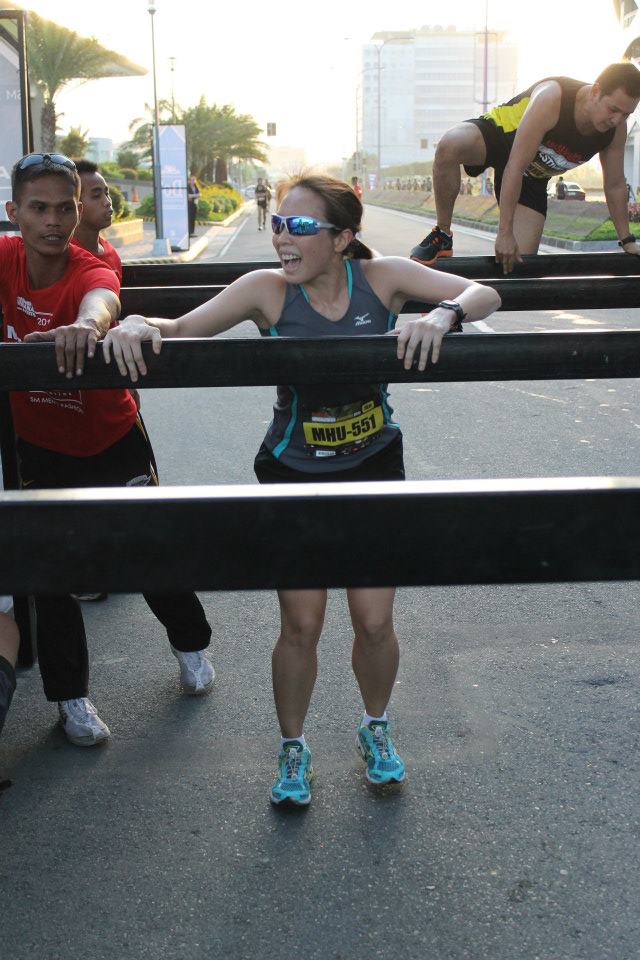 How do I do this? (photo by Jobert dela Victoria)
The only big scary obstacle I faced was the Quantum Leap. The metal was slick, and I slipped and would have fallen if I hadn't hung on. I also needed to be careful getting through the Scaffolding Maze because one wrong move hopping up and down and I could have hit my head. The Wall Climb was made easy because the walls were lower, I could step up on some bars, and there were marshals to assist.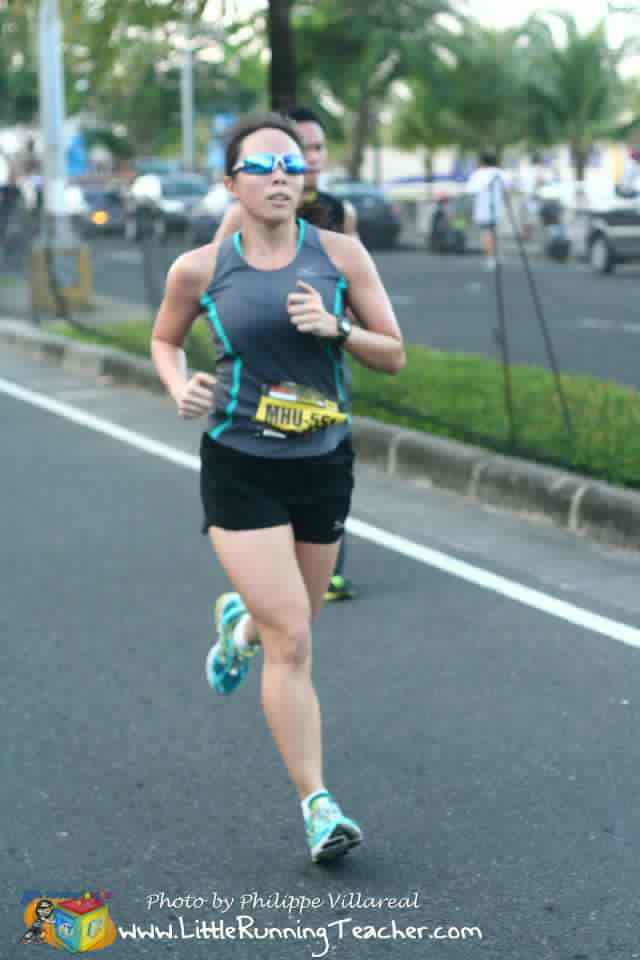 Almost there! (photo by Philippe Villareal)
Crossing the finish line, marshals informed me I was in third place. After I had changed clothes, I waited around for the awarding ceremony, taking photos with friends and congratulating those I knew had made the Urbanathlon their first race ever.
I hadn't counted on the third-place finish, but what left my jaw agape was the announcement that I had moved up to 2nd place after the results (with time penalties, perhaps) had been collated. Wow! Thank you, Lord!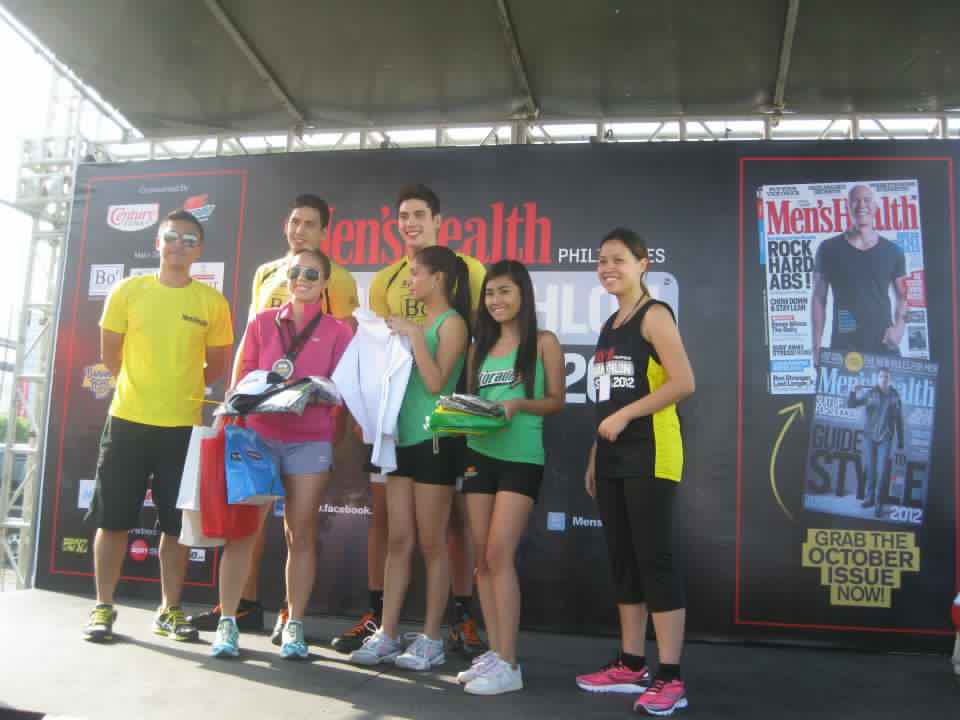 Women's 5K 2nd Place (photo by Jackie Gutierrez)
Race in Review
Route: Because this was the 5K, there was considerably less running between each of the obstacles. My legs couldn't even start complaining about the flatness of the course before they got a short break while negotiating an obstacle (using different muscle groups). I really liked the Vertical Run because I'd never gone up and down those steps before.
Traffic Management: I could see where the other race distances diverged from the 5K course. From up in front, we never saw the longer-distance runners except for a short time when we overtook the tail end of the 10K. I did hear though that the runners that made up the bulk of the 5K encountered other runners, and logjams formed at obstacles. A possible remedy for this is to make obstacles that can handle more people going through them.
Hydration: The hydration tables were spaced well for the 5K distance, but there was one empty table in front of SMX. When I passed through, it wasn't even in the process of restocking cups.
Package: Thumbs up to exciting obstacles with helpful marshals, singlet, finisher shirt, finisher medal, finish certificate. Thumbs down to not enough portalets. Imagine, 6 stalls for approximately 50 people lined up, some of them missing their gunstarts because of the wait.
Freebies: The Men's Health back issue and reusable drawstring bag were good giveaways, and other sponsors such as Schick and Banana Boat gave away product samples. I loved that 360 Fitness Club offered free five-day trials just by signing up at their booth.
This Urbanathlon rocked and it's in the mold of what a Men's Health event should be. It's getting bigger every year, too; I've never seen that many people in yellow finisher shirts. I give this FOUR KIKAY PINKIE FINGERS out of FIVE.
Liked this post? Share it!