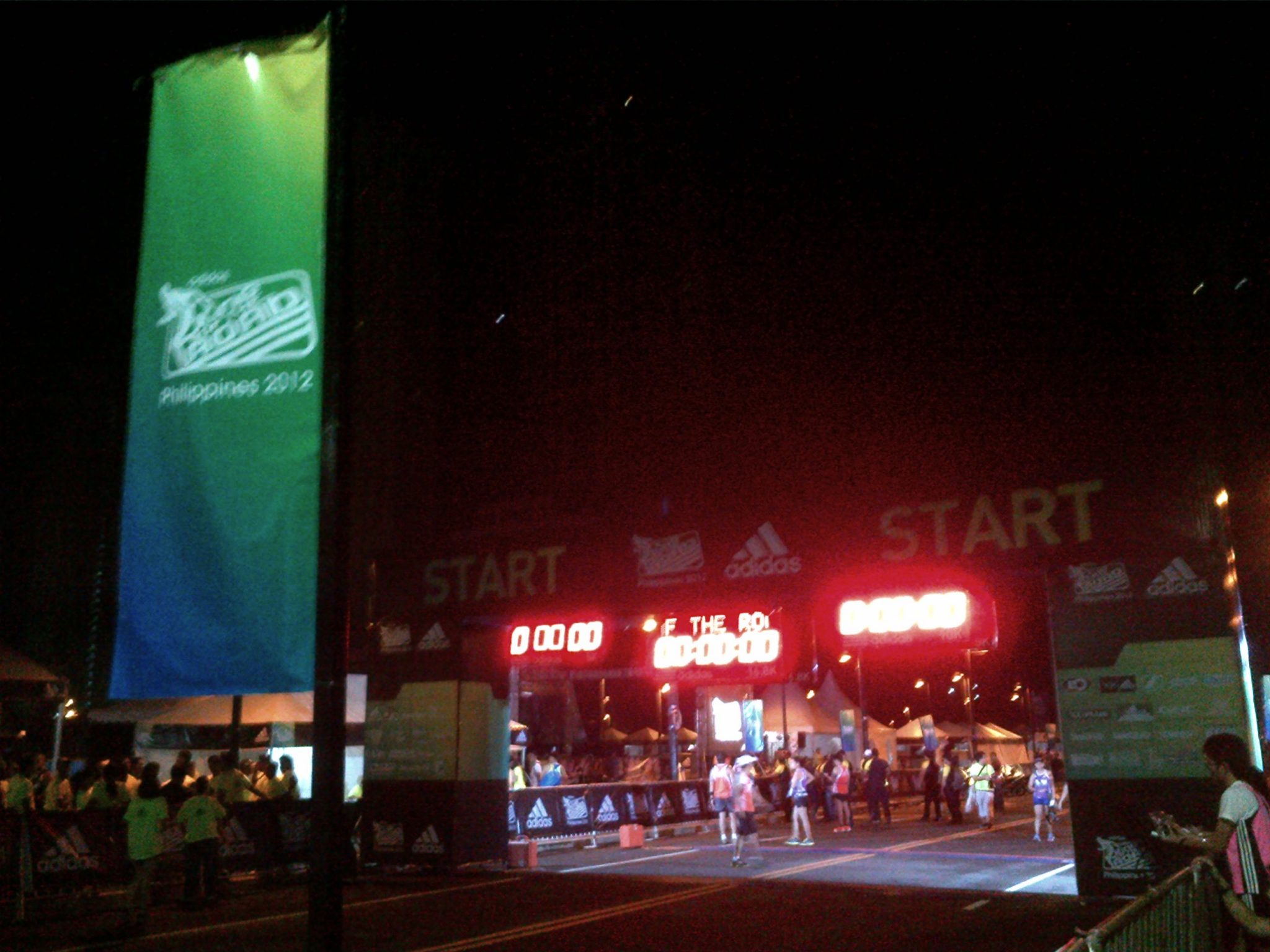 It's oh so quiet…
Though the event area at Bonifacio Global City was already lit up at 4am, there was no noise from the sound system and the air was quite still. I had been sick for most of the week and had been nursing a bad ankle for four weeks (ergo, no running since the Active Health Duathlon). This felt like the calm before a storm, and I didn't know if I was going to come out healthy on the other side.
I had settled on running the signature 16.8K distance at an easy pace with a friend, and so we positioned ourselves in the middle of the pack. A marching band signaled the beginning of the pre-race program with the national anthem played on xylophones. After a little chatter from the hosts, coach Ani de Leon-Brown led the 16.8K participants on a functional warmup. A burst of confetti saw us all off.
We'd underestimated how slow the average pace would be. Instead of our planned 5:30-6:00 minutes/kilometer pace we were relegated to 7:30 mpk for the first five kilometers until the crowd thinned out enough so we could weave and overtake. By then, we were well on our way toward Kalayaan flyover and onto Buendia.
I began to feel a familiar pain in my ankle. It was a hot, stabbing pain and I knew the poor strained ligaments that had begun to recover were once again swelling up in protest at the exercise. We'd see red first aid tents at each hydration station and I was mildly tempted to stop at them and call a DNF. I didn't because I didn't want my friend to be concerned, and I'd been told that there were some cheering squads all along the route I should definitely check out. Also, the Jollibee mascot was scheduled to come out from the branch at Bonifacio Stopover at 6:00 to 6:30am and I was definitely not going to miss out on that! (If it isn't obvious yet, my goal for KOTR was to survive it.)
So we plodded on and managed to pick up the pace. This time it was my lungs that threatened to give out. Having not recovered fully from my cold, it was hard to get enough air in to sustain speed. To my surprise, the rest of my body was dealing with the rolling terrain well enough that I bid my friend a good race and went on ahead of him when he slowed down to deal with the return climb on Kalayaan.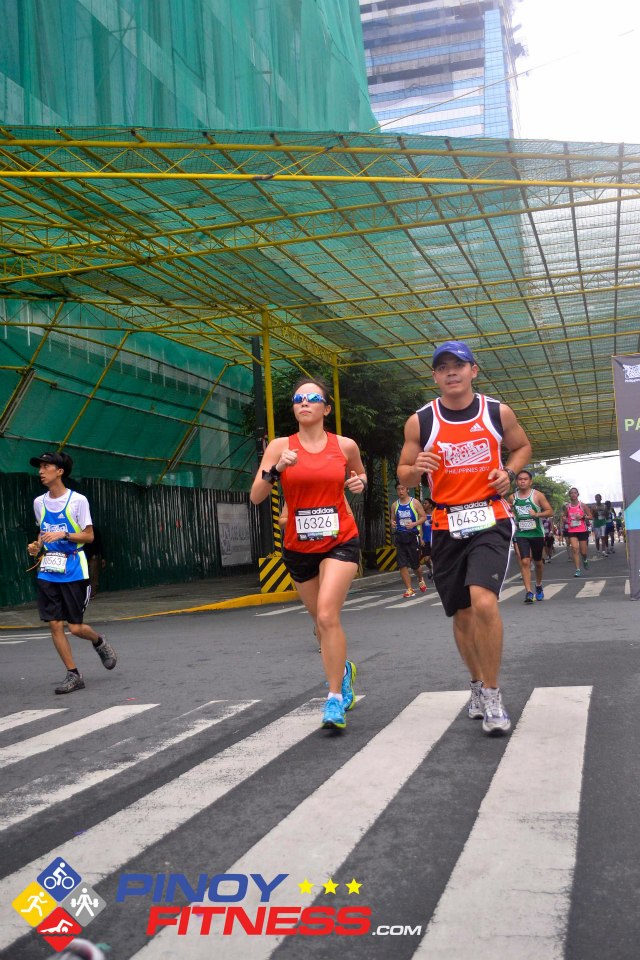 photo from PinoyFitness.com
Finally reentering BGC was a relief because the finish line would be only a few kilometers away. My spirits, though flagging, had been held high by the cheering squads from Sigue Correr Runners, Pinoy Fitness, and Ayala Triads. Coming down from the flyover I was overjoyed to find Jollibee still out on the road even if it was way past 6:30am. I felt giddy as a kid, which I had been the last time I had a photo taken with Jollibee.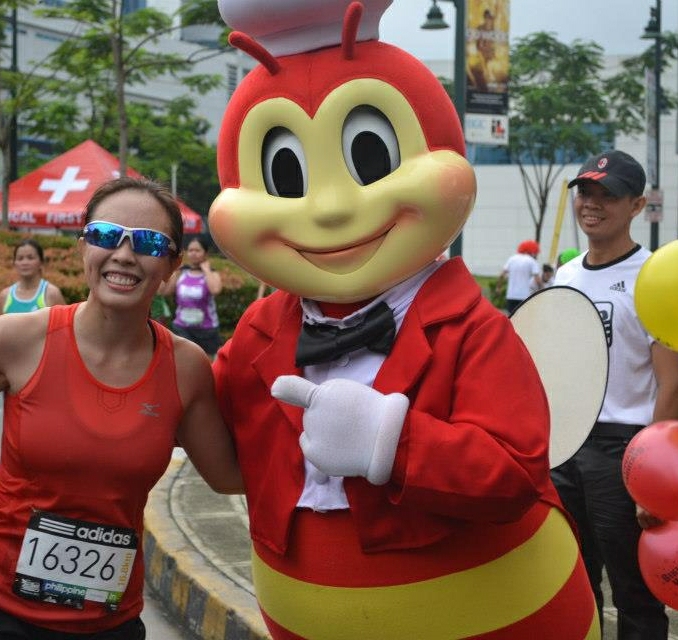 photo from Eds Fojas
I felt a speed boost from that, but out of the corner of my eye I saw a woman I had been leapfrogging for the whole length of the race coming up behind me. She spoke animatedly to her companion in Japanese and I realized they'd probably flown here just to join KOTR. I put on one last burst of speed to finish ahead of her, and as I crossed the finish line the marshals took my name and bib number down and asked me if I was foreign or local. It was then it fully hit me how international this race was meant to be.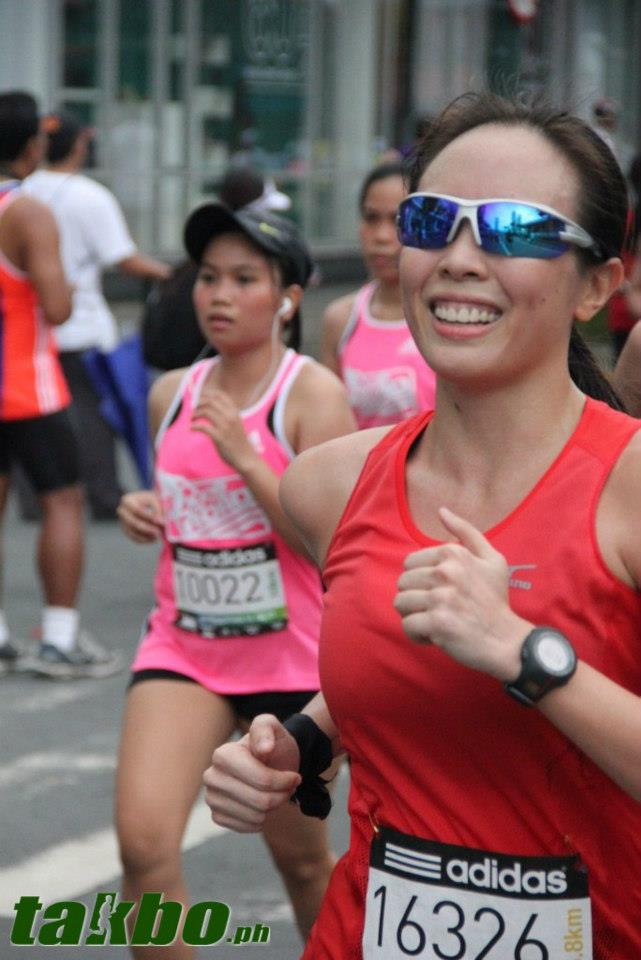 photo from Takbo.ph
Anyway, it wasn't my speediest race but I'm glad I finished it. I might have to sit out the next few weeks' races again, though. *cries*
Race in Review
Route: This route took us through most of the roads BGC management has cleared for use in races. However, I haven't run in BGC in a while so it felt quite fresh and new to me. And I hadn't gone over Kalayaan into Buendia in over a year, so it was great to experience the flyover again. It was just like saying hello to an old friend. 🙂
Traffic Management: Because the 16.8K category was one of the blockbusters of the race, and since I started in the back, it felt like I always had this solid wall of runners in front blocking my view. Tall signboards ensured that we could see direction arrows even in the crush of the crowd. I was caught in a momentary stop on Buendia cor. Makati Avenue, since the motorists had started leaning on their horns. Really? You've urgently got somewhere to be on Sunday at 5:30am?
Hydration: Long tables stocked with cups of cold drink helped me quench my thirst. I skipped the first three stations because I'd drunk two bottles of Lightwater before the race had started, so I was well-hydrated (and also looking for the nearest unoccupied portalet).
Package: The singlet was made well and nearly every runner was wearing theirs. (I, however, wore one of my newest Mizuno singlets. *wink*) The finisher's medal is sooooo pretty! Electronic bib tags made looping timing chips onto shoelaces unnecessary, and a post-race serenade by The Itchyworms livened things up for tired runners who had finished going around the sponsors' booths for their freebies. Additionally you could sight some of the famous and attractive Adidas endorsers and get photos taken with them. (I saw a number of you taking photos with the Boys Night Out guys. Yeaaaaah men!) If you were part of an adiNation of Runners group, you also had tents to take shelter in and some exclusive giveaways. So if you identify heavily with the Adidas brand, this race would definitely have been a great package.
Freebies: The loot bag had a 2011 Multisport Source Book, one canned good product, Oracare, vitamins and medicines from Pascual Labs, and an Adidas antiperspirant roll-on. You could also line up separately for an Adidas bodycare spray. I had to push a bit with the personnel manning the finishers' tent since they suddenly stopped distributing to our line and opened up a new one next to us. I kept my voice low and civil and said, "We lined up and you gave bags to the people in front of us. If possible, could you just finish with the people already in line and direct others to a new line?" After a few minutes, they started manning our line again. I think they had a hard time dealing with the number of finishers descending on their tent. In such situations, I've found it best to be understanding, not raise my voice, and just make pa-cute hanggang maawa sila. Hehe.
I didn't participate in last year's KOTR, but I'm told that this one compares favorably. The international feel of the race as part of a series culminating in Singapore changes things up, and because of that it's unique in the Manila running scene. I give this race FOUR KIKAY PINKIE FINGERS out of FIVE.
I'm now laid up at home sick and with a sore ankle. Was it worth it running those 16.8 kilometers? You betcha.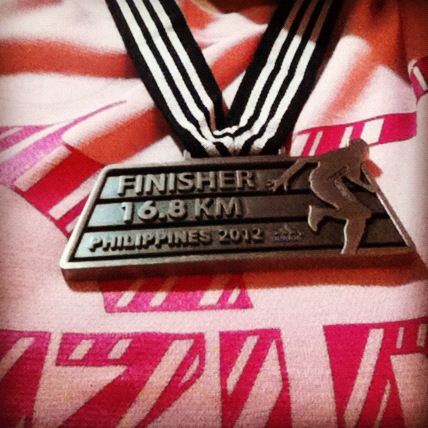 Liked this post? Share it!