Of all the running and multisport events I've ever done, I've never done a 3K run or a duathlon. Last Sunday's Unilab Active Health Duathlon sprint category involved a 3K run-20K bike-2K run combo, giving me a chance to do both things at last.
It was a damp early morning, with clouds spitting a drizzle down on participants as we prepped our transition areas. The long distance duathlon event (6K run-60K bike-4K run) would start at 6am, an hour before ours. Due to the weather, the organizers Bike King and Unilab Active Health moved the start time to 6:20am. Good thing too, because the drizzling stopped and the sun came out.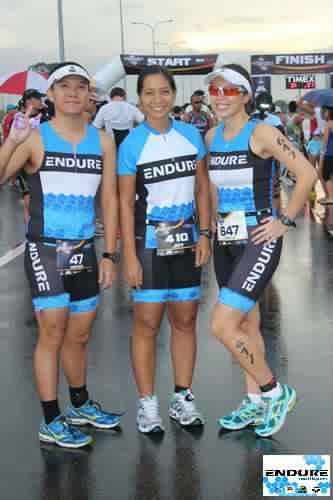 Let's DUA this!
Two other ENDURE teammates, Gerard and Joy, were doing the long distance dua. I was glad that I'd exercised some forebearance in doing the sprint distance because this would be the first time I would do any running and biking since my ankle injury. (That's two weeks, folks.)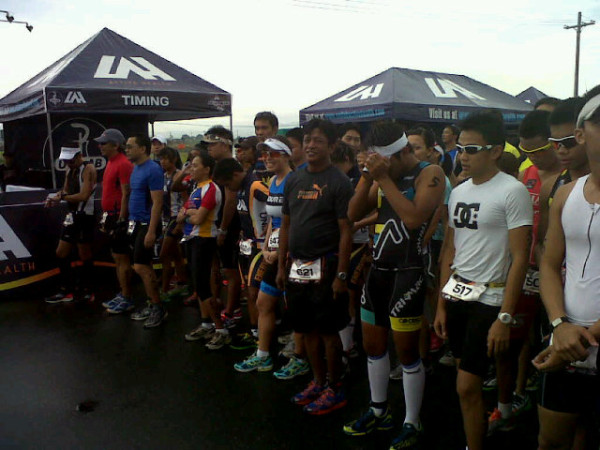 sprint participants
There were about 690+ total individual participants plus 12 relay teams, but most of the participants (experienced triathletes) had registered for the long distance. So when our start gun fired, I found myself running in second place to Kim Mangrobang all the way to the turnaround point and into transition. If I had any plans about taking it easy on my foot, they went flying out the proverbial window.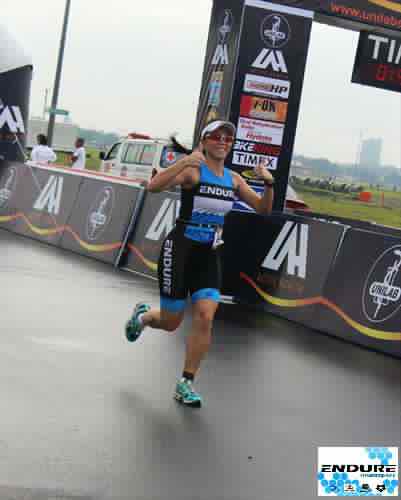 first run leg
My ankle felt pretty good and I made it out of transition with only 15 minutes on the clock. That meant I'd run the first 3K at a sub-5 minute pace. Now to hold it together during the bike leg.
I needed to complete the 20-kilometer bike course with an average pace of 28-30kph to hold my lead. Cycling is my steady discipline (with running being my strongest and swimming my weakest, obviously). So then, some of the women I'd overtaken during the run crept back up past me on their bikes, being stronger riders.
I was also very cautious. My overall bike strategy was to avoid accidents, flat tires, and other penalties. The duathlon was a non-drafting race, which meant we'd have to stay seven meters behind the bike in front of us. If overtaking, we'd only have a number of seconds to complete the pass or fall back.
There were drafting marshals on the bike course flagging down violators and making them stop for a period of time before resuming the race. So every time someone overtook me and couldn't quite outpace me, I had to put on my brakes and create the seven-meter gap myself. There were a couple of times a rider would block the passing lane and ride two abreast, so I would yell at them to complete the pass or fall back. And a cyclist almost clipped my front wheel when he overtook me and immediately swerved into my lane.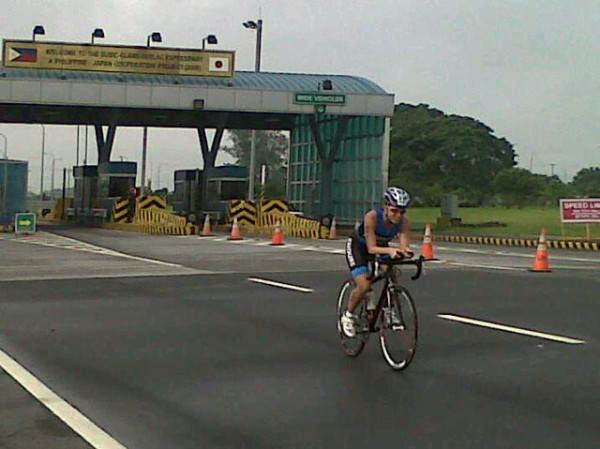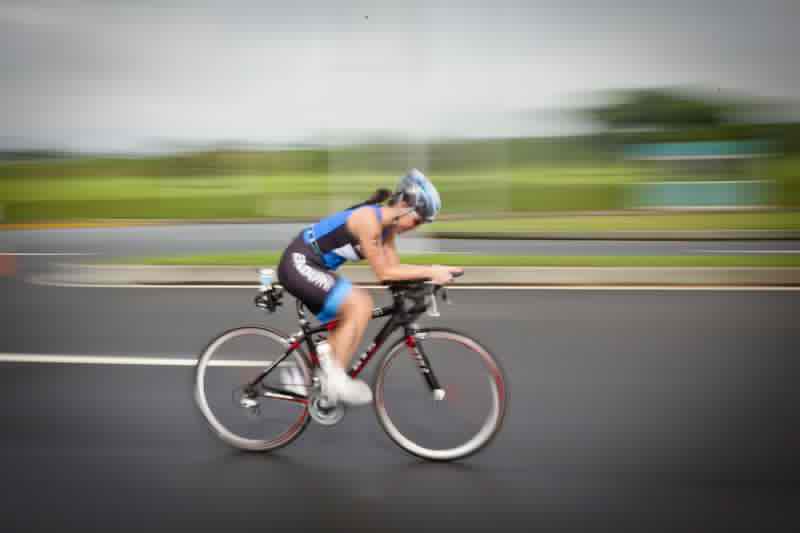 coming back from SCTEX
I made it back to transition in fifth place. The last run was a very short 2 kilometers. Would this be long enough for me to outrun the women who had overtaken me?
Kim was already on her way back to the finish line while I had yet to complete my first kilometer. There were three other women ahead of me. Could I make it? My conservative biking started to pay off as I was able to turn up the pace and come in as third female and first in my age group.
I was extremely happy with this result for my first duathlon, but it meant even more since my parents had finally seen me race and win. Ü Aside from this being my first duathlon, it was also the first multisport event my parents attended.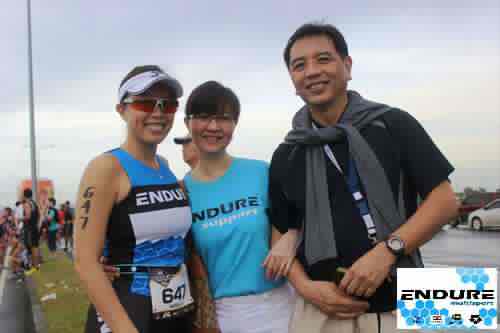 with my parents
The Unilab Active Health Duathlon was the perfect event to end my multisport year. It's back to base training on the swim and bike, and back to running longer distances for me. See you on the road!
photos by Endure Multisport
Liked this post? Share it!