This is a section on my blog where I answer questions people ask me. If you have any questions for future Ask Kikay Runner entries, contact me!
I just realized I haven't done an Ask Kikay Runner in quite a while. So this is one question I was sent back in June by an aspiring aquathlete. Kira asks:
I've been running for 3 years already. When you joined the Ateneo Aquathlon or your first triathlons, did you wear a one-piece or 2-piece tri-suit, and what brand would you recommend? And to clarify, so you wore that same tri suit for the swim and do the run still wearing the same thing right?
This really depends on personal preference, comfort, and convenience. If you're doing an aquathlon for fun and it's a short distance, you can actually use just a swimsuit for the swim and pull on a singlet and shorts over it for the run. Jennifer Lopez did the Malibu Triathlon in 2008 wearing a wetsuit for the swim (their water is cold), then put on a cotton shirt with the sleeves cut off, shorts, and running shoes for the bike and run legs.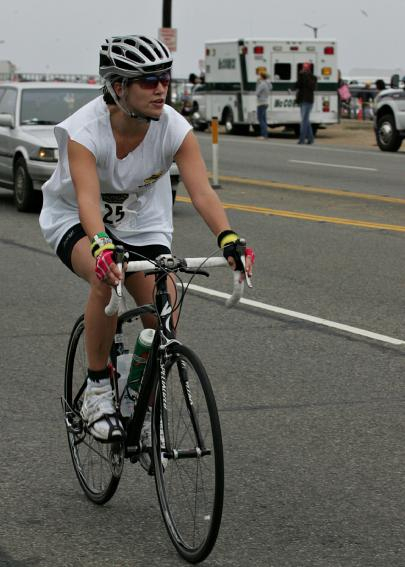 photo from Stella Pictures via Posh24.com
Now of course if you want to look more polished, then a tri suit is the way to go. There are a whole range of options. In my first triathlon, I used a one-piece suit from local brand Transition One.
photo by Carina Manansala
A one-piece suit is quite streamlined and no-nonsense. No need to keep fiddling with your shorts' waistband because it's slipping downward, or the hem of the top because it's rolling upward.
A two-piece trisuit has a bottom and a top, and its advantage over the one-piece is the ease and convenience when you need to make a toilet pitstop mid-race. So, it's suited to longer multisport events.
You can find Transition One at most bike shops (off the top of my head, it's available at Bike King and All-Terra Cyclery). Other local brands are Epic (check them out at R.O.X.) and Anatomic. There are also pricier imports such as 2XU, TYR, and Team Eight at sports stores.
Like all new gear whether you're just running or going into multisport, it's best to break in and practice with the trisuit at least once or twice before your race.
A special note about undergarments: a good trisuit has padding which should eliminate the need for underwear bottoms, which can be a source of chafing. Women should wear a sports bra top under their tri top for added coverage and support. There are some tri suits and tops that offer a built-in bra, but if not you can use a bra you use for running, or the top of a two-piece swimsuit — just make sure it's supportive enough.
If you and your friends are going into multisport together, you might opt to have tri suits custom-made and form a team. This gives you more control about the colors and patterns you wear, and will help you stand out among the other people on the starting line. My team gets our uniforms made by Victorio Sports.
I hope these tips help you get fabulously dressed for that first foray into multisport!
Liked this post? Share it!