I may run at Fort quite often and participate in races scheduled over at the Global City, but Quezon City will always be a special place for me. It's where my alma mater the University of the Philippines is, and that's where I first started running. I became a QC girl at heart when I moved here in 2003, so a major race in what is practically my back yard is definitely something to look forward to.
I missed the Quezon City International Marathon last year since I'd only just started running, but this year's edition was supposed to be my first marathon — that is, before Milo scheduled their eliminations on my birthday. This year, QCIM falls on December 5, one week before the Milo finals and right smack in my final week of tapering. Obviously, I won't be able to run the full marathon distance at QCIM, which is a shame because it'll be a wonderful way of experiencing the city on foot. I'm still running a shorter distance, though; I'm not missing the QCIM again!
A City Marathon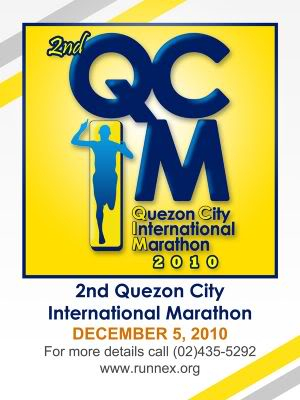 The most prestigious marathons in the world are identified by the city they're held in: Boston, New York, Paris, Singapore to name a few. The QC government and the Executive Runners Club (Runnex) are modeling the QCIM after these marathons, with full coordination and collaboration between the city and the race organizers.
It's also a way to promote QC as a tourist destination, particularly for sports tourism. According to Runnex, QC's land territory and infrastructure make it the only city in the country currently capable of hosting a full marathon. It's also a rare opportunity to run the full length of Commonwealth Avenue, which is the country's widest highway and is usually hazardous for pedestrians due to the speed of vehicles traveling along it.
A Signature Route
They've tweaked the race route this time around to avoid the traffic jams encountered last year, and are planning to make this the signature yearly race route so that runners can train and prepare for it. From these plans it is obvious that the city aims to make this race a fixture in its yearly calendar of events, way beyond the current term of Mayor Herbert Bautista and Vice-Mayor Joy Belmonte.
Beginning at QC Hall, the route will lead through Kalayaan Avenue into the UP campus, out into Commonwealth. From there, marathoners will enter the La Mesa Ecopark and Watershed, exit at the Quirino Gate, return through Commonwealth, pass by Ayala Technopark and UP before finishing at QC Hall.
Logistics, Pricing, Prizes, Sponsors
The race organizers are aiming for 10,000-12,000 participants across the 5K, 10K, 21K, and 42K categories. In their aim to make this a well-supported running event, the technical team composed of avid runners have created a safety system. There will be water stations every 1.5 kilometers, sponge stations, 10-15 ambulances roving and on call, use of timing chips and other monitoring systems to prevent cheating, and coordination with barangay government units to manage traffic along the route. Talks are being held with the La Mesa Reserve authorities to settle how to provide hydration to runners while they are within the reserve (since bringing in water, even in hydration belts, is prohibited due to security reasons).
Registration fees haven't been finalized yet, but according to Vice-Mayor Belmonte they're looking for corporate sponsors to subsidize the entry fees for public school children to promote running at the grassroots level. Total prize money to be given out still hasn't been finalized, but the prizes being offered this year are the same as last year's: International and Local categories, age group categories, and a category for the physically-challenged. Unilab will also give out wellness kits (containing vitamins, medicines, and food supplements) with the race kits, so expect lots of goodies for the post-race loot bags as well.
For more information, call 435-5292 or visit the Runnex website at www.runnex.org.
Liked this post? Share it!