I guess you can call April my Boracay month, since I've logged a grand total of eight days on the island. The first visit from April 9 to 12 was for work (Women's Health Beauty and the Beach), while the most recent one from April 23 to 26 was for leisure. But of course, since the Skyathon Boracay Beach & Surf Run was to be held on April 24, my girls Jenny, Bianca, Vanessa and I signed up for the 5K category.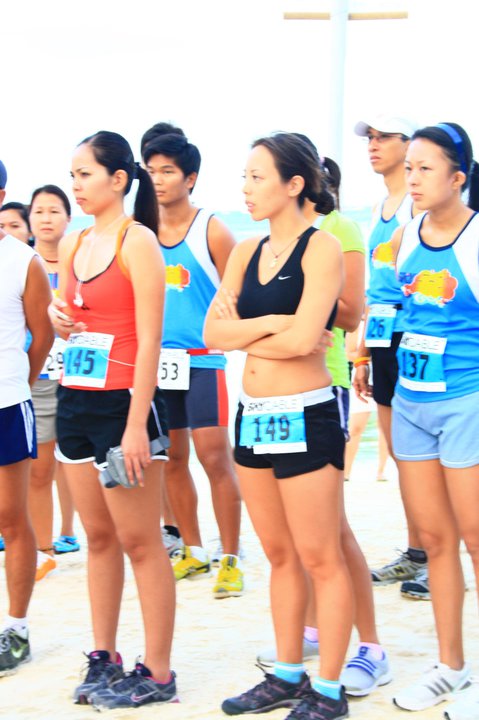 Game face on! Zzzz…

The problem with holding events very early in the morning in Boracay is most tourists have very limited time, which they usually spend partying until sunrise. Fortunately I have a very strong competitive drive, and I knew Hotlegs Julie would be there expecting a show. Also, the previous night a very good-looking, very sporty man challenged me, saying "If you don't run the 5K in under 30 minutes, it's not worth leaving me here." I told him I'd run it under 25. I didn't want to disappoint.
The race was officiated by TRAP and organized by Skycable. Hosted by Coach Rick of TRAP and JC Cuadrado, it was a pretty intimate event, but it drew the luminary Ms. Cherie Gil, who made it her first race ever, running alongside Julie. (I love Cherie Gil — the star power is undeniable!) Also spotted was Sam Oh, who didn't run the race but was game enough to sit by the finish line and pose with fans.
We didn't really start on time, but who minded? The weather was partly cloudy and slightly breezy so even if the sun had started rising on the other side of the island, the heat was negligible. I had left Kiko in Manila, choosing to go with the flow of things rather than be technical. After all, it was only 5K.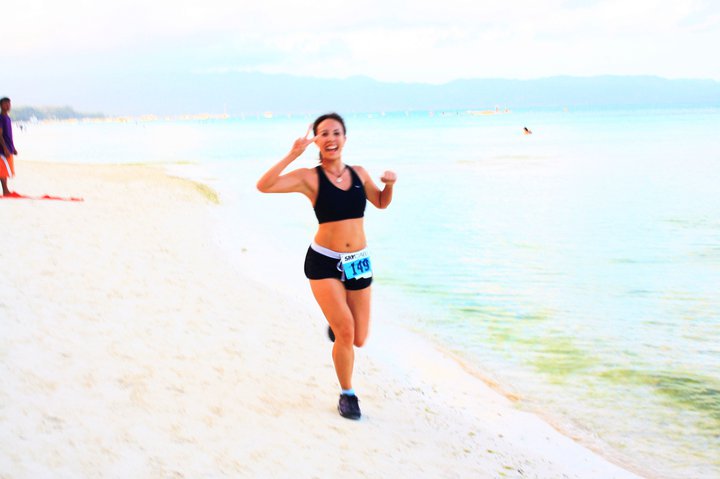 Shoes on the Beach!
I wore my Merrell trail shoes for this run primarily because its sole is flatter than my running shoes, so I thought I'd sink into the sand less. Unfortunately I'd forgotten that the shoe had huge mesh holes to let river water out, but let sand in. Hah.
At the gun (or Coach Rick yelling "Go!"), I shot off with a pack of men, leaving the other women behind. When I read the mechanics, I thought that the prize for the 5K category would be just for the top three finishers regardless of gender. I really wasn't thinking about winning. I stayed on the men's tails because I knew from experience that getting pulled along by a strong pacer helps me run faster. So when I crossed the finish line, I was surprised to find out I'd won first place!
When Coach Rick and JC interviewed me about my strategy, I simply quipped, "I just chased the men." Harharhar.
After everyone had crossed the finish line, we were given black plastic trash bags and instructed to pick up trash from our assembly area at Guilly's all the way down to Boracay Regency (where the Boracay International Dragonboat Festival was being held). The Skyathon was of course being held for the benefit of Boracay's beaches, so I was happy to help in the clean-up. You wouldn't believe how many cigarette butts I picked up that morning — one of them was still flaming hot, ouch!
We returned to Guilly's for our boxed breakfast (wish it weren't in styrofoam, though) and the awarding ceremonies. I got a medal, a goodie bag, and a cash prize. And it all happened on my favorite beach in the world. God is good!
Race in Review
Route: This was pretty straightforward; from Guilly's in Station 1 we would head to Station 3 until the first U-turn mark. Then we'd run past Guilly's to the second U-turn in front of Boracay Terraces. 5K racers would proceed to the finish chute, while those running the 10K would run the loop one more time. The main difficulty of the course was the unevenness of the shoreline. Except in places where the tide had packed sand flat, we would be slipping on soft sand, or running on a canted surface angling down toward the water. Still, I've run this beach many times before, so I was used to it.
Hydration: There was one water station right in front of Guilly's, but I didn't make use of it. Almost all the 10K runners had hydration belts. No energy drink, but at the finish line we were greeted with ice cold Nestea. Yum!
Package and Freebies: I love the singlet! (I wore it after my run.) Our loot bags were given after the beach clean-up, but nobody went home empty-handed. The packed breakfast (a choice between longsilog and tocilog) was a delicious ending to our race. Results and times were immediately printed and posted in Guilly's as well.
For 300 pesos this was a great race; it's a shame not more people ran it, but that's the problem with most destination races. If my friends and I had not been planning to be there that weekend anyway, we wouldn't have made the trip for it. I would have loved to race with some of the island's super-fit locals, who unfortunately were all at the dragonboat races that morning. Oh, well. Maybe next year? I give this race FOUR KIKAY PINKIE FINGERS out of FIVE.
And oh, I ran my 5K in 24 minutes and 20 seconds. It was so worth it.
(Photos courtesy of Noel Camarillo.)