Today is Earth Day. Last Sunday, there were two runs piggybacking on this commemoration of environmental awareness and conservation. I chose the run with the lower registration fee (P350), more accessible venue (the Fort), and better singlet (I usually use finisher shirts as sleepwear, never for running). OK actually the singlet design had the theme song for Captain Planet and the Planeteers reverberating in my head during the whole run.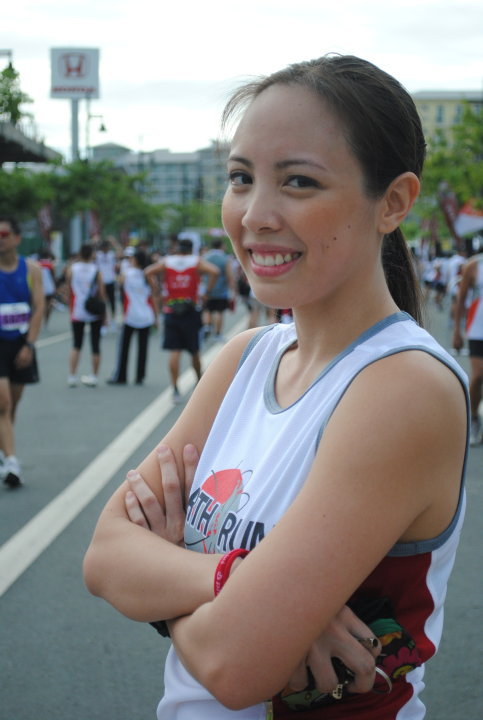 "Captain Planet, he is our hero…"

I knew I would be coming off a trail run the previous day, which is why I didn't sign up for the 21K at the Earth Run. Rather, I chose the 16-kilometer distance (more commonly known as a "10-miler"). As the previous day's events played out, I was truly thankful that I'd picked a shorter, yet still challenging distance.
I just planned it to be a long weekend run. But as I met up with other members of Takbo.ph, my competitive juices started flowing. I wanted to redeem myself from my disastrous trail run. So, last-minute, I made it my goal to break my 15-kilometer PR (at 1 hour 21 minutes, set at Assumption Run). The extra kilometer, I reasoned, I would either coast or sprint depending on how I felt.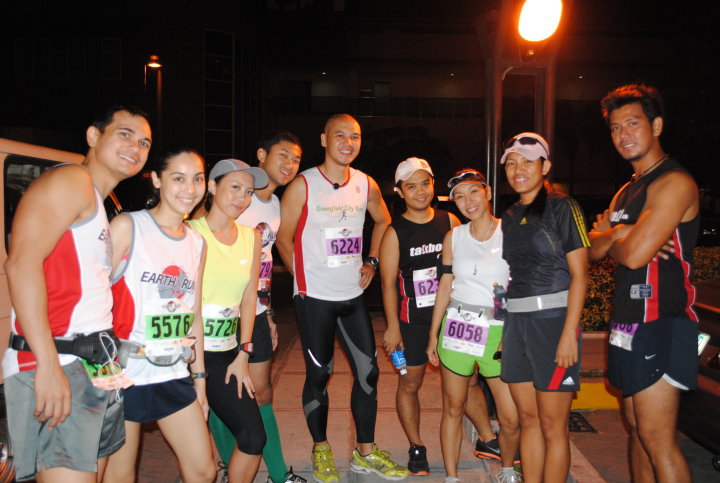 Takbo.ph represent!
We had to wait a full 30 minutes after the 21K-ers took off before our gun start. I knew there were many elite women runners in the pack, so I put all thoughts of a podium finish out of mind and just concentrated on keeping a steady 5:00-5:30min/km pace.
At the first water station, I reached out for some water, but they handed me something called "Innergize" — a yellow liquid which, when I poured it down my throat, tasted like a mixture of lemon-flavored Gatorade and salt water. Blech. Some of it spilled down the front of my shirt, and I realized it smelled fishy. As in, literally fishy! I spent the rest of the race feeling like I'd rolled around in a tub of mackerel.
People overtook me left and right, but since I'd already put myself in the mindset of breaking my own PR rather than beating others, I felt no need to keep up with them. My legs also beat out a steady tireless rhythm. With 10 kilometers to go, I felt nearly as fresh as I would have been at the start of a 10K race.
Of course, I'd punished my body with the grueling 9K trek the previous day, so my legs felt heavier than if I'd had a good taper. Oh, I knew I was going to hurt afterwards, definitely. But I felt great at the moment Kiko recorded me at 15 kilometers with a time of 1 hour, 19 minutes, and 20 seconds. I still felt like I had enough gas in the tank to cruise the last kilometer. But I didn't have far to go before I reached the finish line. That last stretch was only 700 meters!
Race in Review
Route: I flew free as a bird on Kalayaan flyover. I also felt like a hero on Bayani Road when so many other runners started to falter. Because I've gotten so familiar with this route, it didn't daunt me as much as it did before. But the 300-meter deficit from the total expected mileage is unforgivable! How can I claim that I finished a 10-miler in 1 hour, 23 minutes, and 8 seconds if I didn't actually run 10 miles?
Hydration: In the few days leading up to Earth Run, I heard that there would be water, but no energy drinks at the hydration stations. Apparently the makers of Innergize swooped in at the last minute. But the foul taste and smell of the drink in conjunction with the shortness of the tables made it a nightmare to hydrate. I made it a point to yell "Tubig! Tubig!" every time I neared a station so they would hand me water instead of Innergize.
Package and Freebies: If you think about it, 350 pesos is a steal for a race of this distance, and I got a singlet to add to my collection. I didn't bother to line up for giveaways, though; there were too many runners and not enough space to accommodate the long lines.
I give this race TWO-AND-A-HALF KIKAY PINKIE FINGERS out of FIVE. I had a good run, even though it wasn't the best race — but I didn't expect much from the race anyway.
(Photos courtesy of Carlo Serrano.)
Liked this post? Share it!