Due to Enhanced Community Quarantine in the National Capital Region announced from August 8 to 20, 2021, the World Vision Global 6K Run dates have been moved to September 1 to 30, 2021.
The World Vision Run is back again in 2021! This time, World Vision is launching the Global 6K Run, a virtual running event that aims to promote fitness and health during the pandemic while raising funds for the needs of World Vision's most vulnerable children and communities.
Did you know that 6 kilometers is the average distance women and children all over the world walk every day to access clean and safe water? (Walking this distance also puts them at risk for physical abuse and harm.) Through this virtual run, World Vision aims to make clean water more accessible by raising funds to build multiple water facilities in Laurel, Batangas and other communities in need. These facilities will not only provide drinking water but also water for hygiene and sanitation purposes. (One effective way to prevent the spread of COVID-19 is through proper sanitation and hygiene, so imagine the even greater importance of this during the pandemic!)
Register for the Global 6K Run for a flat fee of only P600 (purchase the event shirt as an add-on for P500). Registration runs until August 15, 2021 August 31, 2021. Anyone can register to participate in the global event and contribute to World Vision's goal. Walk, jog or run anywhere to meet your goal. And with every registration, clean water is provided to one person through World Vision's water projects.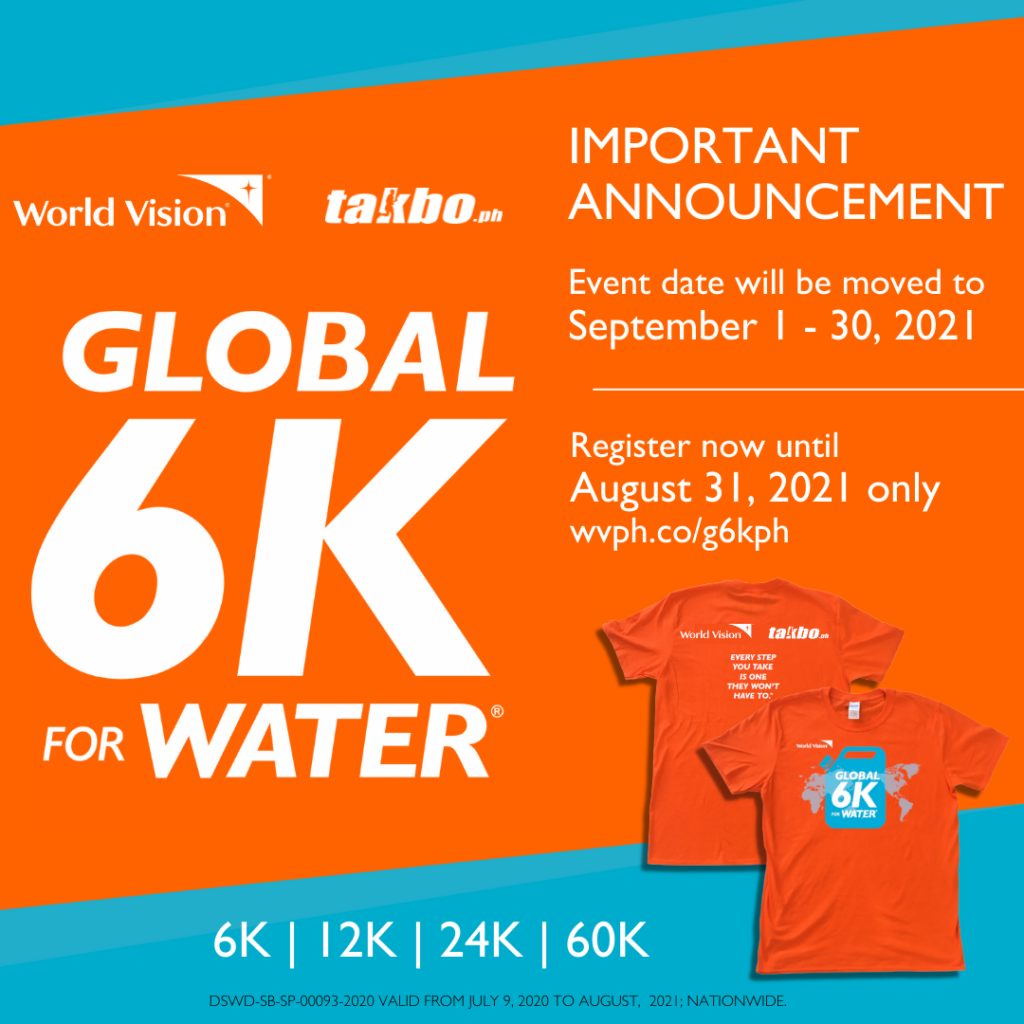 Then the fun begins! Run a distance of 6K, 12K, 24K, or 60K in one or multiple sessions between August 15 to September 14, 2021 September 1 to 30, 2021. Finish your distance challenge and submit your time and distance using a screenshot from a GPS-tracking app (like Strava or MapMyRun) or by taking a photo of your treadmill screen.
"Clean water is crucial for our physical health and safety, especially in this pandemic where the importance of hygiene is emphasized. World Vision's Global 6K Run is a global movement to make clean water more accessible to everyone, regardless of where you are," said Mr. Rommel Fuerte, National Director of World Vision Development Foundation, Inc.
"We are inviting everyone to be part of this change through this run. To become an inspiration for many, while being fit and healthy in the process," Mr. Fuerte added.
Joining World Vision's mission for clean water in the Global 6K Run is its Celebrity Ambassador Enzo Pineda, who has been a staunch supporter in the child-focused organization's multiple initiatives for children, including health and wellness.
"I am truly honored to become a part of this initiative by World Vision. While many of us miss gathering for runs and marathons pre-pandemic, the Global 6K Run is a wonderful opportunity to be fit and healthy despite the many limitations as well as participate in a cause that's extremely timely today," Pineda shared.
Register for the World Vision Global 6K Run here.
For more updates, like and follow World Vision Run on Facebook. To know more about World Vision and its other initiatives, you may visit www.worldvision.org.ph or follow World Vision's official social media pages /worldvisionph on Facebook, @worldvisionphl on Instagram, and @worldvisionph on Twitter.