When quarantine restrictions first came down, my running grounds contracted to the condo complex I live in — and even though now we can return to our old stomping grounds, I just never felt the need to. That changed when I signed up for a 10K virtual race which needed to be done in one go.
I didn't relish the thought of running my 500-meter loop 20 times, so I scheduled my 10K for today at the UP Diliman Academic Oval. This is where I first got started running outdoors, it's the site of many a running clinic and get-together, and since its reopening a month ago it's once again become one of the viable public spaces in the city to go for a run.
Of course, nowadays minimum health standards are upheld which include wearing a mask. While the published rules say you must wear a face shield as well, in implementation only masks are strictly enforced.
Check out my little adventure in UP today:
Here's the full text of the UP Academic Oval exercise guidelines:
Starting November 7, the UP Diliman Academic Oval will be open to the public for de-stressing activities or usual exercises (walking, jogging, running, yoga, stretching, tai-chi only). However, the College of Science Oval will be closed to these types of activities once the Academic Oval opens.
Group exercises up to a MAXIMUM of 10 participants are allowed such as yoga, stretching, and tai-chi.
Exercise (i.e. walking, jogging and running) traffic will be counterclockwise.
Biking is NOT allowed around the Academic Oval. Bikers may use other roads around the campus.
The public will only be allowed to enter the Academic Oval from 5AM to 9AM and 4PM to 8PM. Anyone roaming or loitering around the Academic Oval after 9AM and 8PM will be asked to immediately leave the premises.
The Academic Oval will remain CARLESS. There are NO PARKING SPACES around the Academic Oval. Motorists may park their vehicles along Lakandula St., TM Kalaw St., Quirino St., E Delos Santos St., E Delos Reyes St., Magsaysay Ave. (back of the College of Music).
Vehicle owners are reminded to keep their valuables and possessions safe. DO NOT leave any valuables on display in your vehicle.
Everyone must bring their own personal exercise equipment (if any) and must not share with others.
ONLY the washroom located at the lower ground floor of Quezon hall can be used.
Please be vigilant. Report violators to UPD Police / SSB / Guards on duty along the Academic Oval.
In case of a health emergency, please do not panic and seek the help of the UPD Police / SSB / Guards on duty.
Individuals who do not feel well must stay home. Remember, the first line of defense is the SELF. EVERYONE is reminded to be responsible for the well-being of others.
In line with IATF guidelines, the following UPD rules on open spaces must be followed:
a. Individuals under 15 years old and over 65 years old will not be allowed to enter. Also, individuals who are pregnant, with comorbidities (e.g. uncontrolled hypertension, diabetes, cardiac/renal problems) or immunodeficiency conditions such as cancer, HIV-AIDS, and systemic lupus erythernatosus will not be allowed to enter.
b. Users must bring isopropyl or ethyl alcohol when entering the premises; otherwise they will not be allowed entry.
c. Users MUST ALWAYS wear their face mask and face shield; otherwise, they will not be allowed entry. Those who are doing activities like running or jogging must use their face shield when they are not wearing their face masks. If they will have to talk with each other, they must wear both their face mask and face shield.
d. Eating is STRICTLY prohibited at the Academic Oval.
e. There will be no SOCIAL GATHERINGS in the Academic Oval's open spaces (i.e. picnics, tambay and chatting).
f. Practice physical distancing even when running — make sure to keep a distance of six feet away from the other person doing his/her de-stressing activity.
g. No SPITTING, No LITTERING along the Academic Oval.
h. If there is an urge to cough or sneeze, step to the side and cover your nose and mouth. Make sure to disinfect with alcohol or if possible, immediately wash hands with soap and water.
i. Bring your own water to stay hydrated.
j. For everyone's safety, avoid touching other individuals and other UPD properties (i.e. building markers, gates of buildings, lampposts, public art).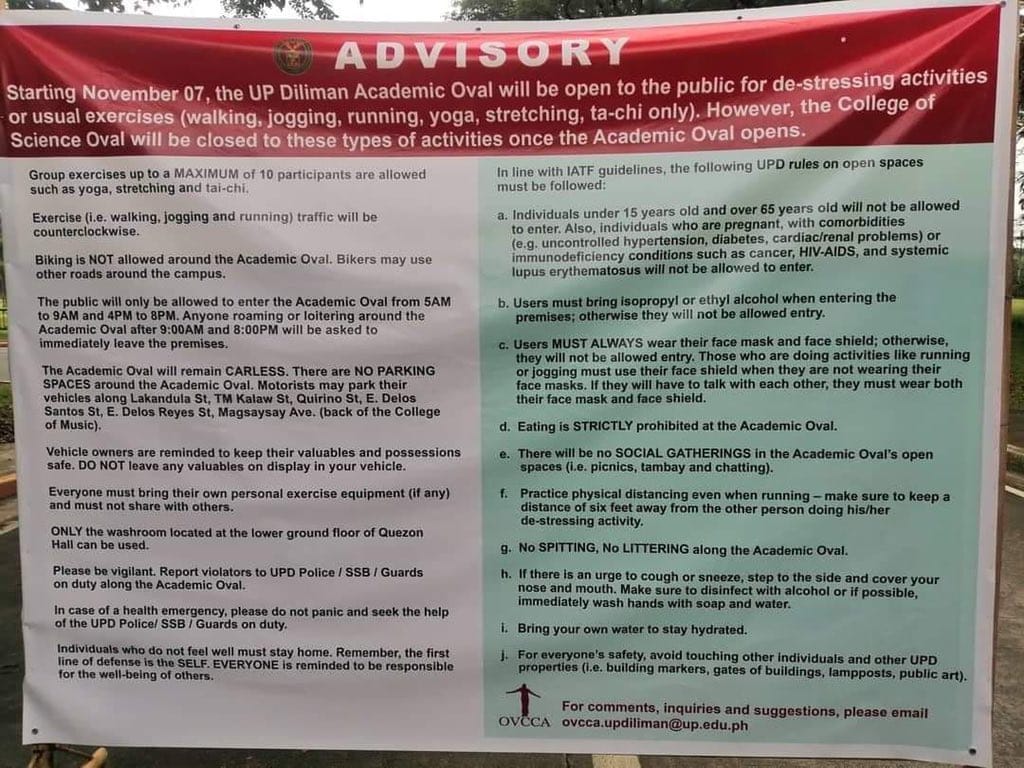 Liked this post? Share it!