For as long as I've been a runner, the Standard Chartered Singapore Marathon has been a prime presence on the regional race calendar. Many of my friends have done it, some of them year after year which should tell you something of the quality of the race experience.
Expect the SCSM to turn it up a notch this year as they rev up their bid to become one of the Abbott World Marathon Majors by 2021, the first one in Southeast Asia. If successful, SCSM would become the seventh marathon within AbbottWMM joining the BMW Berlin Marathon, Boston Marathon, Bank of America Chicago Marathon, Virgin Money London Marathon, TCS New York City Marathon, and the Tokyo Marathon.
So, if you haven't made up your mind yet that this is a race you should be running (whether full marathon, half marathon, 10K, or 5K), here are reasons to run the 2019 Standard Chartered Singapore Marathon.
Enjoy discounted entry rates
Here are the current rates for the different SCSM race categories (valid until September 30):
Marathon – SGD 145
Half-Marathon – SOLD OUT
10Km – SGD 105
5Km – SGD 60
Kids Dash – SGD 30
Get 30% off SCSM marathon registration entry by using promo code SCSMXNOELLE100
Sign up for other race categories and enjoy up to 20% off on registration rates with promo code SCSMXNOELLE10OFF
Standard Chartered cardholders also enjoy 15% off their registration fee across all categories.
Recognized as a Gold Label Event by the IAAF
The SCSM has been recognised as a Gold Label event by the International Association of Athletics Federations (IAAF) since 2012 for its world-class excellence in global sporting significance, organisational quality, athletes' safety and compliance with the IAAF Rules and Regulations. Singapore has shown it is an ideal year-round run destination to the international running community and will see the best elite and elite wheelchair division in event history. Since the inaugural race in 1982, the Standard Chartered Singapore Marathon has grown to a globally significant event that attracts approximately 50,000 runners each year across all race categories from more than 125 countries, regions and territories.
Run the SCSM's first-ever night race
For the first time, the Marathon, Half Marathon and Ekiden distances will flag off in the evening of Saturday, 30 November, a key evolution after ongoing consultation with the Abbott World Marathon Majors team and government stakeholders, which began in 2017. This will present a host of benefits for both competitive and casual runners. Most notably, cooler temperatures will lead to a better experience and performances for runners while creating an exciting race environment that takes full advantage of Singapore's bright lights and night life.
Race routes have been redesigned to showcase more of Singapore
The improved routes are built on runner feedback and are intended to deliver a balance of race difficulty set against Singapore's iconic skyline. The three-day event from 29 November – 1 December will feature a Kids Dash on Friday evening, Marathon and Half Marathon on Saturday evening and conclude with 5km and 10km categories on Sunday morning.
In creating the route, race organisers consulted with crowd management experts from the Manchester Metropolitan University to design and coordinate the best possible race route experience, employing their experience from working with Abbott World Marathon Major races.
With the event moving to the evening hours, lighting on the Marathon route will be increased providing athletes with optimal visibility while being surrounded by the shimmering Singapore skyline. Moreover, for the first time in the event's 18-year history, runners from all categories will begin their race from the same start point across three different days – in front of the Formula 1 (F1) Pit Building.
The marathon route has 26 entertainment points
Keep entertained while running the marathon with an eclectic mix of performers — from lion dancers, traditional Malay musicians, buskers, disc jockeys, and live local acts.
To encourage added participation and support from the public, organisers are introducing all new spectator zones, which will feature a myriad of lifestyle and entertainment offerings to create a vibrant and uplifting atmosphere for both runners and supporters.
Get a training plan on the SCSM Mobile App
Participants can receive the latest race information and updates 'live' via the SCSM 2019 mobile application. The app also includes a 3-month training plan, tailored to each runner's schedule as they gear up to race day. The app is scheduled for launch in September, with 'live' updates around key alerts like road closures and race pack collection reminders rolled out closer to the event.
Earn a unique finisher's medal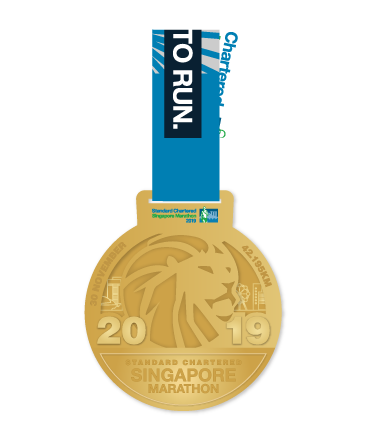 This is a second rendition of the "Bold Gold" series. The medal design is fronted by the Merlion, a unique yet deeply-rooted symbol of Singapore, with key elements of the city's iconic skyline in the background.
The 15,000 anticipated participants in the Marathon category will receive the iconic medal, a finisher shirt, a cold towel, and a digital finisher photo upon completion of their race.
Marathon participants also receive a race singlet, phone card case, and race pack drybag upon collection of their race kits.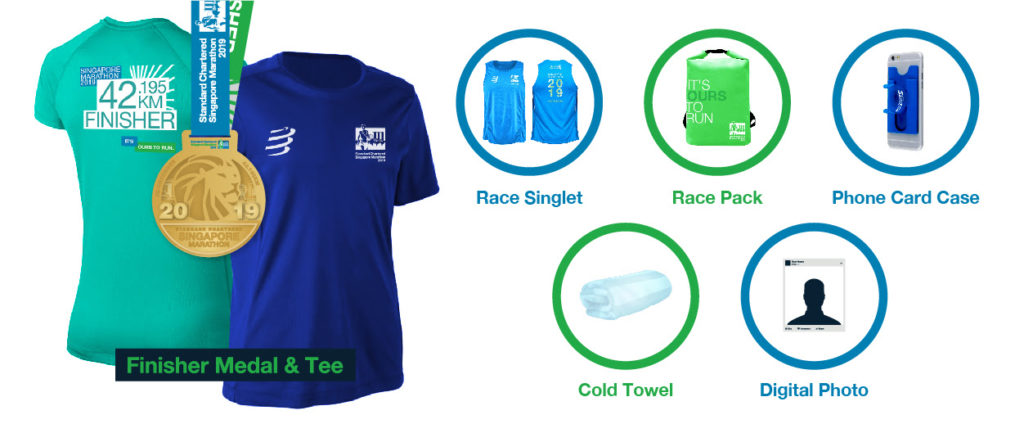 For more information and to register, head to the Singapore Marathon official website. Like the official SCSM Facebook page for updates.
Liked this post? Share it!