Now that I've finished recovering from the race, edited my vlog, and uploaded my photos, I can finally come here to write this one sentence:
The Angkor Wat International Half Marathon is an epic destination race you should do.
Destination races, for me, serve two purposes. The first purpose is as an obvious excuse to go travel. The second purpose is to discover a place on foot. I'm so happy I was able to bookend my year with two half marathons, and end the year with one as special as the Angkor Wat International Half Marathon. Here's my travel vlog about the race and the trip.
Cambodia is somewhere I've always wanted to go, but I know that I would probably be at sea trying to navigate the language barrier and tourist traps by myself. So when Manulife asked me to join their Team Manulife contingent, I gladly accepted. They've been sponsoring this race for a long time and know the ins and outs of Siem Reap. I was happy to be along for the ride.
We had a really fun group of Filipinos, who I loved hanging out with — we were a happy mix of experienced and casual runners who were game for anything! Such as the extreme challenge of eating bugs at Pub Street.


that look on the face of PinoyFitness Jeff is priceless!
We also went shopping at the Old Market and visited the Angkor Hospital for Children, which is a beneficiary of Manulife's fundraising efforts during the Angkor Wat International Half Marathon. This hospital runs entirely on donations, gives free treatment to children and pregnant women, and is a teaching hospital. They eventually aim to set up satellite hospitals all over Cambodia so locals can get quality healthcare without traveling all the way to Siem Reap.
The Angkor Hospital for Children's founder Kenro Izu was there on the day, a rare occasion. This reknowned Japanese photographer now based in New York helped set up the non-profit organization Friends Without A Border that funded and supported the hospital's opening in 1999. It was an honor to meet this man with such a heart for the Cambodian people.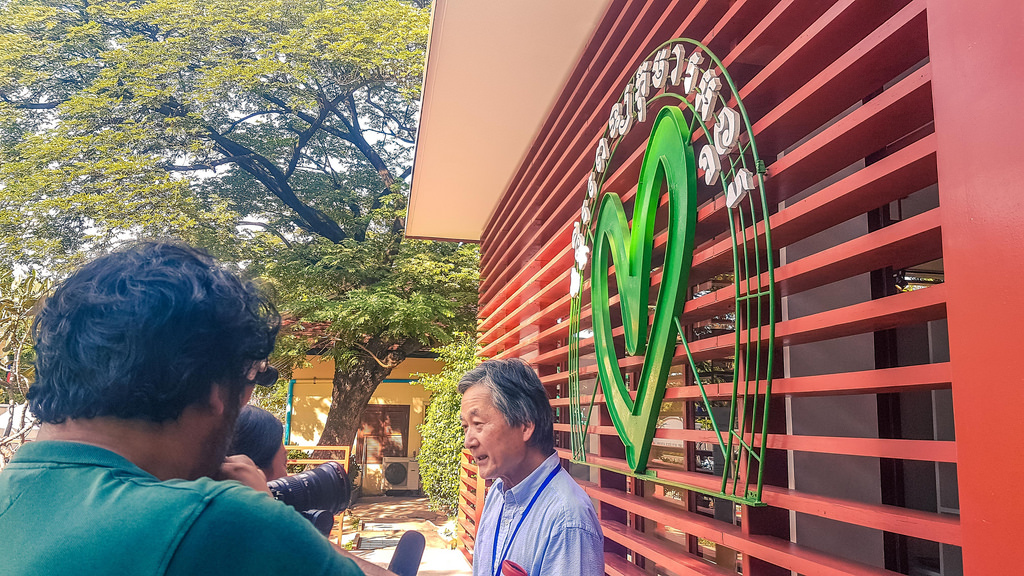 Angkor Hospital for Children founder Kenro Izu
We also took a very short tour through the temples of Ta Prohm and Bayon, with a "fly-by" of the Terrace of the Leper King. (While we didn't get to go to other temples due to our compressed schedule, this gives me a reason to come back to see the rest of the temples. Haha!)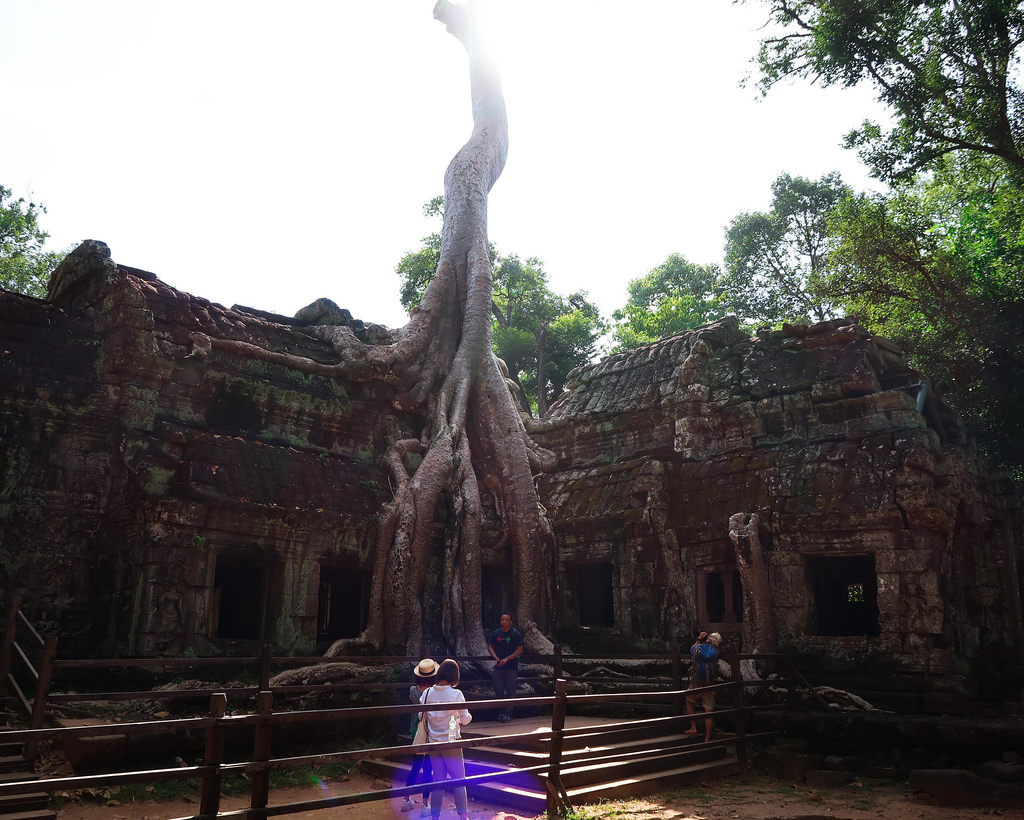 the "Tomb Raider" location at Ta Prohm


I had this corridor all to myself for selfies!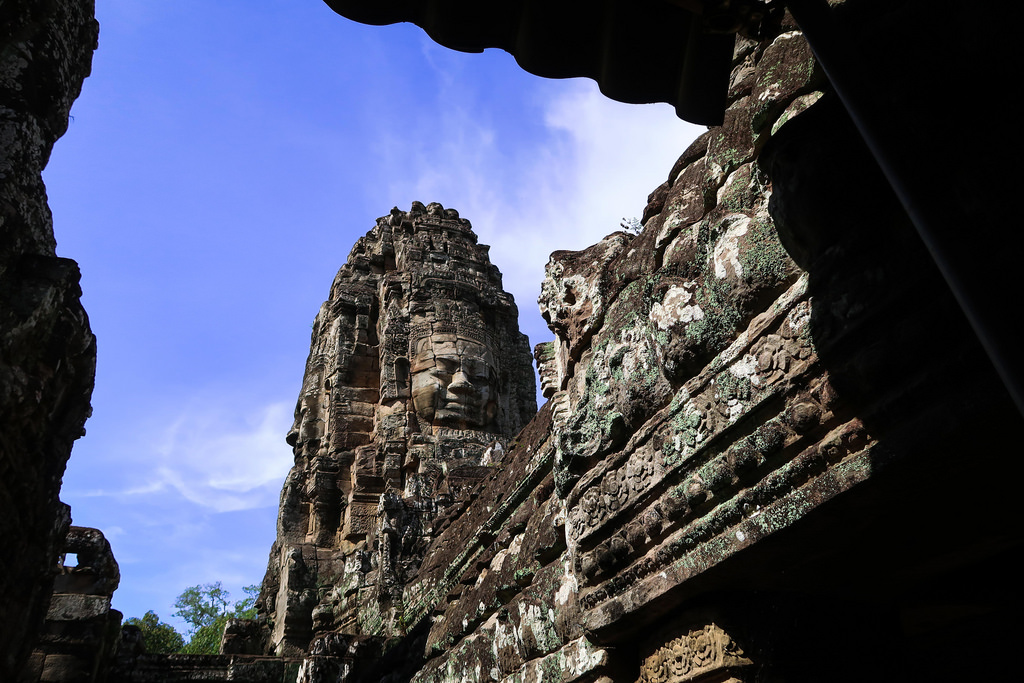 one of Bayon Temple's myriad Buddha faces
It was nice to see these particular temples and structures because the new race route went by them. The original route was supposed to start and end in front of the Angkor Wat main temple itself with a wide loop through the Angkor Wat and Angkor Thom complexes. This year the race had to accommodate the Prime Minister of Cambodia and 5,000 monks who took over the Angkor Wat main temple to pray. So we had to start and finish in front of the Elephant Terrace, with the Bayon Temple in the background. I've never experienced the original route, but this one was pretty awesome in itself — and at least the out-and-back nature of the course allowed me to capture sights on the way back that I'd missed on the way out.
Honestly, I wanted to hew closer to the two-hour mark for the half marathon like I did with the Ho Chi Minh City Run earlier this year, but getting sick three weeks out from the race meant that goal went out the window. Instead, I did my best to get to the start line 100% healthy and just focused on putting one foot ahead of the other for 21 kilometers. Besides, if I ran at a slower pace, that meant my GoPro could capture better video (less shaky).
The problem some destination races run into is that they are attached to an iconic locale, but the race itself is run on nondescript roads that barely showcase the destination. I think the idea is that you can race, and then explore the destination before or after the race.
With the Angkor Wat International Half Marathon, you get to run through and around the tourist destination! Although you can't enter the larger temples during the run, you can catch a sight of them from the road — and you get to run right through the Victory Gate. The whole area itself is a UNESCO Heritage Site and very detached from the more urban Siem Reap, so it's almost like you're running back in time. It definitely fits with the race theme and hashtag #RunDifferent.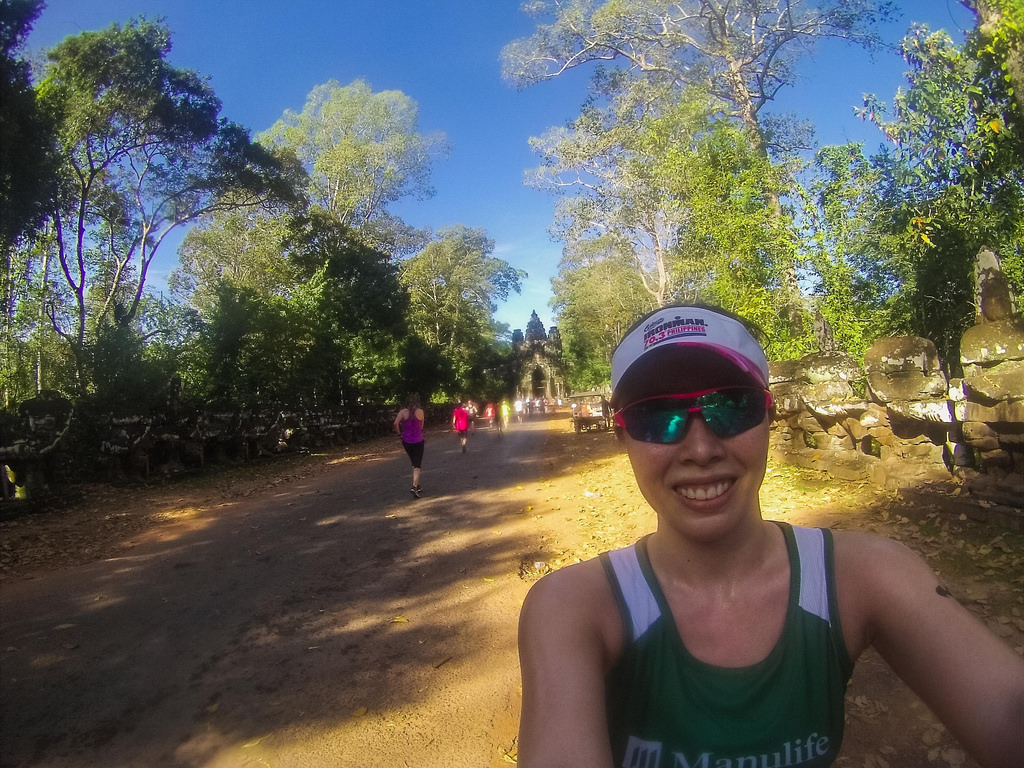 the Victory Gate in the background


Got my medal! Only half marathon finishers get medals.


the Angkor Wat International Half Marathon medal
While runners coming from more temperate climates struggled with the morning's temperatures, those of us from the tropics felt quite comfortable even with the gun start being delayed about 25 minutes. With water stations every kilometer it was easy to grab a bottle of water and keep it with me to either drink from or pour on myself to keep cool. (What was not cool: people grabbing bottles to drink a sip from, then throwing them away by the roadside. What a waste of water and plastic packaging, and definitely not eco-friendly.)
As someone who rarely races marathons, destination half marathons are more my cup of tea. It's much easier to do a racecation around a half marathon because there's less training and recovery needed, and your entire trip doesn't have to revolve around the race.
Put the Angkor Wat International Half Marathon on your bucket list of destination races; I don't think there's anything else in the world quite like it!
Liked this post? Share it!