Last Sunday I crossed the finish line looking like a cross between a Na'vi from "Avatar" and a Smurf, cracking open a full-toothed smile for the first time over the 10 kilometers. No, this wasn't a Halloween costume run, but the second edition of the Color Manila Glitter Run. I'd avoided smiling because at the last Color Manila Run I'd attended, I'd grinned all the way through and ended up looking like Pennywise with stained teeth. This time around I was going for the unicorn-vomit look.
I'd signed up at the last-minute thanks to the wonderful organizers who I know always put on a top-notch event. I was looking for a way to test myself in a race situation over a defined distance while also taking pressure off myself, and the Color Manila Glitter Run was perfect: an untimed fun run with a start and finish line so I wouldn't be tempted to cut the route partway.
In most races, I always feel an unspoken pressure to finish up front in the field; I've built that sort of reputation over the years and while I know there are much faster women out there, I'd rather avoid blows to my ego (haha) this early in my athletic return since it could trigger my overtraining tendencies.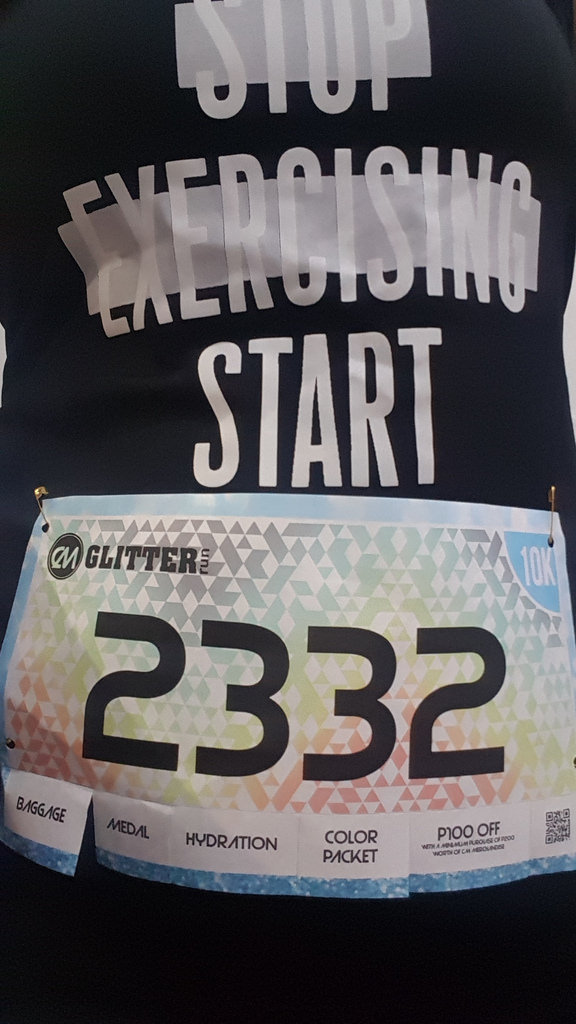 Pinning a bib on felt quite alien!
(Actually you know what, let me be honest with you: I really didn't want records of how slow I've become in my time off! Official times are FOREVER.)
Anyway, I showed up bright and early for a 5:30am gunstart, running into my fellow running bloggers who were all dressed in dark clothing — the better not to get stained by the color powder thrown at us. I mean, the powder washes off and the color is water-based, but certain fabrics and materials like silicone or rubber don't give up the stain as easily.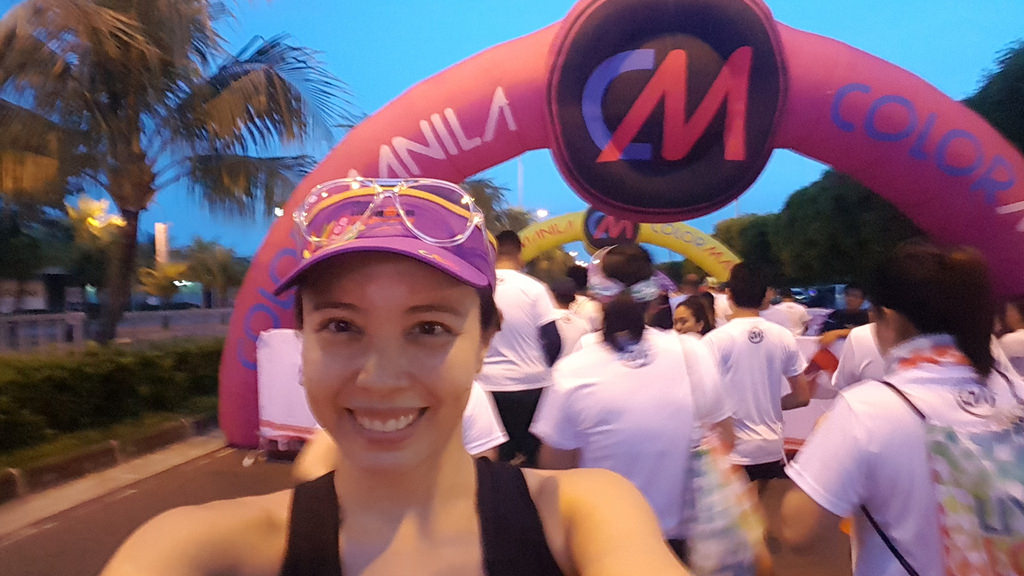 at the signature Color Manila start arches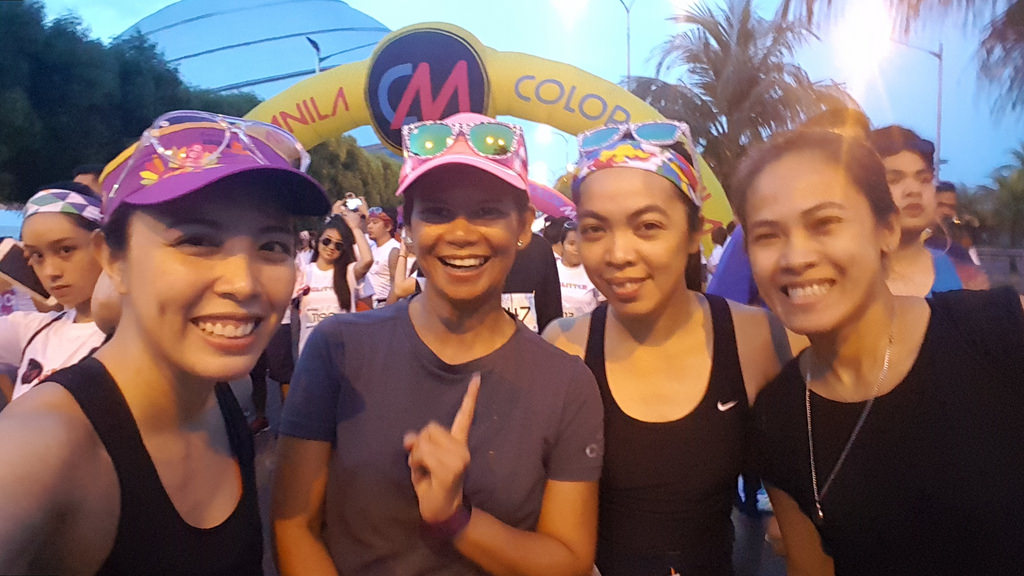 We're still clean in these photos.
I initially told them I'd aim for a pace of seven minutes per kilometer, which is what I average on a gym treadmill over an hour. I'd forgotten that for the same amount of effort, I run faster on pavement than on a treadmill. And so I found myself steadily going under six minutes per kilometer even without looking at my watch and pushing the pace.
This put me out among the first dozen runners in the 10K distance, which meant we were going through each color station ahead of everyone else. Naturally, the color marshals were excited to toss huge handfuls of powder at us, and they got me good! (I didn't do great at dodging, either.)
I totally love the feeling of just steadily running, but eventually catching up to someone who'd been out in front. Sometimes they'll put on a burst to try to lose me, and that ultimately spells disaster for them because it's not a pace they were planning to run. I wasn't expecting to overtake and drop anyone on Sunday, but to my surprise it happened three times.
The Color Manila Glitter Run was a great confidence-builder for me; I saw that I could hold a good pace and even speed up in the middle all the way towards the end. While it was a much slower pace than I would usually hold in a 10K, it was a good pace to come back with.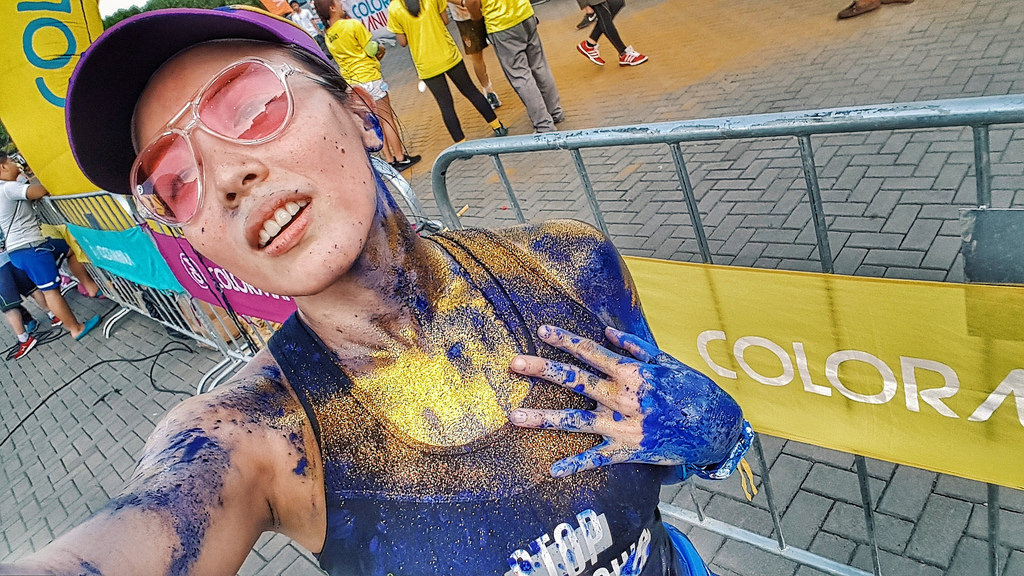 Shining brighter than Rihanna's Fenty Beauty highlighter
I actually didn't mind all the color powder and glitter, but as my sweat soaked through it turned the powder into sludge. After collecting my medal, I slunk off to the parking lot to wipe myself down. I envy everyone else's glamorous photos on social media. I was also tired, so I didn't stay for the color festival. So many other people did, though, and really enjoyed themselves!
I did see a puzzling phenomenon at this fun run, though: I saw a number of runners taking unscheduled u-turns, shortcutting the course. Seriously, why would you do that? This event was untimed, so no one will see if you took two hours to travel five kilometers (unless you post on Strava). The distance categories were all priced the same and there was only one finisher medal design for all of them. All the distances passed through the same color stations. So why would you sign up for 10 kilometers and then cut the course? The only person you're fooling is yourself.
With most fun runs in Manila now held at Mall of Asia, the Color Manila Glitter Run and the rest of the Color Manila series put a fun spin on the same old routes. I know having powder thrown at me certainly spiced up my Sunday morning!
—
There are two more Color Manila events happening this year. This weekend the CM Challenge Ilocos Sur is happening on the afternoon of October 29 (Sunday). CM Challenge Ilocos Sur assembly is on October 29 at 3:30pm, with gunstart at 4pm for 10K, 4:20pm for 5K, and 4:30pm for 3K. Click here for more information and link to register.
If you're based in Ilocos Sur, you can still register all the way up until race day at the onsite registration and kit claiming at the 2nd Floor, Provincial Capitol of Ilocos Sur, Vigan, Ilocos Sur from October 5 to 28, 2017, from 10:00am to 7:00pm Monday to Sunday, and on October 29, from 10:00am to 2:00pm.
For updates on their latest events, follow Color Manila Run on Facebook.