As Manila continues to grow more congested, it's increasingly more difficult to get around. This is why despite holding a membership to a gym chain with numerous branches all over the metro, I only go to the four closest to home, or hit the one nearest the location of an appointment.
That's one of the reasons Anytime Fitness has risen in recent years to become the largest chain of fitness gyms in the Philippines. In a time where other gyms have shuttered branches, Anytime Fitness has expanded beyond Metro Manila to Laguna, Pampanga, Baguio, Cavite, Cebu, and Davao. They opened their 50th club in the country last week at their Glorietta 5 location in the heart of Makati's central shopping district. When I posted about attending the grand opening on my Instagram Stories, I got some really excited comments from followers who wanted a tour of the facilities.


L-R: Billie Pech, Director of Glorietta 5 Branch; Michael Pineda, Director of Glorietta 5 Branch; Mainard Sahagun, Multiple Club Franchisee; Maurice Levine, Anytime Fitness Asia CEO; Rey Bolivar, Anytime Fitness Asia COO


Anytime Fitness is open 24 hours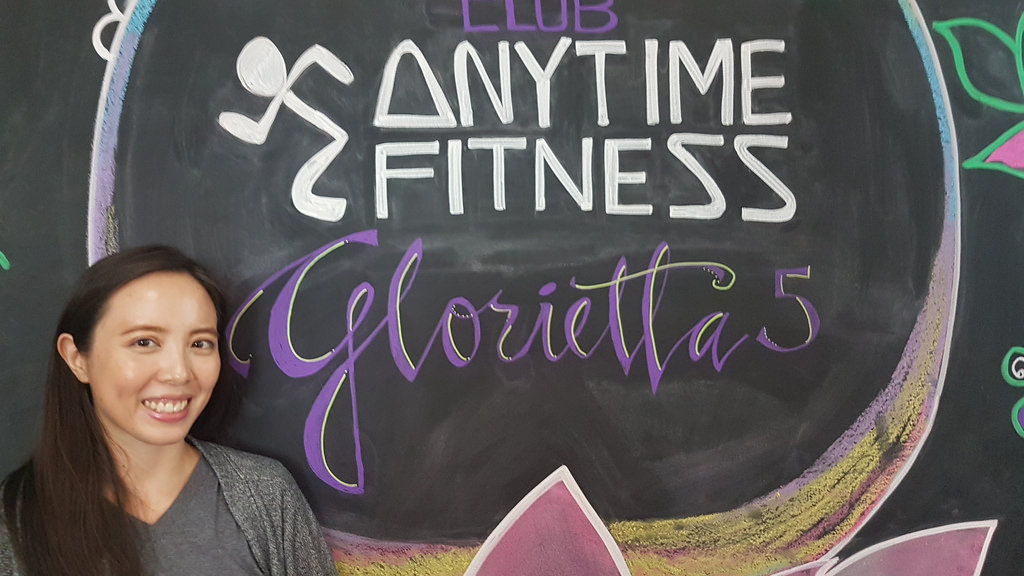 thanks, Jinoe, for taking my photo!
The Anytime Fitness Glorietta 5 branch is located on the building's second level in a corner spot that commands a lovely view of Ayala Avenue from its treadmill and cardio machine area. The compact space also holds a dedicated weight machine area, functional training area, group exercise studio, and combination shower-toilets.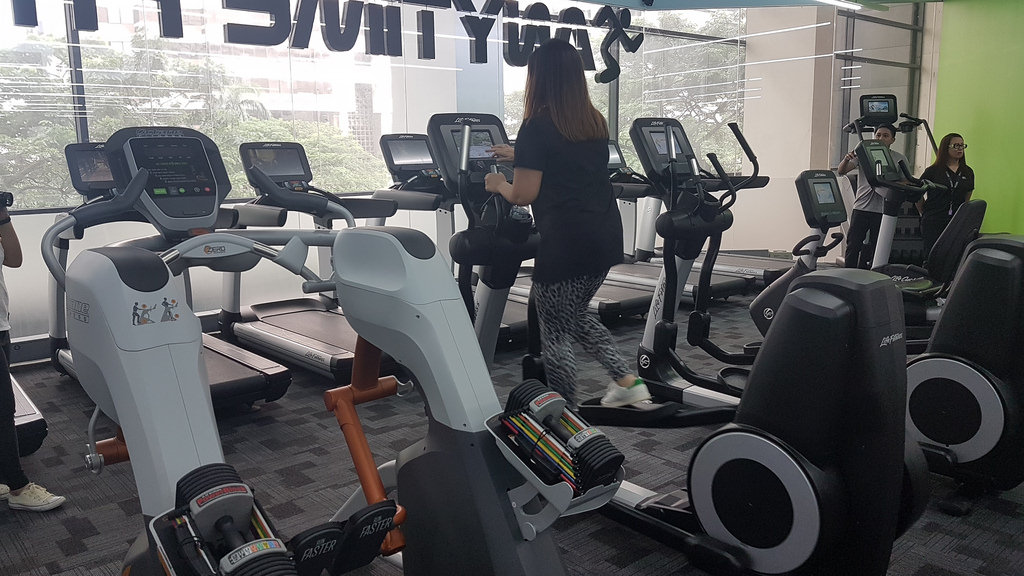 view of Ayala from the cardio area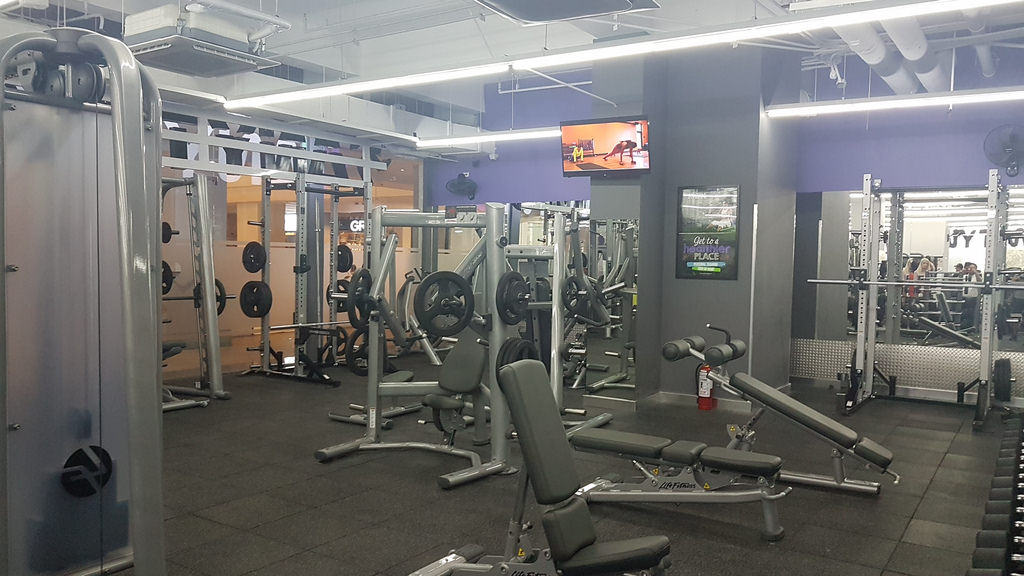 you can do some really heavy lifting
The group exercise studio is a convertible space that can be closed or opened onto the functional training area. Exercise bikes can be wheeled in for cycling classes, although those aren't yet on the schedule board. The morning and evening class slots are largely filled up though, which is great for people heading off to work, or waiting out the rush-hour traffic before leaving for home.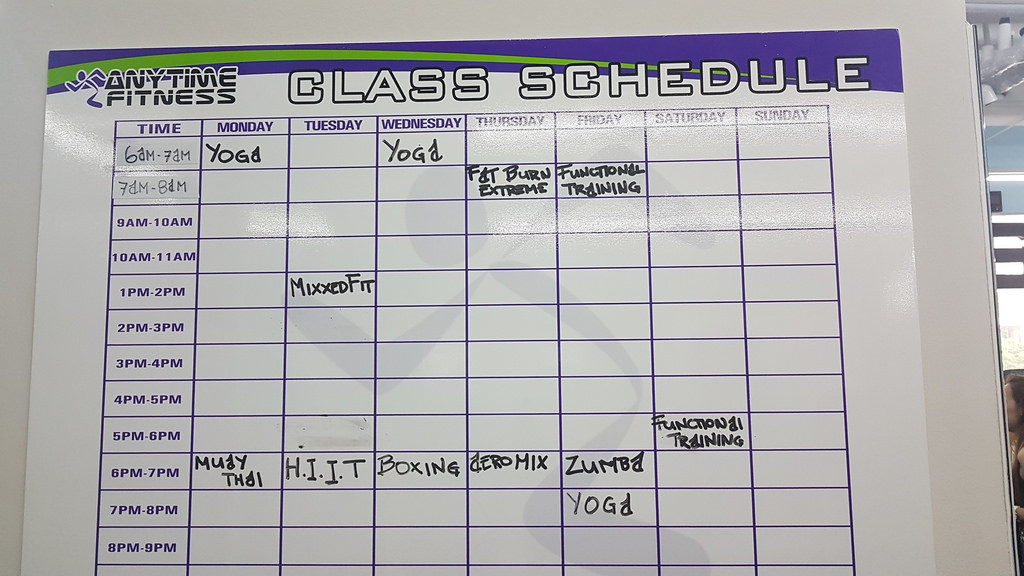 Anytime Fitness Glorietta 5 group exercise class schedule</strong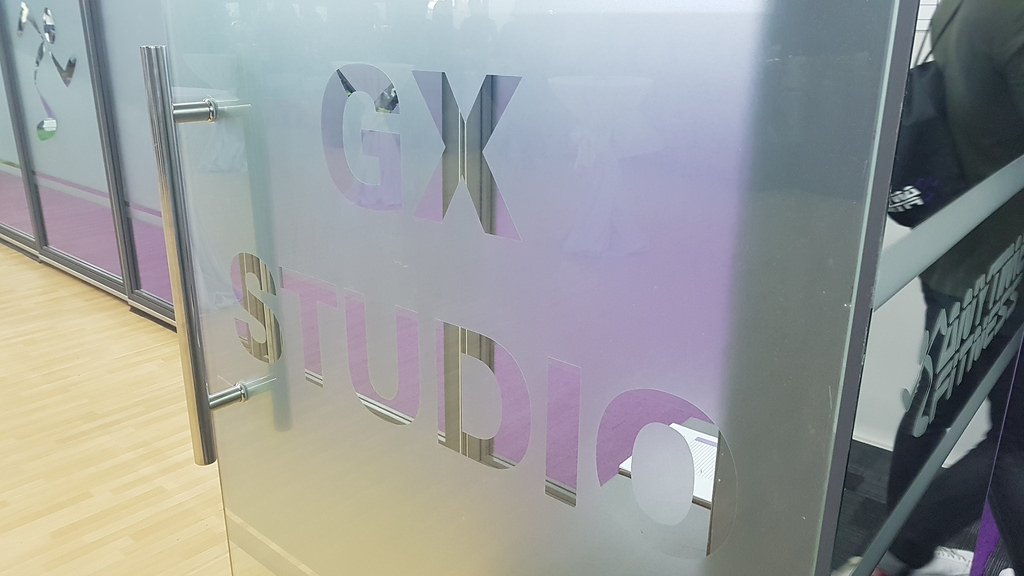 Sorry, I didn't get a great photo of the studio because the buffet was laid out there
My favorite place was the fully-stocked functional training area which had all sorts of equipment you might want to use if you want to create a stronger core, jump higher, and become more explosive, among other things.
Of course, you can't leave the gym without freshening up, so this Anytime Fitness branch has a wall of lockers to keep your things safe (bring your own lock) and six or seven bathrooms which each feature a toilet, sink, and shower.
The space is quite cozy, so I would be concerned about crowding in the early morning or after regular office hours, which are usually peak times for any gym. But I think that's where the multitude of branches helps; there's usually two in an area (in BGC for instance, there's one in Bonifacio High Street and another one in Burgos Circle).
Anytime Fitness's other unique selling point: they are open 24 hours a day, which is a godsend to many of our urban yuppies who work at call centers and BPO's or whose hours aren't the traditional 9-to-6. Others are night owls who come alive past 9pm. I've cracked Twitter open at 2am and seen some of my friends tweet that they'd just finished a workout. I'm glad that this underserved market is finally able to access the facilities they need to live a healthy lifestyle.
For more information on memberships and franchise opportunities, visit
www.anytimefitness.ph and follow Anytime Fitness Philippines online on Facebook.
Liked this post? Share it!