The thing about having a mature running and sports community in the Philippines is you start seeing more technical events on the calendar. With Spartan Race Sprint happening on September 16, 2017 at Timberland Heights, it's no longer enough to have the endurance to keep running. Other skills come into play to tackle the obstacles which can involve rope climbs, lugging heavy weights, and mud crawls!
(For a better idea of how a Spartan Race Sprint goes, watch this video.)
That's where "Spartan SGX" comes in, exclusively available in the Philippines at Fitness First. Using their existing Freestyle training area and Elite Fitness First Spartan SGX-trained coaches, this 45-minute group class mimics the type of movements participants will need to do on race day. As Spartan Race's official fitness partner, Fitness First offers Spartan SGX not just to Fitness First members but also Spartan Race registered participants.
I got to experience Spartan SGX last week at the launch.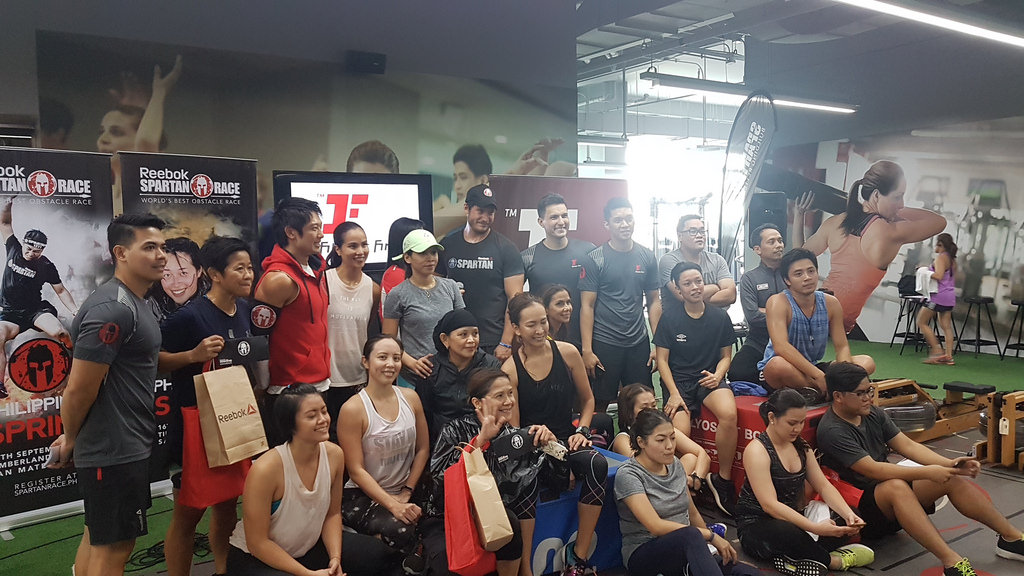 coaches and participants at the first Spartan SGX class held at Fitness First Platinum Viridian


Fitness First National Fitness Manager Eric Seegers and Spartan Race director Michael Reyes with Spartan SGX Coaches


Spartan Race Philippines CEO Guenter Taus


Fitness First Philippines Country Manager (and fellow triathlete) Mark Ellis
While the Spartan Race itself involves about six kilometers of running, the obstacles participants will face as well as the order they will come in are kept top secret! But the Spartan SGX classes aim to get you fit and ready for whatever challenges the Spartan Race Sprint course will throw at you.
Our intro to Spartan SGX involved one-minute intervals on a circuit which included pulling a weighted rope, climbing up a stack of boxes, rowing, carrying sandbags and squatting with them, and of course monkey bars. There was plenty of full-body work but definitely a lot more upper-body strength required that in swimming, cycling, and running.
(Thankfully, my three months of Nike Training Club came in quite handy! I just failed at the monkey bars. My excuse: too many sweaty hands had gone before me and I couldn't get a grip. Haha.)


warming up beside Dyan Castillejo


I used to be able to do this, huhuhu
Spartan SGX is available at all Fitness First clubs in the Philippines. Check out FitnessFirst.com.ph for club timetables. If you are registered for Spartan Race happening on September 16, 2017 at Timberland Heights, simply show your email confirmation at the club reception for a one-day free trial. Not yet registered for Spartan Race Sprint? Register here.
Liked this post? Share it!