Racing for the first time in a while is always difficult, but the rough spots get smoothed over when you're in the care of a great race organizer. The Ho Chi Minh City Run was a long way from home to go run a half-marathon, but I am so glad I was there to witness the burgeoning sports and fitness scene in Vietnam, which can only continue to grow.
In 1992, Ho Chi Minh City had its first ever full marathon, hosting just a little under 100 local runners out of the 250 total participants. Twenty-five years later, the HCMC Run organized by Pulse Active brought the full distance back, to the delight of 7,218 runners across the 5K, 10K, 21K, and 42K distances.
(That number may seem small to a runner from the Philippines where our major races attract 15,000 participants — but considering the HCMC Run only started five years ago and introduced the first 21K two years ago, this is the biggest race yet!)
The race route is entirely within District 7, a relatively quiet and upscale area of Ho Chi Minh City. This makes it easy to close off roads and control traffic for races. However, getting to District 7 can be difficult on race morning since gunstart is at 4:30am for the full marathon, and a mere 10 minutes later for the half-marathon. This is why I decided to book a room at the MerPerle Crystal Palace, which was only a block away from race central at Crescent Plaza. Here's the view from my hotel room on race morning: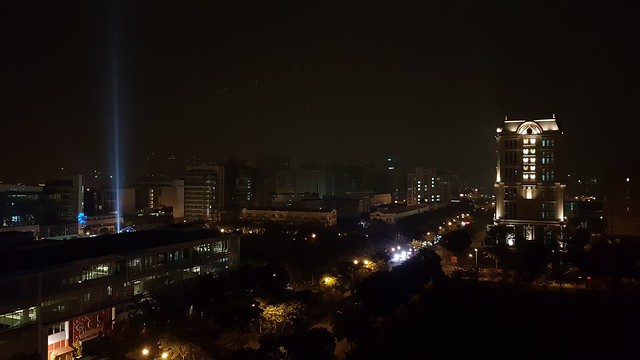 Crescent Plaza on the left, Saigon Paragon Hotel on the right
It was super easy to get up an hour before gunstart, have one of the complimentary fruits the hotel provided in the room, then get dressed and walk to the venue and into the start chute. I couldn't help getting swept up in the excitement of the runners present. Many were in groups and excitedly chatting with their friends.
The race had sold out, and though Pulse Active knew they had plenty of demand to open more slots, they chose not to so they could serve all the runners properly. The 10K was the largest category with 1,559 runners, while those of us in the 21K numbered 1,180. There were also 537 registered in the full marathon, already more than doubling the numbers from the first race 25 years ago.
I had two goals for this race: to finish close to two hours, and to run a sub-30 minute 5K at some point during the race.I hadn't run beyond 12 kilometers at all in the lead-up to this race so I knew I couldn't expect to run a sub-2 hour half-marathon. I also knew the second goal was a big ask for this off-season body, but I had to try.
When the gun went off, I found myself in a group maintaining a 6-minute per kilometer pace thanks to the official pacer. I figured it couldn't hurt me to stay with them at least through the first two kilometers where I would try to get my body warmed up and into the spirit of things.
After two kilometers I picked up the pace and soon found I was on track for a sub-30 minute 5K! I mean, I would definitely be shaving it close, but it would be the fastest I've run in a while so I happily kept going. Still feeling good, I kept going and realized I would go under 30 minutes for the second 5K!
The main highlight and challenge of the Ho Chi Minh City Run is the Phu My bridge (Cau Phu My). The routes of the 10K, 21K, and 42K go up this cable-stayed bridge across the Saigon River — and when I say up, I mean up. The bridge at its highest point is 45 meters above the river and is pretty steep, as seen here: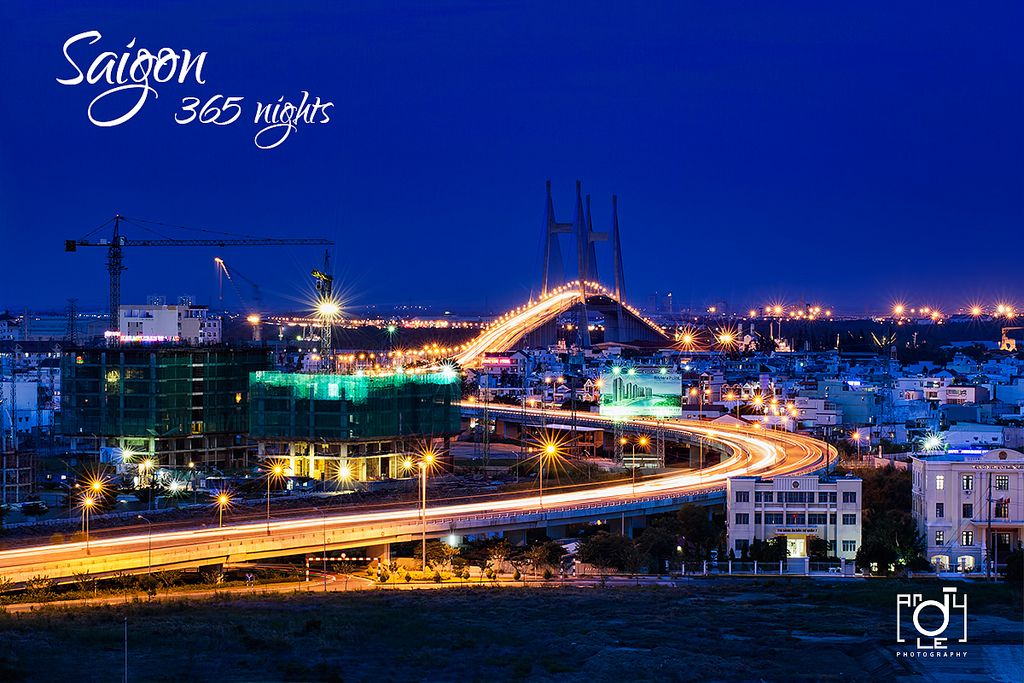 just to give you an idea what we were dealing with
As soon as I ticked past the 10th kilometer, I slowed down to about 6:30min/km so I wouldn't blow up before having to tackle the bridge. It was at this point that I found myself running alongside a guy wearing a Team Cabalen Runners shirt. Yes, definitely a Pinoy as I confirmed when I started talking with him. From Pampanga, Robin Soriano had already traveled through Cambodia before arriving in Saigon to run the marathon (a birthday run and also a "warm-up" before his attempt at the Bataan Death March Ultramarathon 102 this year). After the race, he was going to go around Vietnam as well. It was great to spend some time chatting with a kabayan and I hope to catch up with him at SuBIT, where he'll do his first Olympic distance triathlon.
Then we turned onto the viaduct that led up to the bridge. The race route got quite narrow at this point because we had to run inside the motorcycle lane, and the race distances had started converging. I decided to pick up my pace to get past the log jam and bid goodbye to Robin, who still had another round of 21K to go in his marathon.
The entire bridge is 2 kilometers long, but we only needed to go up halfway. A temporary ramp built to go over the divider between sidewalk and motorcycle lane also served as a selfie station where runners took photos of themselves and their friends as proof that they had run up and conquered the notorious bridge.
If you look at my Strava data you'll see I took it quite easy in this middle stretch of the race, but began to speed up again toward the end. That's because when I slowed down to tackle the bridge, a few runners overtook me. Coming down off the bridge I soon picked them up again. Because I felt quite strong toward the end, I decided to try to overtake as many as I could.
I crossed the finish line in 2:08. A far cry from my best of 1:45, but it's still the fastest I've run since recovering from overtraining. What I know is that I can only get better from here.
The race organization was pretty spot-on as well with hydration stations right where I needed them supplying ice-cold water and Pocari Sweat. They were handing out whole small bottles of La Vie water as well, so I kept one on me at all times which allowed me to drink whenever I wanted, and to skip slowing down to drink. The last few stations on the 21K/42K route also handed out bananas.
As I mentioned before, road closures were good and there weren't many unhappy motorists driving alongside us. However, for this event to accommodate more runners in following years, they may have to make arrangements to close more than just the motorcycle lane going up Cau Phu My. It was already pretty congested running made dicier with a flooded 200-meter section (thanks to rains the night before) that forced a few runners like myself to hop over the barriers and run facing oncoming truck traffic going back down the bridge. Apart from this, I was impressed at how smoothly the race went. No wonder Pulse Active is one of the most trusted sport entertainment event organizers in Vietnam.
After I collected my medal and finisher shirt, I plopped my tired legs into the waiting cold pools. I found myself sharing space with Mr. Thomas Nguyen, who was one of those 90 local runners in the marathon 25 years ago. Now settled in Washington D.C., Thomas had been invited back to the race. He had chosen to do the half-marathon, and chuckled as he told me he had trained for the race in the D.C. winter, hence struggling in the heat and humidity that morning.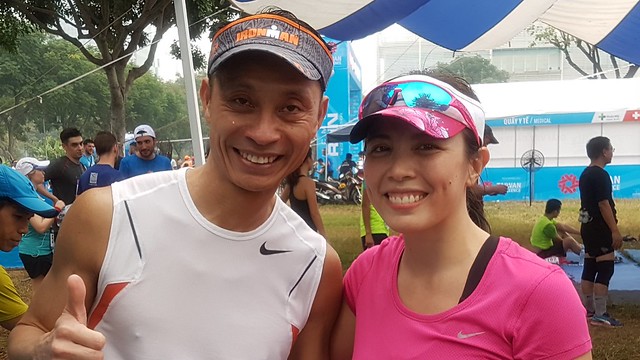 with Thomas Nguyen, one of the original HCMC marathoners
I also met up with the sisters Jen and Steph Nguyen (no relation to Thomas?), who were supporting the race by selling food at the booth. Their brother Phillip owns Pulse Active, and I hung out with them both at Challenge Vietnam last year. It was super nice to have friends at the finish line, and I regret not being able to stick around as I was already feeling the effects of running a 21K on no training.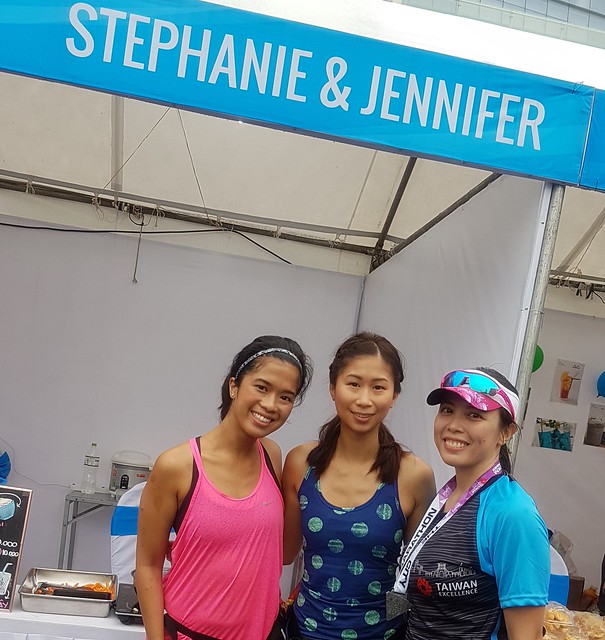 Their booth sold yummy cheese fries and cheese and sausage rice toppings!
I did the race at the tail end ofa trip to Ho Chi Minh City with my parents. We arrived on a red-eye Cebu Pacific flight early Friday morning and had two whole days to go around the city. On Friday we visited Ben Thanh Market and Saigon Square, had coffee at one of the numerous Trung Nguyen coffee shops, and had dinner with Steph at Ben Thanh Street Food Market, an open-air food park that's a big hit with the young people in Saigon.
On Saturday we took a half-day city tour I purchased off Viator. While it had all the regular tourist highlights like the Reunification Palace and War Remnants Museum, it also took us to a more local market with prices about 100,000 dong cheaper than Ben Thanh, as well as the beautiful Saigon Central Post Office and Notre Dame cathedral.


Saigon Central Post Office, a repurposed train station from the French occupation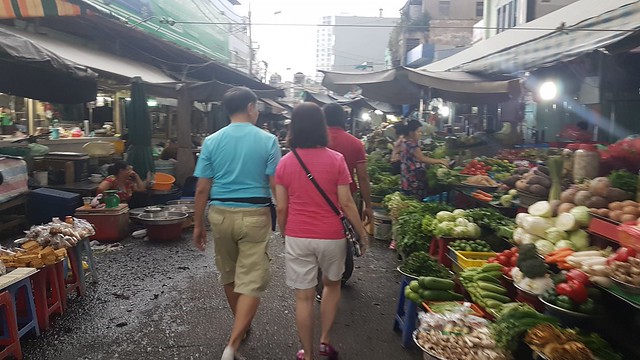 Tan Dinh local market (cheaper and less touristy than Ben Thanh Market)
Three days isn't quite enough to explore Saigon, but I'm glad I got to see so much more of it than I did that one afternoon I passed through last year. It's a city and a country on the rise and I'm glad that along with its economic development we're also seeing a greater awareness of health and wellness through running.
As always, whenever I come back from a trip I'm at a loss for words. My creative writing professor once said to write effectively about a subject, you need to have some distance from it — emotional, physical, or temporal distance. Yet journalistic instincts dictate that one write about something as close to its date of occurrence as possible to preserve detail and immediacy. So I gave myself the luxury of a day off before starting to write this race wrap-up! I hope you enjoyed it, and it's given you an idea of what other races in the Southeast Asia region to travel for.
For more information about the HCMC Run: the City Marathon, visit the HCMC Run website and follow them on Facebook.
Liked this post? Share it!